Push sweeper S 550
The S 550 sweeper with 550-mm working width, 16-l waste container and a side brush is suitable for areas from 30 m². For comfortable, fast sweeping that is gentle on the back.
The S 550 sweeps five times faster than a broom and also delivers impeccable cleaning results. It is worth using the device from an area of 30 m². Waste such as leaves or grit is conveyed directly into the 16-l waste container: simple, fast and clean! An overall working width of 550 mm is available with the powerful roller brush and the side brush of the S 550. The extra-long bristles of the side brush ensure cleanliness down to the last detail, even in edge regions. The robust, impact-resistant and corrosion-resistant sweeper is easy to push and also very manoeuvrable. The height of the push handle has two positions and can be adjusted to the height of the respective user. If required, the push handle can be collapsed fully. This way the device can be stored upright, thus saving space. The standalone waste container is easy to detach and designed so that it can be safely set down and emptied. All without any contact with dirt.
Features and benefits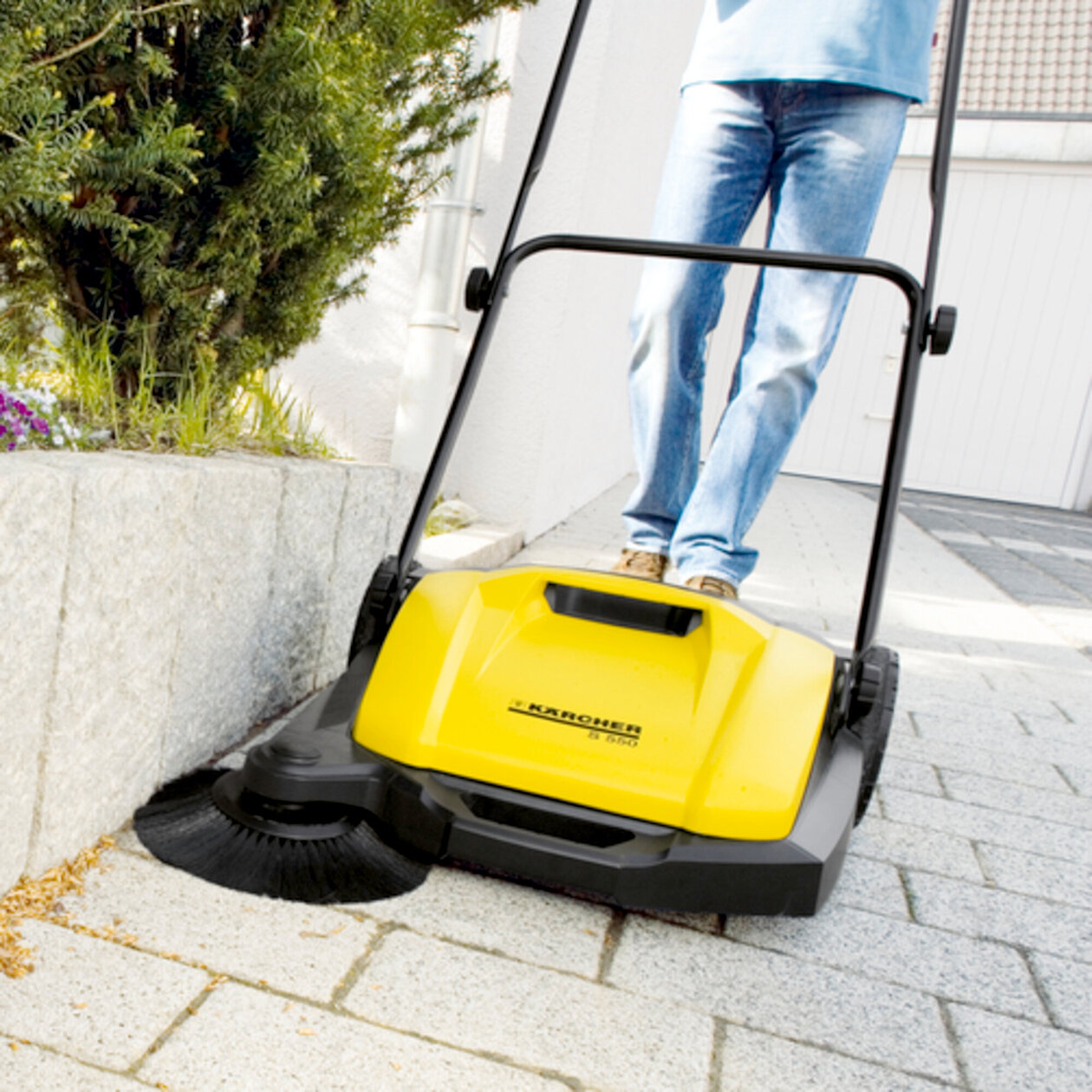 One side brush
The long bristles on the side brush ensure thorough cleaning even on edges.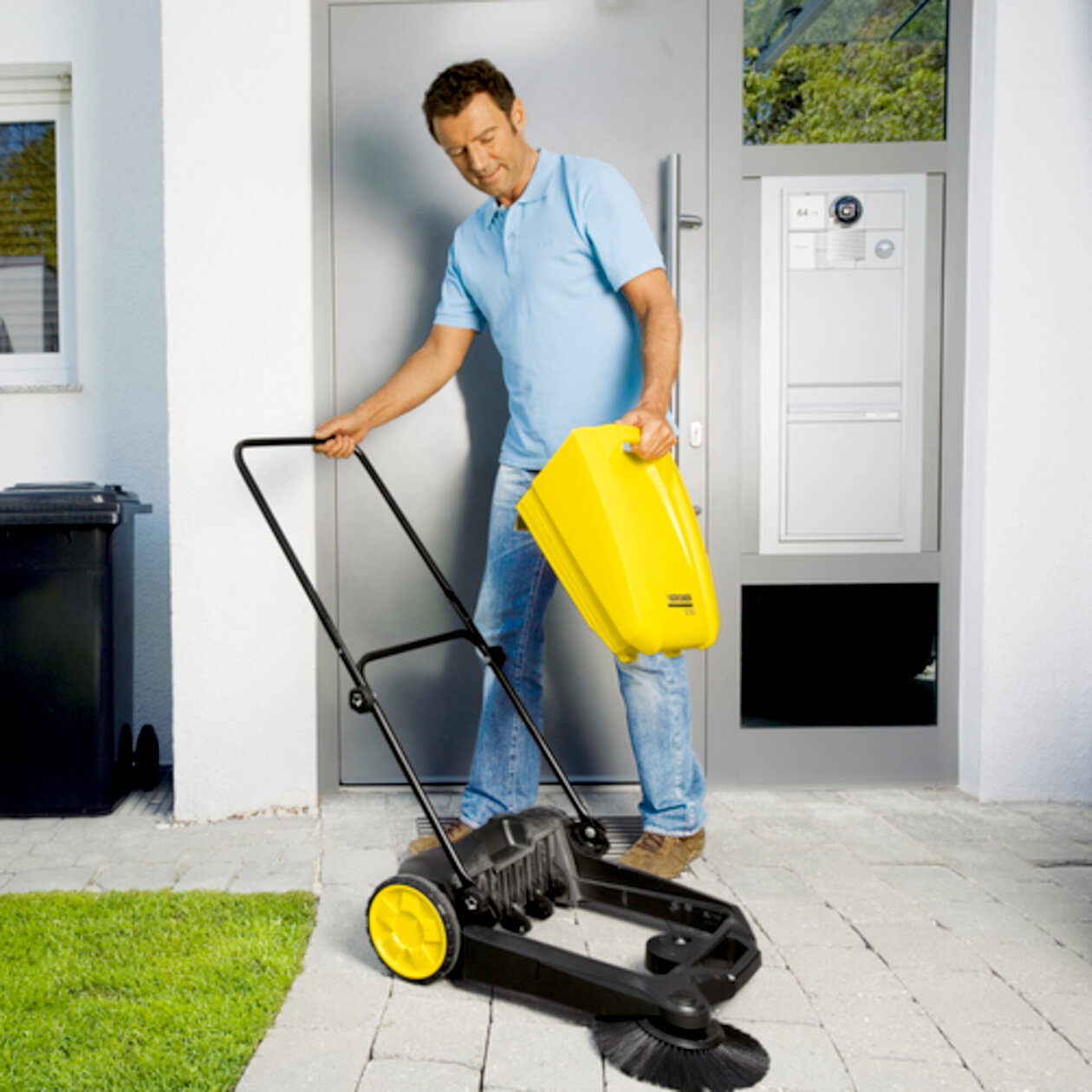 Convenient sweeping container
Convenient waste container: waste is drawn directly into the container, which can be easily removed and emptied.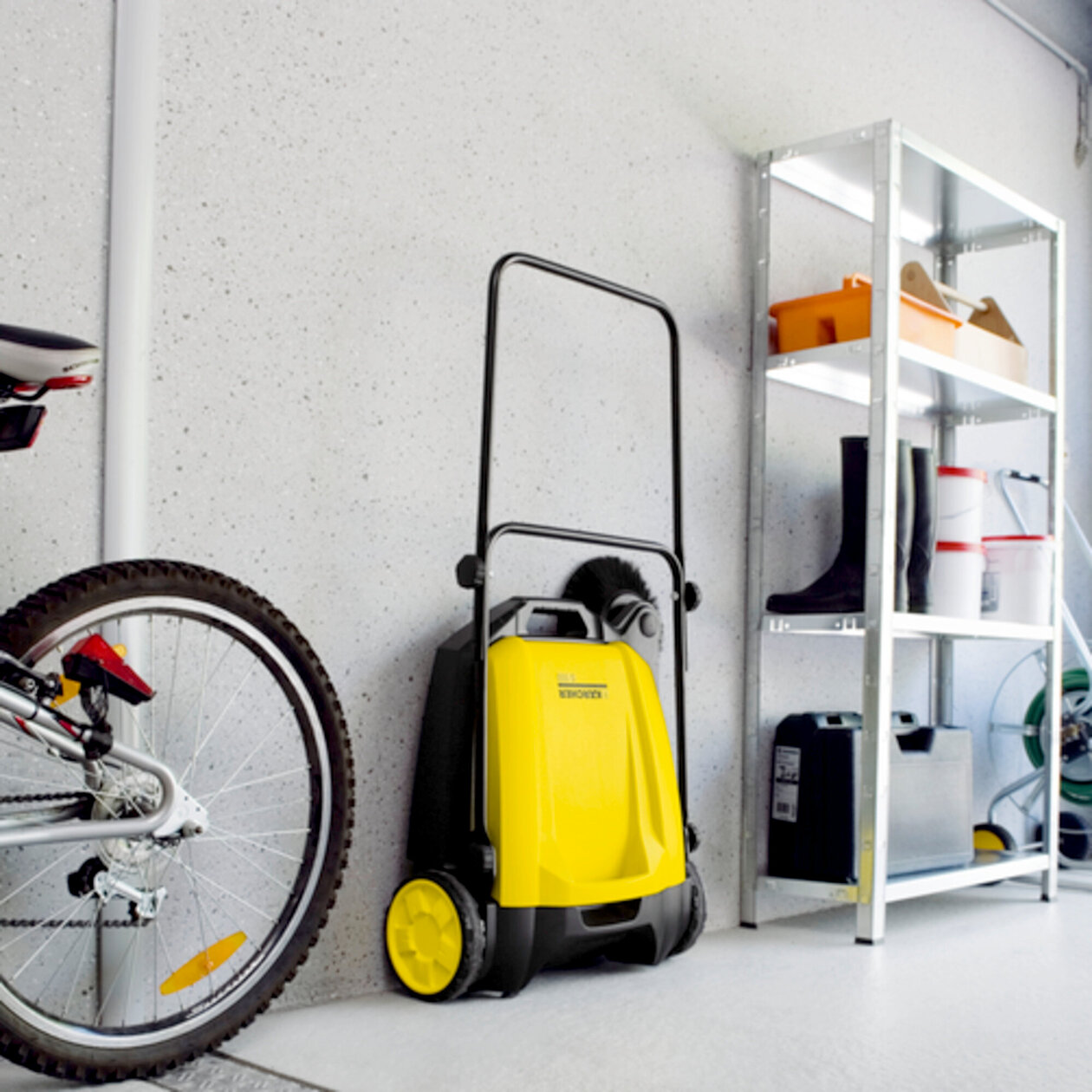 Space-saving storage
With its fold-down push handle, the sweeper can be stored upright, thus taking up very little space.
Adjustable push handle
Push handle is height-adjustable (extendable with two angle adjustments). For sweeping that is easy on your back.
Stand-alone waste container
Easy to take out and designed so that it can be set down safely.
Comfortable carrying handle
The sweeper is easy to transport.
Specifications
Technical data
| | |
| --- | --- |
| Working width with side brush (mm) | 550 |
| Max. area performance (m²/h) | 1600 |
| Casing/frame | Plastic/Plastic |
| Waste container (l) | 16 |
| Recommended for areas over (m²) | 30 |
| Weight without accessories (kg) | 9.2 |
| Weight, ready to uset (kg) | 9.2 |
| Weight incl. packaging (kg) | 10.3 |
| Dimensions (L × W × H) (mm) | 690 x 610 x 930 |
Equipment
Number of side brushes, 1 piece(s)
2-fold height-adjustable push handle
Storage position
Stand-alone waste container
Application areas
For cleaning paths, streets, driveways to courtyards and garages, and areas around the home.
Recommended for areas of 30 m² or larger.