FC 5 Hard Floor cleaner
The Floor Cleaner FC 5 with microfibre rollers and a two-in-one function for mopping and suctioning wet and dry dirt in just one step.
The Floor Cleaner FC 5's two-in-one function lets you mop and suction wet and dry dirt in just one step. No need to vacuum beforehand – mopping has never been easier, faster or more thorough. The automatically moistened, rotating microfibre rollers pick dirt up, while the water-dirt mixture is continuously suctioned off the rollers at the same time. This practical self-cleaning function keeps the rollers fresh and ready to use at all times. The FC 5 uses up to 85% less water while providing significantly better cleaning performance. The FC 5 can be used on all standard hard floors, whether they are made of wood, stone or plastic.
Features and benefits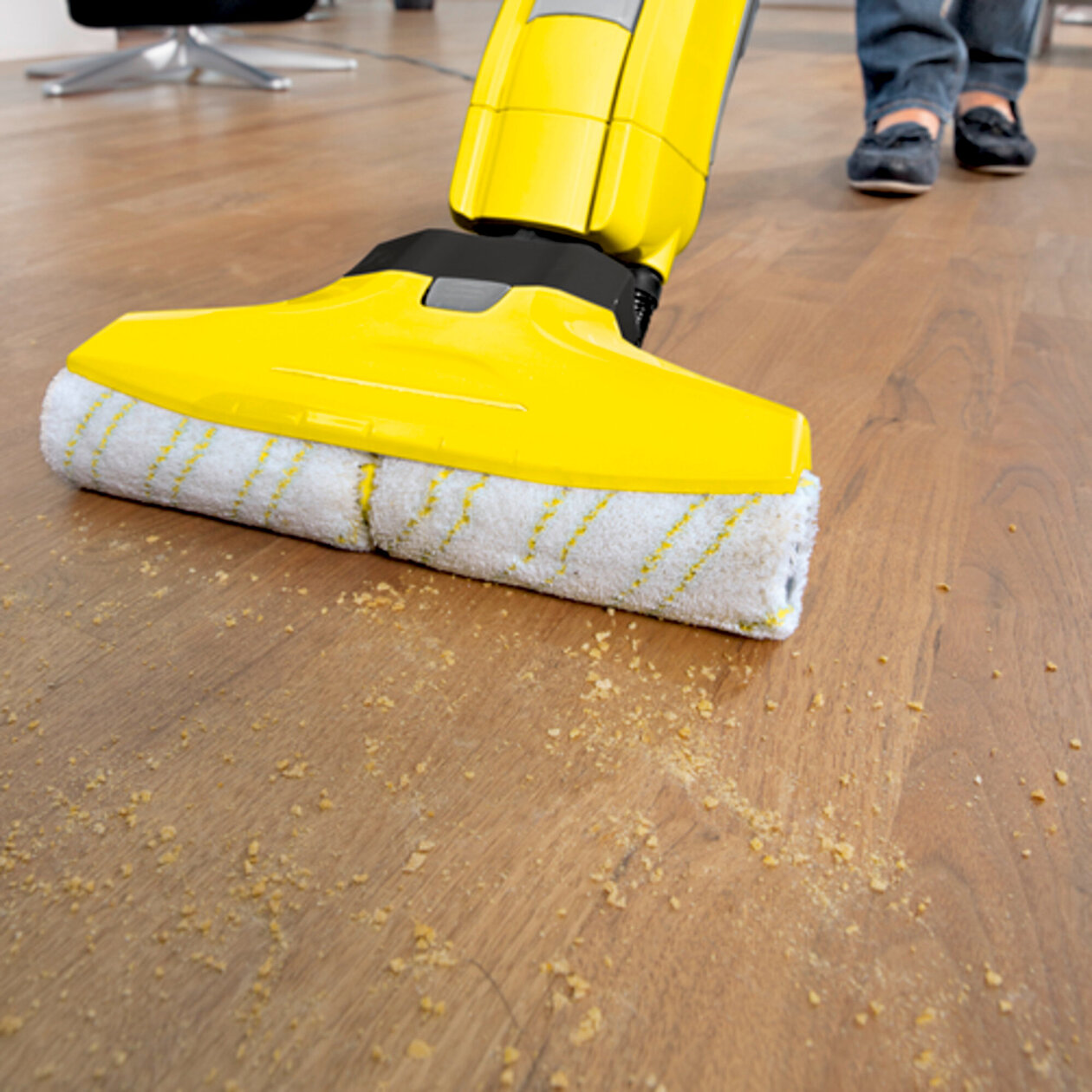 2-in-1 function
Washing without vacuuming beforehand by picking up wet and dry dirt in a single step.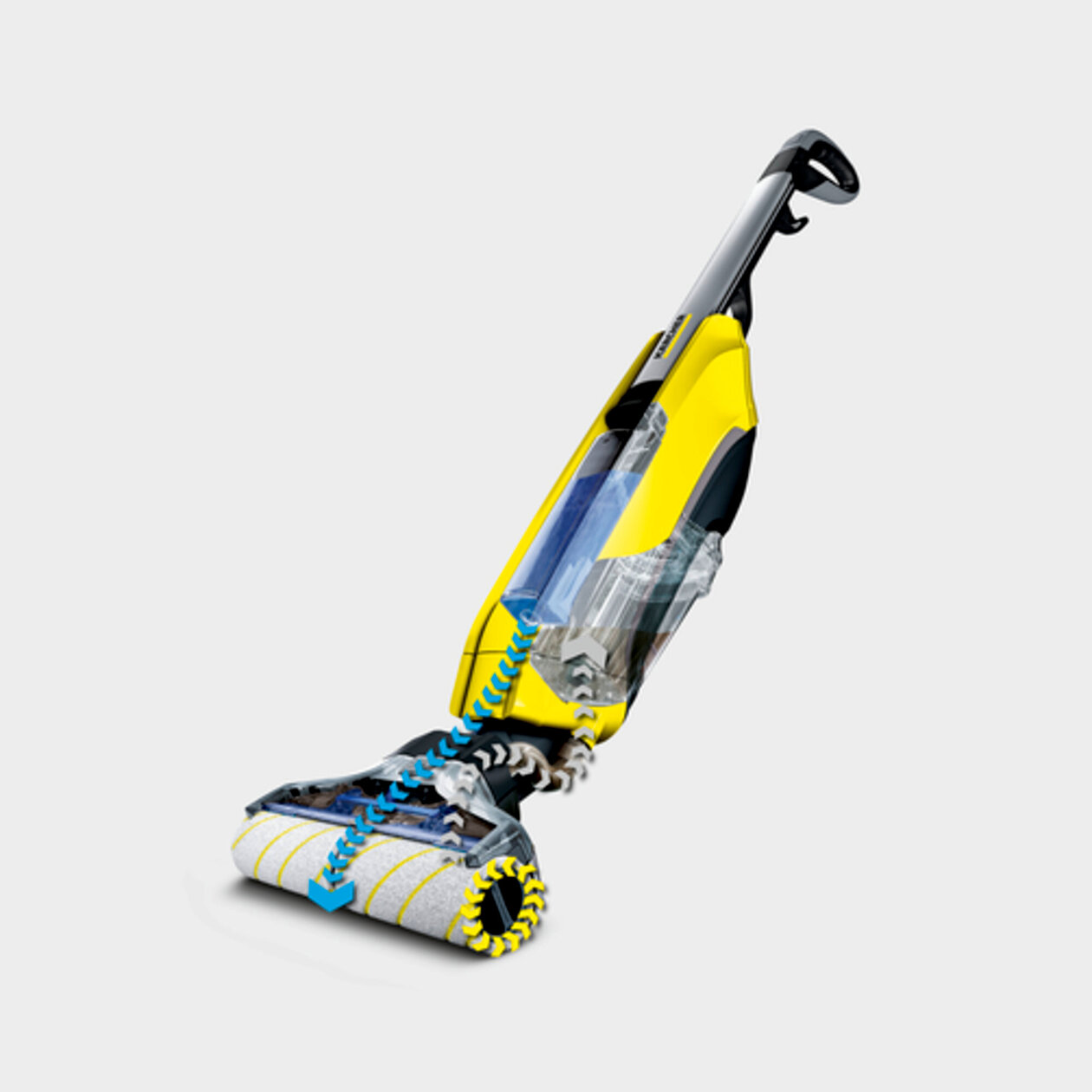 Self-cleaning function through automatic removal of dirt from the rollers
Continuously clean rollers for best cleaning results. Floors dry in less than 2 minutes thanks to the low residual moisture.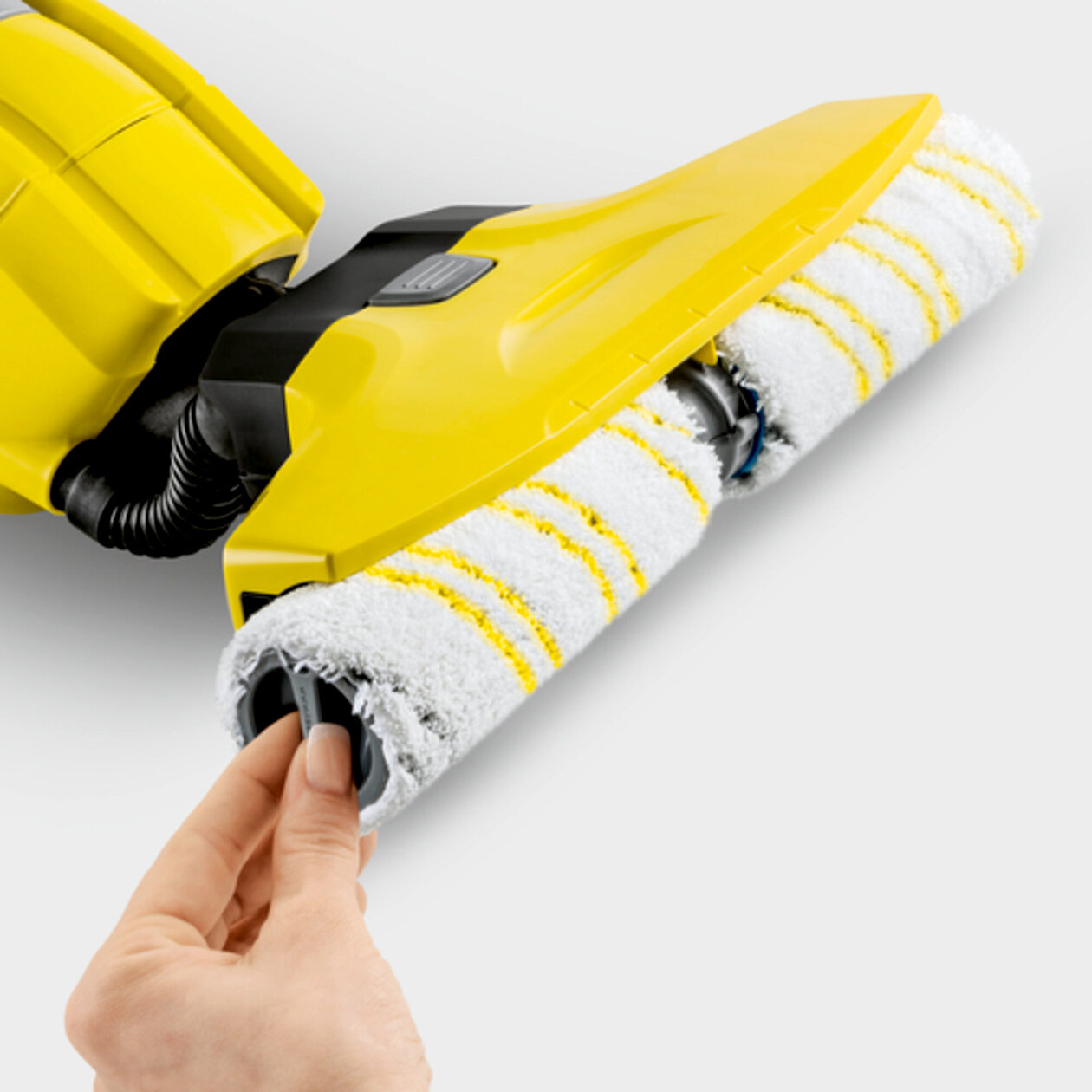 High-quality microfibre rollers
Mounting and removing the microfibre rollers is quick and easy. Machine washable at up to 60°C.
Innovative drive concept
With forward rotating rollers, the machine moves across the floor almost by itself – for effortless cleaning.
Cleaning head with a flexible hinge
Easy to clean under furniture.
Easy to navigate around objects.
Cleaning right up to the edge – for excellent results in corners and on edges.
Easy-to-remove two-tank system
The fresh water tank can easily be filled under the tap.
Hygienic removal and emptying of the dirty water tank without coming into contact with dirt.
Cleaning and parking station
Perfect for easily cleaning dirty rollers.
Convenient storage and stowage of the machine.
Specifications
Technical data
| | |
| --- | --- |
| Type of current (Ph/V/Hz) | 1 / 220 - 240 / 50 - 60 |
| Power (W) | max. 460 |
| Cleaning performance per tank filling (approx.) (m²) | 60 |
| Fresh water tank capacity (ml) | 400 |
| Dirty water tank capacity (ml) | 200 |
| Roller working width (mm) | 300 |
| Drying time of cleaned floor (min.) | 2 |
| Cleaning station volume (ml) | 200 |
| Cable length (m) | 7 |
| Weight without accessories (kg) | 4.6 |
| Weight incl. packaging (kg) | 6.6 |
| Dimensions (L x W x H) (mm) | 320 x 270 x 1220 |
| -- | * The Kärcher floor cleaner achieves up to 20 per cent better cleaning performance compared to a conventional mop with wiping cloth cover in the "Wiping" test category. Refers to average test results in cleaning efficiency, dirt pick-up and edge cleaning. |
Equipment
Two-tank system
Cleaning rollers, yellow
Cleaning and parking station
Application areas
On all hard floors, such as parquet, laminate, cork, stone, linoleum or PVC
For hygienic cleaning applications in all areas (e.g. toilet, kitchen, bath, etc.)
For fast and effortless wet cleaning of hard floors
Also suitable for sealed, oiled and waxed parquet
Find parts
Find parts & diagrams for your Kärcher cleaning equipment. Select "Find Parts" to begin your search or contact your authorized Kärcher dealer or retailer.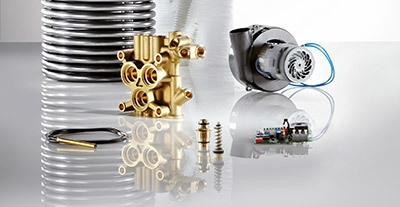 FC 5 Hard Floor Cleaner
is rated out of
5
by
346
.
Rated

5

out of

5
by
Marshalls164
from
FC 5 Hard Floor Cleaner the perfect buy
The FC 5 Hard Floor Cleaner does exactly what it says in the brouchures - it is easy to operate - assemble and dis-assemble for cleaning - the end result is perfect - would highly recommend this product
Date published: 2019-12-20
Rated

5

out of

5
by
Saundo
from
Clean and vac
Great idea, easy to use , cleans timber floors wells
Date published: 2019-11-21
Rated

5

out of

5
by
PKM1
from
This machine has been a lifesaver
We have porcelain tiles and a toddler that crawls around leaving her fingerprints everywhere! This machine has been a lifesaver and has made mopping twice a week a breeze. The machine is easy to clean, does a fantastic job in picking up the crumbs and mopping at the same time. I don't know how you improve this machine, but whenever they do - I'll be upgrading to the next version. The team at Parramatta Kaercher helped make this decision for my wife and myself (Greg) - and he knows what he is talking about!
Date published: 2019-09-26
Rated

4

out of

5
by
LBHa
from
Let me explain!
I bought the FC 5 Hard Floor Cleaner because of an add in the NYTimes and because Karcher is a German company. The product is good if you don't expect it to get dried food off the kitchen floor. I've decided to go back to a mop and elbow grease and that's when my problems started. No easy link for returns. No one answered 2 separate emails. Approximately 5 minute hold before getting kicked to a voice message that provided another 800 number for individual customers. That number required me to answer questions for multiple promotions before I was allowed to spec to a representative. I didn't answer the questions and had to hang up. I was so angry! I finally left a message on the retail voice mail box for someone to PLEASE CALL ME. And they did. And they apologized and asked me to help them understand the issues I encountered. I spoke to a helpful and kind rep and her manager. Yes, Karcher's launch is not going well. But they acted like the company I expected them to be. They resolved my issue 100% and then went the extra mile to thank me for helping them. The best companies out there don't operate without issues, they avoid issues as much as possible, then resolve issues that do arise the right way. I will recommend Karcher to others and depending on your needs, the FC 5 may be right for you.
Date published: 2019-09-03
Rated

5

out of

5
by
Tiia
from
sehr gut...
danke!!!!!!!!!!!!!!!!!!!!!!!!!!!!!!!!!!!!!!!!!!!!!
Date published: 2019-08-30
Rated

5

out of

5
by
dont know
from
Easy floor cleaning
I used it twice now on the entire floors. Works great, easy to use and I just like it.
Date published: 2019-08-24
Rated

5

out of

5
by
BlissDog
from
I love it!
Super easy to use and clean/maintain the unit. I was worried it would be a lot of work to clean when done using. It definitely saves a lot of time to clean and vacuum both in just one easy pass!
Date published: 2019-08-22
Rated

4

out of

5
by
Rich 350
from
Well built and works well on smooth flooring.
I would like to see more aggressive rollers as an option to get into grout
Date published: 2019-08-22