SC 2 Home Steam Cleaner
The SC2 is a great home steam cleaner that promises outstanding results without the use of harmful chemicals.
Kärcher
SC 2
15120040
https://www.kaercher.com/au/home-garden/steam-cleaners/sc-2-15120040.html
The SC2 is a great home steam cleaner that promises outstanding results without the use of harmful chemicals.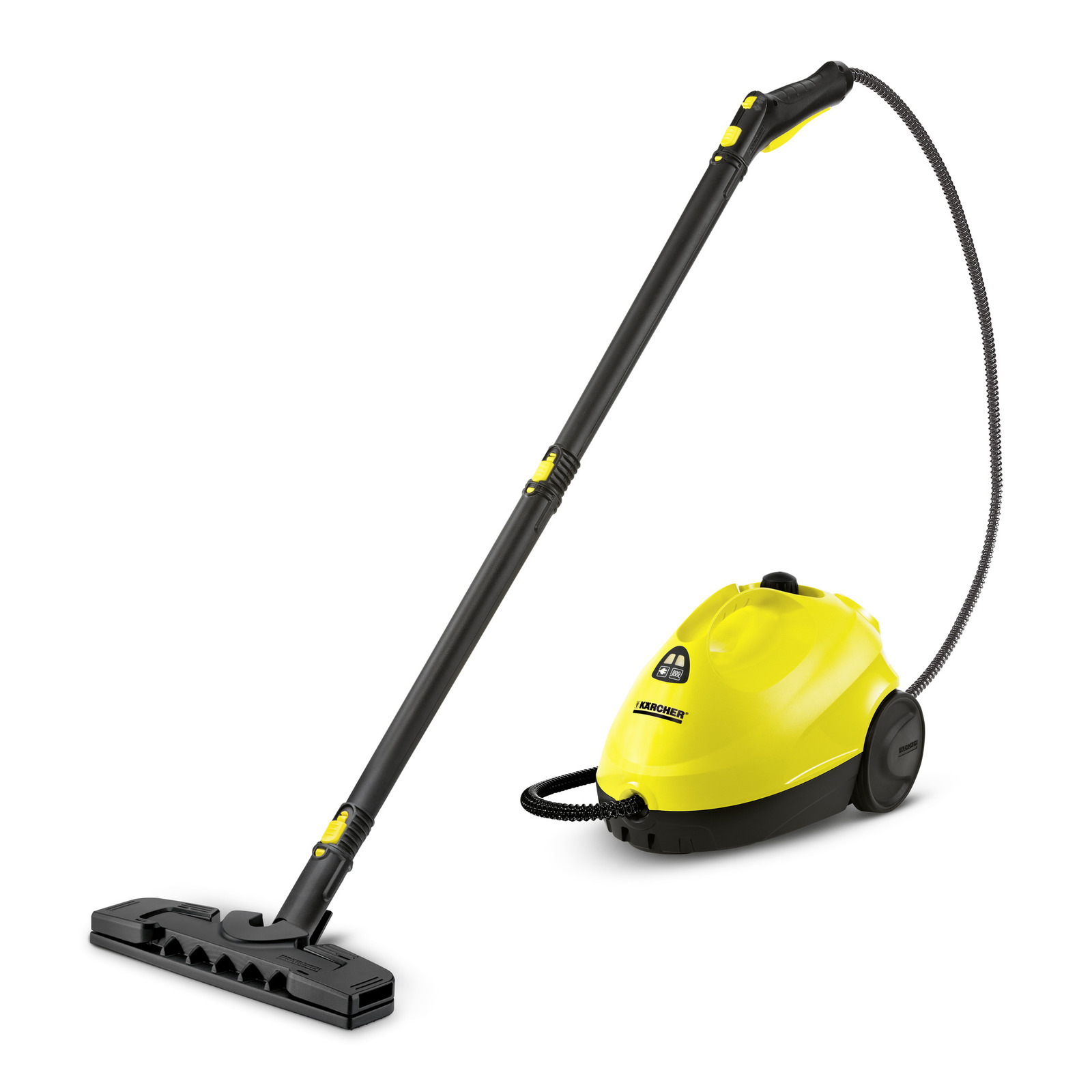 It can sometimes take more than a light scrubbing to see the results you want in your home, but this doesn't always have to involve harsh chemicals. The Kärcher SC2 home steam cleaner can get to work deep cleaning in your home, requiring nothing but water straight from the tap. Whether you're looking for a helping hand for your weekly clean or are looking to go the extra mile to impress visiting relatives, the use of a steam cleaner can help you get more from the time you spend cleaning your home. The lightweight design (weighing less than 3kg) makes moving the SC2 around your home a matter of ease, allowing you to get at the tough stains, wherever they may be. While the Kärcher SC2 is easy to handle, it does not compromise on cleaning power. The two level steam control ensures that your cleaning job remains effortless yet powerful around the home. The accompanying array of nozzles and attachments ensure you can use the steam cleaner on just about any surface in your home, with impressive results with every use.
Features and benefits
Floor kit Comfort with flexible joint on the nozzle
Optimal cleaning results on all types of hard floors around the home thanks to efficient lamella technology. Ergonomic, effective cleaning with full floor contact regardless of the user's height thanks to flexible nozzle joint.
Accessory storage and parking position
Convenient accessory storage and easy floor nozzle parking during breaks.
Child lock on the steam gun
A lock system offers reliable protection against improper use by children.
| | |
| --- | --- |
| Multifunctional accessories | Targeted cleaning of different surfaces with the floor nozzle, hand nozzle, round brush, etc. |
| Cotton cover for manual nozzle and floor cloth | For thorough cleaning results |
| Steam flow control on handle | The steam volume can be individually adjusted to the surface and dirt. |
Specifications
Technical data
| | |
| --- | --- |
| Area performance (m²) | 75 |
| Heat output (W) | 1500 |
| Max. steam pressure (bar) | 3.2 |
| Cable length (m) | 4 |
| Heating time (min.) | 6.5 |
| Tank capapcity (l) | 1 |
| Type of current (V/Hz) | 220 240 / 50 60 |
| Weight without accessories (kg) | 2.9 |
| Dimensions (L x W x H) (mm) | 380 x 254 x 260 |
Equipment
Childproof safety lock
Safety valve
Steam flow regulation, on handle
Integrated funnel
Floor cleaning kit, Comfort + 2 x 0.5 m extension tubes
Equipment, Manual nozzle, detail nozzle, round brush
Terry floor cloth, 1 piece(s)
Terry cloth cover for hand tool, 1 piece(s)
Descaler Sticks
Parking position
Steam hose with gun, 2 m
Application areas
Floor cleaning
Taps
Wash basin
Wall tiles
Windows, mirror
Extractor hood
Fittings
SC 2
is rated out of
5
by
38
.
Rated

5

out of

5
by
Maccie
from
GLad i changed
I have used a well known branded steam cleaner previously but found it quickly clogs up as I live in a hard water area. This machine, though more expensive, has less small apertures to fur up and is easier to clean anyway. It's much easier to change the accessories and I like the control to vary the amount of steam produced. So far can't fault it.
Date published: 2018-04-16
Rated

2

out of

5
by
Wagthomas
from
Good steamer,
Good little steam cleaner,but karcher aught to supply a couple of the seals for the extensions,one of my seals broke and trying to get one is like trying to get rocking horse manure,marched are well known for being tight fisted at letting people have spares.
Date published: 2018-03-15
Rated

2

out of

5
by
0000
from
Poor Cap
I bought the SC2 steam cleaner 2 months ago and the cap will not seal. It worked the first day it was bought, and it done a great job. But for 150 euros you would expect better quality.
Date published: 2017-12-22
Rated

4

out of

5
by
meldrew
from
great product for the price
Easy to set up and use good cleaning results on hard surfaces
Date published: 2017-12-13
Rated

5

out of

5
by
Daley
from
Sc2
Bought a few weeks ago and works wonders on kitchen tiles
Date published: 2017-10-15
Rated

4

out of

5
by
Hoylander
from
arived on time
The cleaner has a really good running time before it needs re-filling, it is light & easy to use, & does lift the dirt very well. It would have been better if it had been supplied with more cleaning clothes, as they soon get dirty, or some with a mop style to absorb more dirt, as we are constantly washing the clothes to prevent them just spreading dirt. It is not as effective on scale as I thought it would be, & exhausts quite a lot of steam & pressure cleaning the taps etc
Date published: 2017-09-25
Rated

5

out of

5
by
LITTLESPRING
from
Excellent Product
I must have had this steam cleaner for over a year now and can certainly recommend it. I used to have a polti steam cleaner and the Karcher is just as good. Having used a steam cleaner for around 20 years around the home I would'nt be without one.
Date published: 2017-09-12
Rated

1

out of

5
by
EmmaD
from
Disappointing
I was so disappointed with this product. I thought it would be a fuss free solution to cleaning floors/washing windows but it is far from it. I like the gun attachmemt for blasting grime around sinks etc but the attachmemts that need cloths are finicky and the quality of the cloths themselves are shocking, they become saturated quickly and leave watermarks all over your floor and windows. It also means the floor gets soaked and takes ages to dry. The machine doesn't tell you when the water level is running low, it just runs out and you have to turn it off, cool it down, refill and let it warm up again. The cord is long and doesn't retract so you need to wrap it around the machine everytime you move. The attachments are constantly falling off the storage area on top of the machine. The steam cap is supposedly 'childproof' as they have sunken the knob into the frame but they have actually made it so awkward to open that it might as well be adult proof-ironically you need tiny hands to open it. My biggest problem seems to be a common problem with the machine. I have had it less than 2 years and as it is so awkward I don't use it very regularly, last time I used it, I left the cap on and now I cannot open it again. I have contacted customer service and first response I got was 'how old is your machine?'. It definitely felt like this was a problem they are aware of amd that they were hoping my machine is out of warranty. I replied that it is about two years old and I was told I would need my receipt if I want it repaired otherwise I will be charged. Kaercher customer service does not compare to other companies in the same price range. I won't be a return customer and I would advise if anybody else is considering buying, keep proof of purchase in a safe place.
Date published: 2017-02-25