Kärcher
B 200 + D 110
1246200205
https://www.kaercher.com/au/professional/industrial-floor-cleaners-scrubbing-machines/scrubber-dryers/ride-on-scrubber-dryers/b-200-d-110-1246200205.html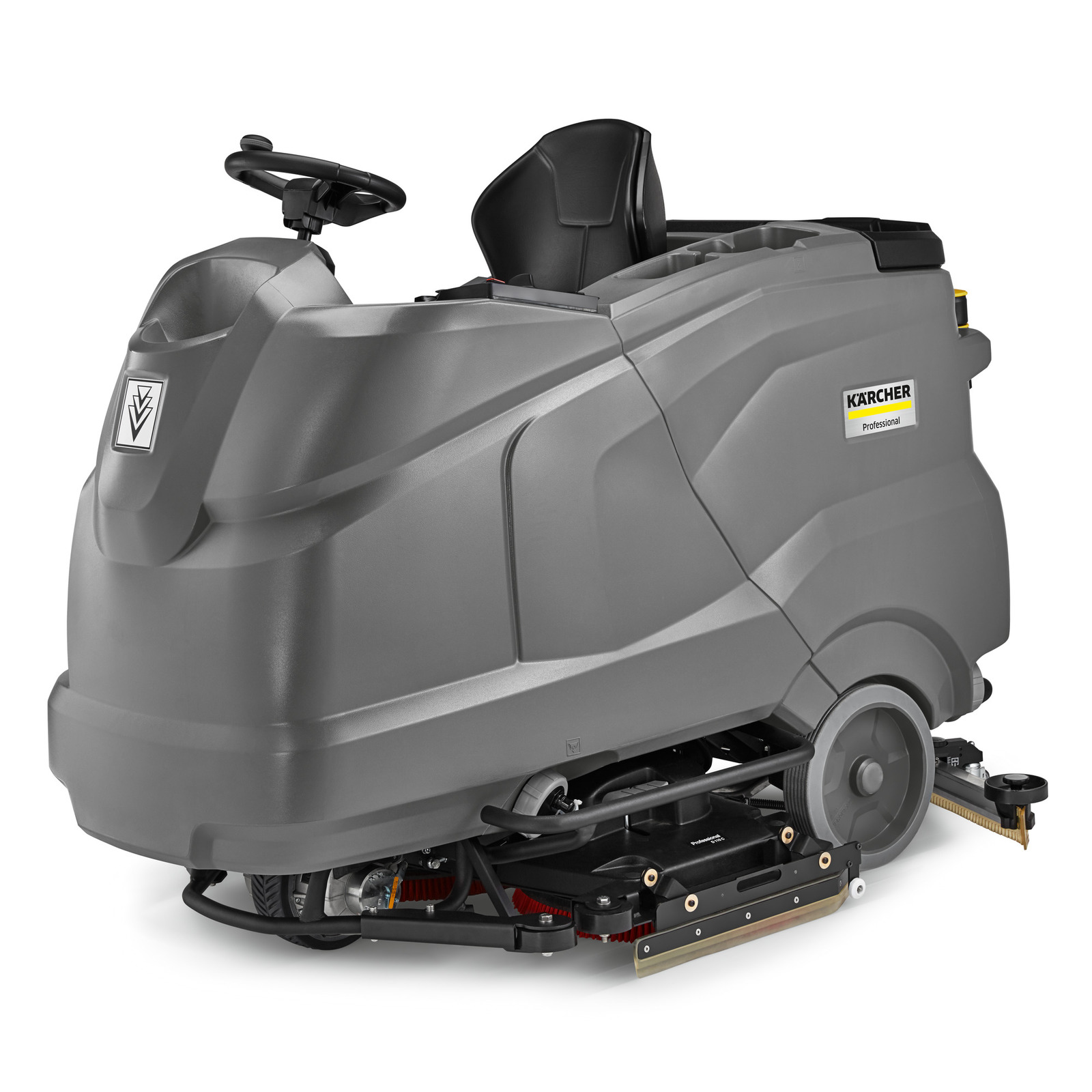 Order number:
1.246-200.2
Features and benefits
Configurable device
Equipment details can be freely selected.
Perfect matching of the machine to the cleaning requirements.
Economically sound solution.
KIK system
Greater protection from incorrect operation.
Lower service costs.
Auto-Fill (optional)
Automatic fresh water tank filling.
Connect the fresh water hose and the filling process stops automatically when the tank is full.
Reduced power consumption.
40% longer run time per battery charge.
Even quieter and thus ideal for noise-sensitive areas (daytime cleaning, hospitals, hotels etc.).
Large colour display
Logically structured display of the current program.
Quick and easy changes to settings possible.
Tank rinsing system (optional)
Easy cleaning of the dirty water tank.
Water savings of up to 70% in comparison to cleaning with a conventional water hose.
Improved hygiene.
Built-in charger
No separate battery charger necessary.
Convenient and easy handling.
Can be used with various battery types.
Dose

cleaning agent dosing unit (optional)
Saves cleaning agent.
Precise and uniform dosing (adjustable from 0 to 3%).
Cleaning agent can be changed without emptying the fresh water tank.
Easy handling
Easy handling thanks to logically structured control elements with colour coding.
Easier use and shorter learning curve.
Specifications
Technical data
| | |
| --- | --- |
| Brush working width (mm) | 1100 |
| Vacuum working width (mm) | 1200 |
| Fresh/dirty water tank (l) | 200 / 200 |
| Theoretical working capacity (m²/h) | 6600 |
| Practical area performance (m²/h) | 5000 |
| Brush speed (rpm) | 180 |
| Brush contact pressure (g/cm²) | 34 |
| Battery (V) | 36 |
| Battery voltage (V) | 36 |
| Rated input power (W) | 2800 |
| Traction motor (W) | 600 |
| Weight (with accessories) (kg) | 475 |
| Dimensions (L x W x H) (mm) | 1860 x 910 x 1410 |
| Voltage (V) | 36 |
Equipment
Disc brush
Traction drive
Automatic water stop
Two-tank system