High pressure washer K2 Follow Me Cordless
Cordless, mobile, powerful: Our K 2 Follow Me Cordless pressure washer with 36 V Kärcher Battery Power battery and infinitely variable working pressure up to over 40 bar.
Our K 2 Follow Me Cordless pressure washer does not need a power outlet or a water connection, is extremely mobile and versatile thanks to the Follow Me concept and impresses with around 40 bar working pressure and a high cleaning performance. The powerful 36 V lithium-ion battery and the innovative foldable water tank guarantee independence from power and water sources. The water pressure can be flexibly regulated for maximum control and optimally adapted to the cleaning task. The standard Vario lance is universal. Vehicles, bicycles, windows, steps and lots more around the house can be cleaned easily and quickly at different pressures and without any interruptions to the work from changing nozzles or lances. The compact device can be stored without taking up much space, a practical storage area is integrated in the K 2 Follow Me for the safe placement of spray gun and lance.
Features and benefits
Integrated 36 V Kärcher Battery Power battery
Detachable and collapsible water tank
Innovative, mobile Follow Me concept
A wide range of application possibilities
Specifications
Technical data
| | |
| --- | --- |
| Pressure (bar) | max. 41.3 |
| Flow rate (l/min) | 3.78 |
| Inlet temperature (°C) | max. 40 |
| Connected load (W) | 450 |
| Weight without accessories (kg) | 7 |
| Weight incl. packaging (kg) | 9.9 |
| Dimensions (L × W × H) (mm) | 408 x 326 x 360 |
Equipment
High-pressure spray gun, G 120 Q
Vario Power Jet
High-pressure hose, 20 ft
Integrated water filter
foldable watertank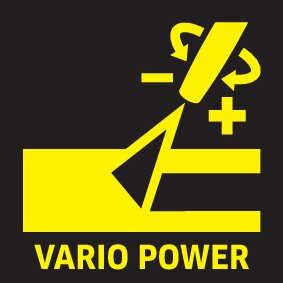 Application areas
Ideal for cleaning vehicles, motorbikes and bicycles.
For cleaning around the house, such as windows, balconies and steps.
Can also be used for watering the garden.