Car dealerships
Cleanliness is half the business. Technical expertise, customer insight and a positive attitude are essential when it comes to selling cars. However, these qualities will only take you so far on the road to business success, because to create a comfortable atmosphere for a sales talk, cleanliness is everything. The same applies to a workshop, where cleanliness is the basic requirement for safe working. Kärcher therefore offers cleaning concepts that are tailored to the specific requirements of car dealerships and workshops. Discover Kärcher's extensive range of cleaning machines and customer-oriented services.

---
Outstanding solutions for customers: showroom cleaning.
Many customers come into your dealership looking for their dream car. The vehicles are spotlessly shiny. Their paint gleams and their interiors smell brand new. In these respects, the showroom should be second to none, because cars simply sell better in clean surroundings. Trust Kärcher solutions to take care of all of your cleaning needs in the showroom. From convenient cleaning of large areas to quick and easy impromptu mopping, we offer the full range of showroom cleaning solutions.
Quick drying
Scrubber driers can clean even the smallest nooks and crannies in areas that quickly become dirty as a result of high footfall. Kärcher offers quick-drying cleaning solutions for all surfaces that prevent the risk of slipping.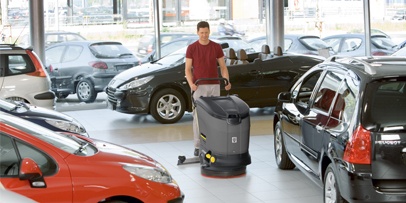 ---
Cleans deep into every crevice
Toilets can be particularly problematic, but Kärcher cleaning appliances guarantee results that will leave only the best impression on your customers and employees. With steam cleaners and scrubber driers, all sanitary facilities can be cleaned to the highest hygiene standards.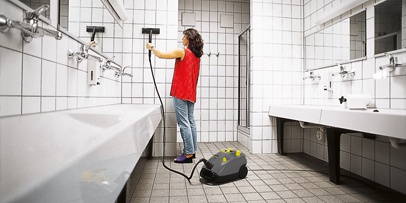 ---
Cleanliness equals safety: workshop cleaning.
The workshop is your mechanics' workspace, but it is also another point of contact between customers and your company. That's why it is important even here to leave a dazzling impression. In the workshop, which is primarily affected by stubborn and greasy dirt, Kärcher offers powerful cleaning solutions that ensure ease of use and spotless cleanliness without leaving residues. All cleaning machines and cleaning agents have been designed to constantly ensure work and process safety in your workshop. Because only a clean workshop is a safe workshop.
Thoroughly clean working environment
For every requirement in the workshop there is the right vacuum cleaner: wet and dry vacuum cleaners, for example, can be used to vacuum oil spills, while the industrial vacuum can vacuum up metal shavings. With the powerful turbines, automatic filter cleaning and robust drain hose, all cleaning challenges can be overcome.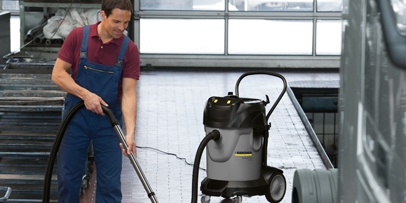 ---
Safely tackle greasy dirt
Scrubber driers remove even the most stubborn types of dirt, like oil, grease, soot and tyre wear marks from surfaces that are likely to become slippery, like fine stone tiles.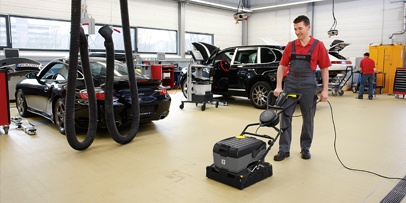 ---
Eco-friendly parts cleaning
The BIO parts cleaner series uses solvent-free, water-based detergent to clean gearboxes, machine parts and tools quickly and thoroughly.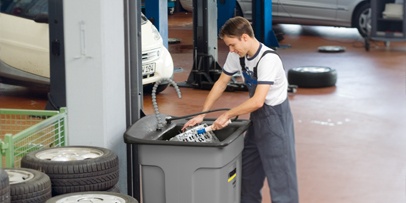 ---
Cleanliness begins at the entrance.
First impressions count. If the area in front of your car dealership is immaculately kept, customers will want to come into your showroom. For the area outside a car workshop or dealership, two types of machine are required in particular: effective sweepers to keep surfaces clean, and specially tailored solutions for harsh weather, like the snow thrower for winter service. Kärcher offers all of the cleaning machines you need for outside areas, together with cleaning agents that are specially formulated for Kärcher technologies.
Machines for every area performance
Kärcher will be happy to advise you on which machines are most suitable for cleaning your surfaces. Floor texture, dirt volumes and cleaning frequency are the decisive factors when it comes to choosing the right sweeper.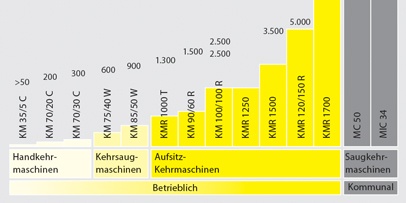 ---
Versatile and manoeuvrable sweeping
Outstandingly practical for medium-sized surfaces: vacuum sweepers with Easy Operation mode, effective mechanical filter cleaning and easy waste emptying make cleaning easy and convenient.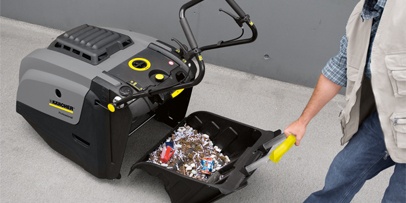 ---
Combined cleaning for large areas
Large areas, for example in front of the workshop hall, can be cleaned with a combination of high-pressure cleaners and surface cleaners to effectively remove oily dirt and tyre wear marks.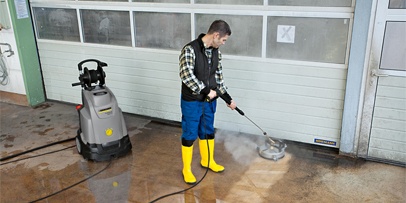 ---
More efficient than a brush
Walk-behind sweepers are ideal for quick clean-ups and for cleaning smaller areas.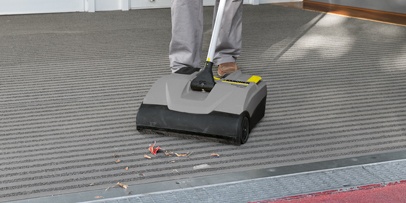 ---