Garden pump BP 7 Home & Garden
Long-lasting premium home & garden pump BP 7 Home & Garden with efficient 5-stage running gear for watering gardens and supplying the household with water (e.g. with rain water). Easy, strong, safe!
Whether it is for consistently pressurised watering of the garden, or for supplying water to your washing machine or toilet: The long-lasting and maintenance-free quality pump BP 7 Home & Garden is ideally suited for utilising alternative water sources to supply reclaim water. The BP 7 switches itself on independently thanks to the automatic start/stop function – and then back off again. In an emergency, the dry-running protection feature switches the pump off, an error indication will light up. The 5-stage running gear impresses with its high performance, efficiency and quiet operation. The BP 7 Home & Garden requires a lower motor rating than conventional jet pumps with the same flow rate – energy saving: approx. 30 per cent. This pump is distinguished not only by its comfort features such as the integrated foot switch, two outlets for simultaneous operation of two connected devices and noise-absorbing rubber feet, but also by its safety features, such as the standard prefilter and the integrated non-return valve for reliable operation. Kärcher offers an extended warranty of 5 years.
Features and benefits
Easy to use in the home and garden
Reliable supply in the home and constant pressure for watering the garden.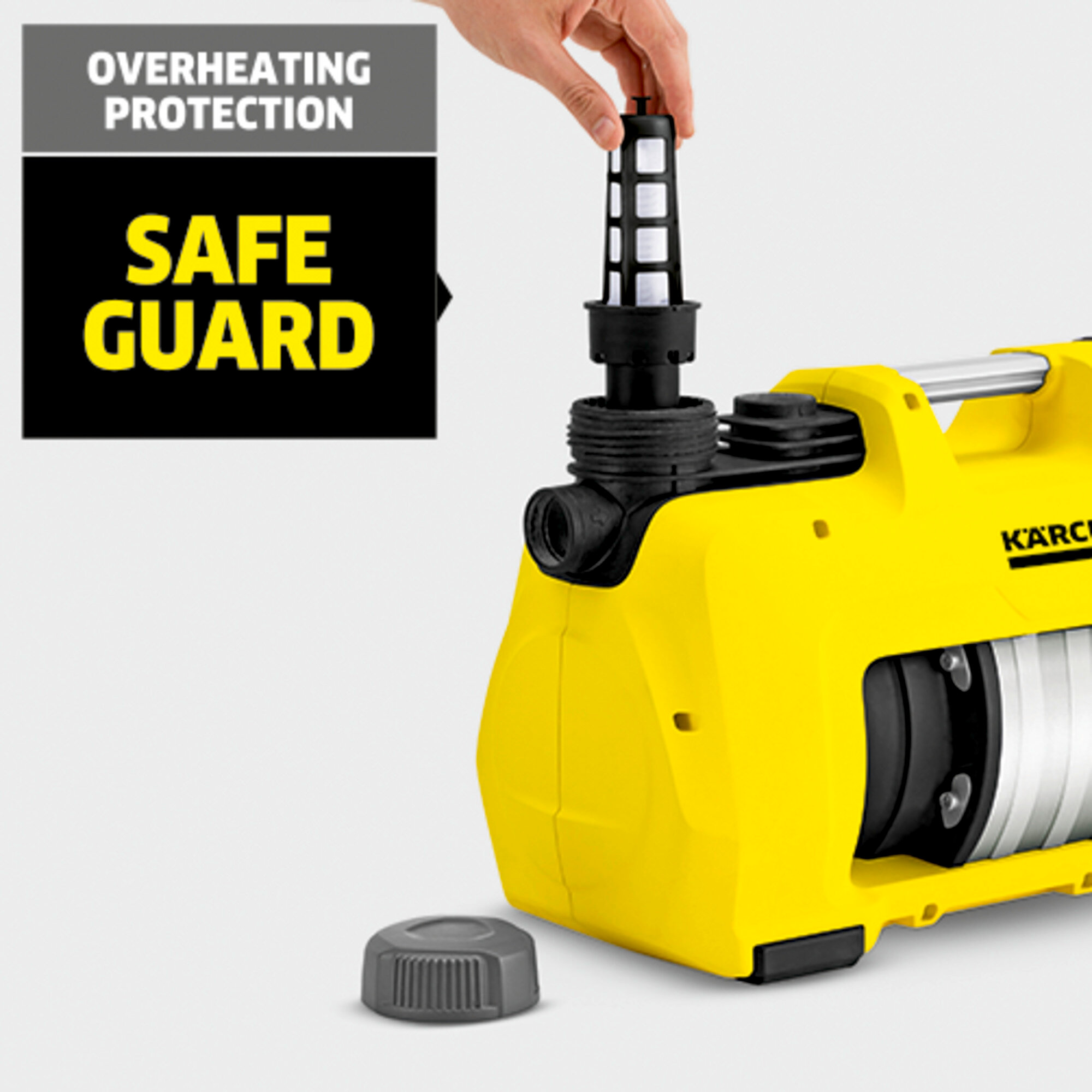 Safe and durable
With pre-filter, non-return valve and dry-run protection as standard.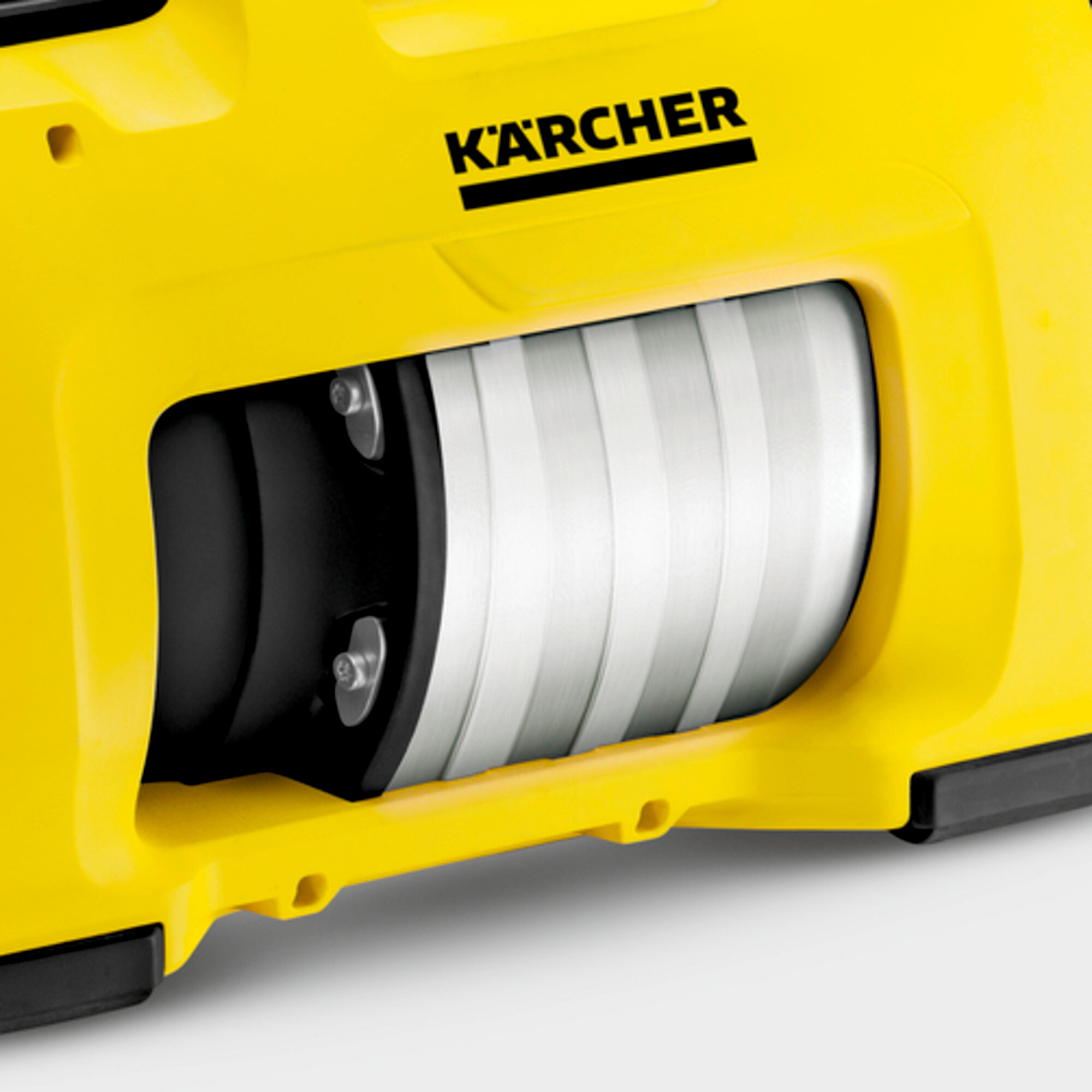 Multistage pump type
Extremely energy efficient and whisper quiet.
Automatic start/stop function
Pumps start and stop automatically as required.
Optimal suction
The quality pump immediately draws water from a depth of 8 metres, e.g. from a cistern.
Display for error control
A suction or pressure-related fault is indicated.
Two water outlets
Multiple application: E.g. lawn irrigation with sprinklers and simultaneous watering with garden sprayers.
Flexible T connection adaptor
Flexible installation for optimal alignment of connected hoses.
Comfortable foot switch
Easy to switch on and off – gentle on the back.
Ergonomic handle
Easy to handle and transport.
Specifications
Technical data
Max. motor rating (W)
1200
Max. flow rate (l/h)
< 6000
Delivery height / Max. pressure (m/bar)
60 / 6
Suction height (m)
8
Delivery temperature (°C)
max. 35
Connection thread
G1
Connecting Cord H07RN-F (m)
1,85
Voltage (V)
230 - 240
Frequency (

Hz

)
50
Weight without accessories (kg)
13,4
Weight incl. packaging (kg)
15,3
Dimensions (L × W × H) (mm)
230 x 540 x 373
Equipment
Optimised union
PerfectConnect connection adapter for G1 pumps
Comfortable foot switch
Automatic start/stop function
Includes prefilter and non-return valve
Dry-running protection
Large filler neck
Ergonomic carrying handle
Cord storage
Display for error control
Two water outlets
Rotating noise-reducing rubber feet