Steam ironing station SI 4 Premium Iron Kit
SI 4 Premium ironing station with steam pressure iron, active ironing board and expanded accessory kit. For convenient ironing and uninterrupted cleaning thanks to the continually refillable water tank.
Steam cleaning and steam ironing in one: the SI 4 Premium iron kit with expanded accessory kit for even more targeted and effective cleaning. Steam pressure iron and ironing board reduce standard ironing time by 50%. The active ironing board has a steam suction and inflation function, which allows the steam to penetrate fabric more effectively – even heavy textiles can be ironed crease-free. The steam cleaner cleans without chemicals and can be used virtually anywhere in the home. Hard surfaces of all kinds can be cleaned quickly and 99.99% of common household bacteria is removed. With the versatile accessories, tiles, hobs, extractor hoods and even the smallest nooks and crannies are left hygienically clean. Effective even on stubborn dirt. The ergonomic Comfort Plus floor nozzle with flexible joint and larger cleaning surface guarantees impeccable and hygienic results. Particularly convenient: cloth-changing is completely contactless.
Features and benefits
Active steam extraction
Thanks to the active steam extraction, the steam penetrates the clothes better. The suction function ensures that clothes are cupboard dry and it also secures them to the ironing board.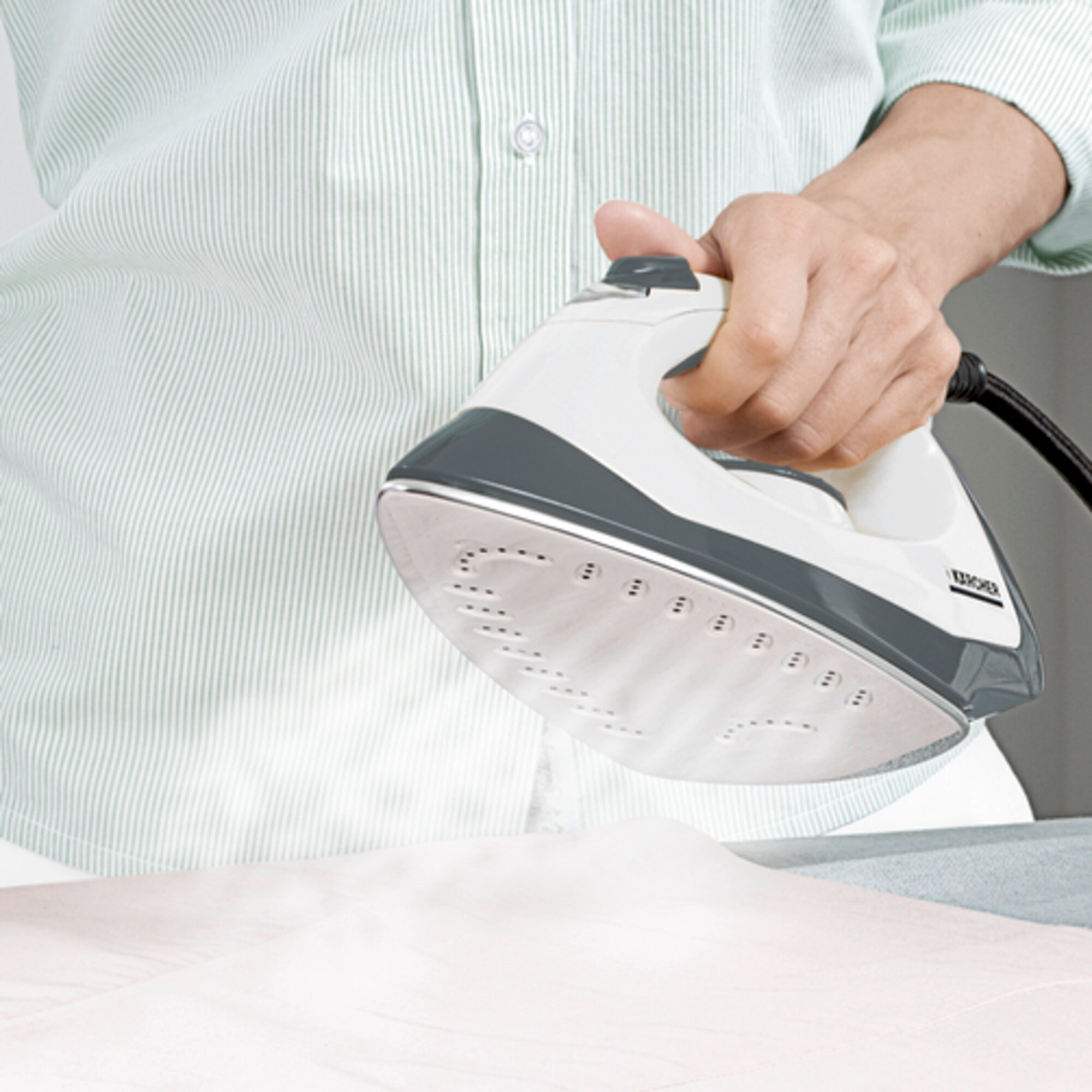 Air cushion function
Delicate fabrics can also be ironed easily and conveniently on the air cushion, without creasing. Irons without leaving marks and is gentle on delicate fabrics. Simple and convenient ironing of items that are difficult to iron (e.g. blouses).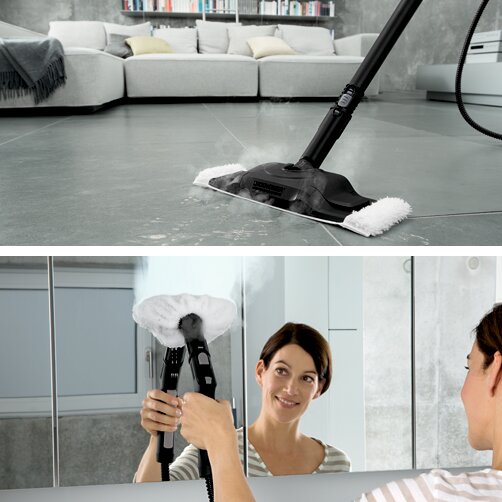 The multifunctional package: Steam cleaner combined with ironing board
By mounting the steam cleaner on the ironing board, the two devices merge to form one strong unit. The steam pressure iron makes ironing much easier and cuts ironing time by half. The multi-talented device is not only suitable for ironing but is also suitable for all household cleaning tasks.
Innovative ventilation technology
No annoying dripping water.
No water marks.
No irritating exhaust air for the operator.
User-friendly classic shape
Tried-and-tested perfectly shaped end for shirts and blouses.
Universal application.
Suitable for left- and right-handed people.
Integrated power outlet on the ironing board
The steam cleaner can be plugged directly into the ironing board.
Stable undercarriage with transport lock
The six-stage height adjustment allows the working height to be set from 75 to 100 cm.
Non-slip feet.
High level of stability.
Non-stop steam supply and removable water tank
Non-stop steam supply for working without interruptions. The tank is easily removable and can be filled from a tap.
Comfort Plus floor kit with flexible joint on the floor nozzle and innovative cloth changing technology
Optimal cleaning thanks to efficient lamella technology. Contactless cloth changing – no contact with dirt.
Ergonomic, effective cleaning with full floor contact, regardless of the user's height, thanks to the flexible nozzle joint.
With the larger Comfort Plus floor nozzle, larger areas can be cleaned in the same amount of time.
Convenient cable-holder system
Suitable for left- and right-handed people.
Can be adjusted individually.
Practical securing of the steam iron hose.
Specifications
Technical data
Area performance per tank filling (m²)
approx. 100
Heating output (W)
2000
Max. steam pressure (bar)
max. 3,5
Heat-up time (min)
4
Boiler/tank capacity (l)
0,5 / 0,8 / (removable tank)
Current type (V/

Hz

)
220 - 240 / 50 - 60
Weight without accessories (kg)
12,6
Weight incl. packaging (kg)
24,6
Ironing surface dimensions (L x W) (cm)
38
Dimensions (L × W × H) (mm)
1450 x 462 x 960
Equipment
Child safety lock
Safety valve
Steam flow control, on handle
Integrated filling funnel
2-tank system
Floor cleaning set, Comfort Plus + 2 x 0.5 m extension tube
Accessories, Manual, detail, power nozzle, 2 round brushes, 1 big round brush
Steam Iron I 6006 + Ironing Board AB 1000
Microfibre floor cloth, 2 piece(s)
Microfibre cover for hand nozzle, 1 piece(s), 1 piece(s)
Descaling sticks
Application areas
Professional ironing of all fabric types
Freshening up of clothes
Floor cleaning
Windows, mirrors, glass
Sinks, shower cabins, fittings
Wall tiles
Hobs
Heaters