Hard floor cleaner FC 3 Cordless Premium
Cleans 20% better than a mop*: Our FC 3 Cordless Premium floor cleaner comes with a spare pair of rollers, 500 ml Universal Cleaner and 30 ml floor care for wood.
With the FC 3 Cordless Premium floor cleaner, dragging buckets around and scrubbing are just as much a thing of the past as conventional mops. Its manoeuvrable swivel joint makes it possible to remove splashes and stains right up to the edge, while the slimline design lets you effortlessly clean even underneath furniture – leaving surfaces up to 20% cleaner than a conventional mop*. The rotating rollers continually wet the floor with fresh water while dirty water ends up directly in a separate tank, leading to a floor drying time of just two minutes. The powerful lithium-ion battery can manage around 60 m² of tiles, parquet, laminate, PVC, vinyl and other materials in approximately 20 minutes. The FC 3 Cordless Premium comes with a spare pair of rollers, 500 ml Universal Cleaner and 30 ml floor care agent for sealed wood.
Features and benefits
Permanent wetting of the rollers from the fresh water tank and innovative self-cleaning function
Always clean with fresh water.
Dirt is not merely moved around, but is picked up and disposed of in the dirty water tank.
Slimline product design and floor head with swivel joint
Effortless cleaning under furniture and around objects.
Cleaning right up to the edge – for excellent results in corners and on edges.
Automatic water removal from the rollers and wide range of cleaning and care agents available
Suitable for all hard floors – including parquet, laminate, stone and plastic.
Low residual moisture means that floors can be walked on again after approximately 2 minutes.
Approx. 20 minutes of run time thanks to the strong lithium-ion battery
Maximum freedom of movement when cleaning thanks to being independent from power outlets.
No need to constantly plug/unplug, for ultimate convenience when cleaning.
Three-stage LED display acts as an intuitive battery level indicator.
High-quality microfibre rollers
Mounting and removing the microfibre rollers is quick and easy.
Machine washable at up to 60°C.
Easy-to-remove two-tank system
The fresh water tank can easily be filled under the tap.
Hygienic removal and emptying of the dirty water tank without coming into contact with dirt.
Innovative drive system
With forward rotating rollers, the machine moves across the floor almost by itself – for effortless cleaning.
No scrubbing by hand necessary.
Parking station with roller storage
Practical storage and parking of the device and rollers.
Specifications
Technical data
| | |
| --- | --- |
| Current type (Ph/V/Hz) | 1 / 100 - 240 / 50 - 60 |
| Area performance per battery charge (m²) | approx. 60 |
| Fresh water tank capacity (ml) | 360 |
| Dirty water tank capacity (ml) | 140 |
| Roller working width (mm) | 300 |
| Floor drying time (min) | approx. 2 |
| Battery voltage (V) | 7.2 |
| Battery running time (min) | approx. 20 |
| Battery charging time (h) | 4 |
| Battery type | Lithium-ion battery |
| Weight without accessories (kg) | 2.4 |
| Weight incl. packaging (kg) | 4.9 |
| Dimensions (L × W × H) (mm) | 305 x 226 x 1220 |
| -- | * The Kärcher floor cleaner achieves up to 20 per cent better cleaning performance compared to a conventional mop with wiping cloth cover in the "Wiping" test category. Refers to average test results in cleaning efficiency, dirt pick-up and edge cleaning. |
Equipment
2-tank system
Pair of universal rollers, yellow
Pair of universal rollers, grey
Floor cleaning and care wood sealed RM 534 30 ml
Floor cleaning Universal RM 536 500 ml
Parking station with roller storage
Battery charger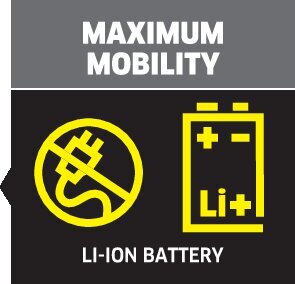 Application areas
For all hard floors such as parquet, laminate, cork, stone, linoleum and PVC
For hygienic cleaning jobs in all areas (e.g. toilet, kitchen, bathroom, etc.)
For fast and effortless wet cleaning of hard floors
Also suitable for sealed, oiled and waxed parquet