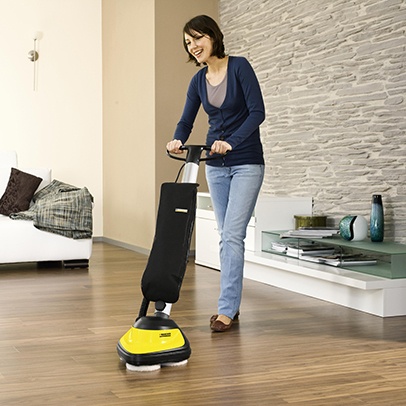 Floor care
What used to be a complicated procedure, involving many manual stages, has now been made very straightforward. With polishing, floors are optimally maintained and made more resistant to all types of wear. They become more resistant to moisture and stay clean for longer. Then there is the visual aspect - they gleam with a perfect shine and show off their colour better. Here you can find important information and numerous tips for expert floor care, as well as information on polishing and appropriate care and cleaning agents.
The most important tips at a glance
To achieve uniform polishing results, old layers of cleaning agent must first of all be thoroughly removed. It is best to use Kärcher's deep cleaning agent and warm water for this.

If you lightly moisten the wiping mop before you begin mopping and before applying the care agent, you can spread the care agent more evenly over the floor.

To achieve uniform polishing results, the floor must be completely covered in care agent. You should therefore mop the surface several times in the direction of application. It is advisable to apply the care agent section by section onto the floor.

For optimum polishing results, allow the care agent to dry completely before polishing. The applied care agent will dry faster if you open the window.

For a streak-free shine, wait 24 hours after polishing before placing any weight on the floor (do not move any furniture).

After using the floor polisher, wash out the pads with detergent under running water to maintain the full polishing effect of the pads. The pads can also be washed in the washing machine at 60°C.

The polishing pads can be easily stored in the onboard accessory compartment once cleaning is complete.
Suitable devices and accessories
FP 303 vacuum polisher
The high speed of the FP 303 vacuum polisher ensures all-round impeccable polishing results on all hard floors.