Kärcher
VC 5 Premium
13491520
https://www.kaercher.com/ie/home-garden/handheld-vacuum-cleaners/vc-5-premium-13491520.html
The powerful, lightweight and compact the Kärcher vacuum cleaner, delivers corded power for continuous everyday cleaning. It's easy to carry, store and use, with a bagless filter system.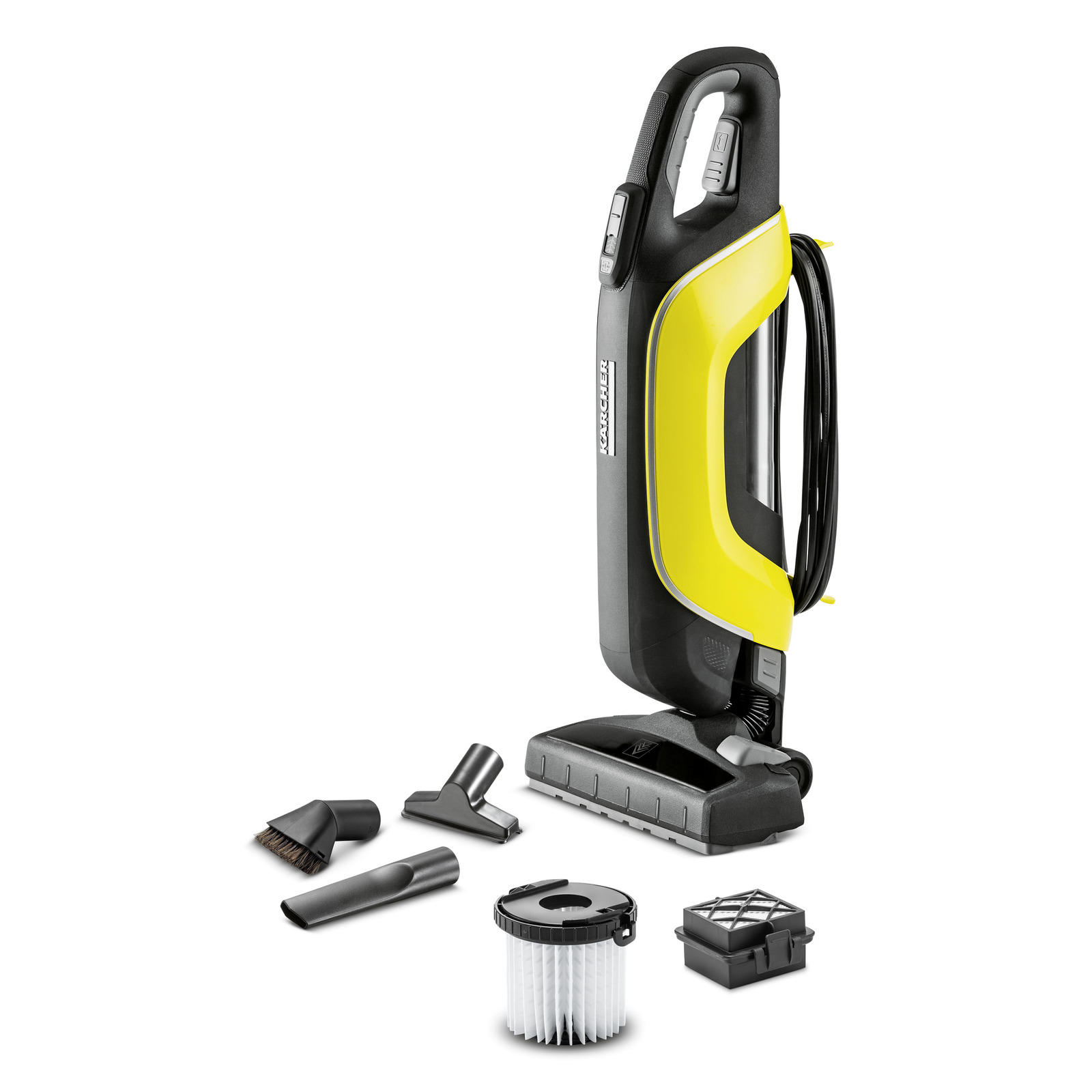 Handheld vacuum cleaner VC 5 Premium
The powerful, lightweight and compact the Kärcher vacuum cleaner, delivers corded power for continuous everyday cleaning. It's easy to carry, store and use, with a bagless filter system.
The Kärcher VC 5 vacuum cleaner delivers the kind of performance you'd expect from the best cylinder vacuums with a lightweight and compact design. It's easy to carry, store and use, with a bagless filter system that's quick and easy to empty. The vacuum comes with accessories for cleaning stairs, crevices and upholstery, this means you get all the accessories you need to vacuum your car through to all around the home. High performance vacuum cleaners are often heavy, bulky and hard work to use, particularly on stairs and around furniture. However the lightweight Kärcher vacuum cleaner, with a height adjustable handle, means you can adjust the vacuum cleaner to the height of any user, makes it easy to move on floors, and around furniture. The four power modes allow you to find the right setting for your floor type, giving you great results on carpet and hard floors. When you're finished it compacts down to store in the smallest of spaces, making storage issues a thing of the past. The bagless filter system will save you money in the long run, with no need to buy replacement filter bags. The VC 5 comes with a two year warranty.
Features and benefits
Triple-telescopic suction tube
The vacuum cleaner can be reduced to half its size at the touch of a button. Easily stored in the smallest of spaces. Individual size adjustment.
Switchable dry vacuum nozzle with flexible joint
Excellent cleaning performance just like large sledge-type vacuum cleaners. Excellent manoeuvrability and easy to clean under furniture.
3-stage bagless filter system
No need to buy replacement filter bags. Reliable dirt absorption in the device.
2-stage filter cleaning function

Automatic filter cleaning when the filter cover is opened.

Removable filter cartridge

Removing the filter from the vacuum is extremely easy.
Quick and easy filter emptying.

Magnetic parking position

Quick and secure parking of the machine when you are interrupted during cleaning.
Compact transportation for the machine.

4-stage power control

The power can be adjusted quickly and easily to suit the particular flooring you are cleaning.

Detachable floor nozzle

Option to attach additional accessories to make cleaning easier in every area of the home.

2 cable hooks with fast removal function

The cable can be compactly stored on the rear of the unit and released again quickly with the turning hook.
Specifications
Technical data
| | |
| --- | --- |
| Energy efficiency class (out of A+++ to D) | A+ ((out of A+++ to D)) |
| Operating radius (m) | 10 |
| Sound power level (dB(A)) | 77 |
| Voltage (V) | 220 - 240 |
| Frequency (Hz) | 50 - 60 |
| Weight without accessories (kg) | 3.2 |
| Dimensions (L x W x H) (mm) | 182 x 261 x 621 |
Equipment
Soft grip handle
Telescopic suction tube
Crevice nozzle
Upholstery brush
Upholstery nozzle
Cable length, 9 m
Application areas
Hard floors
Carpets
Textile surfaces
Narrow gaps
Delicate surfaces
Stairs
VC 5 Premium
is rated out of
5
by
14
.
Rated

2

out of

5
by
Budget84
from
Dust Collection Tank Far Too Small!
I received this item from Karcher to test and review. For this reason I feel bad only giving two stars, but I was told to be honest and it's only fair that I am. Don't get me wrong, there are some good features that I like about this product. One feature being the lengthy lead. With my previous vacuum cleaners I have had to unplug and change sockets even when I am only cleaning one room, but this lead is long enough to get the job done without have to change sockets. I also like the ease of the heads manoeuvring, it was very easy to get into corners where I would usually have to use an adaptor for. Due to the fact that you can make this item compact, it is also handy for vacuuming the stairs, it does make this job a lot easier on my stiff back! However, the suction is terrible and the dust collection tank is just far too small, it's about half the size of a can of coke! At first use, the suction was good for about the first 10 seconds and then there was hardly any suction at all. I had to keep hoovering the same area over and over again and it would just glide over the top of the bits on the floor, which resulted in me having to pick up the bits by hand. I have a young baby who is just starting to learn to crawl and even after hoovering, I wasn't comfortable with her rolling about on the carpet as I could still see bits on the floor after vacuuming. I have a relatively small, carpeted living room and I have to empty the tank about five times in one vacuum clean. It is very frustrating when I just want to do a quick vacuum. If you have pets then I definitely would not recommend this product as you would need to empty the tank a lot more. I found this vacuum was better suited to my tiled flooring. The good points that I like about this vacuum are all well and good, but the number one thing you want from a vacuum cleaner is good suction and a tank large enough that you can at least do one room without having to empty it. Even though there are good points, I can only give two stars because this vacuum cleaner does not do the main thing that it is meant to do, so it makes the good points irrelevant.
Date published: 2017-03-01
Rated

5

out of

5
by
Njc42
from
Great for multi floors/caravans/cars/
Having multi floors around my home, I taught this machine ticked all the boxes, and was able to cope.It also packs a nice nozzle kit, for cleaning different bits of your home.having wooden blinds in the home I taught I'd give it a try with one of the smaller nozzles attached, and done a great job of removing the dust from them.The vc5 I find to be quite in noise, had also had a long electrical lead,which means you don't have to keep unplugging the vc5 when hovering different rooms.The vc5 also has a variable suction setting, which can be adjusted to suit the floor your using it on.The vc5 is nice and compact and does not take up much storage space around the home.I personally find the vc5, light and easy to use, the only disadvantage I find is the dust collector is quite small and needs emptying quite often, also I think for such a great powerful machine it's missing a rotating brush bar, in its standard package.
Date published: 2017-02-27
Rated

3

out of

5
by
Crazycatlady
from
Disappointing
Very easy to use and manoeuvre around the floor and furniture, very good suction apart from when you wish to hoover mats or rugs then it struggles to pick up strands of cotton or pet hair, could do with a rotating brush head. The dust collection tank I feel is too small and fills up too quickly and the filter blocks to easily causing loss of suction I found myself having to constantly empty the tank which would be difficult for someone who had poor grip. Great size and fits neatly into a small cupboard, also very quiet.
Date published: 2017-02-20
Rated

4

out of

5
by
RichardB
from
Very good variable suction
Instructions. These were not clear as regards the fitting and removal of the dust container. Assembly. This was straightforward despite the poor instructions. Attachments. The wide range of easily fitted attachments is a positive feature. Operation. A very positive feature is the variable suction setting which is very impressive. The mains lead has the advantage of being long although the lead holders did not make it very easy to release. A better solution would be rotateable lead clips as found on some garden strimmers. The dust container has a very low capacity and does need emptying after every use, as indicated. When the handle is fully extended the device is very manoeuvrable especially in restricted spaces. Storage. The device is compact when folded but would benefit from having a wall mounting attachment for easier storage.
Date published: 2017-02-16
Rated

4

out of

5
by
Welshmike
from
Small, compact and powerful
I took delivery of this little gem and could not wait to use it. I've always been a bit of a Karcher geek and love the products but have never used an indoor product made by them. I am a stay at home dad so as you can imagine anything that makes my job easier is a bonus. It's very easy to put together and the instruction are very clear, you know what men are like at reading instructions. I plugged it in and off I went !!! I hoovered the whole house easily and the suction was impressive, although not quite as powerful as my previous hoover so I had to go over stubborn bit a few times but to be honest the Karcher was half the price so what did I expect. The hoover is lightweight and my 3 year old daughter had a go as she's in the "help with anything" stage and she managed perfectly. It got into corners well and picked up alongoing the skirting. I have had it for a month now and it's easy to empty and folds down for extremely easy storage and I live in a small 2 bed house so the easier the storage the better. The tools provideo helped along the way too Overall I would recommend this product. It's lightweight, quiet, not bad on power and easy to store which clinched it for me. It would have got a 5 if it was slightly more powerful on suction but you will not be disappointed if you purchase one.
Date published: 2017-02-16
Rated

4

out of

5
by
Jo R
from
Compact, lightweight and practical
Straight out of the box this is a neat design, compact for storage and yet the suction tube easily extends to provide a manoeuvrable vacuum with great suction. This is ideally suited to a small property, my mother-in-law has a cottage with two bedrooms upstairs, the VC5 copes admirably with this and the small bagless canister is easy to empty. We have a 4 bedroom house with 2 cats and a dog, plus a wood burning stove and to be quite honest the VC5 is not man enough for this and we would be emptying the conister every 5 minutes. The extending suction tube is great for the stairs as it can be shortened to get an ideal length, however i would like an extension hose that would allow me to vac the car and get to a few hard to reach places, Overall for a small property with no excessive demands in terms of dirt producing inhabitants this is a well thought out product
Date published: 2017-02-14
Rated

3

out of

5
by
Steve36
from
Not the greatest
I received this product to perform a review. My initial thought was great, it's light weight, collapses down into a very small bundle so it's very easy to store. A very quiet motor plus the standard tools you'd expect. My two bug bares were the main suction head is a little big so makes it hard to manoeuvre around pipe work or similar tight spaces. Secondly when using power levels 1, 2 and 3 I found any sort of debris was not lifting off the living room carpet. When I used level 4 the suction was so powerful I could hardly push the vacuum forwards.
Date published: 2017-02-08
Rated

5

out of

5
by
Flowergirl12
from
Fantastic lightweight vacumm cleaner
I received this product for free as part of the Karcher Club Product Tester Campaign. A lightweight and compact Vacuum,stores away easily ideal if space is limited. Easy to read instruction manual,and incredibly easy to use and assemble. Lovely long mains cable. The vacumm is not noisey. Adjustable head for pile carpets and hard floors,great suction. Easy to handle and manouvere. The adjustable length can be done by the flick of a switch. The tools are easy to use,great for pet hair on sofa. The bagless system is amazing as you can see the dirt.Easy to remove and empty,once you have mastered the knack of putting it back in. Overall a fantastic vacuum and would definately recommend this item.
Date published: 2017-01-30