K 2 COMPACT PRESSURE WASHER
The Kärcher K 2 Compact is a lightweight, versatile pressure washer that is suitable for most pressure washing tasks, from cleaning the car to removing dirt from walls, patios and decking.
Kärcher
K 2 Compact
16731220
https://www.kaercher.com/ie/home-garden/pressure-washers/k-2-compact-16731220.html
The Kärcher K 2 Compact is a lightweight, versatile pressure washer that is suitable for most pressure washing tasks, from cleaning bikes to removing dirt from walls, patios and decking.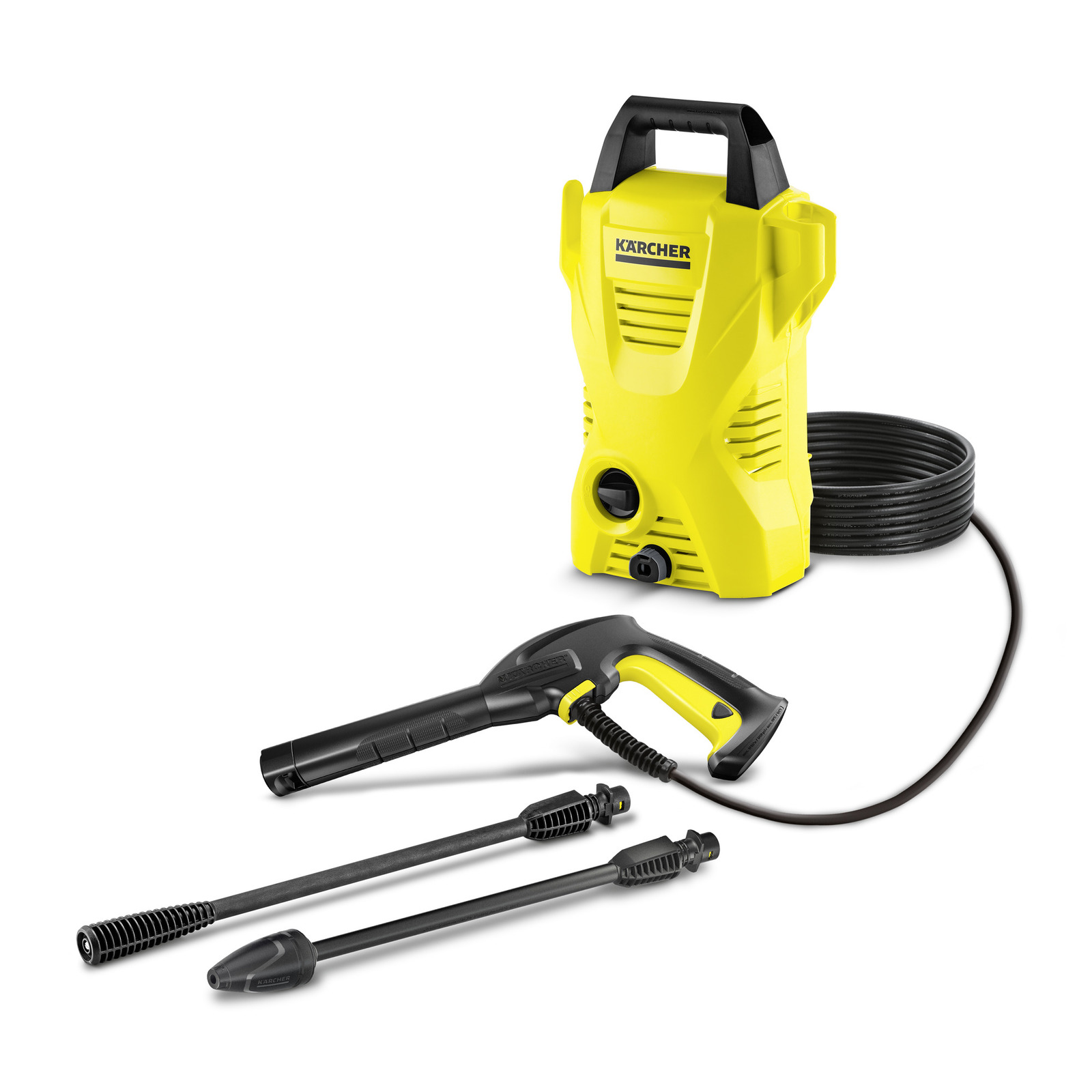 The Kärcher K 2 Compact jet washer might be small and lightweight but it can make light work of even the biggest cleaning jobs. Whether you're looking for a gentle touch to clean delicate paintwork on your car or you need a pressurised flow of water to remove stubborn dirt from a weathered wall, the K 2 Compact is up to the task. The unit is not only compact, it's ergonomically designed meaning the handles fit comfortably in the hand. The K 2 Compact is easy to carry and use - both during and in between cleaning jobs. The cables, hose and accessories can all be stored on the machine itself and the machine can be stored neatly in most cupboards or transported easily in the boot of a car. The K 2 Compact jet washer comes with a trigger gun, a one way lance and a Dirt Blaster lance that can deliver 50% more cleaning power by using a concentrated rotating pencil jet. There's also a 4m high pressure hose to give you plenty of reach and a detergent suction facility for lower pressure cleaning on surfaces such as car bodies. The plastic casing is impact-resistant and designed to prevent dirt from damaging the motor and pump, making the K 2 Compact as durable as it is effective.
Features and benefits
Compact and tidy storage
Not all living spaces come with generous storage space. The Kärcher K 2 home jet washer's upright design saves you space, while the on-board storage solutions keep your Kärcher accessories, cables plus hose and trigger gun stored neatly on the machine.
Full cleaning power
While the Kärcher K 2 Home jet washer may be small enough to store in a cupboard or in the boot of your car, it still has a powerful cleaning capacity expected from all our models.
Sits comfortably in the hand
Thanks to the ergonomic carrying handle and the low weight, the device is light and easy to transport, making jet washing portable and convenient around the home.
Specifications
Technical data
| | |
| --- | --- |
| Pressure (bar/MPa) | max. 110 / max. 11 |
| Flow rate (l/h) | max. 360 |
| Max. water feed temperature (°C) | max. 40 |
| Power rating (kW) | 1.4 |
| Area performance (m²/h) | 20 |
| Weight without accessories (kg) | 4.1 |
| Dimensions (L x W x H) (mm) | 176 x 280 x 443 |
Equipment
High-pressure gun, Standard

Quick Connect

One-way spray lance
Dirt Blaster spray lance
High-pressure hose, 4 m

Quick Connect

on machine
Detergent application via, Suction
Integrated water filter
Adapter garden hose A3/4"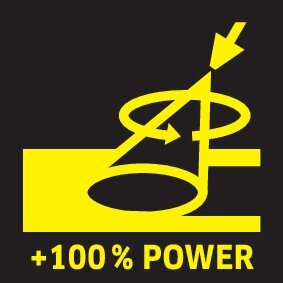 K 2 Compact
is rated out of
5
by
99
.
Rated

5

out of

5
by
Potatopo
from
The best
Small in size but not performance, great buy for a basic machine.
Date published: 2018-04-17
Rated

2

out of

5
by
Product Designer
from
Didn't work long enough to form an opinion...
Never felt the need for a pressure wash before but this K2 came free with a larger puchase at Christmas - cleaned the cars once some weeks ago and managed to do part of the patio yesterday before it just stopped. Shame, we did not complete the product registration with Karcher (but then it was free) so the only course was to take it to bits and check for a pressure switch failure or similar. The interior is full of carbon debris as the commutator has disintegrated. That's quite an original motor failure after an hour and a half of use and not something I've seen in thirty years of manufacturing experience. Not easy to say whether that's poor quality or just bad luck. The parts are expensive and a replacement motor looks to cost more than a new machine (but the machine is well designed and easy to service - if you want to bother). Will we buy another? Possibly, I can see they have their uses, but probably not a Karcher.
Date published: 2018-04-15
Rated

1

out of

5
by
chief engineer
from
bayonet hose connection
The bayonet hose connection is not fit for purpose,it is to flimsy and easily broken . I have tried to repair BOTH ends but to no avail. I paid £69.99 for this unit in B&M. last year,have only used it 3 times, it fell over twice and broke the bayonet connection both times due to the shortage of cable and hose.I repaired it once with araldite but the second time it failed again. I tried to get a spare hose, but you can only buy the hose complete with the trigger gun for £70+ ,how does that work out on a £69.99 machine?
Date published: 2018-04-09
Rated

2

out of

5
by
Leezer
from
Wont be buying again
Bought the K2 over a year ago. I can honestly say only used it about 4 times to wash the car. Today i pulled it out to power wash the paths. Worked ok for an hour, turned it off for a bit & when i went to turn it back on nothing happened.. only half the paths done. I opened the power washer up and the motor wire had detached from the connector terminal & the terminal was slightly melted. The hot wire after detaching rubbed off the other moter wires. It didnt break the bank to purchase this power washer but i was expecting it to hold up a lot better than it did.dont think i woukd buy this product again
Date published: 2018-03-31
Rated

1

out of

5
by
klew123
from
Broken after 11 months
Thought i would treat myself to a quality brand. After a few uses the water started comming out of everywhere. In fairness to karcher they did replace the K2 but only offered a further month warrenty. Also my old model had an extra lance that made the hose extend further, this is now not part of the standard accessories so my lance is only about 3 feet long where as before it was over 4 foot
Date published: 2018-03-12
Rated

3

out of

5
by
Keef
from
Currently on my 2nd - good customer service
I had a K2 for a little over a year. Had used it only a handful of times (if that) and then one day...motor started to flag...then stopped. Nothing. Called Karcher customer service and, to their credit, they were very helpful and have just delivered a new K2 (slightly different to my broken model). Interesting to see that there are other users who have had the same problem. As others have said, I'll give it another chance and if it doesn't hold up then I'm going to consider another brand. I thought "Made in Germany" would have some meaning, but we'll see...
Date published: 2018-02-23
Rated

3

out of

5
by
Mike82
from
Handy bit of kit!!
Had this item just over a year now, It stopped working all of a sudden. I decided to take it apart, when I stripped it down, engine aswell,...the plastic cogs had broken inside, which was stopping the motor from doing its job!!! I've had a few k2 Mechines in the past and just through them away I've ordered theses cogs so will be putting it all back to gether once I know what oil to put back inside?? I was told you could use 10w40 normal engine oil???
Date published: 2018-02-18
Rated

3

out of

5
by
Roydevon
from
K2 Compact
For some reason my Karcher K2 cuts out after 20 minutes use. Plenty of water pressure and power but it will not start up. Was working fine until recently,
Date published: 2018-01-06