Kärcher
IV 60/30 M B1
15735510
https://www.kaercher.com/ie/professional/industrial-vacuums/

Ex-

vacuums/iv-60-30-m-b1-15735510.html
Robust, continuous duty three-phase industrial vacuum with ATEX Zone 22 approval.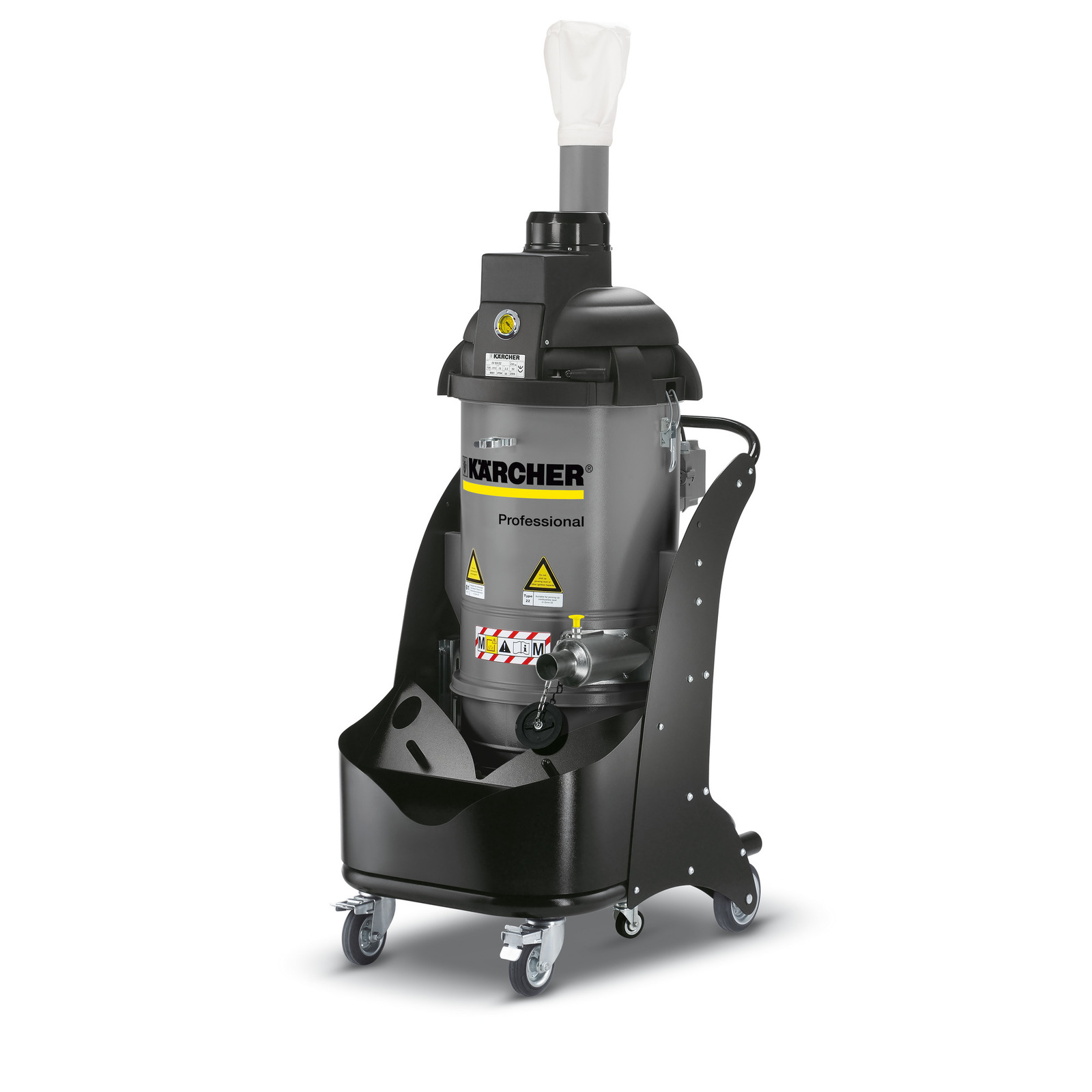 IV 60/30 M B1
Robust, continuous duty three-phase industrial vacuum with ATEX Zone 22 approval.
Order number:
1.573-551.0
Find your local Kärcher Center:
The IV 60/30 mobile three phase industrial vacuum is especially developed to handle dusts of the dust explosion classes ST1, ST2 and ST3 in the zone 22. It is designed to pick up liquids and oils as well as dry material such as dust and dirt. Simple to operate, this vacuum uses advanced technology which delivers a long service life, high productivity all at low running costs. With a 60 litre container capacity and a variety of special purpose accessories, the machine is ideal for a broad range of cleaning applications in industry, particularly in the metalworking and plastics industries. The single motor runs from a three-phase power supply and is designed for continuous duty. Depending on the application, container (dry) part-no. 6.394-523.0 or container (wet) part-no. 6.394-528.0 needs to be ordered separately.
Features and benefits
Resilient and versatile
The durable side channel compressor allows the IV 60/27-1 M B1, IV 60/30 and IV 60/30 M B1 to be used as stationary units in multi-shift use. The extensive range of accessories enables ergonomic and economical cleaning solutions for numerous applications.
Approved for dust classes M and B1 (Z22)
IV 60/27-1 M B1 and IV 60/30 M B1 safety vacuum cleaners are suitable for class M hazardous dusts and for use in potentially explosive dust atmospheres, classes ST 1, ST 2 and ST 3 in zone 22.
Maintenance-free direct drive
The direct drive ensures maximum efficiency and reliability. Its rugged design makes it suitable for multi-shift use.
Convenient storage area for accessories on the machine's chassis
Large accessory basket on the machine chassis offers a convenient storage space for nozzles, bends and other parts.
Specifications
Technical data
| | |
| --- | --- |
| Current type (Ph/V/Hz) | 3 / 400 / 50 |
| Air flow (l/s/m³/h) | 68 / 244 |
| Vacuum (mbar/kPa) | 286 / 28.6 |
| Container capacity (l) | 60 |
| Motor rating (kW) | max. 3.5 |
| Filter area (m²) | 1.8 |
| Nominal size | ID / 50 |
| Accessory nominal size | ID / 50 |
| Sound level (dB(A)) | 75 |
| Dimensions (L x W x H) (mm) | 870 x 640 x 1820 |
Equipment
Accessories included with machine, No
Matching container (dry), 6.394-821.0