WD 3 P Workshop
The WD 3 P Workshop multi-purpose vacuum cleaner is certain to impress as a super-powerful workshop vacuum cleaner. It includes special accessories and a blower function as well as a power outlet with an automatic on/off switch.
The versatile WD 3 P Workshop special vacuum cleaner is a must for any hobby workshop. It is super powerful and impressively efficient with a power consumption of just 1000 watts. Thanks to its special floor nozzle, it quickly and thoroughly gets rid of sawdust and small pieces of wood. For more delicate vacuuming tasks, such as when carrying out woodwork or working on a cluttered bench, the suction brush can be used to easily suck up any dust or dirt. The removable handle allows the nozzle to be attached directly to the suction hose, thus enabling effortless work in confined spaces. Wherever vacuuming is not possible, the helpful blower function can be used to remove the dirt instead. Another practical feature: the integrated power outlet allows power tools to be directly connected to the vacuum cleaner. In doing so, the vacuum cleaner is switched on or off via the connected power tool. This way, the accruing dust can be immediately vacuumed up while working, thereby reducing the amount of cleaning that has to be done in the surrounding area once the work is complete. Naturally, the WD 3 P Workshop comes with the same equipment features and standard accessories as similarly-named devices from the successful Kärcher multi-purpose vacuum cleaner range.
Features and benefits
Power outlet with automatic on/off switch for working with power tools
Dust from planing, sawing or grinding is directly suctioned away. The vacuum cleaner is automatically switched on or off via the power tool. For convenient working without dust dispersion and subsequent vacuuming.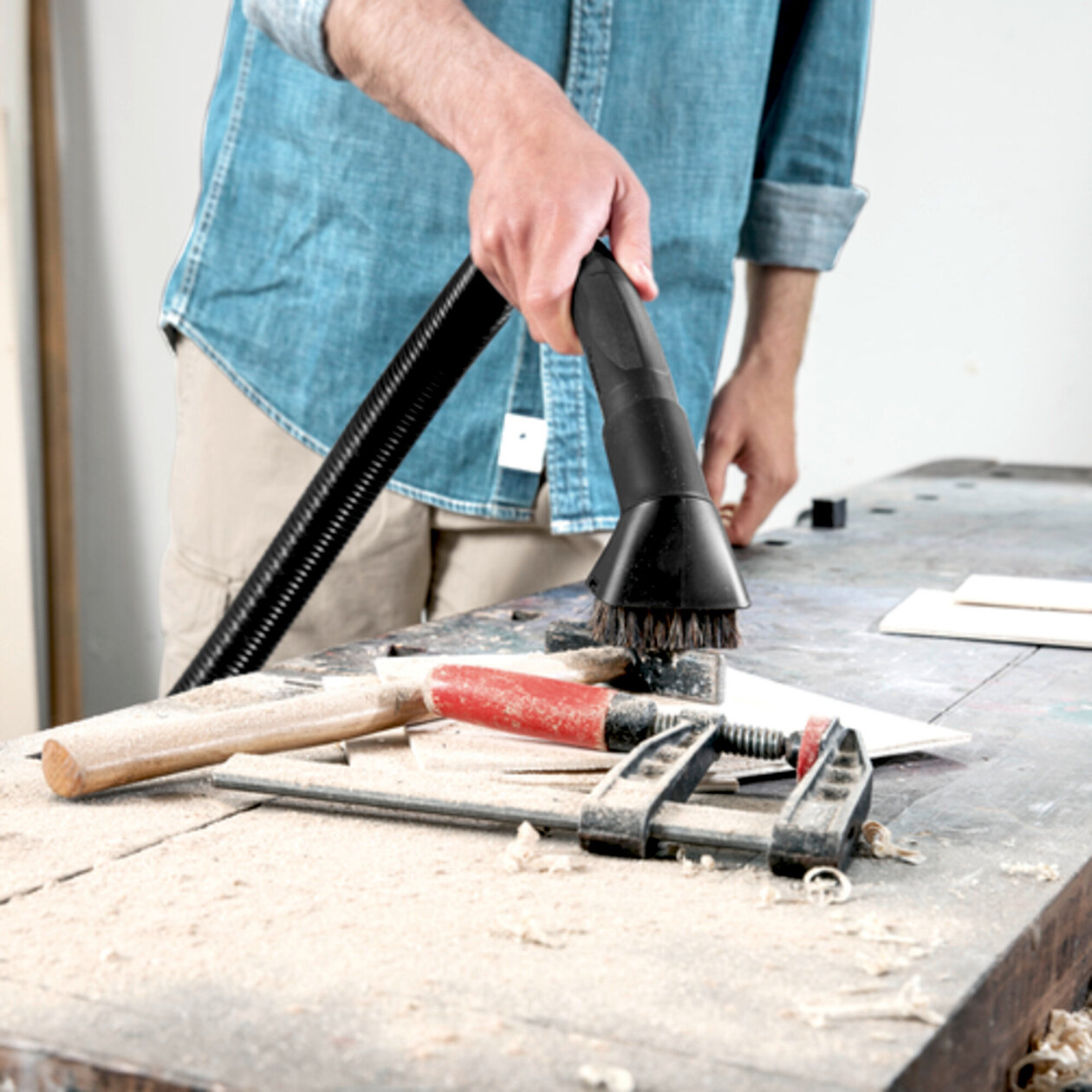 Special accessories for workbench cleaning
Fast and thorough workbench vacuuming using a suction brush with soft bristles. Gentle on surfaces and therefore suitable for sensitive areas.
Practical blower function
Where vacuuming is not possible, the practical blower function can be used. For example, dirt can effortlessly be removed from workbenches.
Removable handle
Different nozzles can be directly attached to the suction hose.
For easy vacuuming – even in confined spaces.
Practical parking position
Quick and easy intermediate parking of suction tube and floor nozzle during working interruptions.
Practical cable and accessory storage
Space-saving, secure and easily accessible suction hose, power cable and accessory storage.
"Pull & Push" locking system
For quick, easy and safe opening and closing of the container.
Ergonomically shaped carrying handle
Machine is easy and convenient to transport.
Compact design
Flexible and versatile use.
Space-saving storage.
Specifications
Technical data
Actual suction power* (Air watts)
200
Energy use (W)
1000
Container capacity (l)
17
Container material
plastic
Power cable (m)
4
Standard accessory ID (mm)
35
Max. rated input power (W)
1000
Current type (V/

Hz

)
220 - 240 / 50 - 60
Weight without accessories (kg)
5,7
Weight incl. packaging (kg)
8,3
Dimensions (L × W × H) (mm)
388 x 340 x 502
--
* Measured at the suction tubes according to the IEC 60312 standard.
Equipment
Suction hose, 2 m, 35 mm
Flexible suction hose, 1 m, 35 mm, 1 m, 35 mm
Removable handle
Suction tubes, 2 piece(s), 0.5 m, 35 mm
Wet and dry floor nozzle, clips
Cartridge filter, standard
Crevice nozzle
Paper filter bag, 1 piece(s)
Blower function
Parking position
Accessory storage on the device
Adaptor for connecting power tools
Automatic on/off switch
Sturdy bumper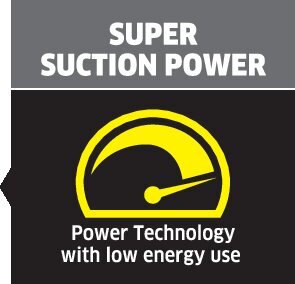 Application areas
Planing
Working with power tools
Wet vacuum cleaning