Steam ironing station
Ironing and steam cleaning at the same time Steam ironing systems from Kärcher combine cleaning and ironing. With the right accessories, the steam cleaner simply turns into an ironing station in next to no time. Iron 50% faster. Please note that different country versions are available for most products: 120 V / 60 Hz or 220-240 V / 50 Hz.

Steam ironing stations
Iron and clean like the professionals with the Kärcher steam ironing station. A steam ironing station comprises a steam cleaner, iron and ironing board.
Double the benefits: Ironing and steam cleaning in one
Ironing board with air cushion function for comfortable and easy ironing, and active steam suctioning for shelf-dry laundry
50% faster ironing thanks to constantly high steam pressure
Optimum fixed temperature settings on the iron for all fabric types make tedious manual temperature control and time-consuming presorting of laundry a thing of the past
Improved safety while ironing thanks to automatic switch-off function on the iron
2-tank system for continuous use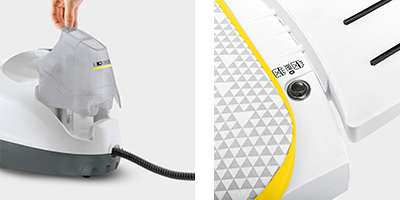 Properties and features
You can iron and steam clean with the Kärcher steam ironing station. All you need is tap water (no other additives). The steam cleaner holds considerably more water than a simple steam iron and generates three to four times as much pressure per minute. This high-performance ironing system enables long, effective ironing at a consistently high steam pressure and makes work up to 50% faster. It easily penetrates even thick materials and ensures shelf-dry laundry with the active steam suctioning. When you activate the air cushion function on the ironing board, you can iron very fine materials without any creases. With the appropriate accessories your steam cleaner also becomes a multifunctional cleaning device. The Kärcher steam cleaner ensures perfectly clean floors, using only steam and no chemical additives.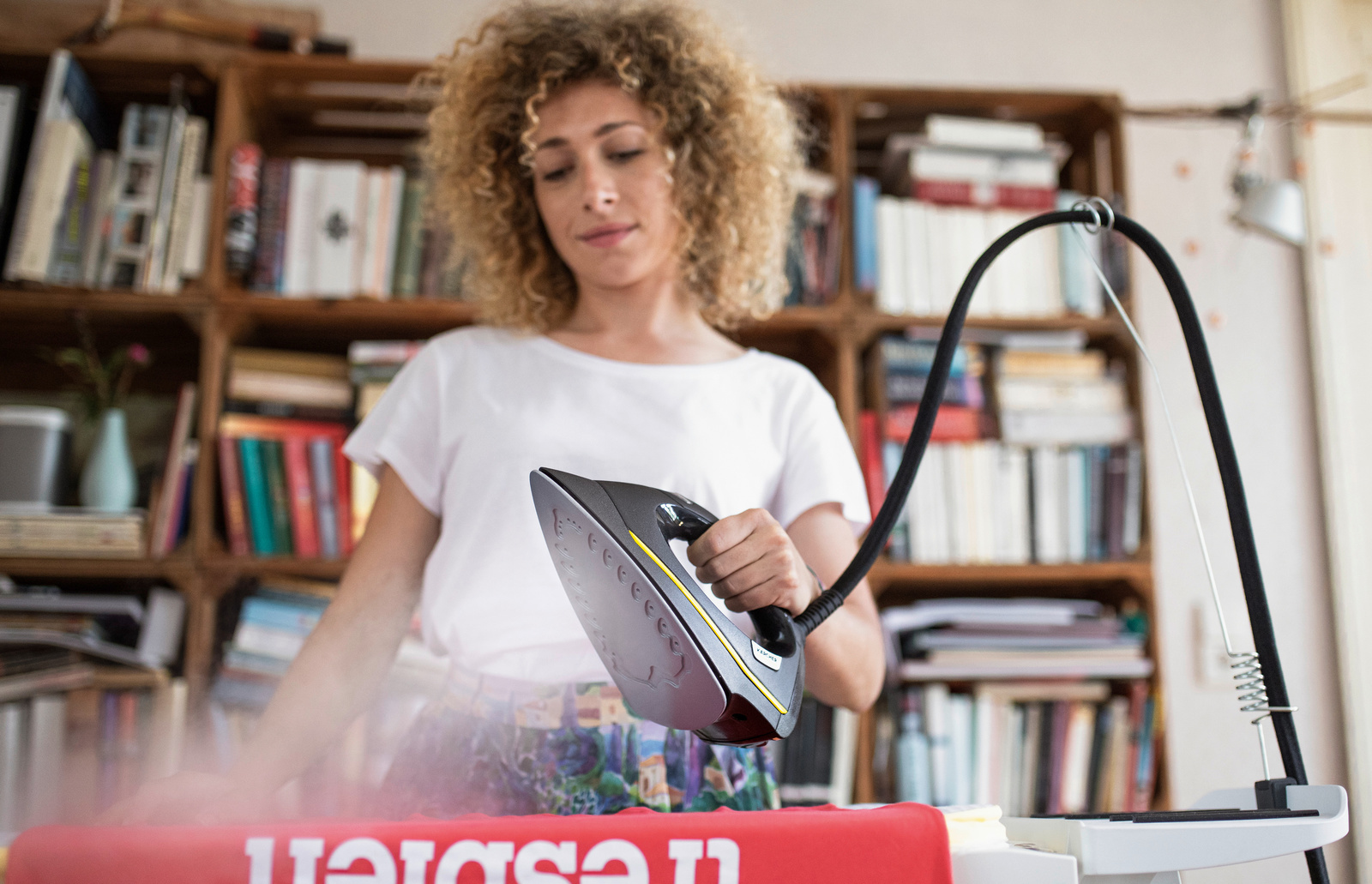 Ironing with steam
The Kärcher ironing station offers many special features which make your work easier. The steam cleaner is equipped with a large water tank, which is easy to fill. The steam cleaner supplies the iron soleplate with high steam pressure via a hose. This is created by water, which is heated under pressure and directed though the connection hose as steam. The iron itself has no water tank, so there is no more annoying dripping and frequent refilling. This also has a significant impact on the weight: It is up to 800 g lighter than a traditional iron. The lighter weight is particularly noticeable during extended periods of ironing. Thanks to the soleplate, the steam pressure iron glides almost automatically over the laundry and smooths both thick and delicate materials quickly and easily.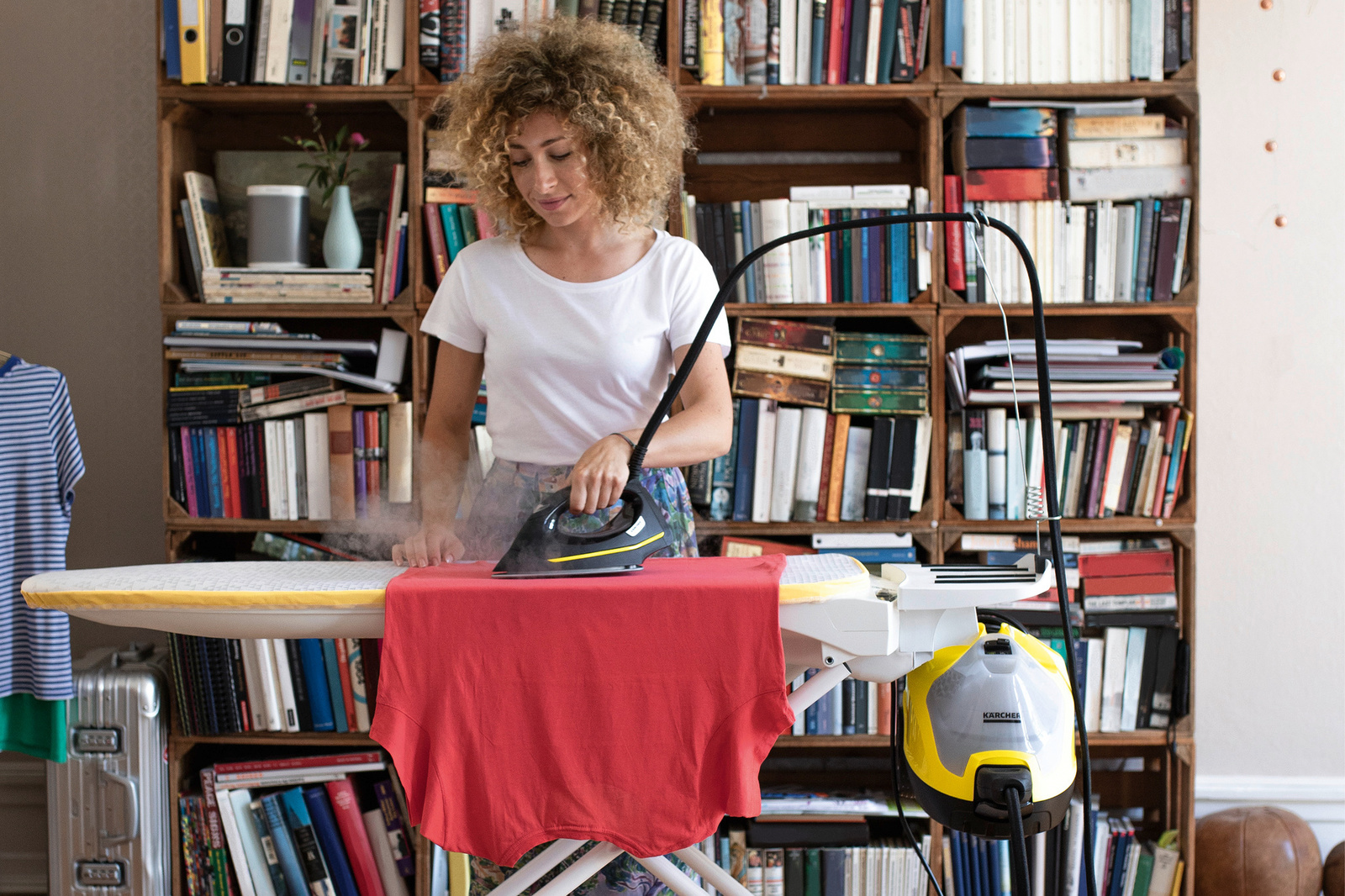 Ironing board with steam suctioning and air cushion function
The Kärcher steam ironing station offers an optimal solution for using the full cleaning power of steam and drying laundry at the same time. Thanks to the high pressure, the steam effectively penetrates all fibres and also delivers a superb ironing result in thick materials. With the active steam suctioning the excess steam is already suctioned off while ironing. This prevents the ironing board getting wet and the laundry is not only crease-free, but also shelf-dry. Kärcher also guarantees a superb ironing result on delicate materials. As even the slightest impressions can be transferred to fine textiles when ironing directly on the ironing board, the Kärcher ironing station is equipped with an air cushion function. A blouse, for example, is placed on the air cushion, but not directly on the ironing board. Your laundry is practically floating on air. Fine textiles can be easily ironed and creases and impressions can be removed.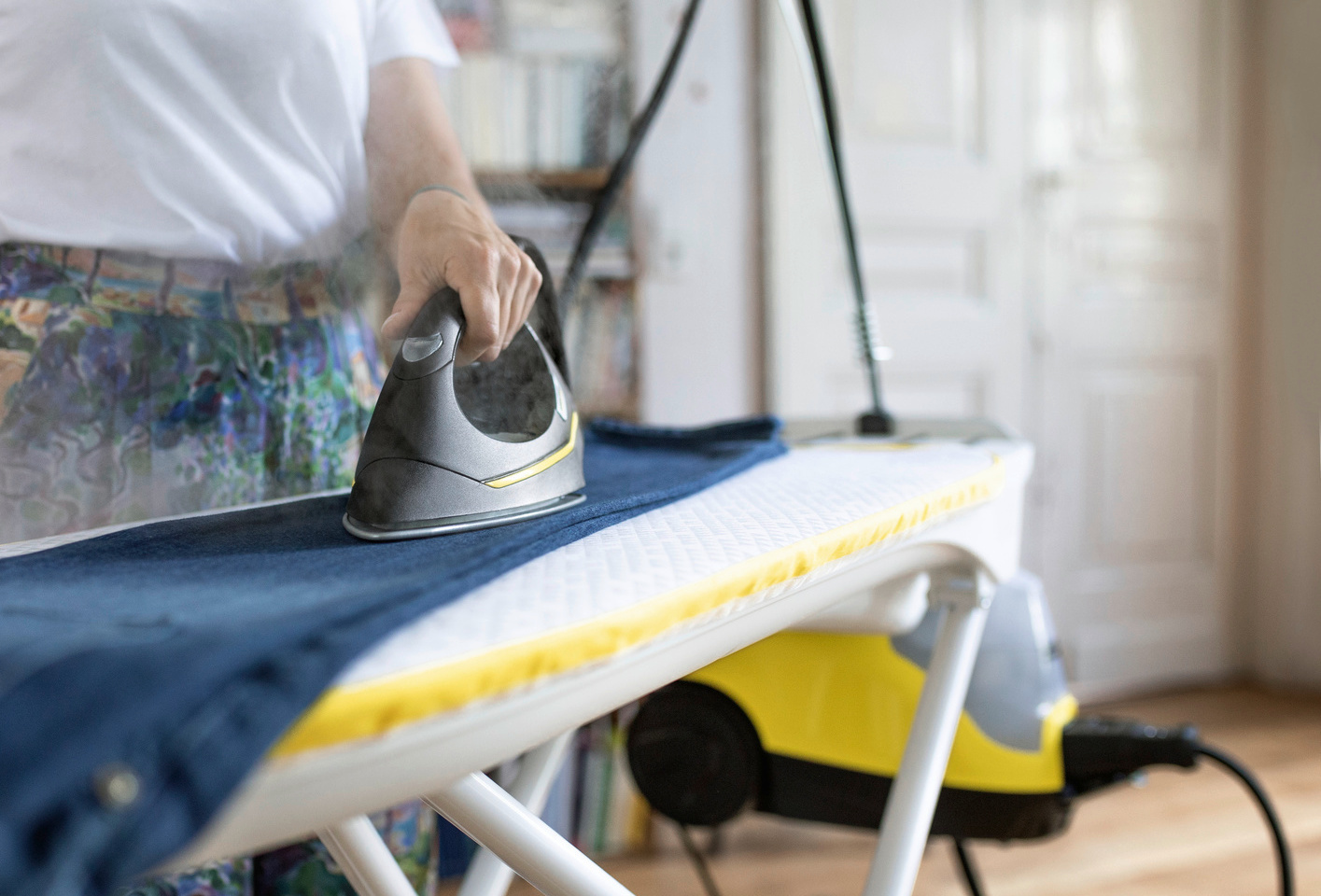 50% faster ironing
The ironing station makes even perfectionists happy. The high steam flow ensures that even stubborn creases are smoothed, without any compromises. The steam is available for longer than with a normal iron, and the high pressure not only banishes creases from the material, but also the word "difficult laundry" from your vocabulary. You can iron thick materials or several layers on top of one another on only one side and still obtain crease-free laundry. This saves you half the traditional ironing time. Presorting according to material before ironing is also done away with. Thanks to the optimal, fixed temperature settings on the iron, all materials can be ironed carefree at a consistently high steam pressure without temperature adjustments.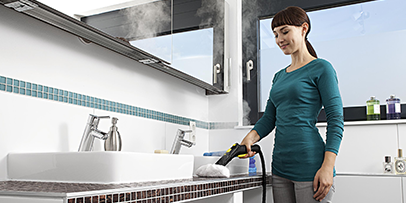 A steam cleaner for the entire home
The Kärcher steam cleaner can be easily removed from the ironing board and used for many tasks around the home. In combination with accessories and cleaning attachments, the steam cleaner becomes a practical assistant for the entire home. Restore the shine to floors and glass surfaces or even cooking areas using steam. The Kärcher steam cleaner is also perfect for difficult tasks such as fibre-deep cleaning of crevices, joints and radiators. Whether you are ironing or cleaning, the principle remains the same: Steam is effective and perfectly hygienic, without adding any detergents or chemicals. Cleaning has seldom been so simple and environmentally friendly!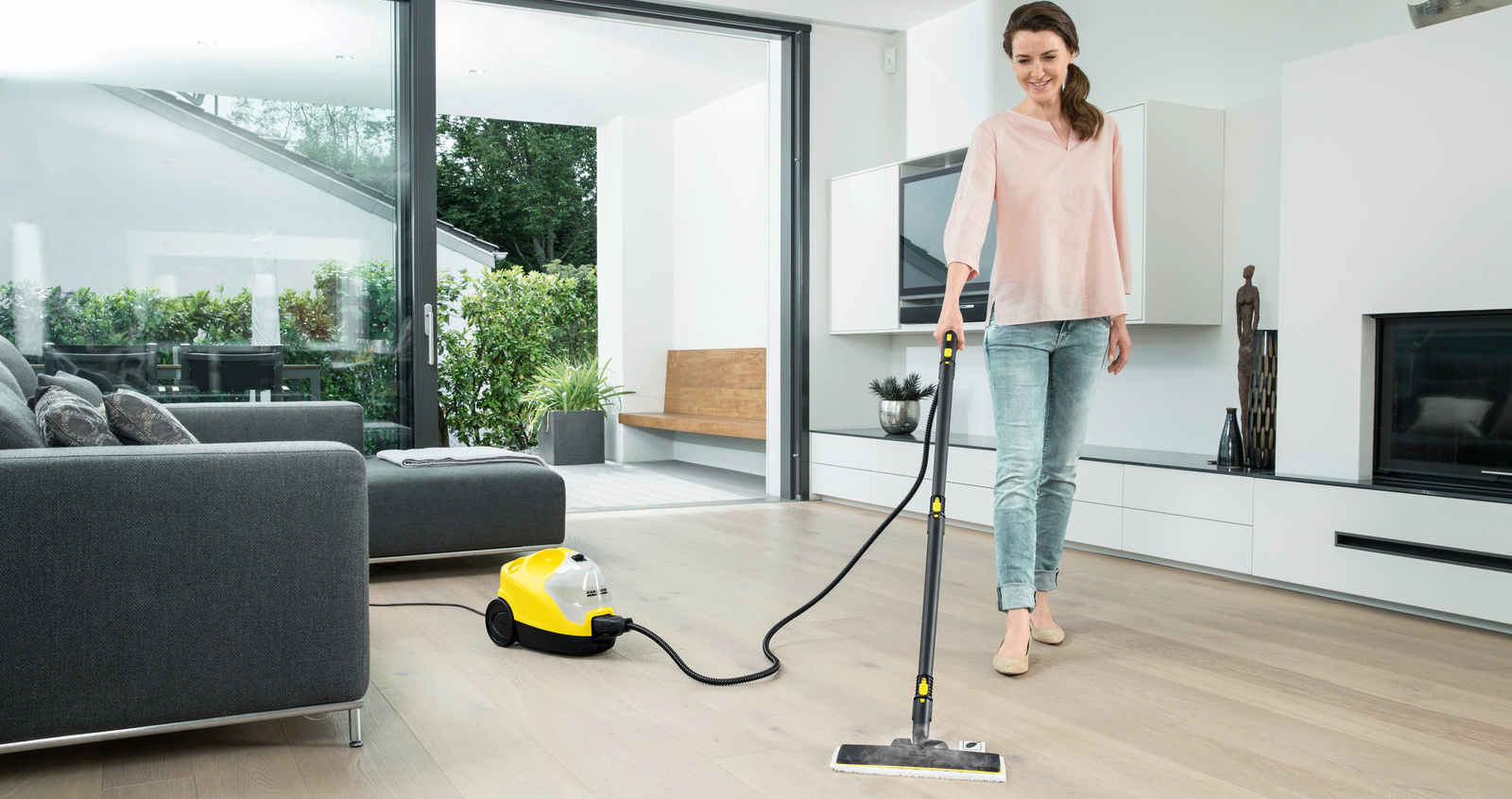 Extensive accessories for all areas
The Kärcher steam cleaner is a real all-rounder. It can be easily detached from the ironing board and becomes a cleaning aid for the entire home when used with the cleaning attachments offered. Whether as a floor cleaner or for glass surfaces – cleaning has been seldom been so simple and environmentally friendly. Hobs, radiators , crevices and joints can be cleaned hygienically with the steam cleaner without the addition of any chemicals.