WATER ON! DIY TIPS ON WATERING THE GARDEN
It is the height of summer. When temperatures climb to over 25 °C, not only humans need more water, but our plants in the garden do too. Especially when there is no rain on the horizon for days. Watering is a wonderful yet somewhat laborious task for garden enthusiasts. Using the right equipment makes watering easy and ensures that flowers, vegetable crops and shrubs make it through the warm summer season without any casualties.
Individually watering your garden in four steps
If watering plants, shrubs and the lawn in your garden with a watering can is not for you, you are spoilt for choice, because there are countless types of hoses, sprinklers, spray guns and pumps for you to choose from. But which piece of equipment will meet your personal requirements? And what should you look out for when using hoses, etc. for watering?
Generally, garden owners should ask themselves four questions:
Finding the ideal hose
No hose, no watering. When selecting a suitable garden hose, numerous factors must be taken into account: The length and diameter of the hose as well as how it has been made. A length of 20 to 50 metres is standard. So that you choose the ideal model, you should – prior to purchase – measure how much ground the hose needs to cover from the water connection to the bed.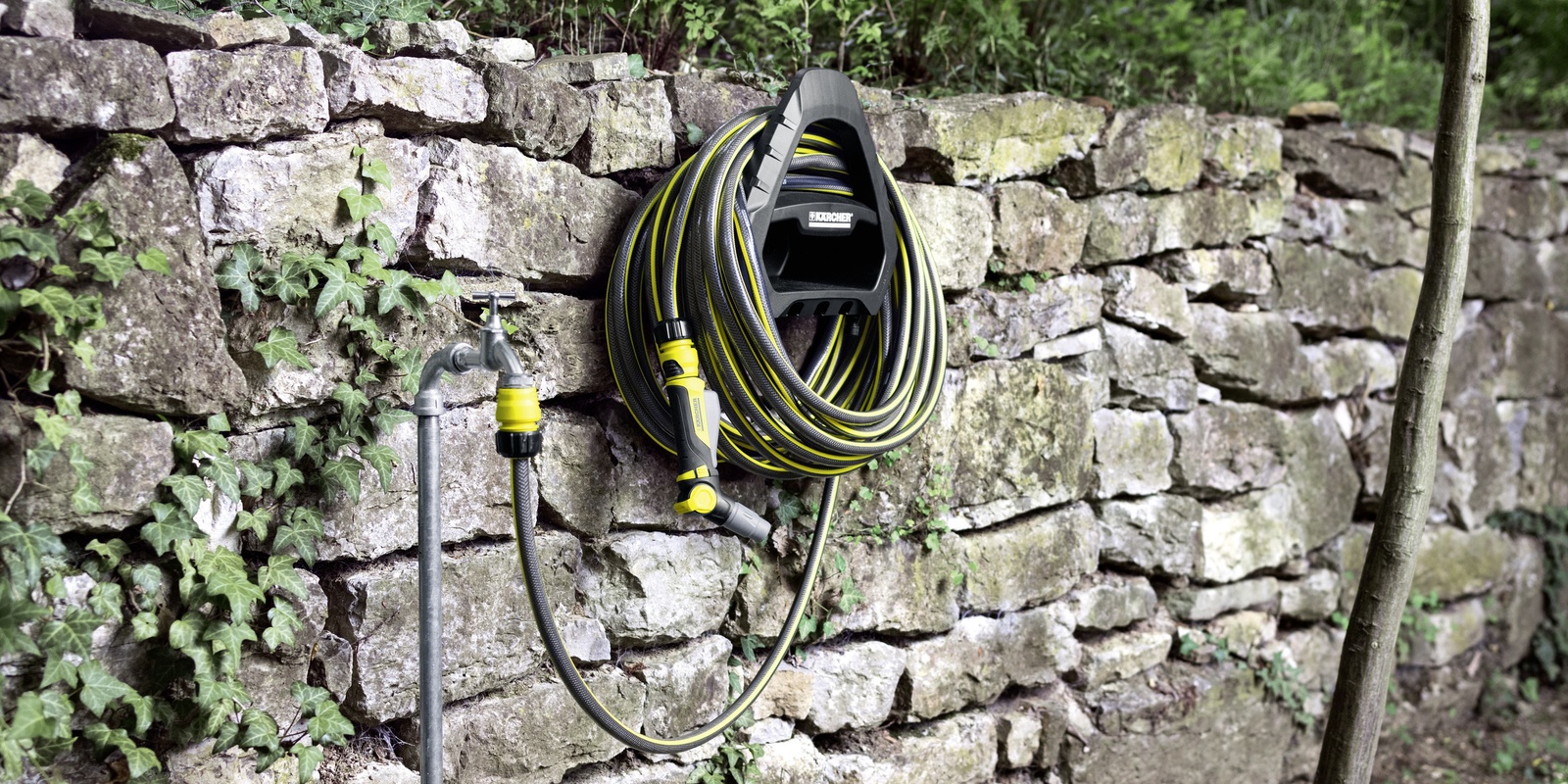 Garden hoses are available in various diameters. As a rule of thumb: The larger the diameter, the higher the flow rate (volume of water that can pass through the hose at any given time). A larger diameter also means more weight and therefore more difficult handling. Consequently, hoses with a smaller diameter (for example, ½") are recommended for almost all gardens – especially when you need to water the garden manually. However, those using numerous points of use, often at the same time, should pick a hose with a larger diameter (for example, ¾"). This also applies to hoses that will remain in the ground permanently.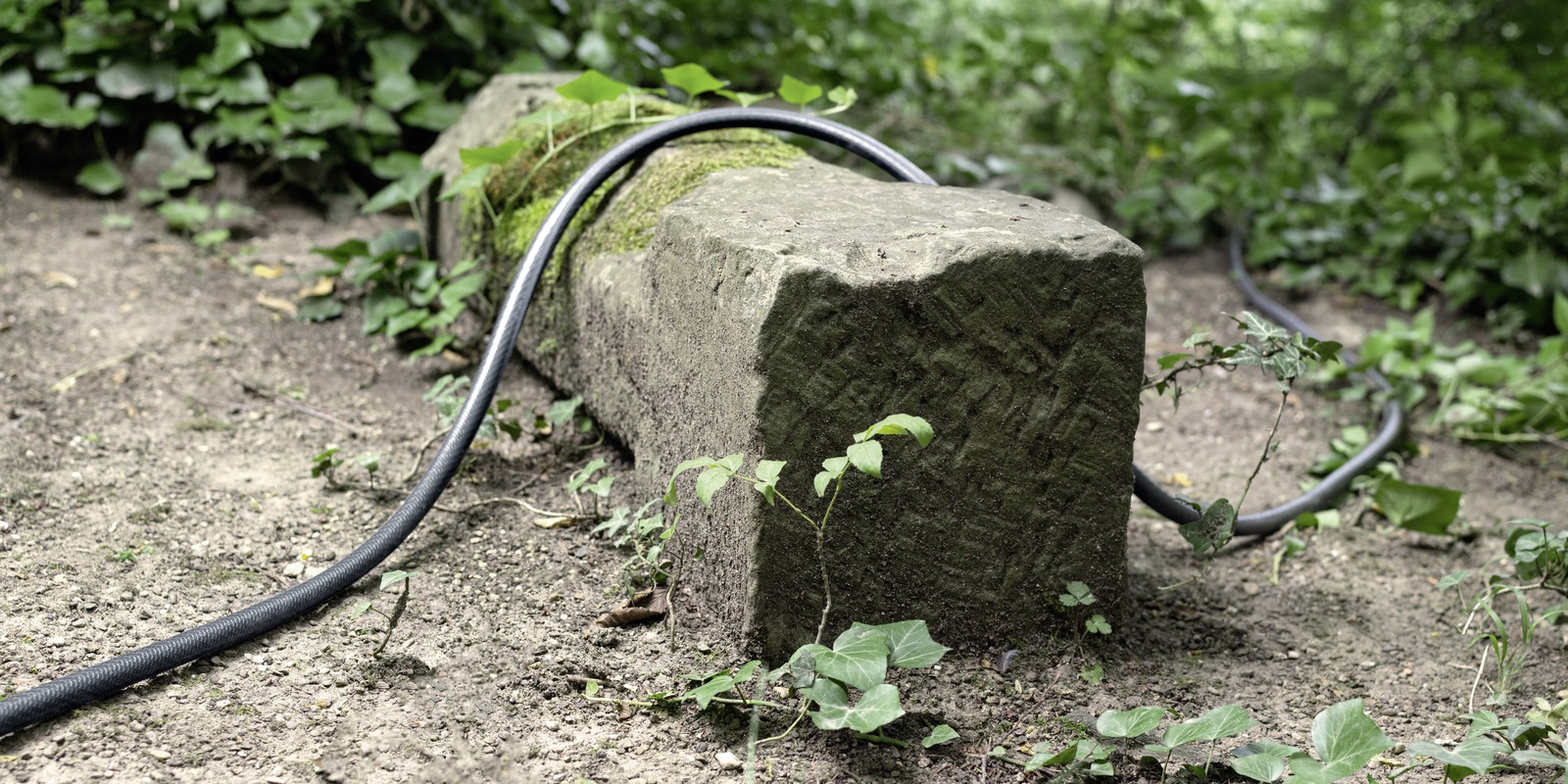 With regards to how hoses are made, they differ in feel, robustness, weather and temperature resistance, bursting pressure, kink resistance and torsion. Kärcher's three models, PrimoFlex, Performance Plus and Performance Premium, cover a wide range of requirements. The basic model, PrimoFlex, is robust, kink-resistant and temperature-resistant, whereas Performance Plus hoses are also very flexible thanks to their multi-layered woven material and have a good feel. Performance Premium hoses also feature anti-torsion technology, which makes it difficult for the hose to twist, therefore making handling much easier.
Note: Kärcher's hose connection systems (connectors) are compatible with all hoses regardless of make and model and fit hoses from ½" to ¾" in diameter.
When the watering is done: It's time to get organised
You should stow the watering equipment away neatly once you have finished working in the garden. Hose reels, boxes or fixtures on the walls of the house and mobile trolleys make quick work of this and ensure that everything is in the right place.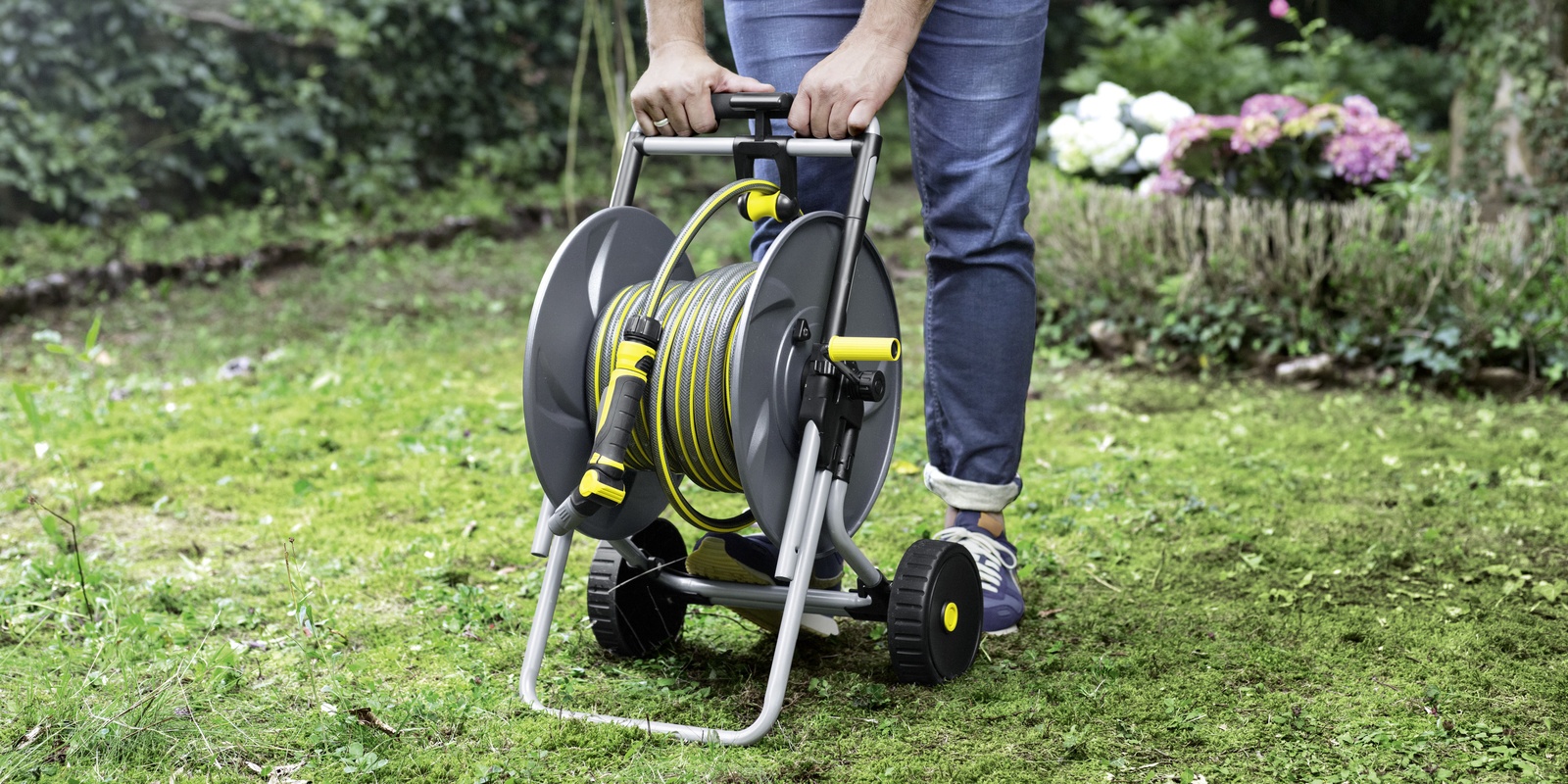 Robust and rust-resistant metal hose trolley. With a hose guide and freewheeling crank handle. Ideal for watering medium-sized to large areas.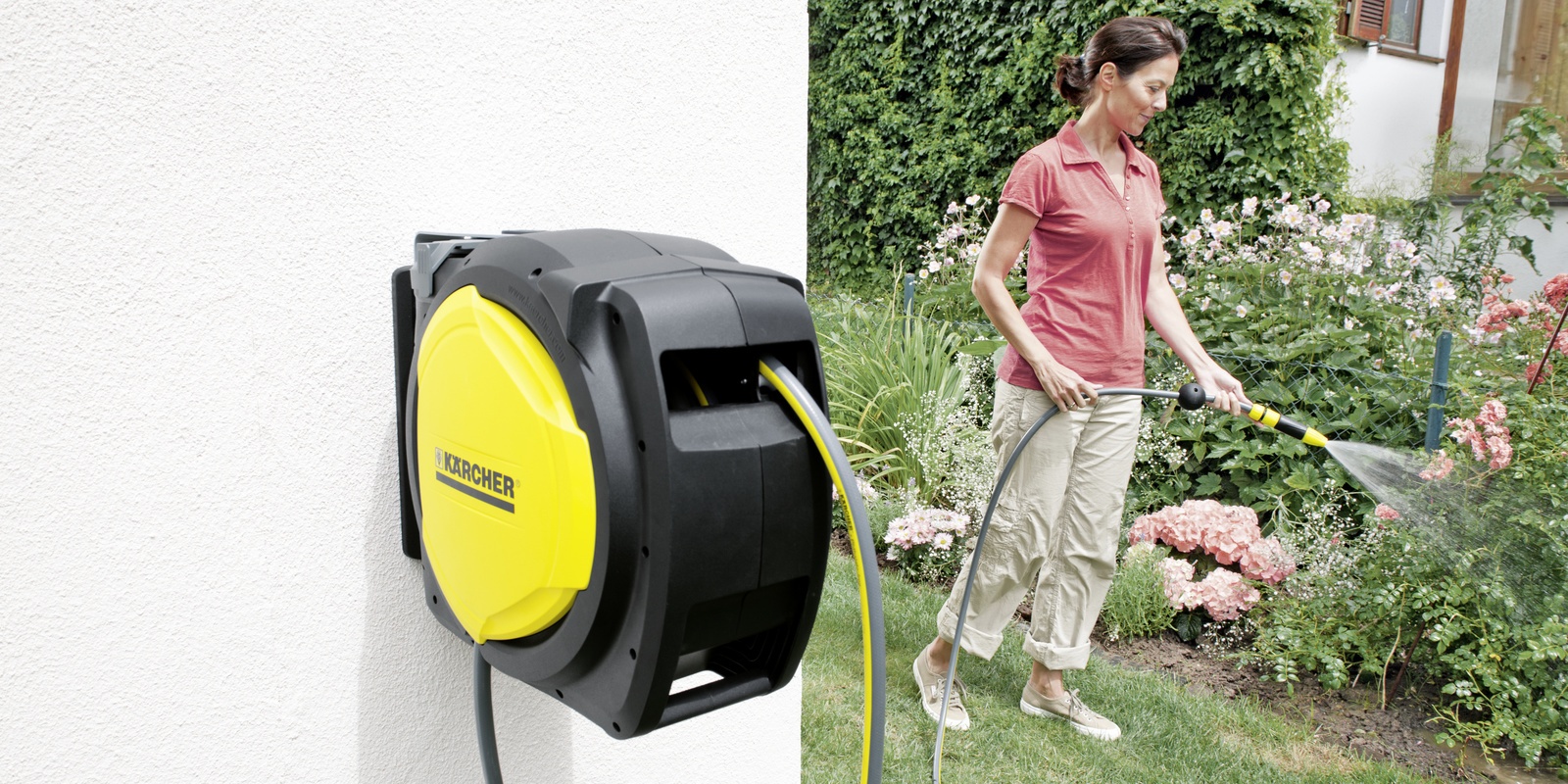 Hose box with automatic hose retraction and easy hose winding. Can be swivelled from 0°–180°. Flat, space-saving wall bracket.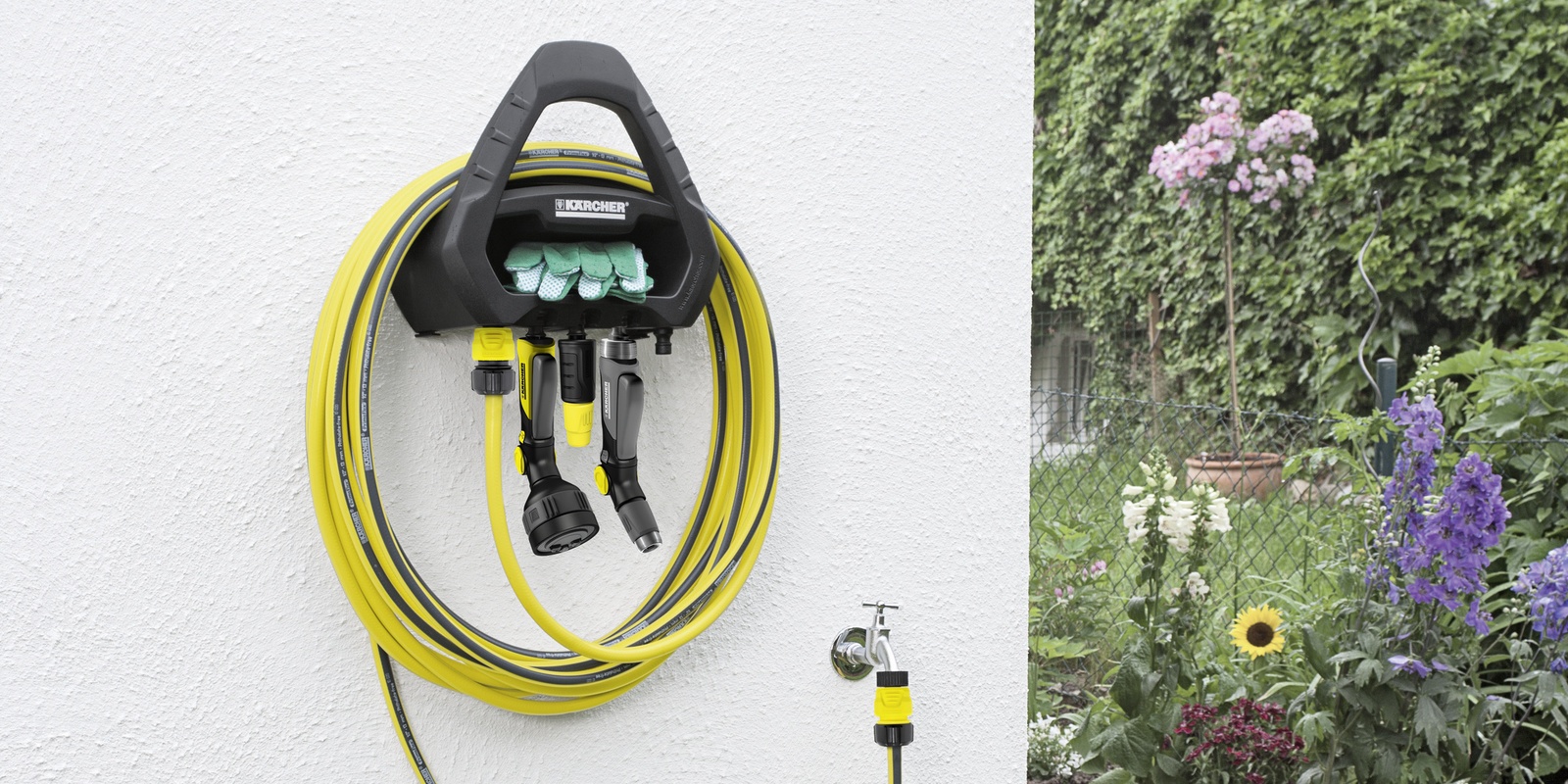 Hose hanger for mounting on exterior walls. With a storage option for nozzles and sprinklers as well as a storage compartment for additional accessories.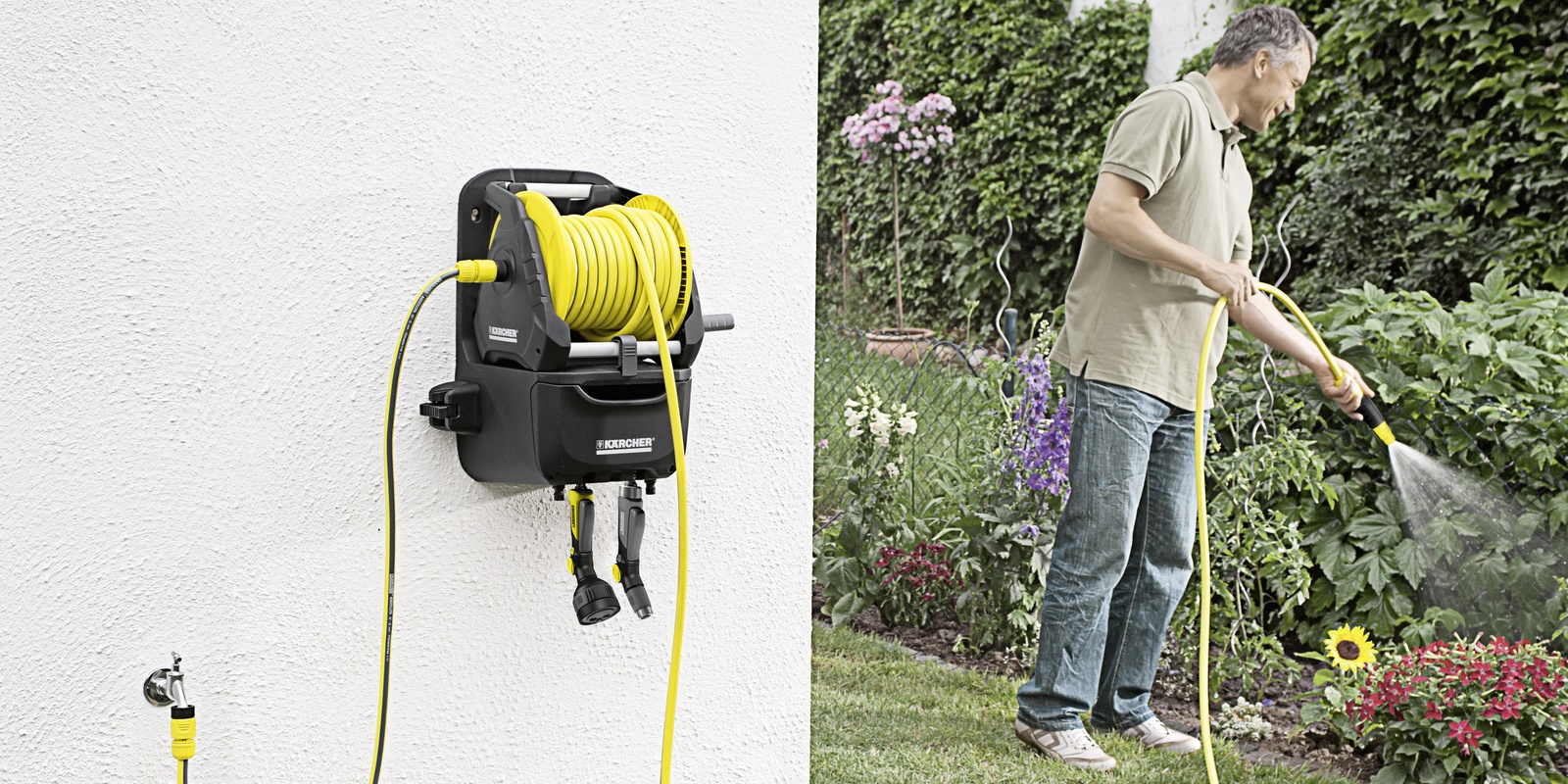 Watering station with detachable hose reel, a storage option for nozzles and sprinklers as well as a large storage box.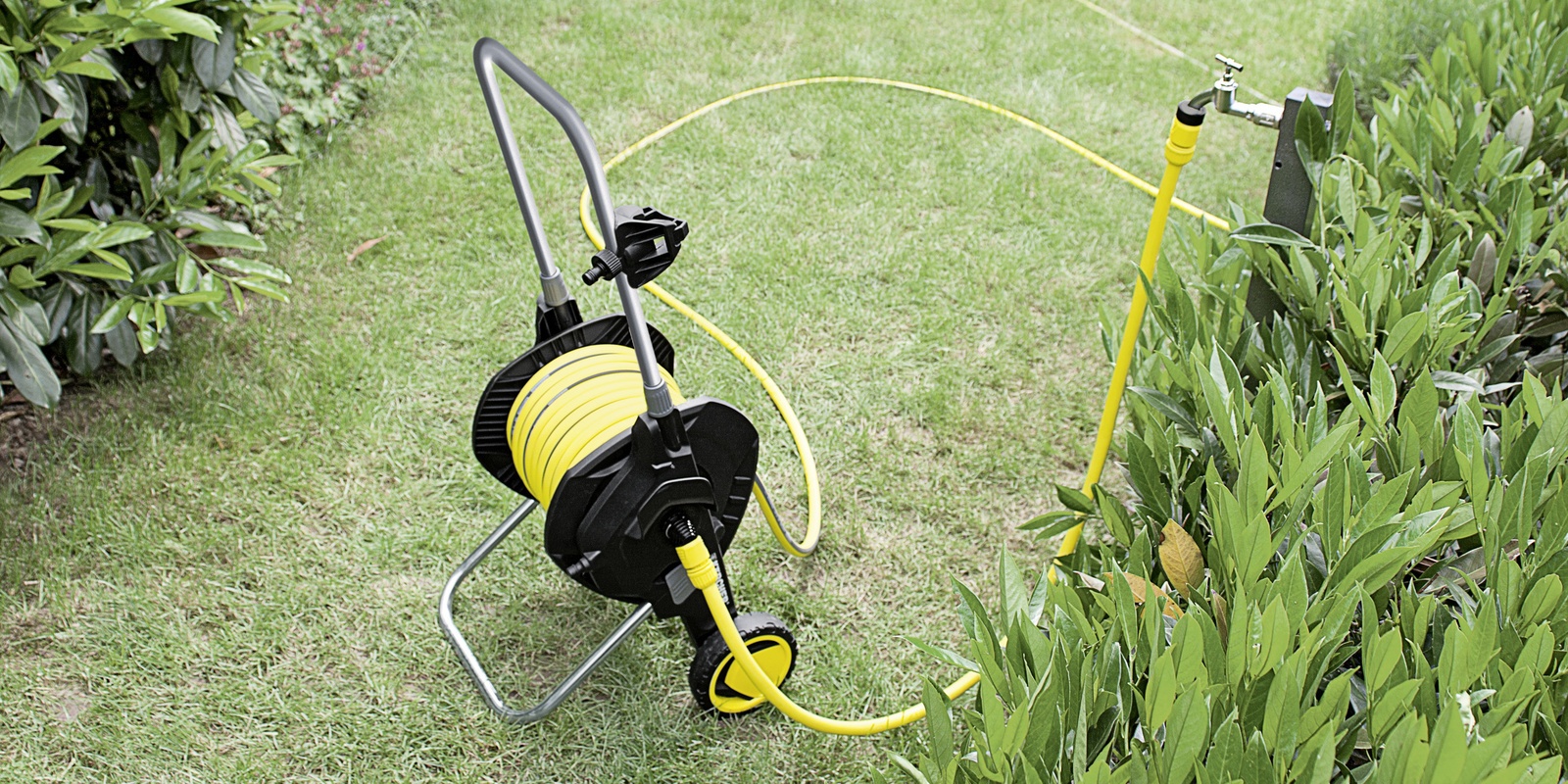 Mobile hose trolley with storage hooks and accessories holder, height-adjustable handle and innovative folding design.
The dos and don'ts of watering

Water plants in the morning. The best time for watering the garden is in the morning/before midday. Water can seep into the ground slowly when temperatures are still low and plants can absorb it in the midday heat – which is when they need it most.
Water plants close to the ground. Watering plants from the top is quicker, but most plants are unforgiving of this – flowering plants and vegetables in particular prefer being watered close to the ground. Plants with dense foliage, such as roses, will often develop fungal diseases when leaves do not dry quickly enough.
Occasional, yet plenty. When it comes to watering, the name of the game is: More water instead of more often. If watering occasionally, yet always generously, water can seep deeper into the soil. This encourages plants to develop longer roots, which helps them overcome dry spells better.
Recognise plant requirements. In order to develop a feel for how much water a plant needs, you often only need to take a look at its leaves: Numerous thin and soft leaves indicate a high demand for water. Plants with thick, hard or hairy leaves require less water.
Keep an eye on the soil. How often you need to water plants depends on the type of soil you have in your garden, in particular: Clay soil stores a lot of water, for example, and therefore only needs occasional watering. Sandy soil can hardly store any water, which makes frequent watering a must.
Avoid using very cold water. Cold tap water causes stress for most plants. Using stagnant water that has been heated by the sun is a better option. From a water butt, for example. Yet tap water itself is not damaging to most plants – except for when it is extremely calcareous.
The right product for every demand
You may also be interested in: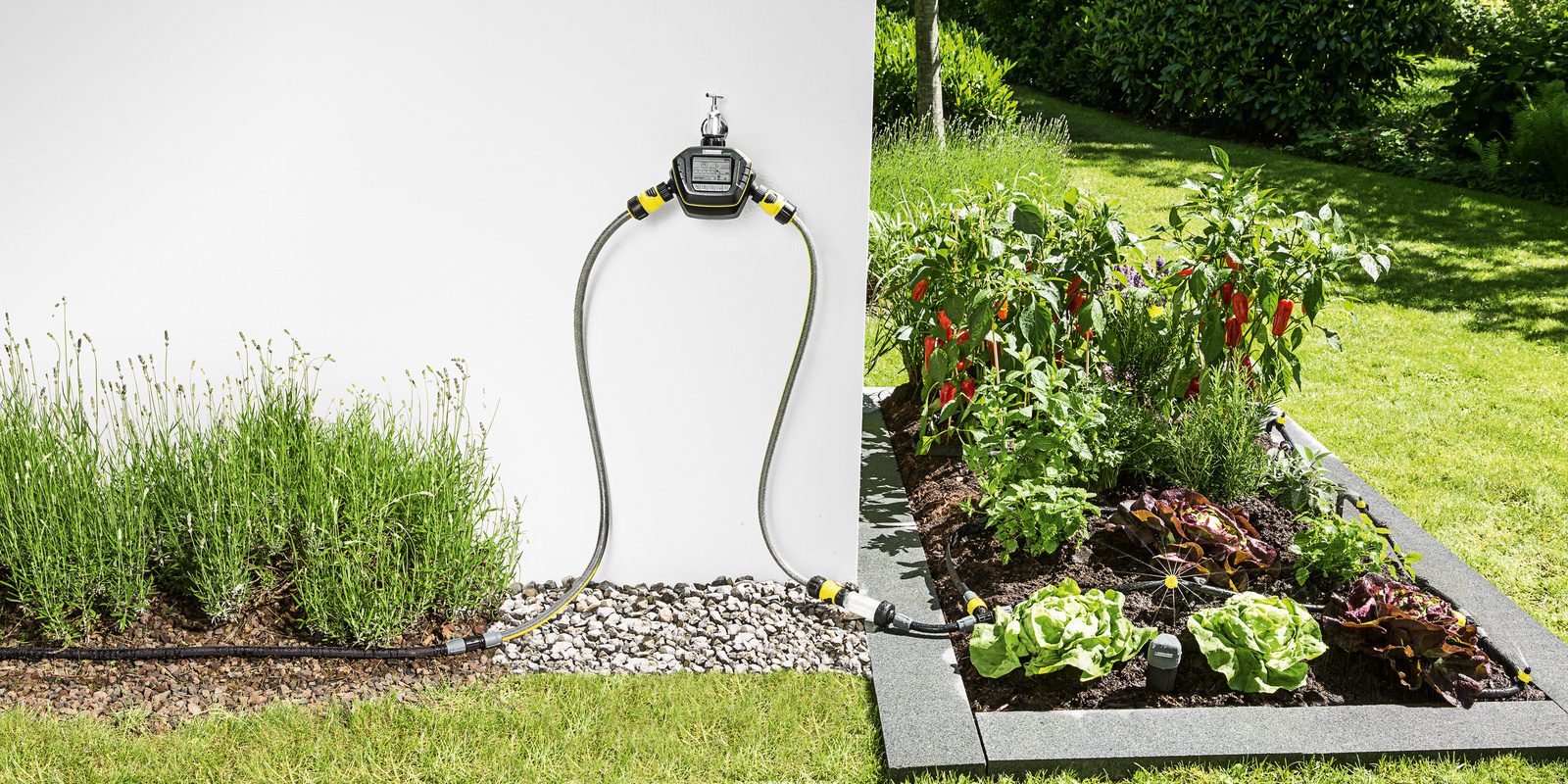 Tips for automatic garden irrigation
A garden full of plants is beautiful, especially in summer. Yet this is the time when gardens also require a lot of work to keep them looking this way. Watering systems and compatible water timers make easy work of this – and they even turn worrying about the garden when on holiday into a thing of the past.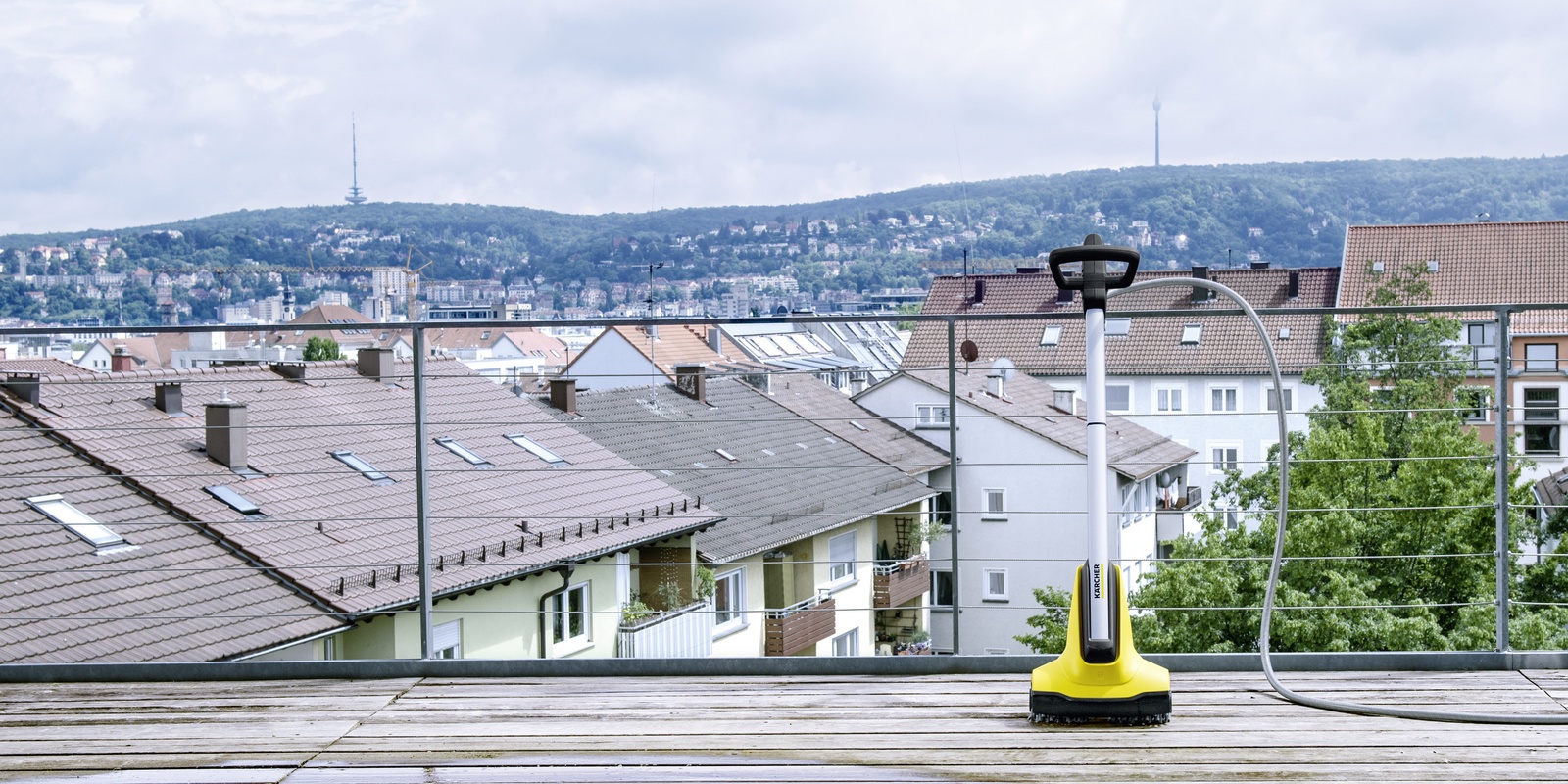 Wooden patio cleaning made easy
Eating outdoors, sunbathing or simply sitting together quietly – for many people, a wooden patio is like a second living room during the warm months. To really enjoy the hours spent out there, the surface and surrounding area need to be thoroughly cleaned on a regular basis. With the PCL 4 Patio Cleaner it's a piece of cake.
Bicycle cleaning: Care tips for at home and on the go
Following a trip with the bicycle through forests or meadows or on dirt tracks or dusty roads, a thorough cleaning of it is in order. With the right device and the appropriate accessories this is done easily and quickly – whether in front of the garage, in the garden or on the go.