MAINTENANCE OF GREEN AND OUTDOOR AREAS
Winter is hardly over and the first plants and shrubs are starting to blossom. A mammoth job lies ahead for municipalities and service providers: Lawn areas in parks need to be trimmed, weeds removed effectively and paths and parking spaces must be cleared of shrubs, dust and dirt. With the appropriate equipment and knowledge of different work techniques, as well as the requirements of lawn areas and plants, it is possible to master the various tasks.

Task 1: Maintaining green areas
The lawn probably plays the most important role in the maintenance of green areas. Soil air, nutrients, an average temperature of 10 to 25°C, as well as a continuous water supply without waterlogging – these are the basic prerequisites so that grass can grow healthy. In the case of the usual passing seasons it grows very strongly between March and May, takes a break in midsummer due to the dry weather and heat and grows again in the autumn months. The winter lull is normally scheduled between December and February.
For effective maintenance of lawn areas it is essential to adapt the grass to the desired cutting height and not to cut it too short. Because leaves grow on the blade of grass, which contain many fibres with which the moisture is transported from the root to the tip of the blade of grass. If the grass is mowed too short, the blade of grass can dry up due to missing leaves and the grass can die. The mowing height and the associated mowing frequency depend on the type of lawn.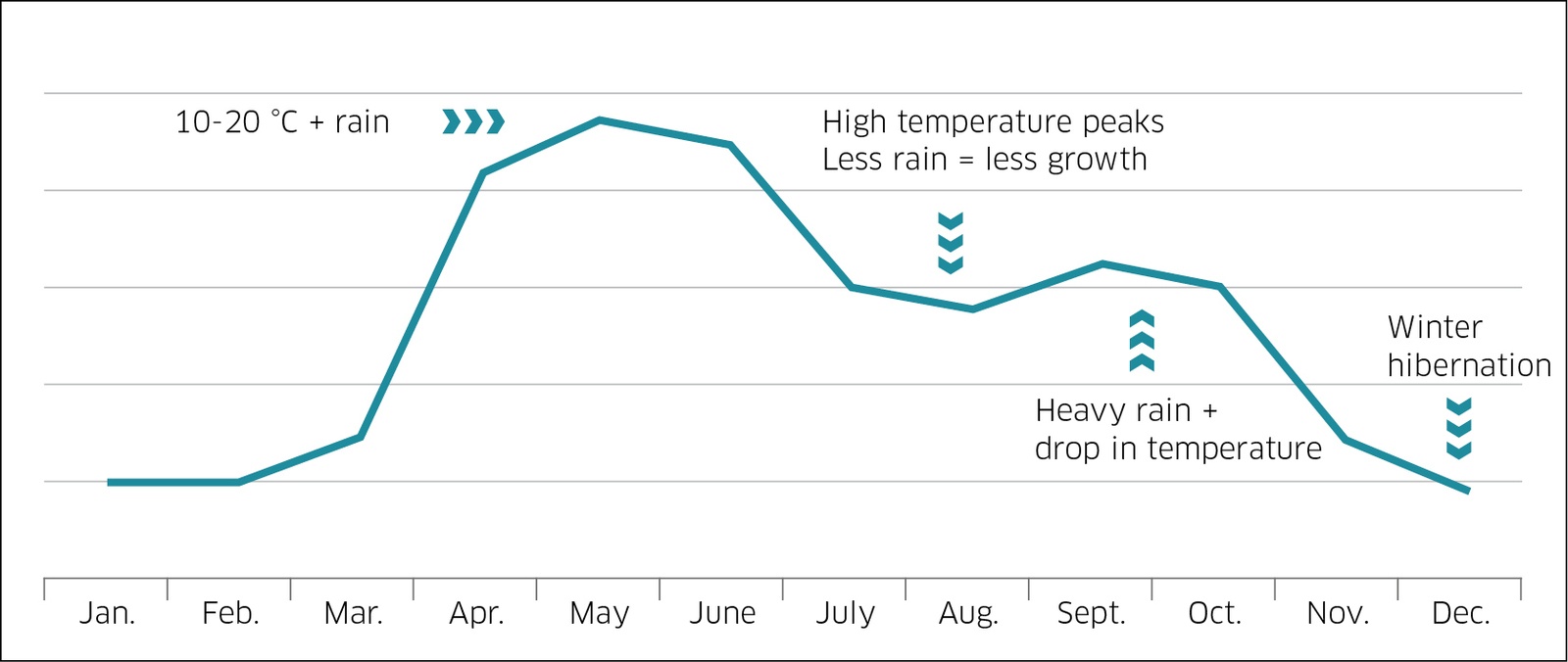 Grassed area
Golfgreen
Number of cuts Mar.- Nov.
150–220
Mowing frequency
daily
Cutting height (mm)
3–6
Growth height (mm)
4–8
---
Grassed area
Football pitches
Number of cuts Mar.- Nov.
25–45
Mowing frequency
5–10 days
Cutting height (mm)
30–45
Growth height (mm)
60–90
---
Grassed area
Play areas
Number of cuts Mar.- Nov.
15–25
Mowing frequency
7–14 days
Cutting height (mm)
40–50
Growth height (mm)
70–90
---
Grassed area
House lawns
Number of cuts Mar.- Nov.
25–40
Mowing frequency
7–14 days
Cutting height (mm)
35–45
Growth height (mm)
70–90
---
Grassed area
Parks
Number of cuts Mar.- Nov.
3–20
Mowing frequency
2–6 weeks
Cutting height (mm)
35–45
Growth height (mm)
70–90
---
Grassed area
Flower lawns
Number of cuts Mar.- Nov.
4–9
Mowing frequency
1–2 months
Cutting height (mm)
50–80
Growth height (mm)
100–500
---
Grassed area
Flower meadows
Number of cuts Mar.- Nov.
1–3
Mowing frequency
once a year
Cutting height (mm)
80–120
Growth height (mm)
500–1000
---
Which mower for which task?
For mowing work in municipal areas, the use of a municipal implement carrier with a suitable mowing unit is recommended. Most commonly used for municipal purposes are sickle mowers. They are particularly suitable for parks, roadside greenery, playing fields and playgrounds due to their high area performance and adjustable cutting heights. The blades are also very easy to sharpen, which is important for green care, because blunt blades do not cut grass, but tear it. This leads to unpleasant white discolourations.
For the application it is necessary to decide in which direction the grass should be ejected (side or rear) and also which blade type is used (sickle blade with low or high blades, sickle mulching blade).
Apart from the sickle mower, other mower types can also be used in municipalities.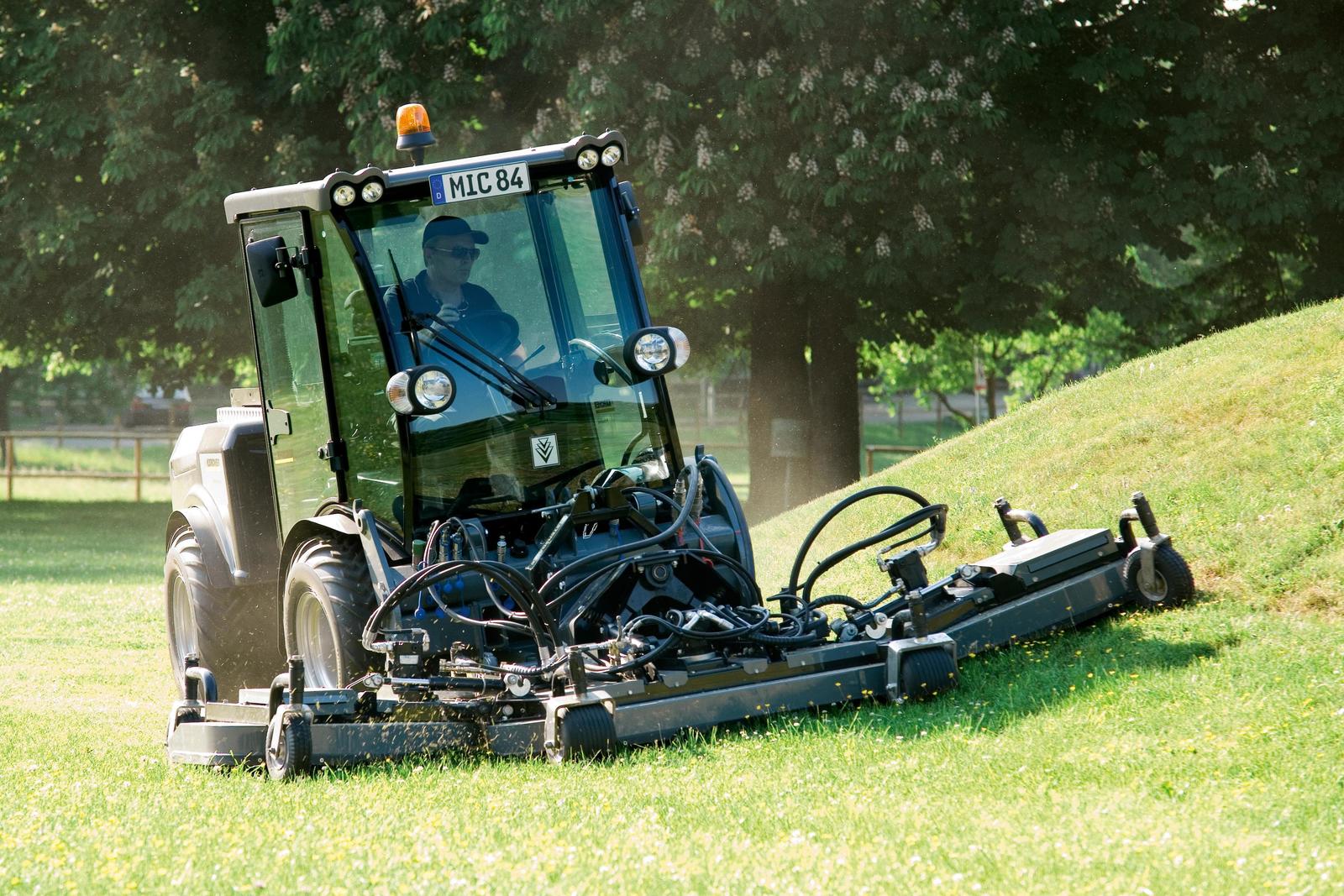 Battery-powered devices for areas that are difficult to access
Battery-powered handheld devices are suitable for trimming trees, shrubs and hedges. The battery-operated versions of strimmers, hedge trimmers, chain saws and leaf blowers can be used for all municipal maintenance work, are up to 50 percent quieter than traditional devices powered by fuel and produce no emissions. Furthermore, they generate up to 80 percent fewer vibrations, which makes the handling significantly more ergonomic. Thanks to the compact design, precise work in narrow, obscure areas is also easy.
Task 2: Weed killing
Dandelions, thistles and more penetrate through paving slabs and strongly establish themselves in corners, nooks and crannies. Dealing with this in an effective manner is a constant challenge for local authorities. Depending on the stage of development of the weed, various alternative solutions are available. The general rule is: The stronger the plant is, particularly the root, the greater the demand for its removal.
If the weeds have not yet grown tall, thermal methods are suitable. Hot air of up to 450°C, or flames, will generally dry it out properly. Seeds are broken down and prevented from creating new shoots. But weeds are very robust: heat may well burn the weeds on the surface, but this does not necessarily reach down to the roots, which means the weeds can recover.
Hot-air solutions are available either as hand-held devices or as implements for municipal implement carriers. An average of eight passes is required per phase of growth. Daily use is not necessary. However, the weeds can grow back in-between passes. It should also be noted that hot-air solutions should only be used when there is no foliage nearby which could catch alight and cause forest or city fires.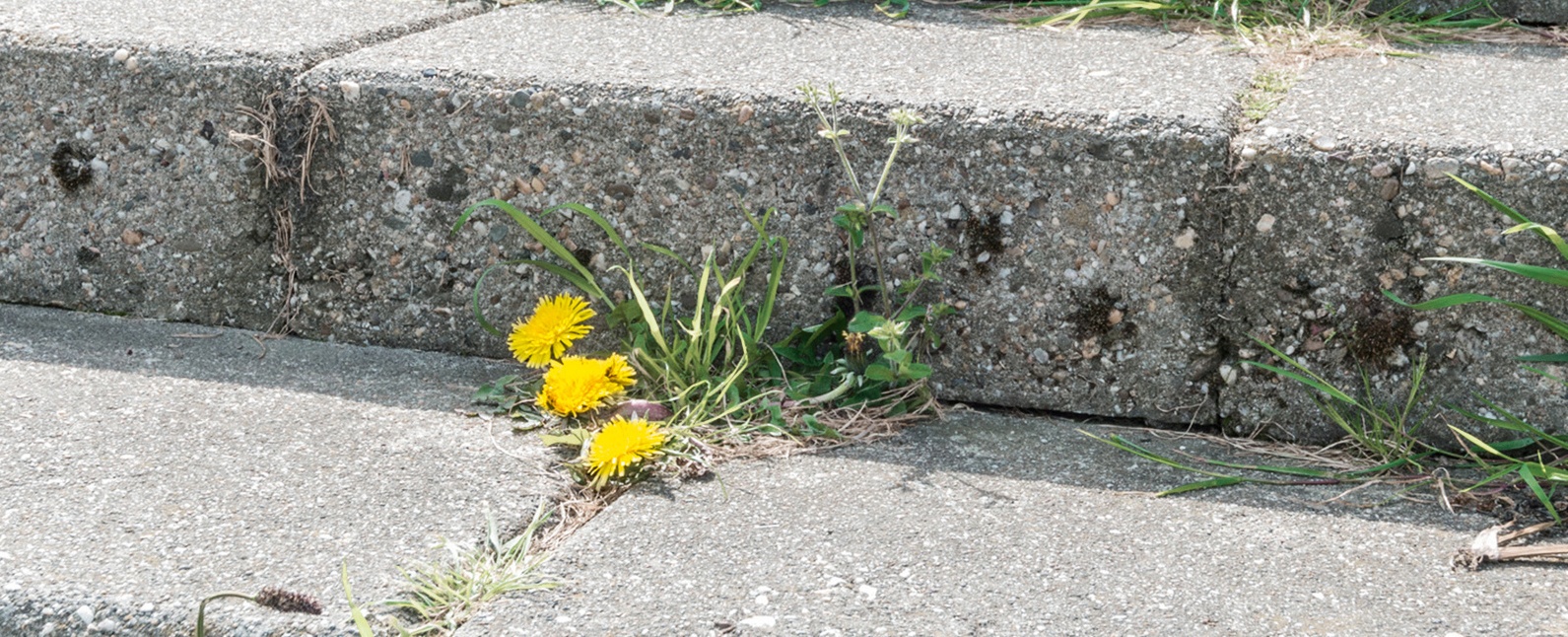 Where high growth of weeds is not a particular problem, removal can begin later in the year. In this case, hot water is the most effective method. The water is heated up to 99°C and reaches the roots, unlike hot air, which only affects the plant itself. Two to three days after the treatment, the weeds have completely reduced in size. Three passes in the growth phase are recommended. The disadvantage, however, is that you have to put up with the weeds growing for longer. Implements for implement carriers as well as attachments for lances – used as accessories for hot water high-pressure cleaners – are available on the market. The latter are especially suited to hard-to-reach areas such as walls and crevices.
As an alternative to hot water, hot steam can also be employed using implements. Compared to hot water solutions, less water is required across the total area since the plants are only wetted slightly. It should be noted, however, that the heat therefore does not reach the roots in order to destroy them. As such, the effect does not last as long, and the treatment must be repeated more regularly.
Whether hot air, hot steam or hot water – thermal methods all have their advantages: they can also be used on loose surfaces such as gravel or the red sand of sports grounds, unlike sweepers.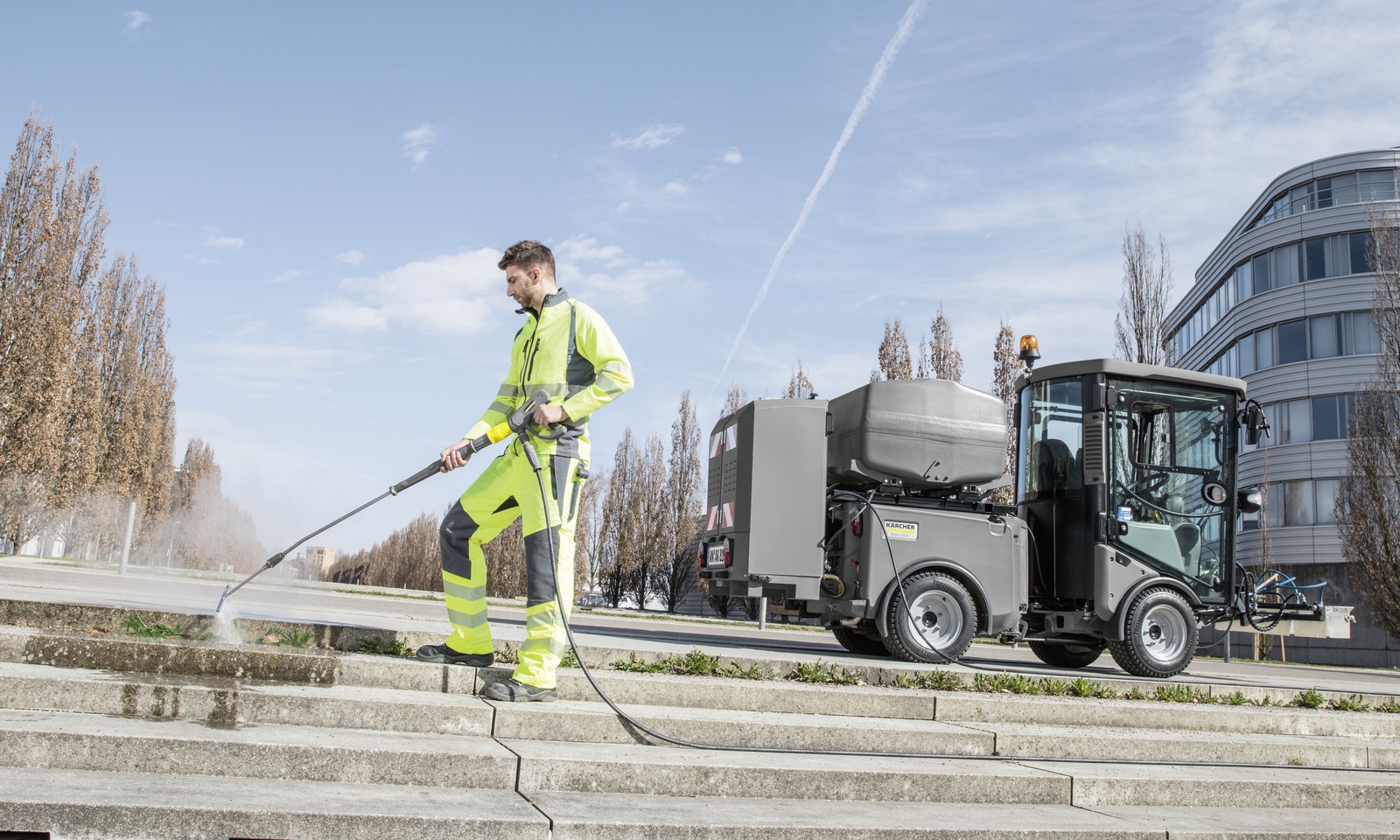 If plantain and dandelions have already encroached onto the path by half a metre and established themselves with deep roots, you can only rely on the mechanical effects of sweepers and accessories such as weed brushes with steel bristles. Powerful steel brushes tear weeds out of the ground along with their roots. This type of weed removal is effective regardless of the composition of the subsoil: if a vacuum sweeper is used, the remains of the plant are picked up in the same pass.
This method should not be used until the weeds have reached a height which makes intervention necessary, while the frequency should be decided by the relevant local authority. In any case, far fewer passes are required than for all of the other methods. It should be noted that tall weeds with deep roots will increase side strain on the brush arms and on the connection between the attachment and the vehicle.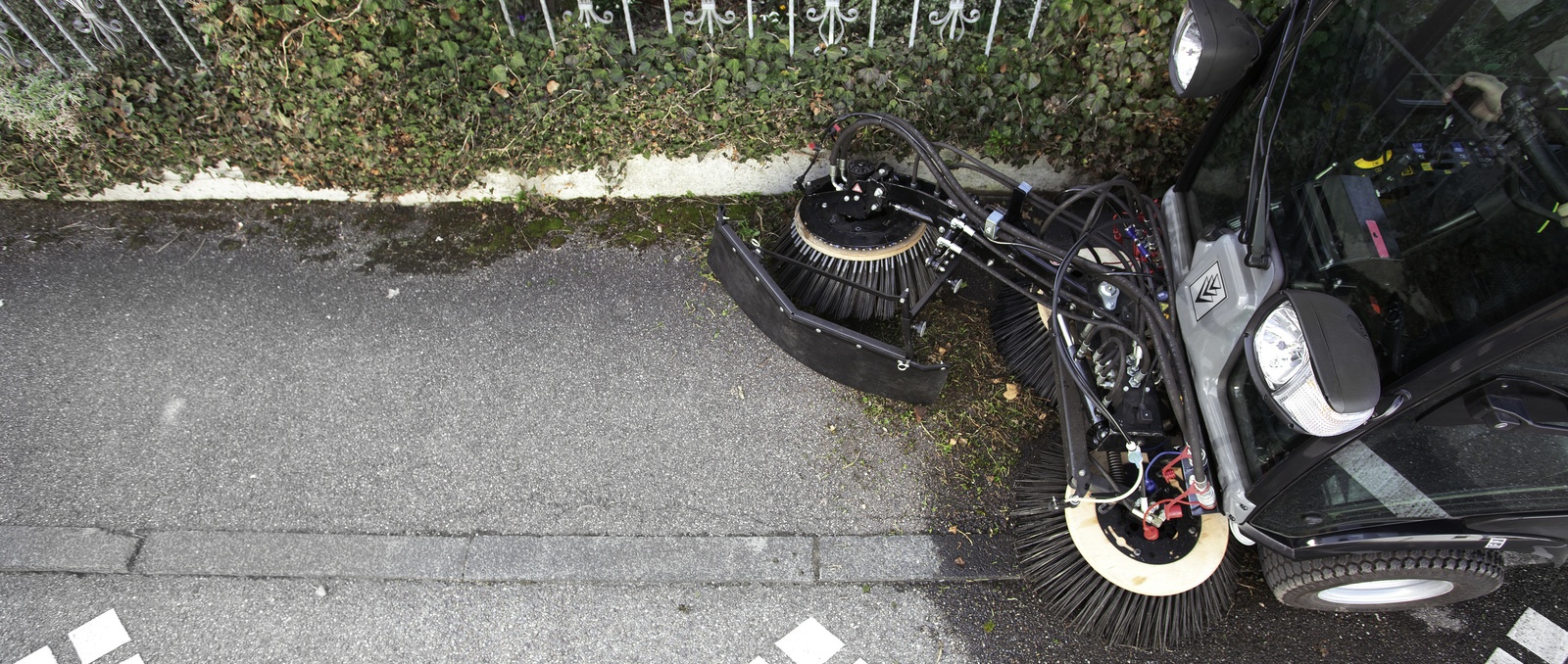 Task 3: Sweeping in outside areas
Pollen lodges in dust and dirt, from which weeds can first grow. In order to prevent this, the breeding ground must be taken from the plants. This is best done by thoroughly sweeping outside areas on a regular basis.
Smaller areas: Ride-on sweepers
The choice of necessary machines and accessories is based on the ground, type of dirt and area size or distance: With a defined operating radius, i.e. for individual objects such as car parks, outdoor swimming pools or outside areas around multipurpose halls, a classic ride-on sweeper is suitable. Edges and corners can be swept using the side brush, the road dirt is then picked up by the main sweeper roller. In order to avoid raising dust, it is useful, particularly for very dry areas, to deactivate the side brushes and only work with the main sweeper roller. Depending on the machine, there is also the option of dispensing water to bind the dust.
Sweepers can be battery-operated or powered by LPG, petrol or diesel. The application decides which drive type is the most appropriate. Smaller areas can be processed with battery-operated machines – for steeper slopes, however, these are generally not suitable owing to the lower climbing ability.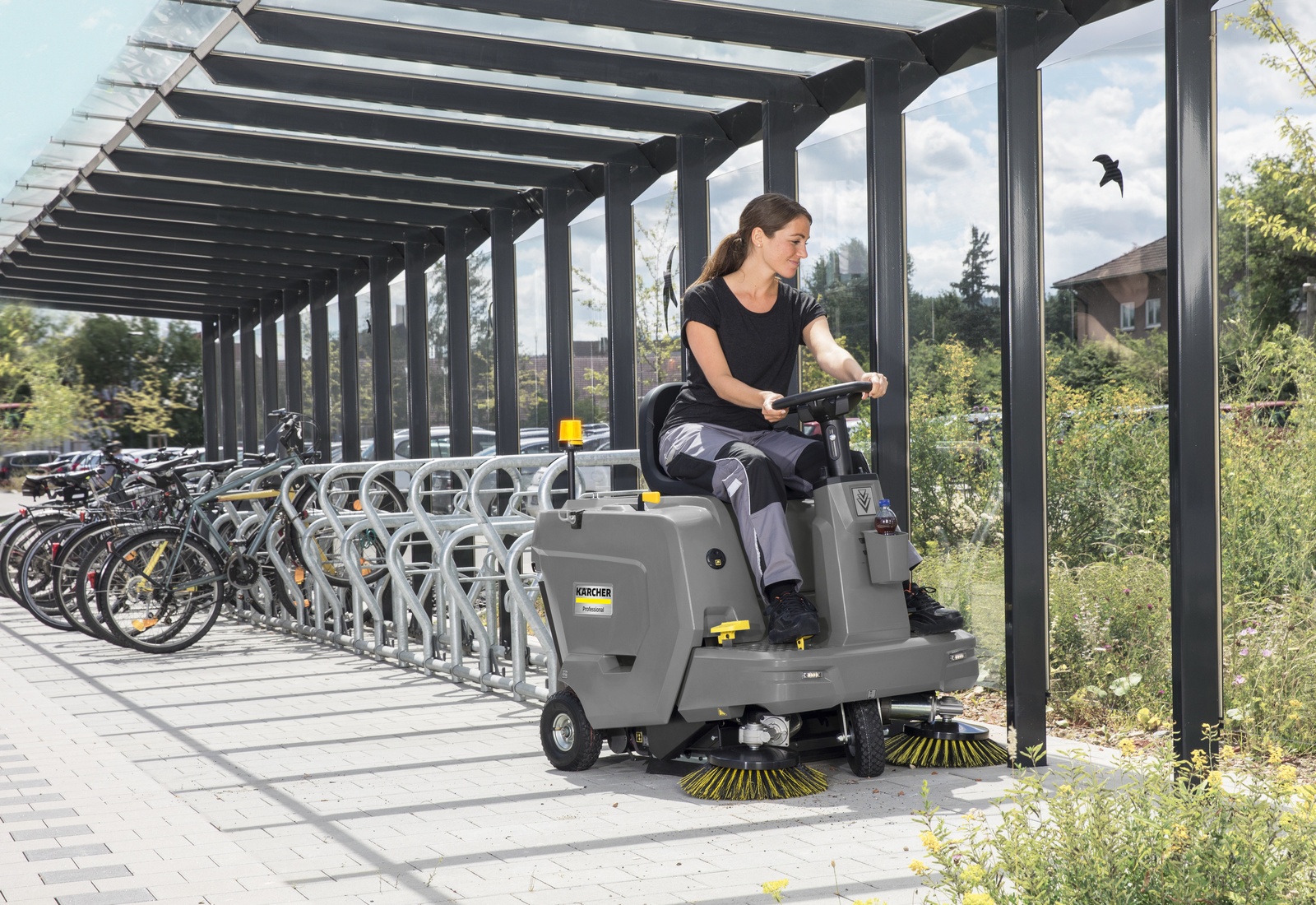 Larger areas: Municipal sweepers
Speeds of approx. 10 to 16 km/h can generally be reached with classic ride-on sweepers, which is why they are only suitable to a limited extent or not at all for sweeping longer distances and large areas.
Larger areas can be processed quickly with municipal or suction sweepers: They reach speeds of up to 40 km/h, whereby longer distances are also easy to manage in road traffic. The dirt is swept up using the side brushes and then absorbed through the suction nozzle. Another advantage of municipal machines is that they are ideal for use all year round as the cab is comfortable and offers the operator convenience features such as air-conditioning, among others. In contrast to ride-on sweepers, they can be used not only on dry ground, but are also suitable for any kind of weather down to a temperature of 0°C.
When selecting the right machine, not only the size, but also the conditions of the area to be cleaned should be taken into consideration: Narrow and manoeuvrable machines are recommended for narrow passages and sharp bends. The climbing ability of the municipal machine is also decisive if there are slopes.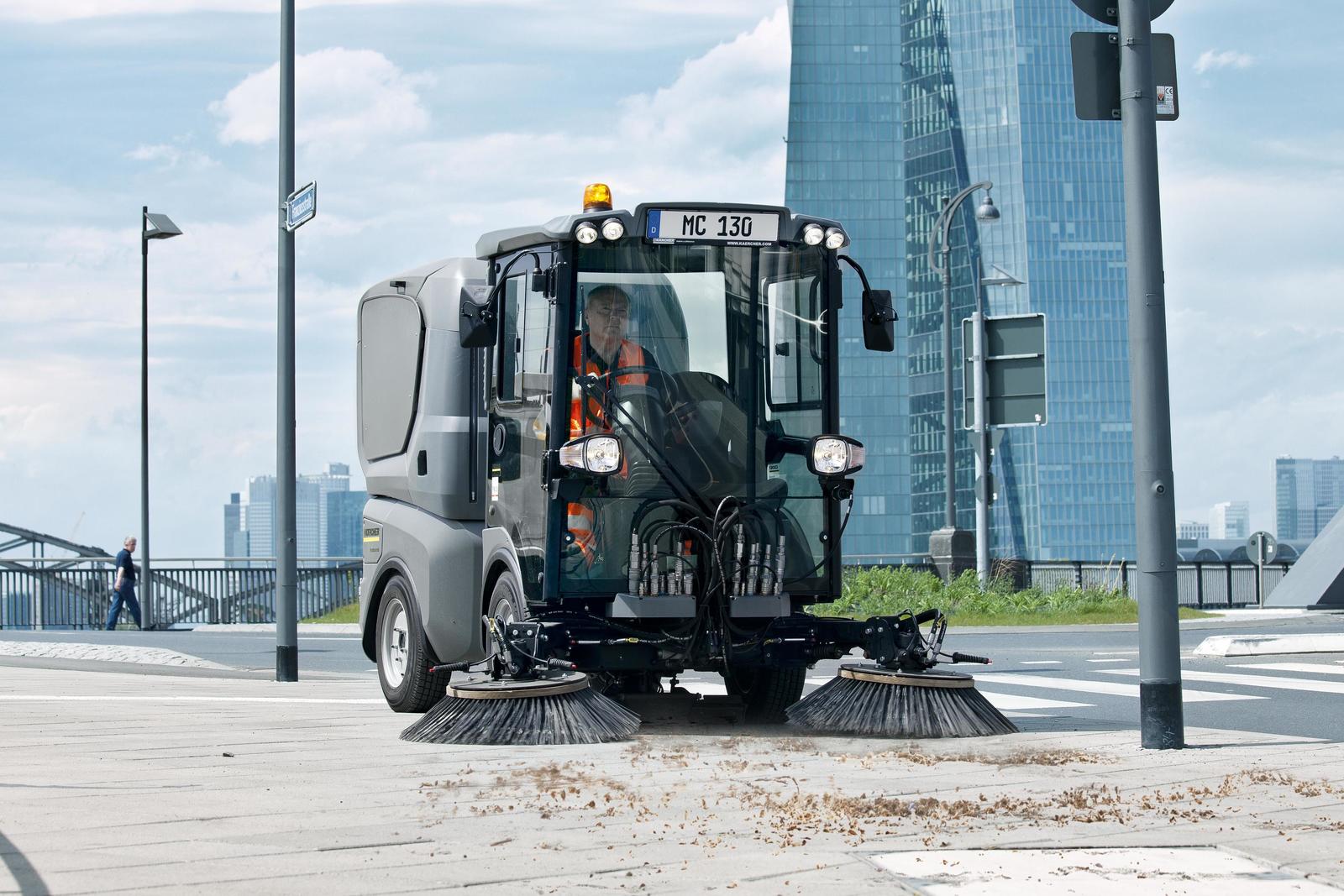 You may also be interested in: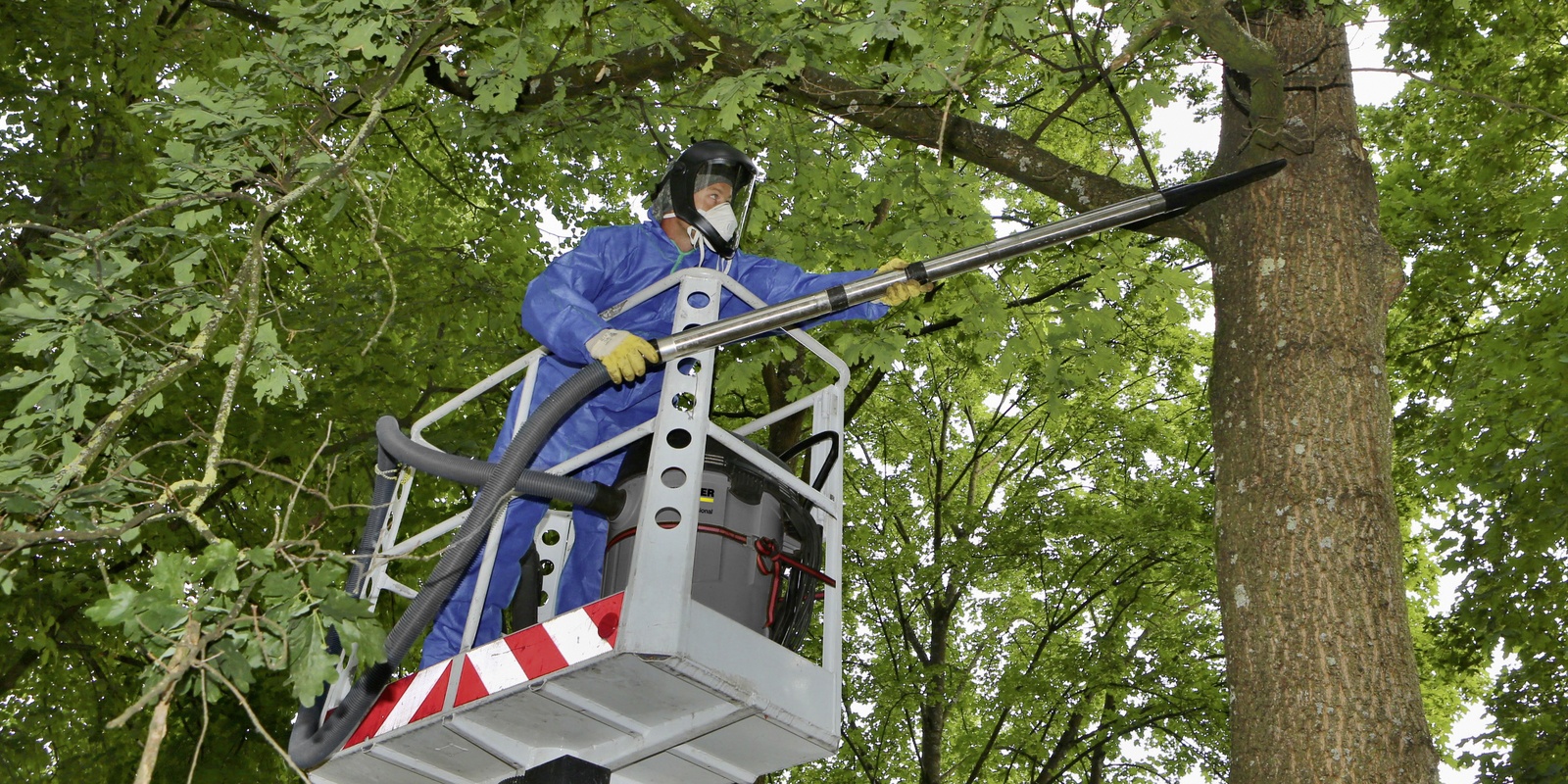 Controlling oak processionary moths in an environmentally friendly manner
For some years now, the oak processionary moth has been on the rise. Where people live, it can become a health risk due to its poisonous stinging hairs. The right approach to tackling the insect is therefore decisive.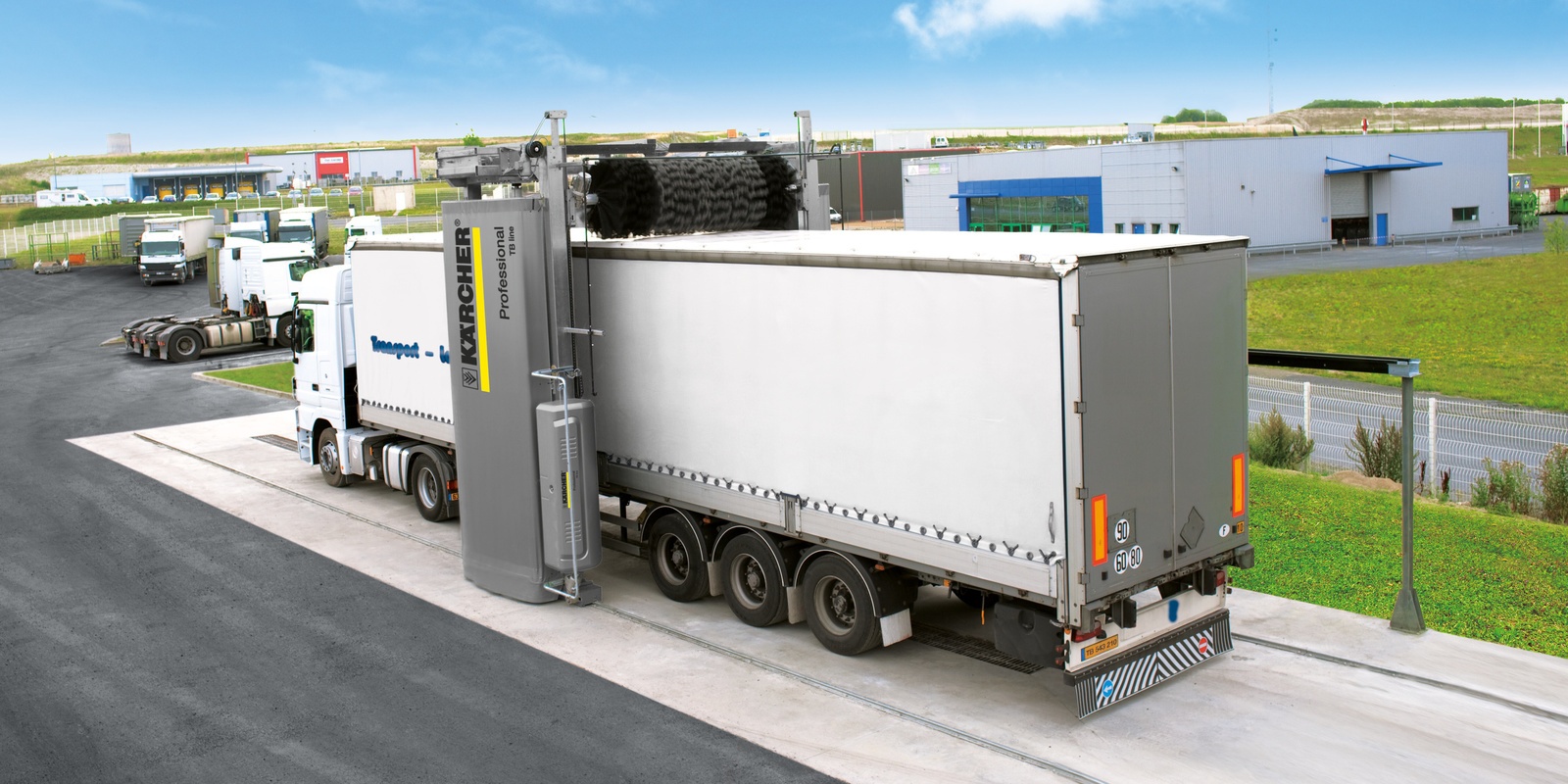 Cleaning commercial vehicles cost-effectively
The demands on washing quality and speed in the cleaning of commercial vehicles are high. The size and design of the vehicles, however, not only require a special technology for the wash – the washing chemicals must also be right in order to clean trucks, buses, etc. cost-effectively.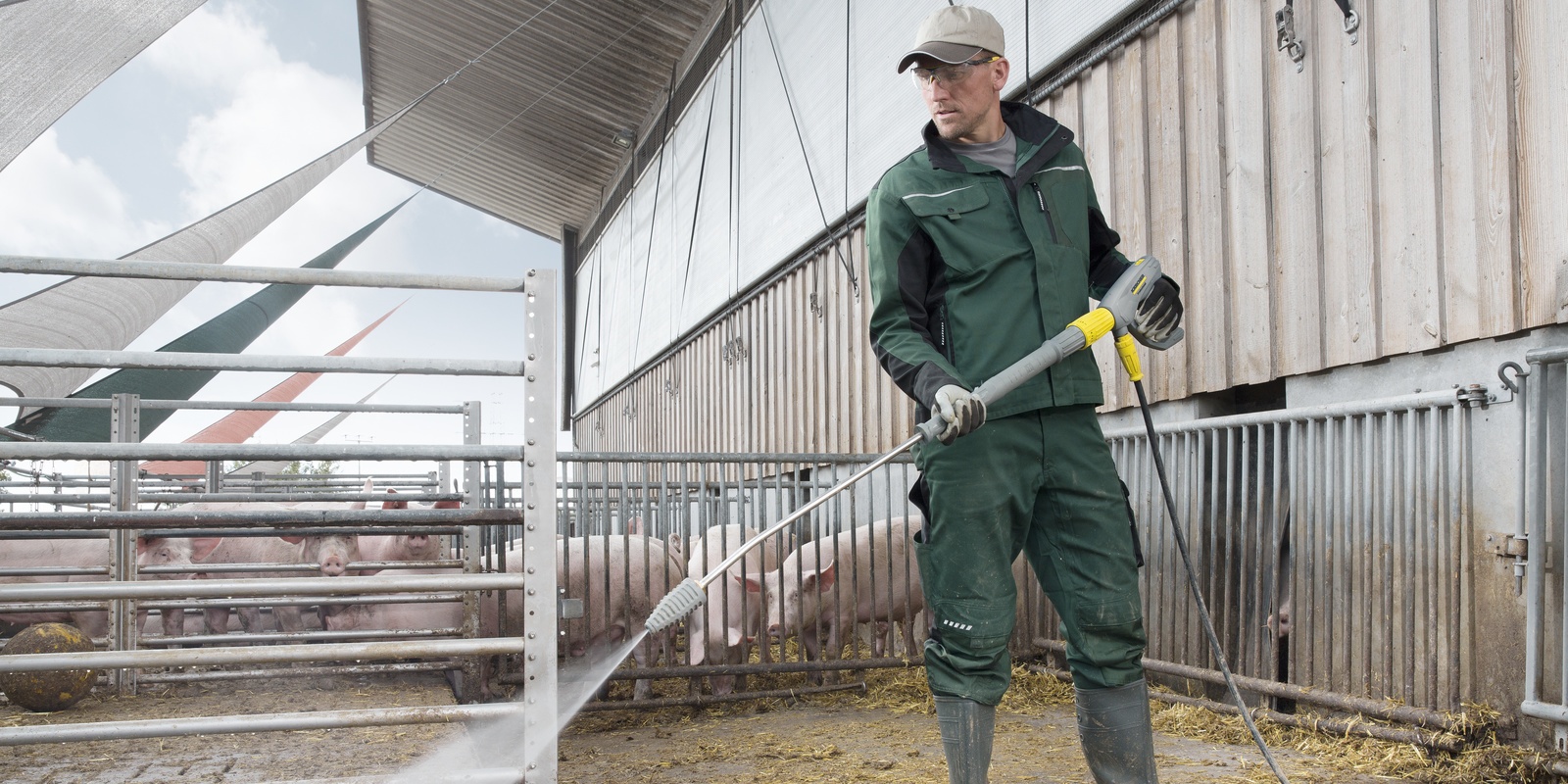 African swine fever: Prevention through cleaning
Meanwhile, the African swine fever has reached central Europe. The possibility of the disease being introduced into other central European countries can no longer be excluded. Proper cleaning on the farm allows farmers to make an important contribution to protecting their livestock.