Success from the modular system
For system design and planning one big advantage is that the Kärcher components used are developed specifically for cleaning container interiors. This means that Kärcher can exclusively offer a wide range of modular and compatible components, which make possible an optimal system solution for every application. The fact that our many years of experience in cleaning container interiors is incorporated directly in the product definition is as self-evident as the compliance with industrial quality standards.

Interior cleaning: It is all about the right head.
Kärcher interior cleaners are largely designed for universal use and the majority already have an ATEX-94/9 approval. Throughput and operating pressure can be adapted to the respective requirement. The drive is jet-powered or realised via electric or compressed air motor. The desired spatial rotation of the nozzles is achieved by a permanently coupled rotation of the nozzle holder in two levels. The asymmetrical tooth system with a high number of teeth guarantees comprehensive jet guidance and intensive cleaning of the entire interior surface.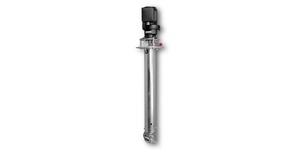 HKF 200
For openings from 200 mm diameter: Electric or pneumatic stainless steel interior cleaning head HKF 200 with 2 or 4 nozzles. With up to 200 bar pressure for large containers up to a volume of approx. 70,000 litres. All parts in contact with media are made of stainless steel and designed for universal use of acids, lyes, as well as solvents, as cleaning agents across a wide pH range.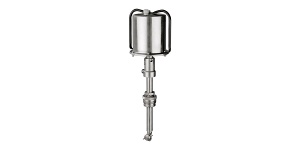 HKF 50
For openings from 50 mm diameter: Electric or pneumatic interior cleaning head HKF 50 for containers with a volume of up to 3000 litres at a pressure of up to 100 bar. Acids and lyes across a wide pH range can be used as cleaning agents.
High-pressure pumps: High pressure for every requirement.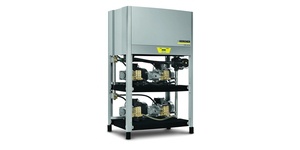 Stationary high-pressure cleaning with HDC Classic/Standard/Advanced
The stationary pump modules from the HDC product line are particularly suitable for external cleaning. A separate brochure provides comprehensive information about the product benefits.
Accessories and cleaning agents.
Kärcher system solutions are always the sum of perfectly coordinated machines, accessories and cleaning agents. Versatile accessories such as softening unit, the suction- or pressure-side cleaning agent dosing unit or effective drying systems open up previously unknown areas of application. Areas outside the container can also be cleaned using hand lances. Fall protection and grounding systems satisfy essential aspects of process and occupational safety.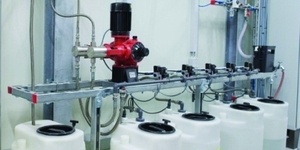 As much as necessary, as little as possible
In the cleaning agent dosing unit Kärcher has tried-and-tested and reliable solutions and innovative processes for reducing cleaning agent consumption. Standard cleaning agents are added on the suction side. Aggressive cleaning agents are dosed directly into the high-pressure line. An efficient variant for extending the reaction time is the application of chemicals in the low-pressure line with subsequent high-pressure cleaning.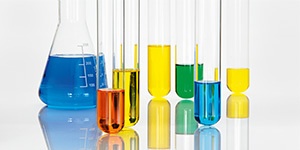 Precisely the right cleaning agent
With the Kärcher TankPro series we provide cleaning agents that are optimally adapted to the machine technology, as well as special regulations and requirements of professional tank and container/deposit cleaning - without any substances that are harmful to the environment and to health. These benefits can be incorporated directly in the system design and planning in order to anticipate factors such as service life, dosing or recycling.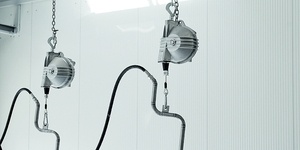 Lifting devices for cleaning heads
Electric or pneumatic lifting devices or also the inexpensive, manually operated balancer systems are available for handling the cleaning heads.
Simple cleanliness, increased safety
Comprehensive accessories are available for cleaning the dome covers and the outside of tank and silo vehicles – for example, the patented power nozzle or the unique ergonomic EASY!Force high-pressure gun. Devices for occupational safety such as fall protection (individual or collective) are already taken into consideration in the planning and engineering of a system.