KIRA B 50 autonomous scrubber dryer
Clean autonomously, increase efficiency
Efficient, timesaving, easy, safe, flexible – and completely autonomous where required: the KIRA B 50 cleaning robot from Kärcher is a useful addition to your cleaning team. Intelligent and, if desired, fully autonomous, it efficiently cleans medium and large areas in the style of a classic scrubber dryer. As a result, cleaners no longer have to perform time-consuming floor cleaning tasks and can instead focus on more complex work.
Compact, long-lasting, effective
THE KIRA B 50 SCRUBBER DRYER ROBOT
Proven roller brush technique with pre-sweeping function and side brush, 55 cm working width, area performance of up to 2,300 square metres per hour, 160 Ah lithium-ion battery: the compact and manoeuvrable cleaning robot is on par with a conventional scrubber dryer while impressing with utmost efficiency and is therefore sure to make a useful and productive addition to any cleaning team.
The machine is suitable for floor cleaning, not only in environments where space is limited, but also over large areas, making it ideal for use in the transport sector (airports, stations, logistics warehouses), retail units and shopping centres, healthcare settings (hospitals, care facilities), public buildings (schools, universities, museums, sports halls) or in industry for cleaning production and manufacturing halls.
GOOD FOR BUSINESS. EVEN BETTER FOR YOUR TEAM
Floor cleaning is time-intensive, and qualified personnel are scarce. The Kärcher KIRA B 50 cleaning robot is the ideal solution and addition to any cleaning team. While it cleans medium and large areas efficiently, just like a scrubber dryer, it does so fully autonomously. Your cleaning team can use this time to focus on more complex cleaning tasks. That's good for business – and even better for your team.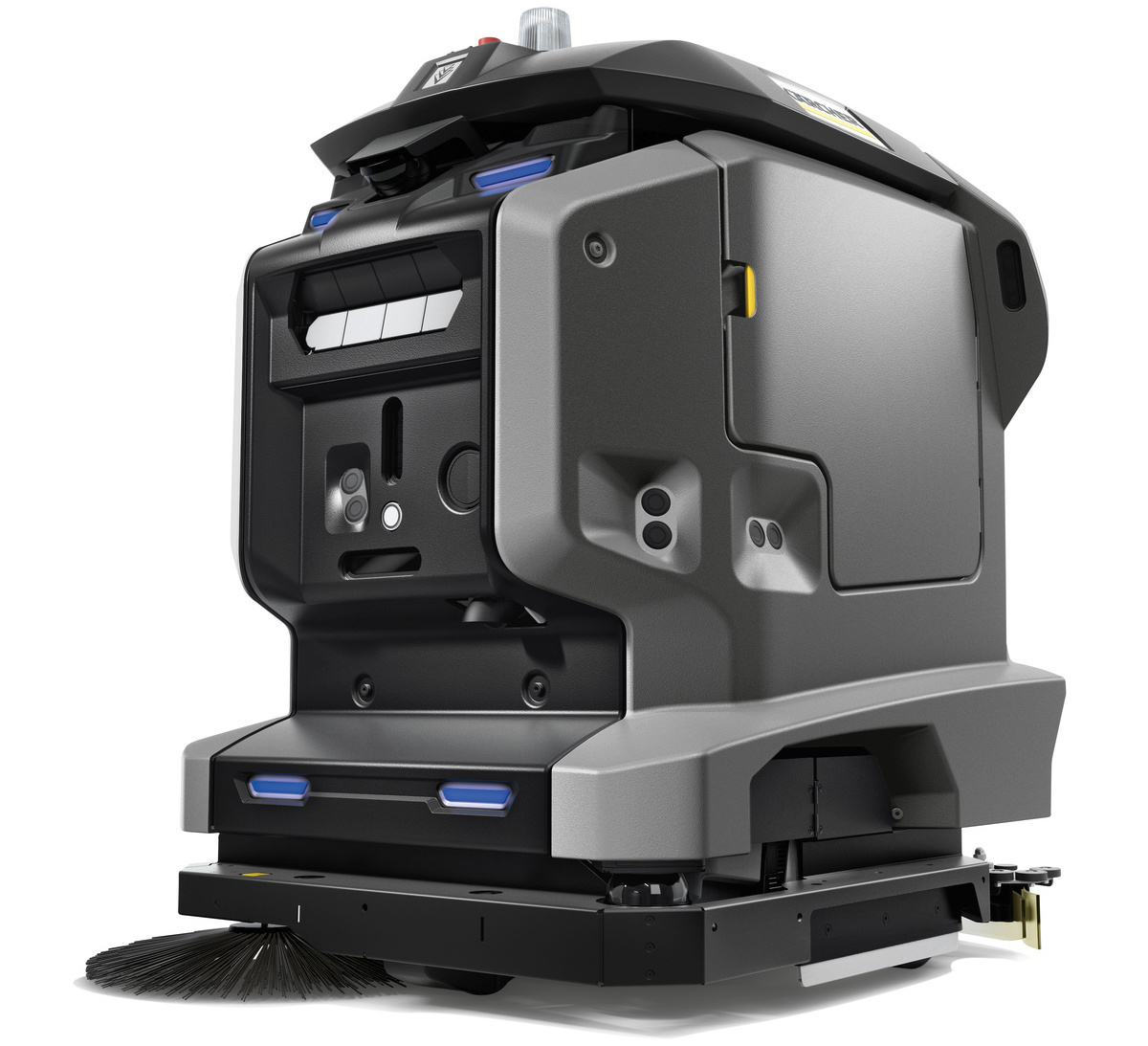 EFFICIENT

Consistently outstanding cleaning results within a scheduled time period, with predictable resource consumption and therefore costs than can be planned for: that is what characterises the KIRA B 50 scrubber dryer robot.
The water volume used, detergent dosing and cleaning speed can be precisely preset, meaning the cleaning fleet can be deployed based on speed. This not only ensures a high level of cleaning quality. It also saves both resources and money.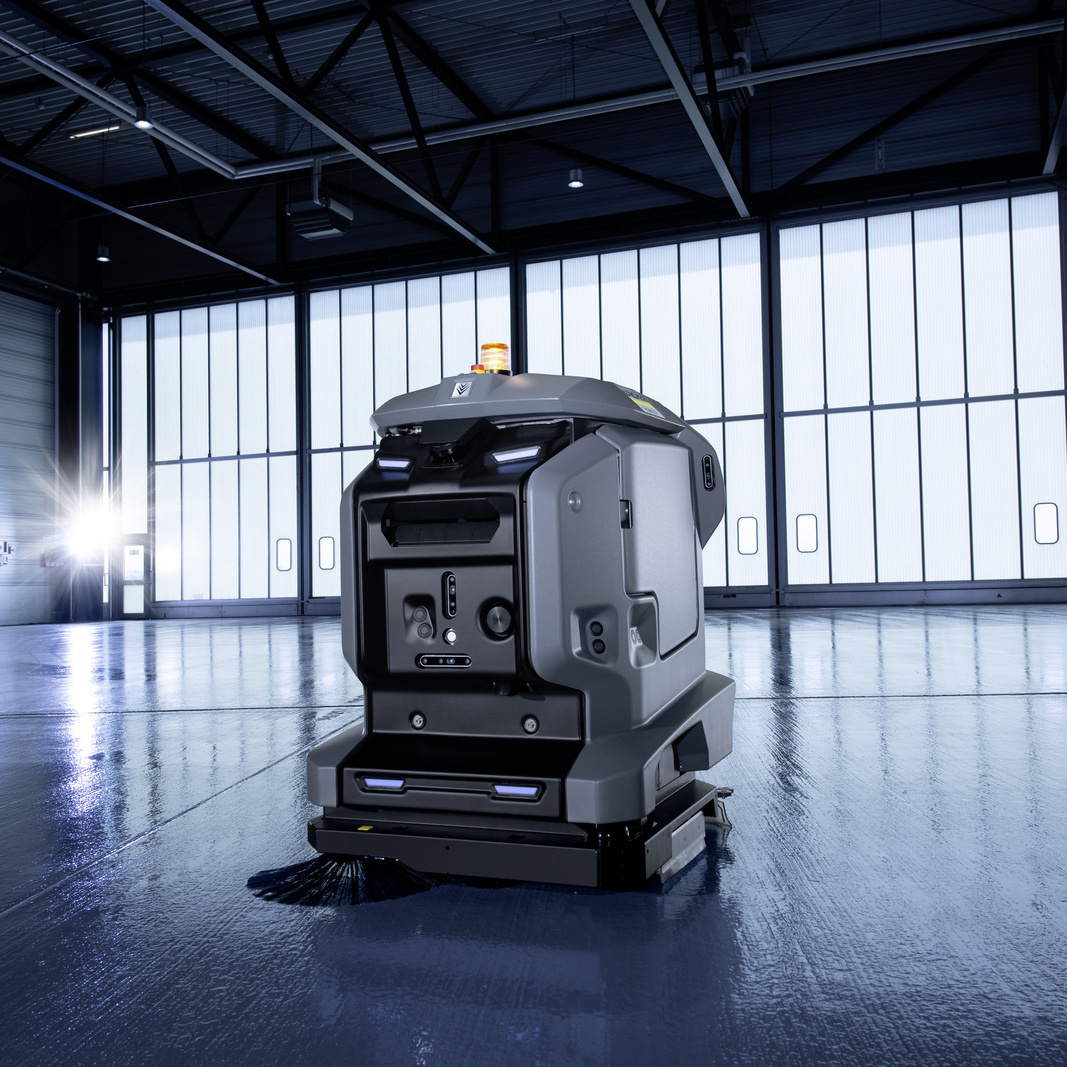 SAVES TIME
Floor cleaning is generally time-intensive and requires a lot of personnel. The autonomous KIRA B 50 scrubber dryer makes it possible to perform cleaning tasks in parallel by taking care of cleaning the floors while the cleaning team can devote their attention to more complex tasks at the same time.
This allows people and machines to work hand in hand in an extremely productive manner – and with virtually no manual rework required thanks to the side brush for cleaning right up to the edge and the integrated pre-sweeping function.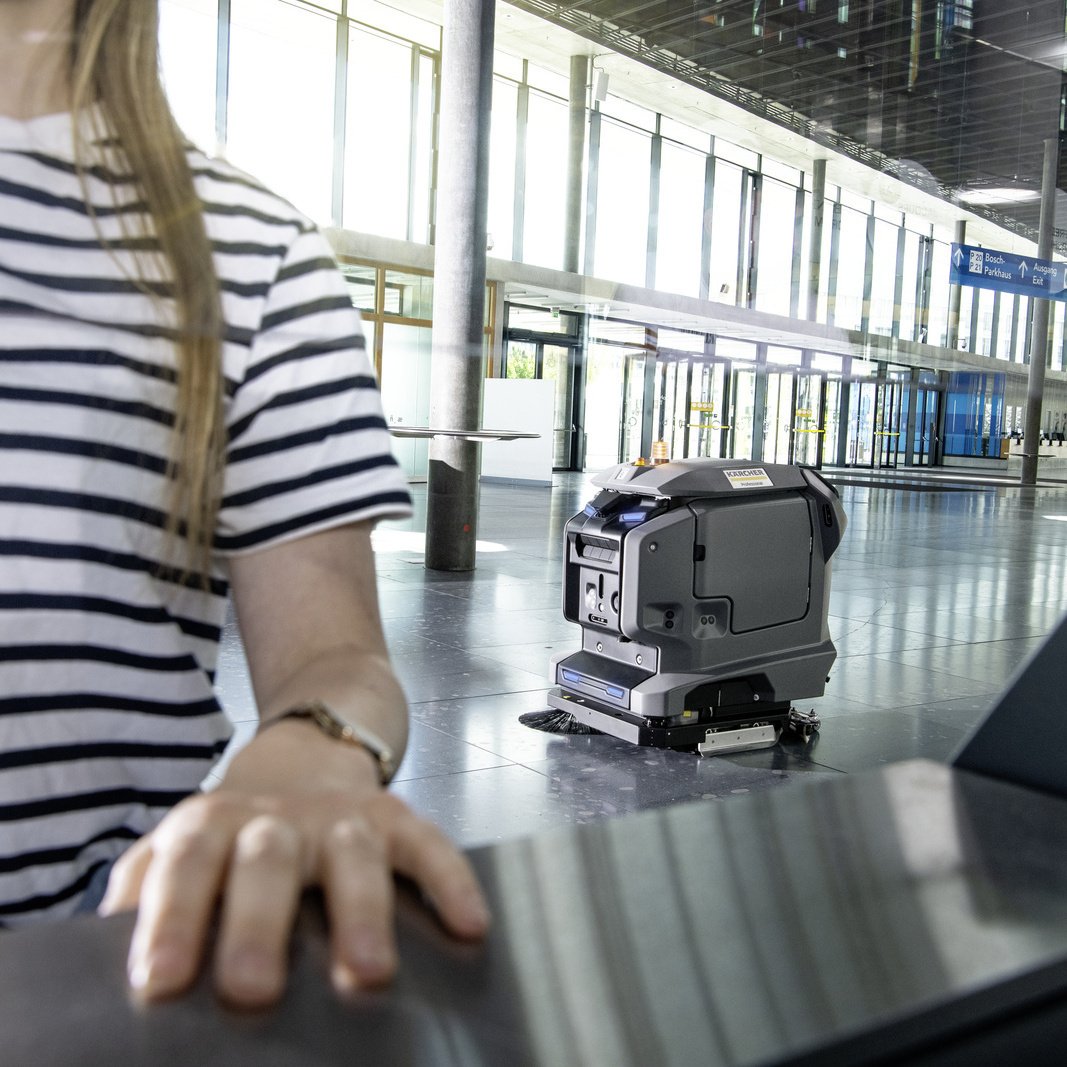 FULLY AUTONOMOUS

Maximum autonomy during floor cleaning is made possible by the optional docking station for cleaning robots from Kärcher. Filling the fresh water tank, draining and rinsing the waste water tank or charging the powerful lithium-ion battery:

whenever the KIRA B 50 requires any of the above it simply docks itself at the docking station, where all its needs are taken care of automatically. The tasks can also be performed manually, of course, and several docking stations can be utilised to optimise processes for very large areas.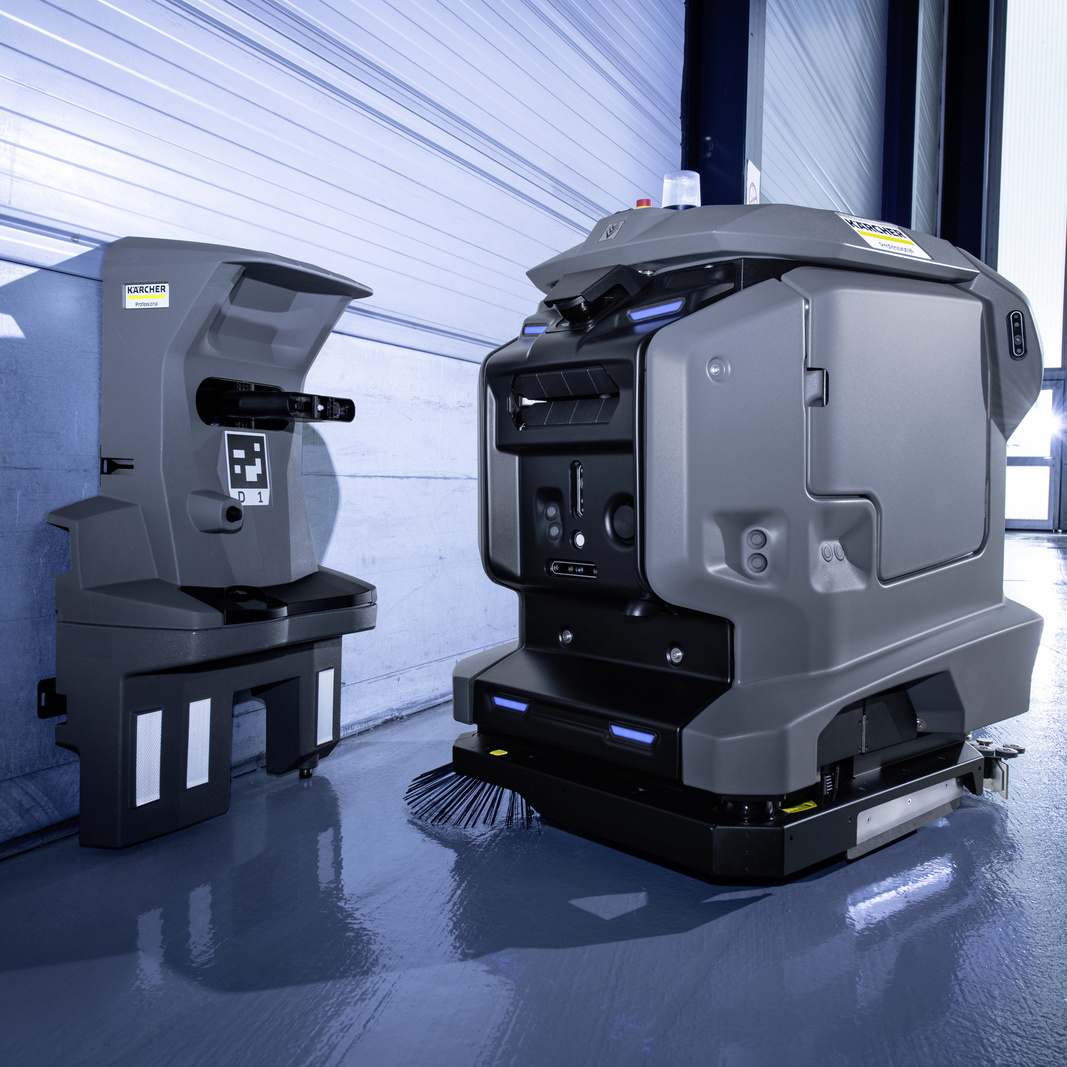 SIMPLE

All functions of the scrubber dryer robot as well as all settings are easy to operate via the large touch display thanks to the intuitive menu and user guidance which does not require any technical knowledge.
Users receive targeted support in the form of graphics and clear instructions in all situations, from setting up and starting the autonomous cleaning process to activating cleaning units, through to the manual cleaning mode. Setting up several user profiles with different levels of authorisation and even different languages also poses no problem.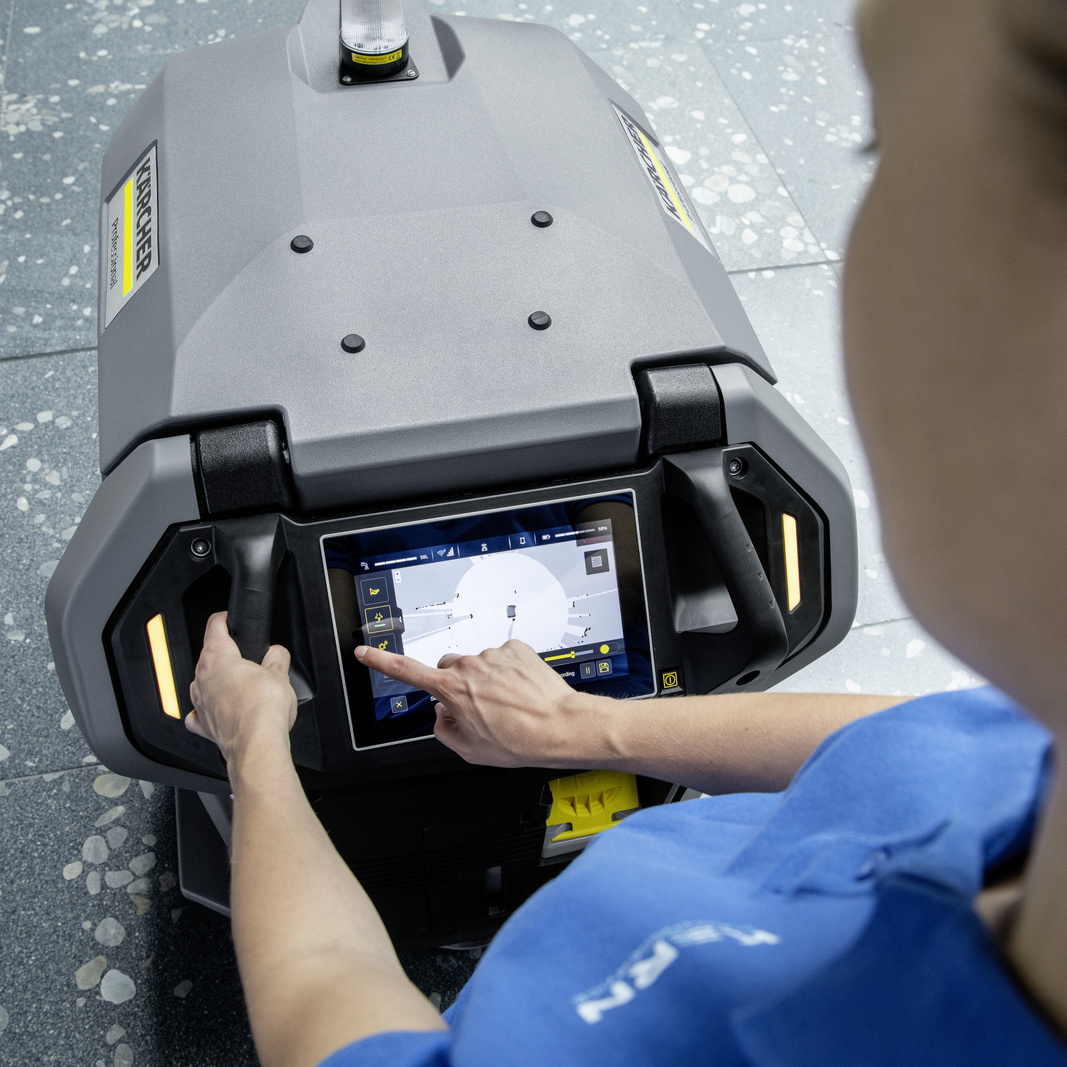 FLEXIBLE

The scrubber dryer robot can clean autonomously or function as a manual scrubber dryer.
In addition, it is possible to only specify sections of a total area as cleaning surfaces or to adapt the cleaning plan or cleaning sequence to the daily requirements.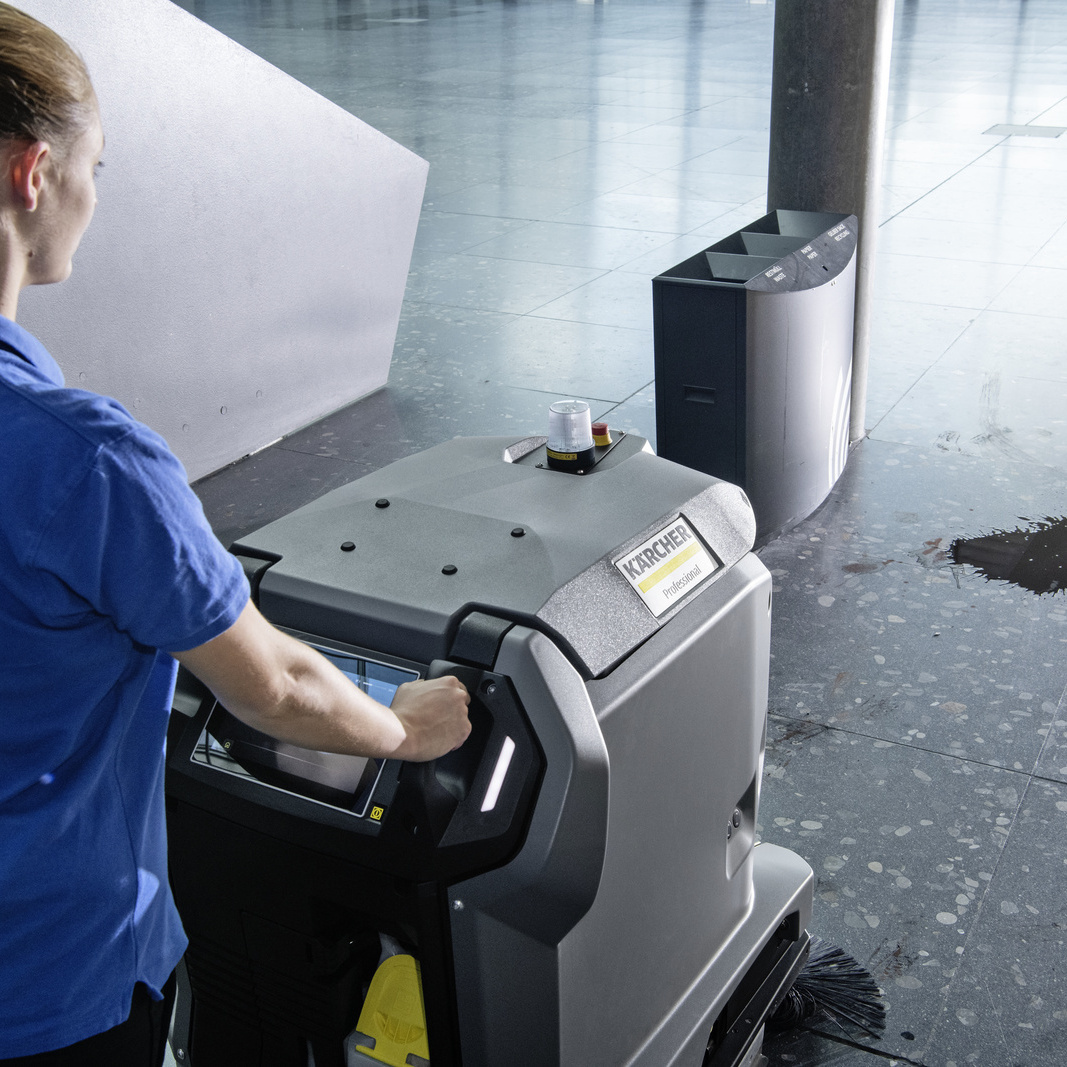 SAFE

Integrated laser scanners, 3D and ultrasonic sensors as well as a powerful on-board computer ensure an optimum 360° detection of the surrounding areas, quick reactions and reliable navigation. The autonomous scrubber dryer also reliably detects changes in the surroundings as well as obstacles and independently initiates the appropriate evasive manoeuvres.
Additionally, an integrated light concept informs people in the area about the cleaning robot's behaviour. The robot is safety certified in accordance with CSA_22.2 No. 336-17 and IEC 60335-2-117 for use in public areas. For the purposes of documentation and monitoring, the KIRA B 50 sends status messages to mobile devices, creating detailed cleaning reports in the corresponding web portal.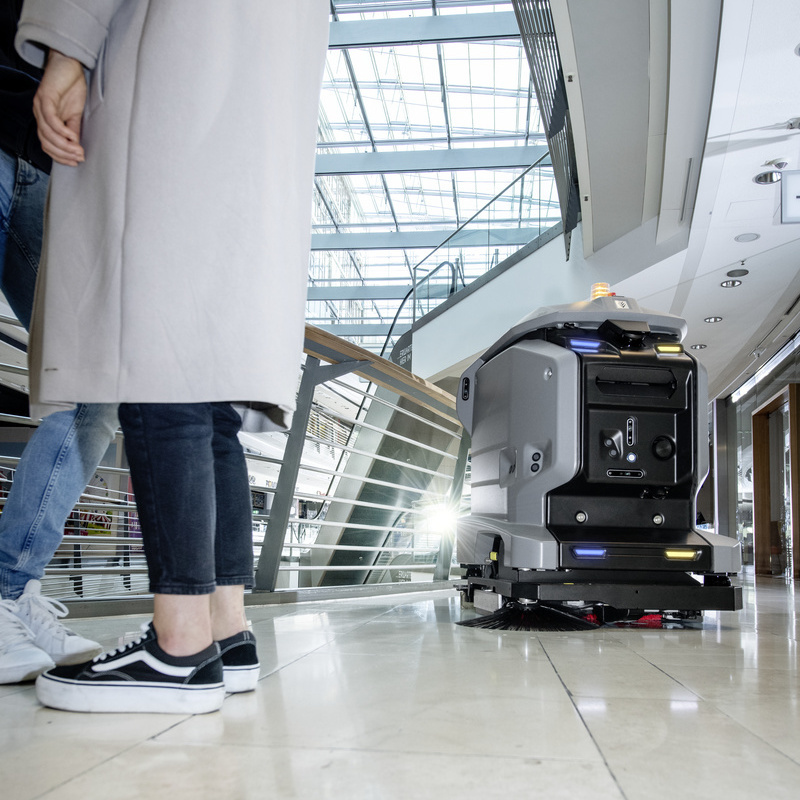 MANY BENEFITS AT A GLANCE
Comprehensive equipment, excellent cleaning performance, cost-effective and intuitive operation: the KIRA B 50 cleaning robot is impressive from the very first glance, but also particularly in its day-to-day use.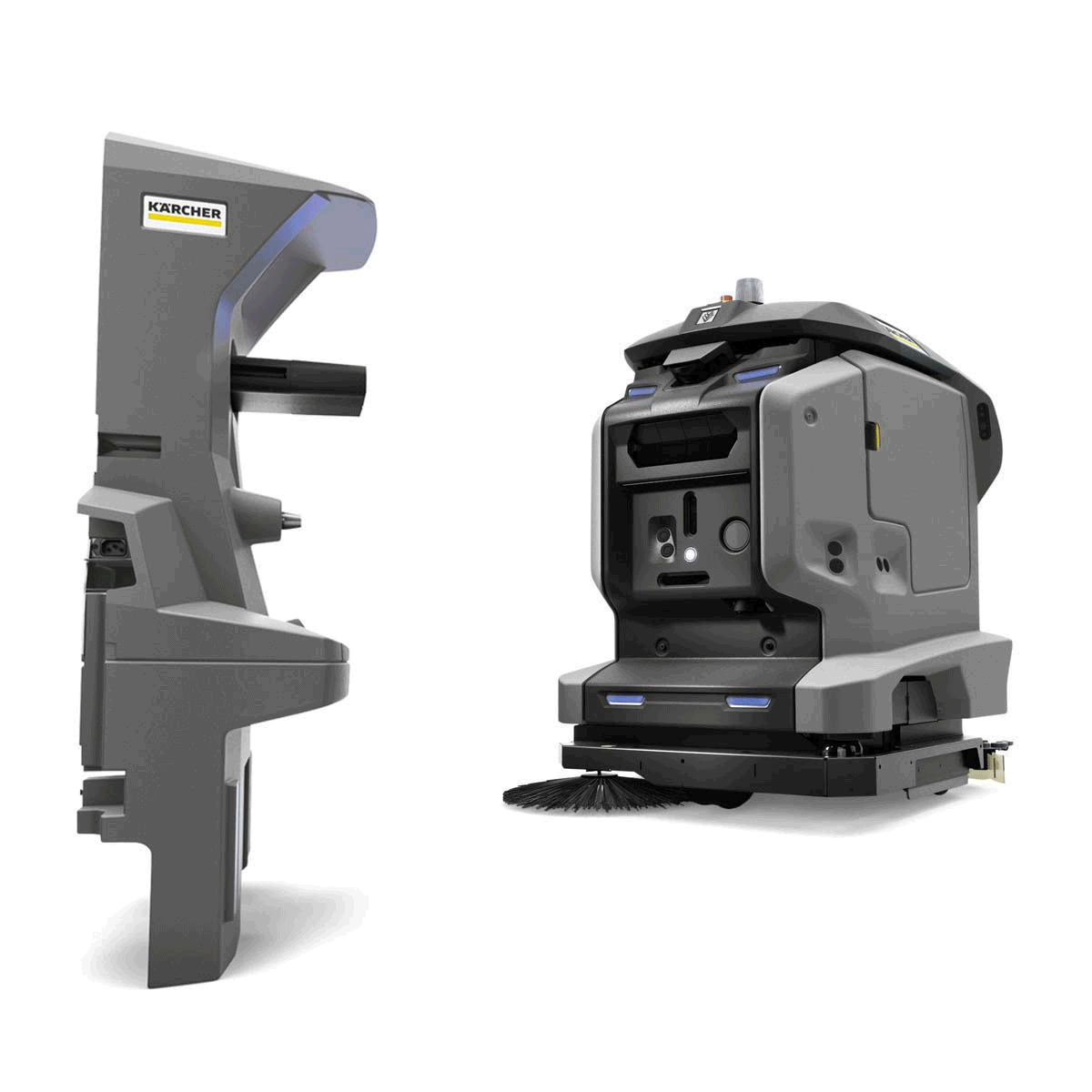 Docking station
Enables fully autonomous operation
Automatic resource replacement (charging the battery, refilling with fresh water, draining dirty water and rinsing the tank)
Docking station is optionally available (operation also possible without docking station)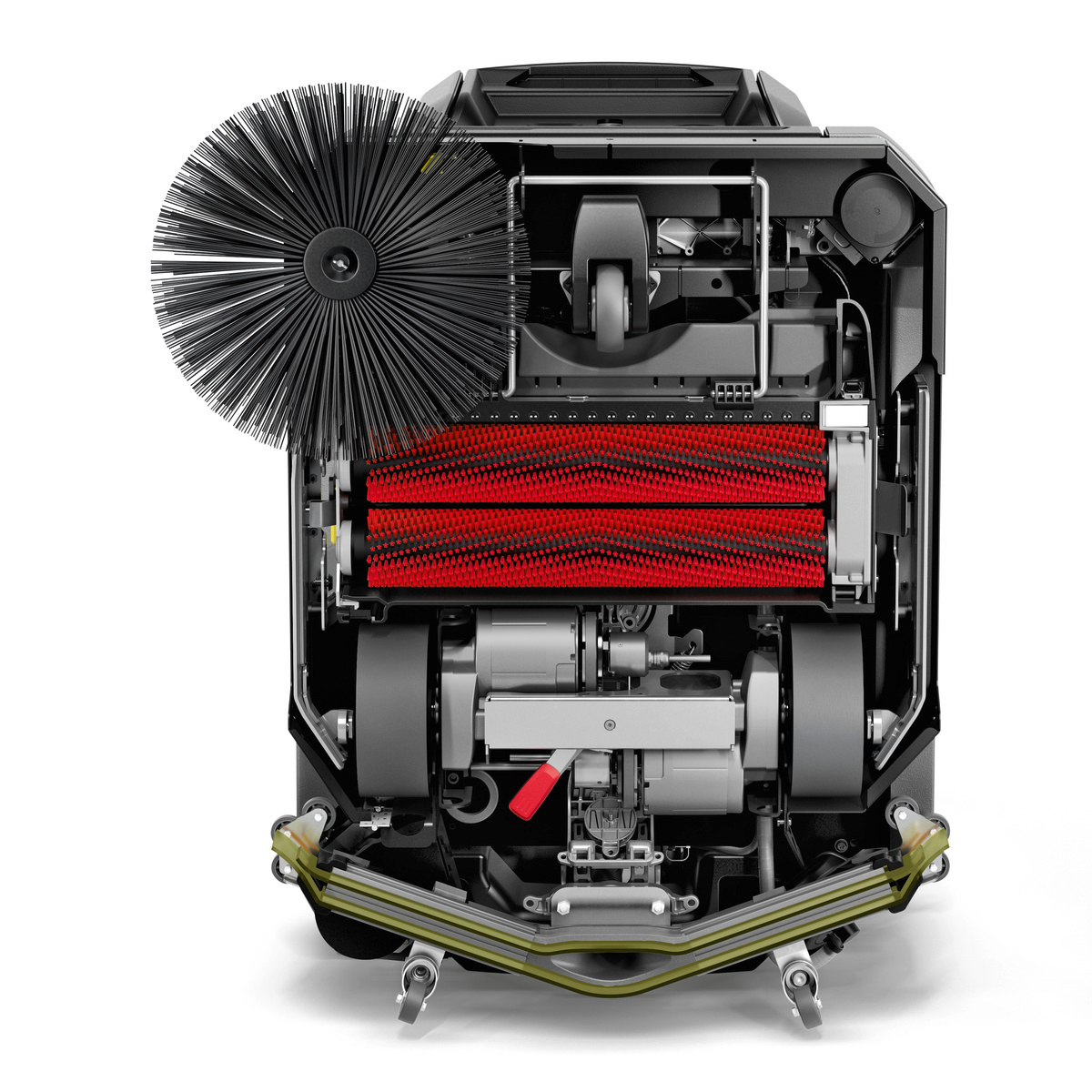 Roller brush head
Pre-sweeping and scrubbing in a single step
Keeps manual preparatory work and rework to a minimum
Excellent cleaning performance, even on textured and uneven floors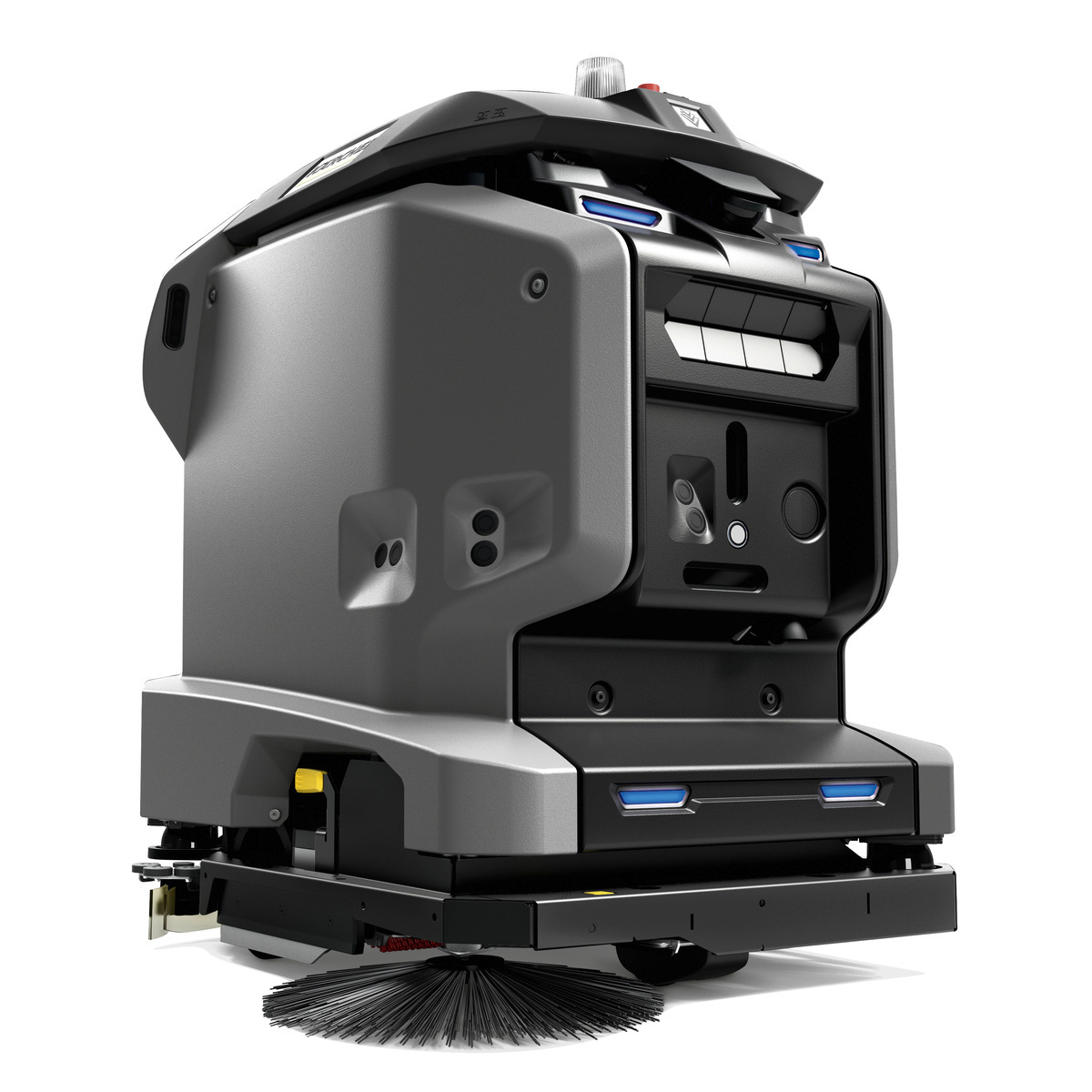 Multi-sensor system
Powerful optical and acoustic sensors
360° view from laser sensors
Reliable detection of glass and overhangs
Sensor monitoring of side areas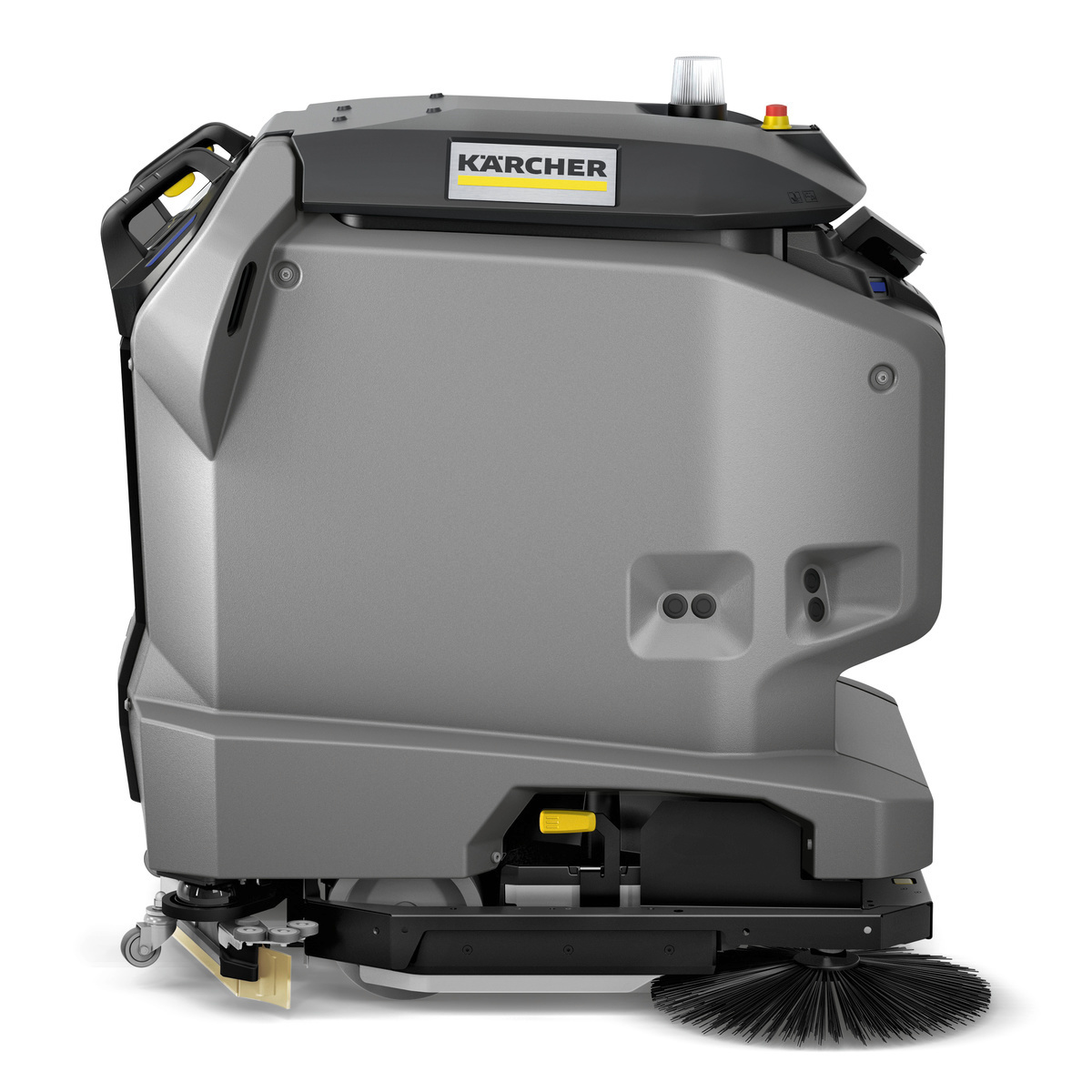 Side brush
For cleaning right up to the edge
Conveys dirt from the edge into the cleaning channel
Keeps manual preparatory work and rework to a minimum
EXCELLENCE IS IN THE DETAIL. PROPERTIES OF THE KIRA B 50
It's the many details, big and small, that turn good ideas into excellent cleaning robots. For maximum performance and safety.
KIRA B 50. EFFICIENCY AND EASE. AS STANDARD
Cleaners no longer have to perform monotonous tasks, instead taking on more complex work.
Thanks to the powerful 160 Ah lithium-ion battery, roller brush technique with pre-sweeping function, side brush and 55 cm working width, there is no limitation to the cleaning performance of the KIRA B 50 compared with a conventional scrubber dryer.
DOES EXACTLY WHAT YOU WANT. COMPACT AND FLEXIBLE
The KIRA B 50 is not about strict schedules. Instead, it offers the maximum level of flexibility in use – perfectly attuned to your actual current cleaning requirements. The compact design allows it to operate even in hard-to-access or particularly narrow areas.
FULLY AUTONOMOUS CLEANING, SOPHISTICATED FROM START TO FINISH
An optional docking station facilitates fully autonomous replacement of resources. The cleaning module keeps manual preparatory work and rework to a minimum.
Once started, the KIRA 50 B cleans a predefined area completely independently. The optional docking station takes us to a whole new level. Cleaning floor areas autonomously using the Kärcher cleaning robot means that the cleaning team no longer have to perform monotonous tasks, which increases productivity.
CLEAN FLOORS PERFECTLY. ECONOMICALLY AND WHILE SAVING TIME
Cleaning professionals in building cleaning, airports, supermarkets or in manufacturing halls know that floor cleaning is fundamentally very time-intensive and requires a lot of personnel, meaning it is also unfortunately relatively expensive.
The ability to perform cleaning tasks in parallel saves time and increases productivity. Anywhere that large floor areas regularly have to be cleaned, the cost-effectiveness of cleaning measures as well as cleaning quality will be the focus for customers and contractors.
BY PROFESSIONALS FOR PROFESSIONALS – AN OVERVIEW OF THE PERFORMANCE FEATURES
SAFE NAVIGATION. CERTIFIED SAFETY
Safety is paramount. Always. That is why the cleaning robot's environment detection system is designed not only for optimal navigation, but also with a particular focus on guaranteeing the safety of people in the area.
Safety certified for public areas thanks to excellent detection of surroundings
Safe, contactless detection of obstacles, people and potential tumbles
Safety certified in accordance with CSA_22.2 No. 336-17 and IEC 63327
Suitable for operation in public areas
Obstacle guide
Reliably recognises unknown obstacles
Automatic planning of route alterations to avoid obstacles
Autonomous free travel manoeuvres prevent termination of cleaning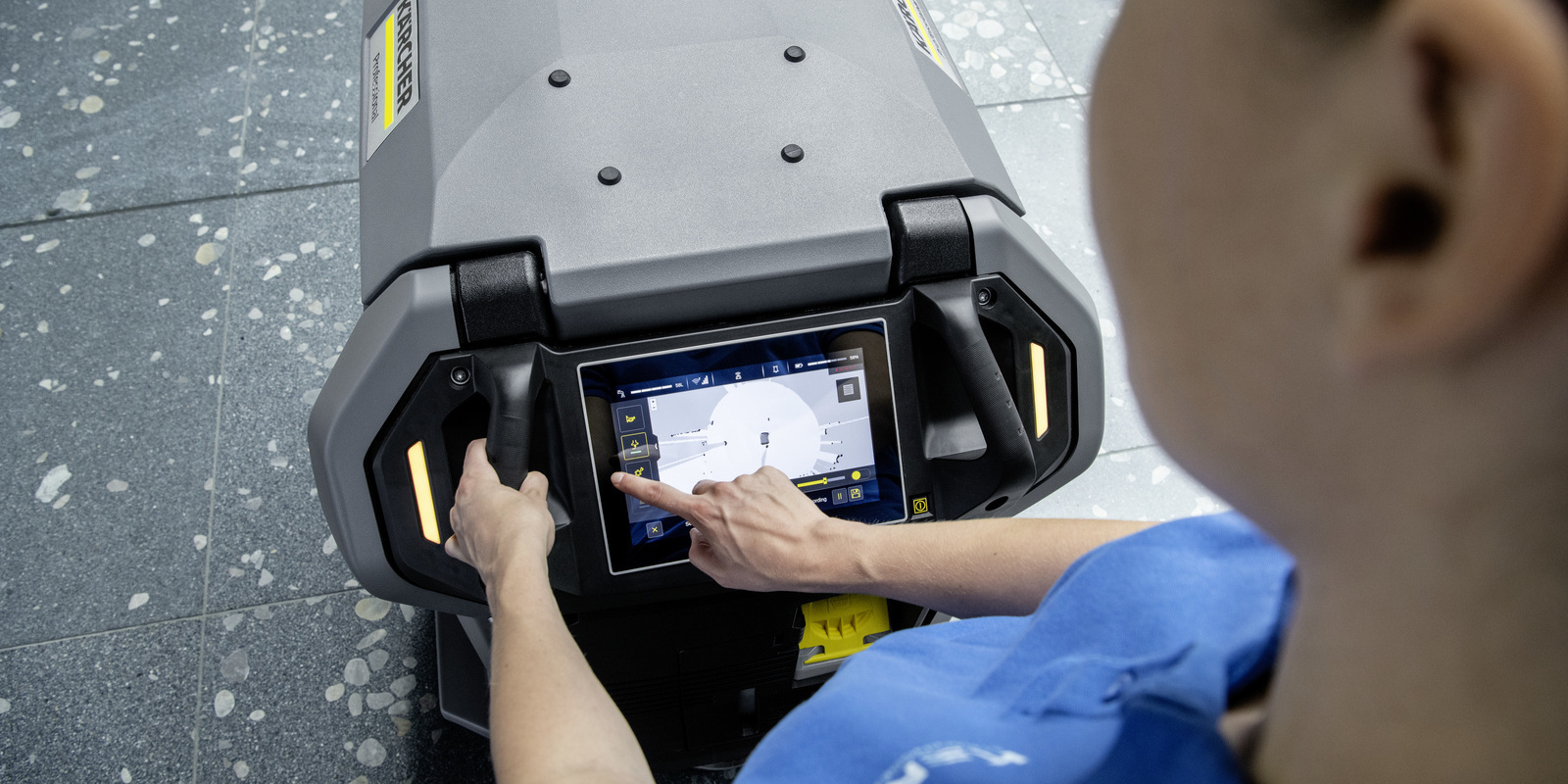 OPERATING THE MACHINE REALLY IS THAT SIMPLE
Anyone who can operate a smartphone will have no problem with the KIRA B 50. There is no expert knowledge or any other technical expertise required. Highly complex technology has only fully come into its own when it is in turn easy to operate. Naturally, that also applies to a fully autonomous scrubber dryer.
Intuitive operation thanks to a large touch display, simple maintenance and servicing
Large, high-resolution touch display for easy, intuitive control of all unit functions
Graphic user interface provides clear instructions, illustrations and animations, guiding the user through all steps required in a straightforward and understandable way
Simple to set up and operate the robot without the need for expert knowledge
Operating modes
Autonomous and manual operation possible three times
Allows for manual spot cleaning
Several user profiles can be set up with individual levels of authorisation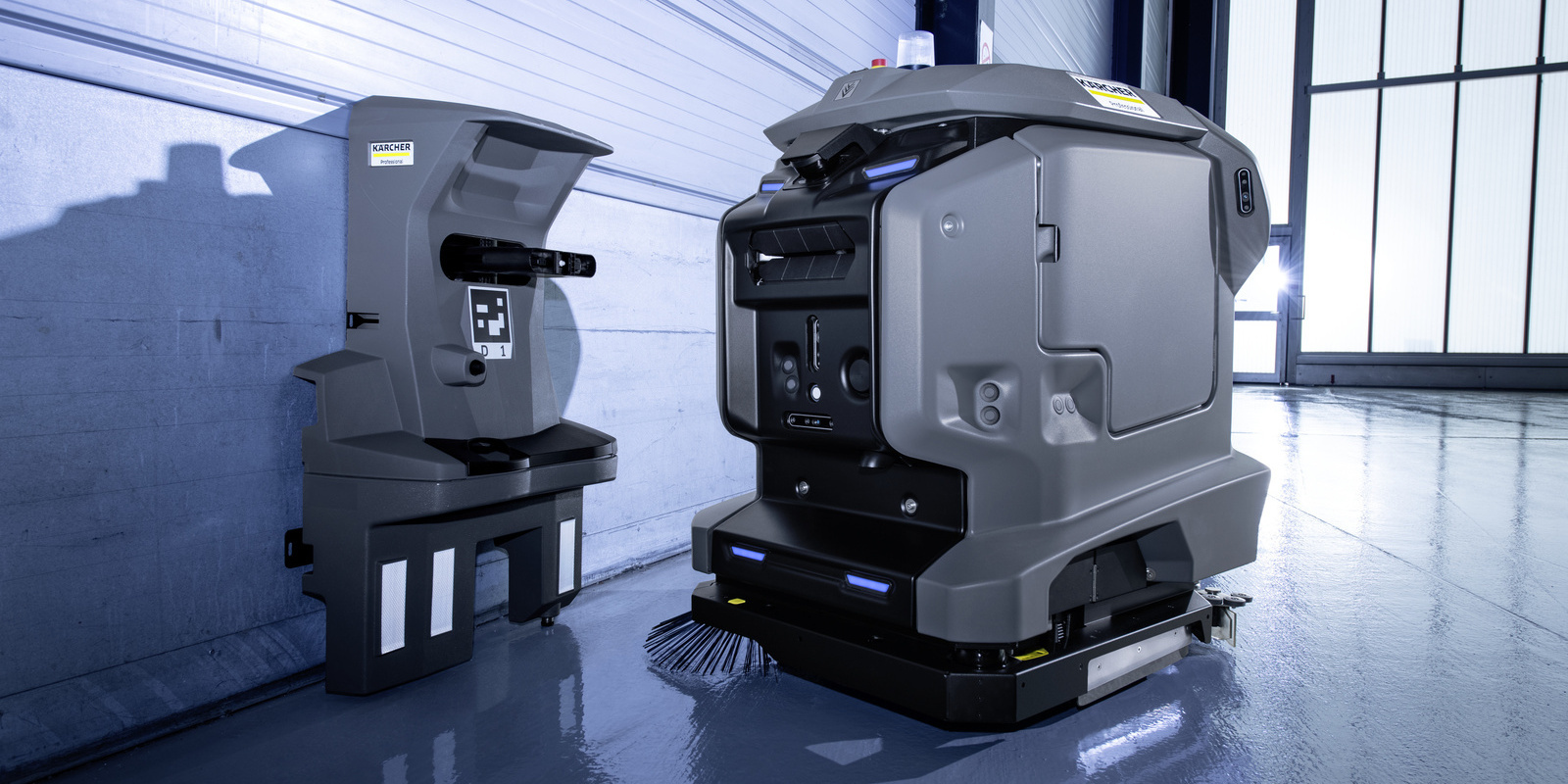 FULLY EQUIPPED AS STANDARD. STRAIGHT FROM THE FACTORY
Either with or without a docking station, the KIRA B 50 is always prepared for fully autonomous operation, offering an abundance of outstanding equipment features.
Extensive standard equipment
High-performance lithium-ion battery
Dose cleaning agent dosing system which conserves resources
Time-saving auto-fill function and automatic dirty water tank rinsing
Speed-dependent water dosing
Flashing beacons to increase safety
Innovative LED light modules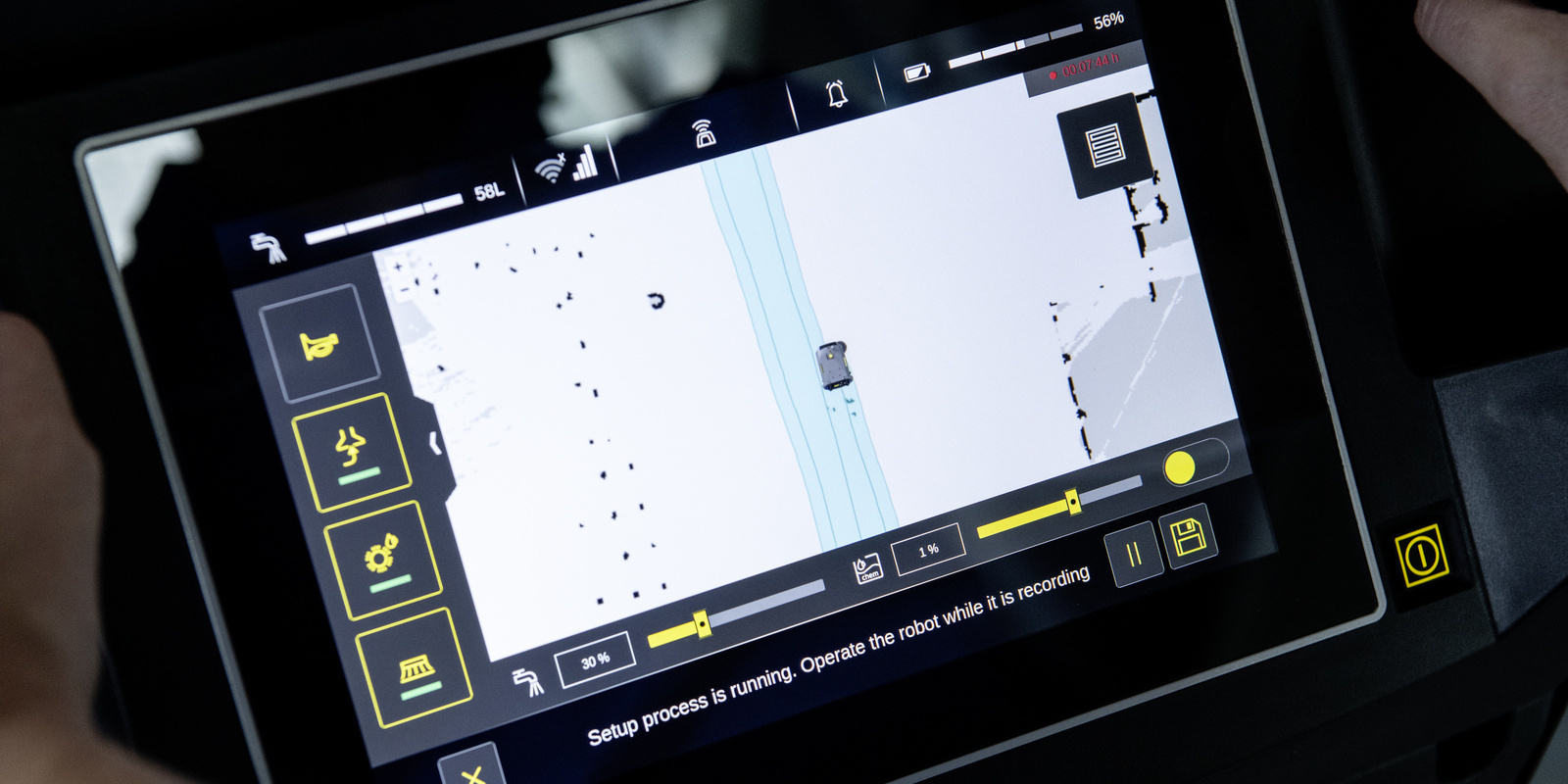 FULL CONTROL AND CONNECTIVITY. AT ALL TIMES. EVERYWHERE
The cleaning robot is connected directly to a web portal, which shows you all the important machine data at a glance, at any time and from anywhere, so that you have everything under control at all times.
Access to detailed information via the KIRA web portal
Web portal containing cleaning reports, notifications, machine statuses and much more
Sending of notifications and status messages to mobile devices
POWERFUL. SAFE. ECO-FRIENDLY. CLEANING AGENTS FOR THE KIRA B 50
Depending on the location of use, the floor covering and how dirty it is, Kärcher recommends various cleaning agents to be used with the KIRA B 50 cleaning robot – every one, of course, perfectly tailored to the machine, safe to use and environmentally friendly.
KIRA CARE: OUR SERVICE. YOUR BENEFIT
When calculating your costs, nothing is more helpful than being able to determine your expenditures in advance as precisely as possible. With the KIRA Care and KIRA Care Plus service packages, you know in advance exactly what lies ahead. And you benefit from comprehensive services that make your everyday business work so much easier.
The KIRA Care package always includes access to the web portal, software updates and a functional guarantee that also covers the battery. Naturally you can be sure that only trained and experienced service technicians using original spare parts will take care of any maintenance cases – of course, the costs are already included in your Care package. There's no need for you to expend any time or effort, since we plan and coordinate our Works Customer Service visits so that you don't have to worry about a thing.
You can cover even more eventualities with the KIRA Care Plus package. For example, in the event of a machine failure, you will receive a replacement immediately, benefit from particularly fast response times, or simply include all required consumables in advance. What is more, you will regularly receive tailored advice for efficient use of your cleaning robot.
Whether for purchasing, renting or financing, the KIRA Care packages are the perfect addition to your autonomous Kärcher scrubber dryer.