Scrubber drier
B 95 RS + D 65 R
The particularly agile step-on scrubber drier B 95 RS with 95 l tank has a disc brush head with 65 cm working width. The ideal machine for smooth floor areas.
The B 95 RS is equipped with a disc brush head with 65 cm working width and is perfect for smooth floors, e.g. in supermarkets, industrial systems, public buildings or healthcare facilities. The compact step-on scrubber drier is extremely manoeuvrable and also works very fast. A very high area performance is also possible in narrow areas. The pivot-mounted squeegee always guarantees an optimal vacuuming result. The Auto Fill function allows efficient filling of the fresh water tank. The machine is battery-operated (170–198 Ah wet/gel battery) and convinces with an optimal view thanks to the higher operating position. The suction lips, brushes, as well as the squeegee, can be changed within seconds without any tools. Comfort is paramount with the B 95 RS. The automatic lowering of the brush head and squeegee, the large LCD display, as well as the choice of cleaning modes, ensure a high level of comfort. Particularly simple operation is guaranteed with the KIK key system, the optional Dose cleaning agent dosing unit, as well as the colour coding of the operating elements.
Features and benefits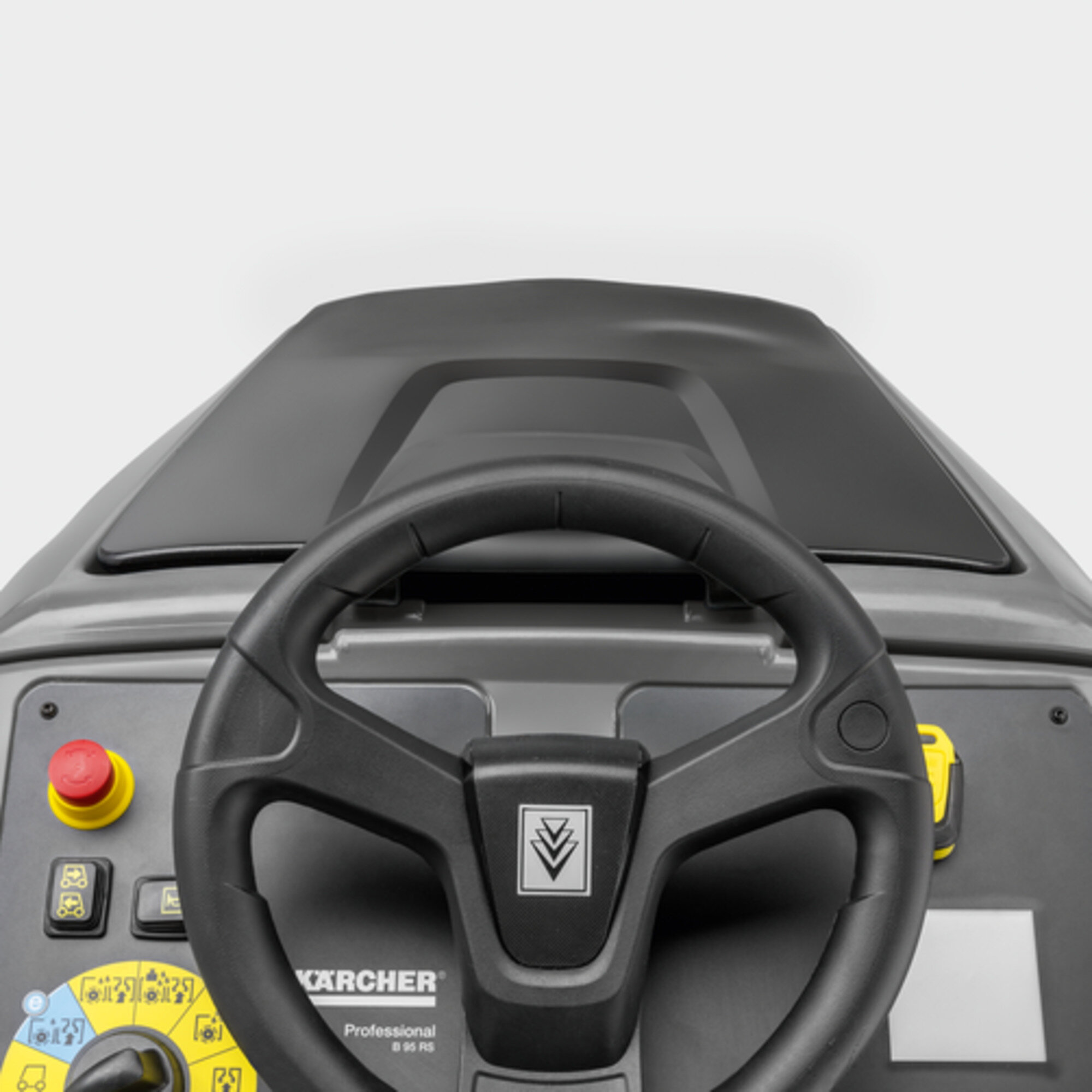 High standing position.
Improves the operator's visibility and view, and increases security. Best possible view for protection of persons, devices, furniture, and objects.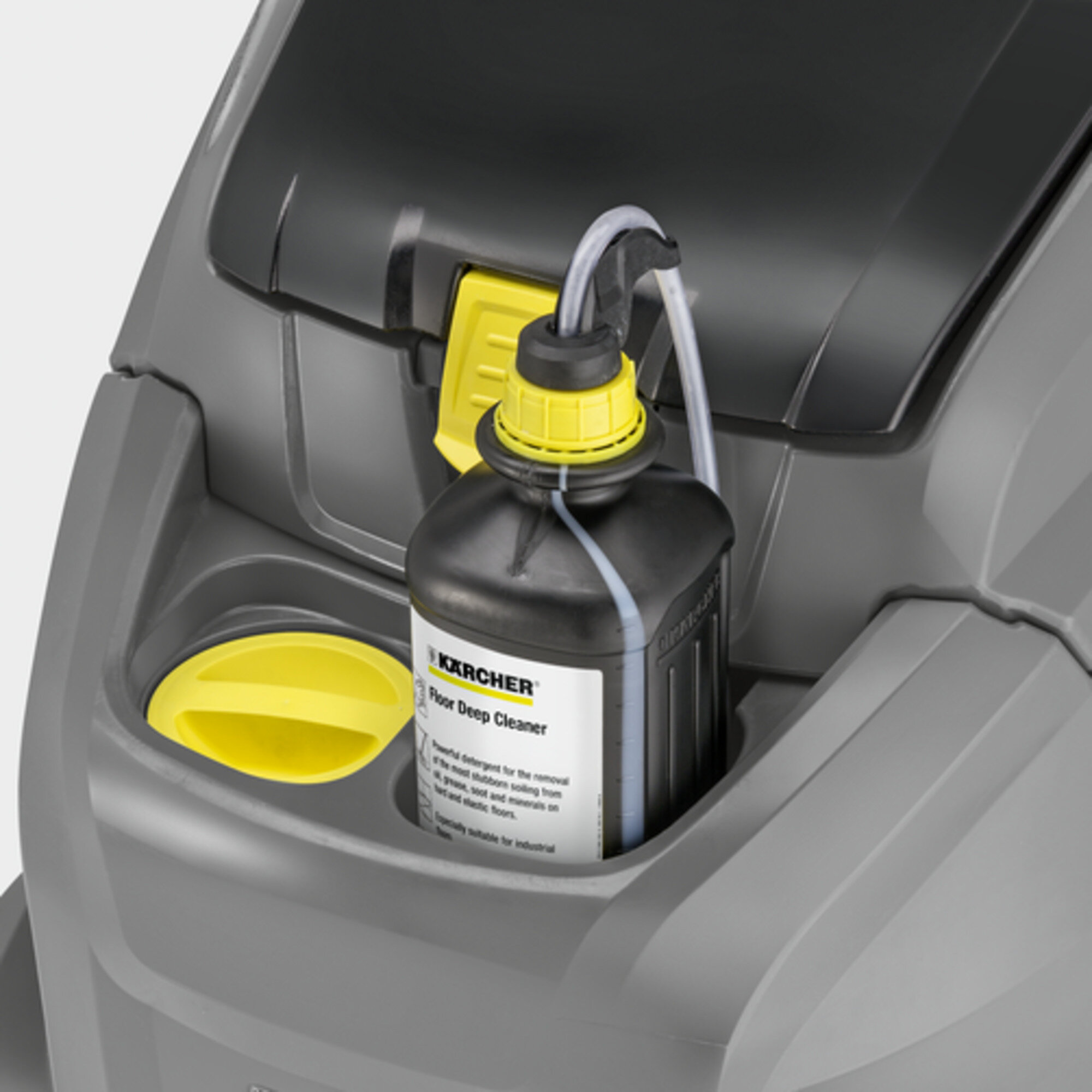 With
Dose

cleaning agent dosing system.

System for dosing the cleaning agent as required. Precise and even dosing of cleaning agents (can be set up to 3%). Contamination of the tank is not possible, as the fresh water and cleaning agent are separated.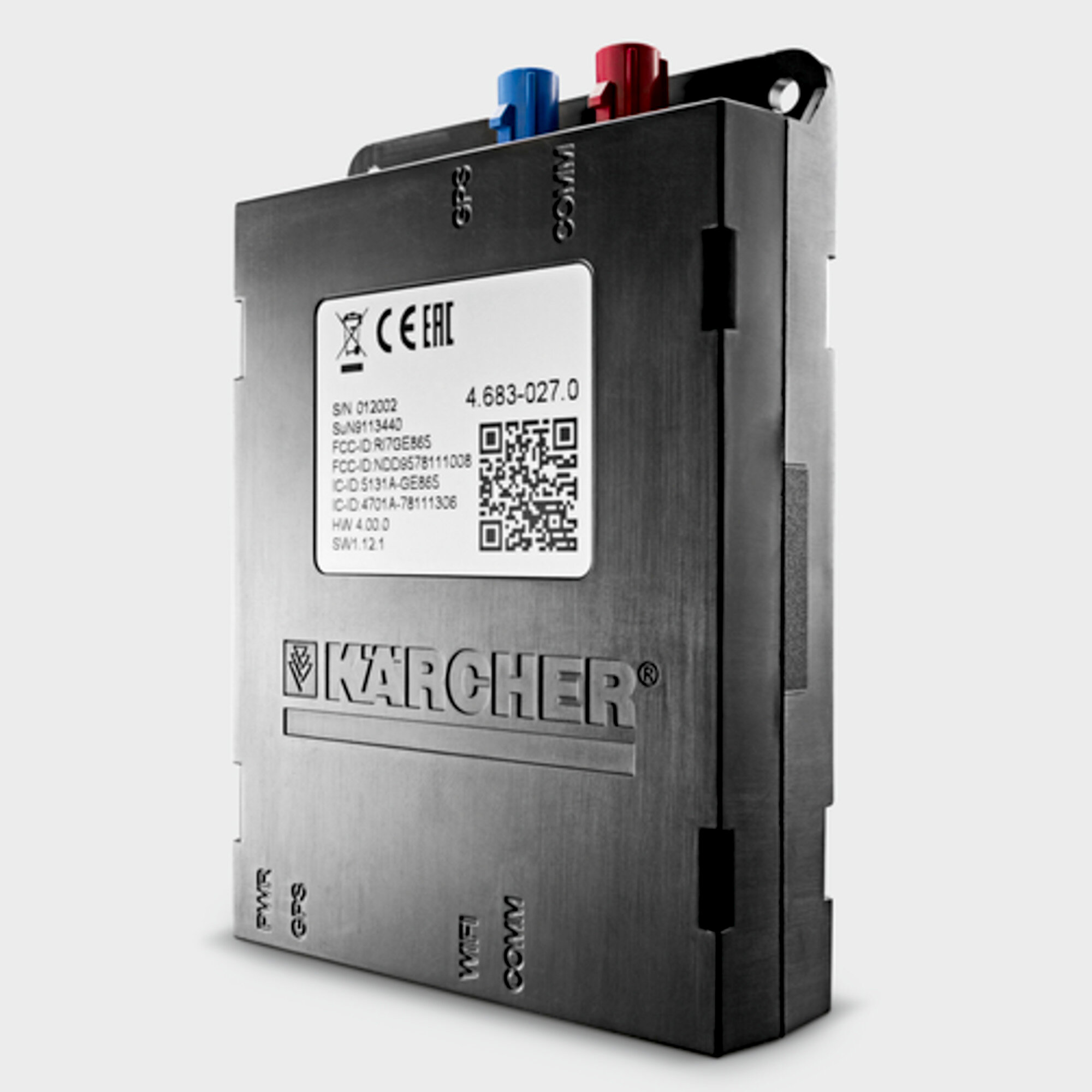 Kärcher Fleet state-of-the-art fleet management system.
Online fleet management in real time. Optimisation of the machine's lifetime and capacity utilisation. Innovative service from Kärcher.
Powerful 180 Ah battery with matching built-in charger.
Maintenance-free and made for long run times.
The charge curve of the built-in charger is perfectly adapted to the different battery types.
Long lifetime.
Very agile and manoeuvrable.
The compact construction style allows both a large water volume and easy manoeuvrability.
90° steering allows on-the-spot turning.
A low centre of gravity increases wheel grip.
Innovative KIK key system.
Key system allows allocation of differing access rights.
Protection from erroneous operation reduces service costs.
Option to preset the machine for different cleaning requirements.
Auto-fill function.
Automatic fresh water tank filling.
Fresh water filling stops automatically.
Overflow from the fresh water tank is prevented.
Adjustable brush contact pressure.
Electrical adjustment of contact pressure.
Adjustment of the contact pressure to the actual cleaning requirements.
Automatic adjustment of contact pressure.
Automatic raising and lowering of the brush head and squeegee.
Brush head and squeegee are lowered automatically depending on the selected cleaning programme.
Automatic raising of squeegees when driving backwards.
Brush head with disc or roller technology.
Working width 65 cm (roller or disc) or 75 cm (disc only).
Roller system with integrated sweep bin for coarse particles.
Specifications
Technical data
| | |
| --- | --- |
| Working width of brushes (mm) | 650 |
| Working width, vacuuming (mm) | 940 |
| Fresh/dirty water tank (l) | 95 / 95 |
| Max. area performance (m²/h) | 2600 |
| Practical area performance (m²/h) | 1950 |
| Brush rotational speed (rpm) | 180 |
| Brush contact pressure (g/cm²) | 24 |
| Battery voltage (V) | 24 |
| Battery capacity (Ah) | 180 |
| Battery runtime (h) | max. 2,5 |
| Rated input power (W) | max. 2400 |
| Sound pressure level (dB(A)) | 67 |
| Traction motor (W) | 600 |
| Drive type | Battery |
| Weight (with accessories) (kg) | 210 |
| Dimensions (L × W × H) (mm) | 1425 x 765 x 1270 |
Equipment
Disc brush
Squeegee, curved
Powerful traction drive
Automatic water stop
Tin
Parking brake
2-tank system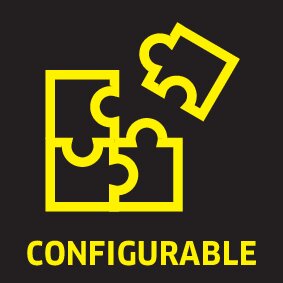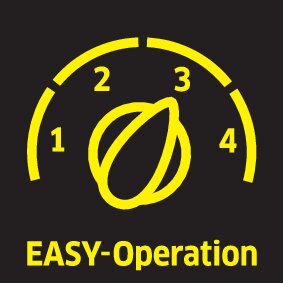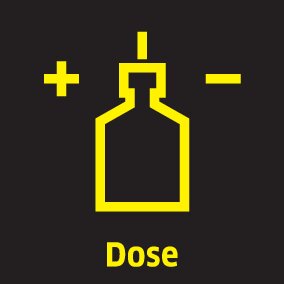 Application areas
Contract cleaners
Retail
Hospitality sector
Industry
Transport industry
Public sector
Healthcare