KM 85/50 W Bp Pack
Walk-behind KM 85/50 W Bp Pack for high area performances and equipped with battery and battery charger as standard. With floating sweeper roller and large flat pleated filter.
The compact industrial walk-behind sweeper KM 85/50 W Bp Pack impresses with superb standard equipment. For example, the machine comes with a disc brake, battery and battery charger. The large flat pleated filter with highly effective cleaning by means of a dual scraper permits virtually dust-free work, whereas the floating sweeper roller makes possible excellent cleaning results also on unfavourable terrain and in the case of large volumes of dirt. Users benefit from the very convenient and intuitive operating concept with forward and reverse traction drive by simple push or pull of the push handle, as well as practical details such as the Kärcher Home Base for carrying other cleaning utensils. The robust machine with swerving side brush and double-walled frame are ideal for tough applications. Also the simple, tool-free change of main sweeper roller and filter, as well as the high area performance of up to 4725 m²/h (with optional side brush on the left), meet the high requirements in the industrial environment.
Features and benefits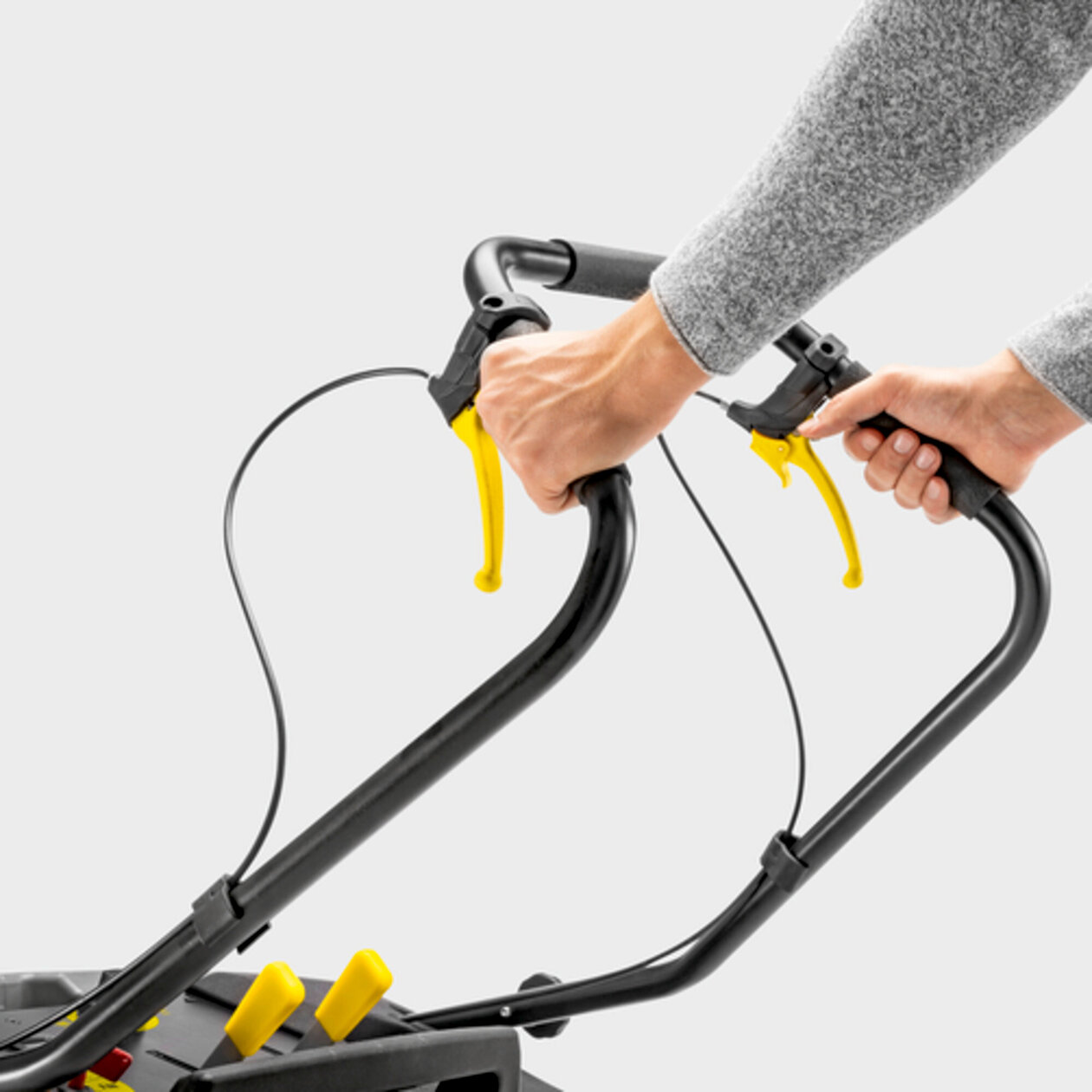 Forward and reverse traction drive via the push handle
Intuitive, simple and user-friendly operation. Maximum manoeuvrability of the machine. Standard disc brake for safe deceleration at all times.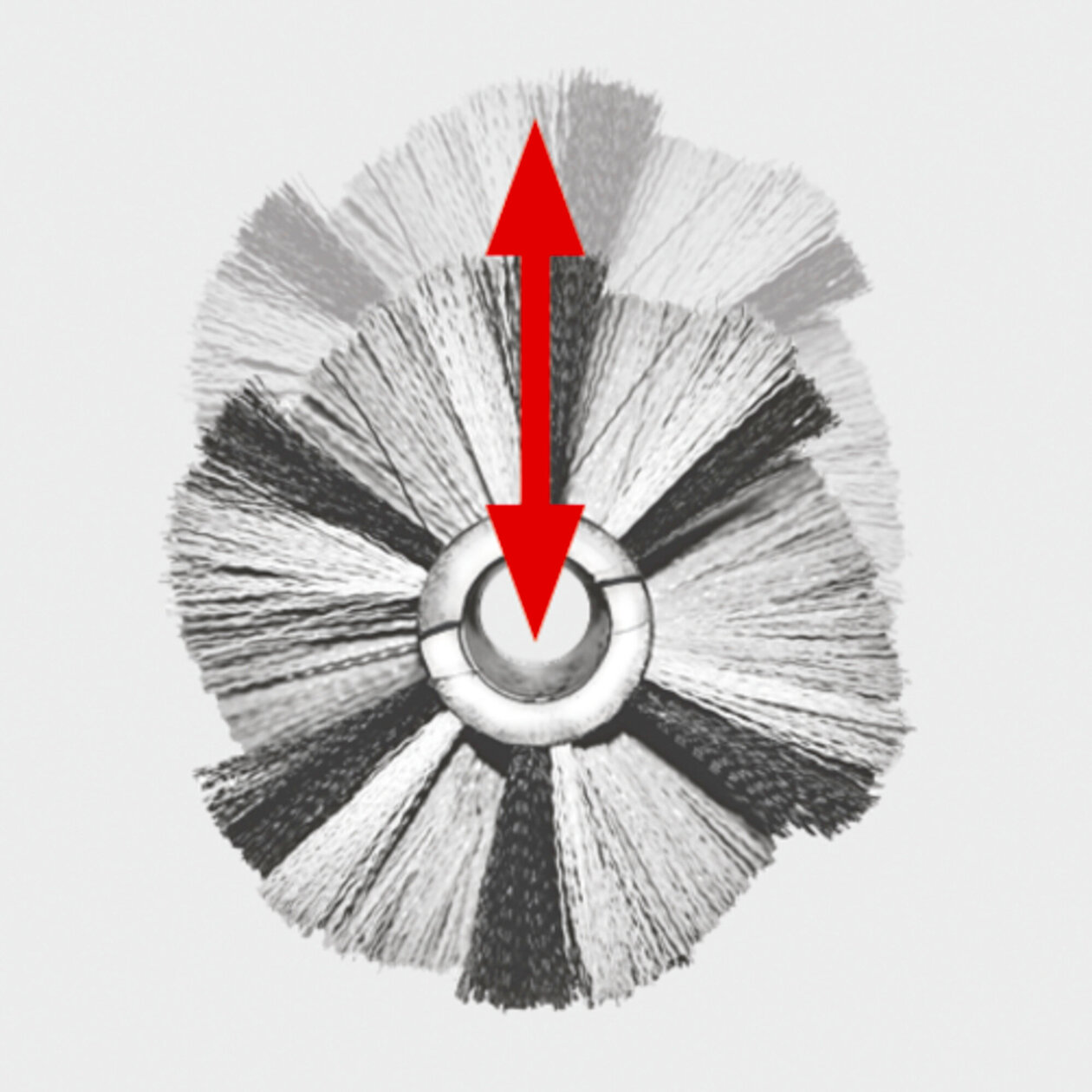 Floating main sweeper roller
Excellent dirt pick-up also in the case of bumps/unevenness. No wear adjustment required. Efficient and fast cleaning.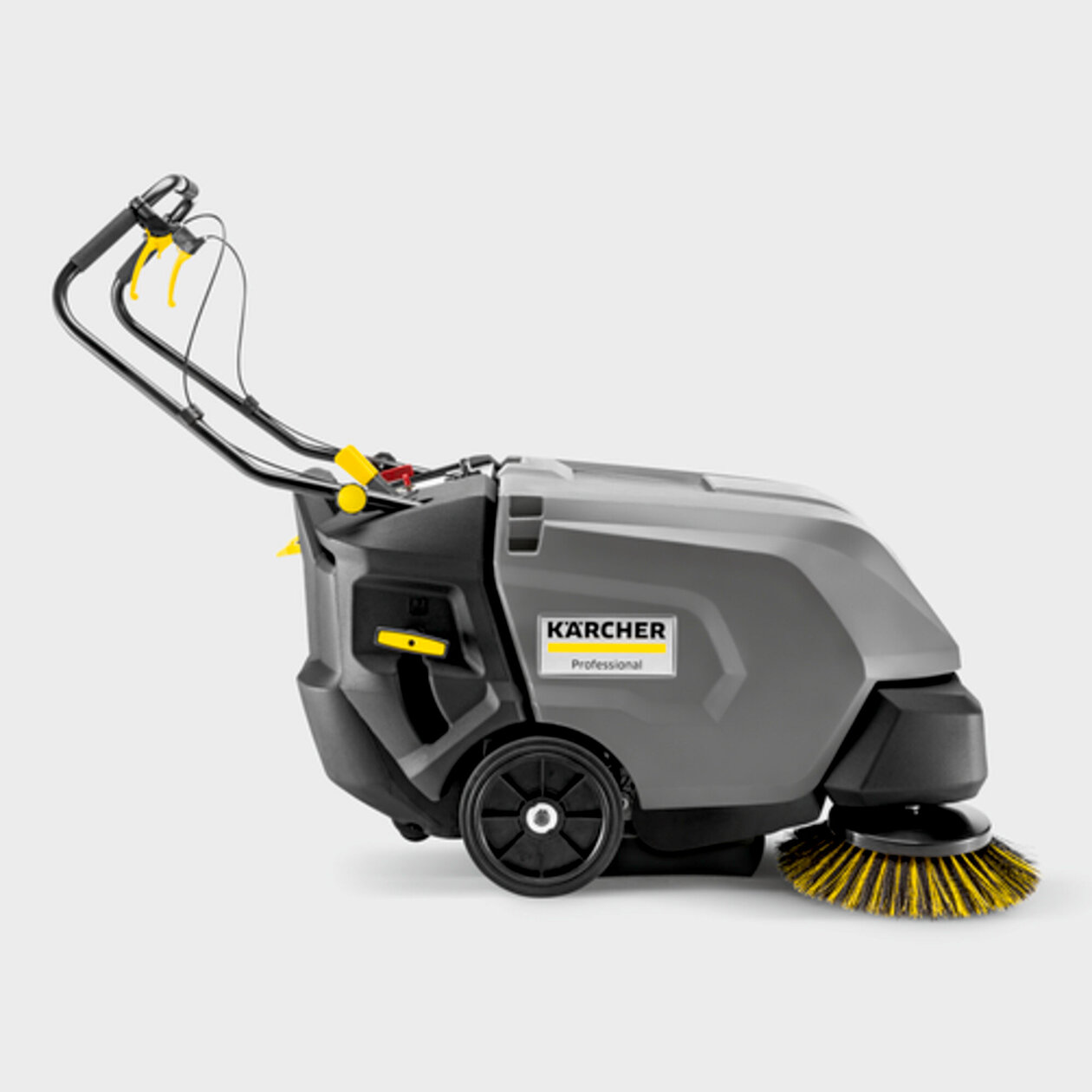 Robust and reliable for tough applications
Sturdy, double-walled rotary frame. Swerving side brush prevents damage. Large wheels for enhanced operating comfort.
Efficient filter system
Large flat pleated filter with total filter area of 2.3 m².
Washable polyester filter.
Superb cleaning thanks to dual scraper and horizontal installation position.
Tool-free change of main sweeper roller and filter
Simple and fast change in the event of wear and tear.
Fast control of the main sweeper roller if tapes and foil are wrapped up.
Filter access on the clean side, no contact with dust and dirt.
Compact design for maximum manoeuvrability
Excellent manoeuvrability of the machine.
Ideal in narrow, congested spaces.
Possible to drive through normal door openings (90 cm).
Integrated Home Base system and storage areas
Very practical connection for the carrying of additional cleaning utensils.
For the simple carrying of, e.g., litter picker, brush or cloths.
Storage area for smaller utensils.
Simple operating concept
Sweeper roller and side brush can be conveniently switched on and off.
Convenient forward and reverse movement with push handle.
Suction volume regulation for sweeping wet surfaces.
Large waste container
Absorbs large volumes of dirt, thus making possible long work activities.
Simple removal and safe emptying of waste.
Castors on waste container simplify handling when emptying.
Battery and battery charger included
Long-lasting, high-performance battery for long operating times.
Low-noise and emissions-free work.
Specifications
Technical data
| | |
| --- | --- |
| Drive | DC motor |
| Drive– performance (V/W) | 24 / 912 |
| Drive type | Battery |
| Max. area performance (m²/h) | 3825 |
| Working width (mm) | 615 |
| Working width with 1 side brush (mm) | 850 |
| Working width with two side brushes (mm) | 1050 |
| Waste container (l) | 50 |
| Climbing ability (%) | 15 |
| Working speed (km/h) | 4,5 |
| Filter areas (m²) | 2,3 |
| Battery compartment size (mm) | 362 x 348 x 290 |
| Battery runtime (h) | max. 2,5 |
| Weight (with accessories) (kg) | 226 |
| Weight incl. packaging (kg) | 236,6 |
| Dimensions (L × W × H) (mm) | 1550 x 1100 x 1066 |
Equipment
Polyester flat pleated filter
Filter cleaning manual
Forwards traction drive
Backwards traction drive
Main sweeper roller, floating
Waste container, mobile
Coarse dirt flap
Overhead sweeping principle
Suction
Powerful traction drive
Outdoor use
Indoor use
Battery indicator
Elapsed time counter
Suction volume regulation
Side brushes, can be raised/adjustable
Application areas
For cleaning production halls, warehouses and logistics halls, as well as loading areas
For cleaning car parks and service stations
For cleaning areas such as school yards and in the municipal environment
Also ideal for smaller workshops and in agriculture