IVR 100/40 Sc
The IVR 100/40 Pf offers high capacity whilst taking up minimal floor space. The perfect choice for factories where space is at a premium.
The super-compact class! Despite its high capacity, the IVR 100/40 Pf takes up a comparably low amount of floor space and is therefore perfect for use in factories where space is at a premium. An internally strengthened pocket filter (dust filter class M) with large filter area (1.75 m²), effective filter cleaning and cyclone pre-separation system ensure safe, reliable intake of fine dust. Pressure compensation hose and downholder ensure a minimal amount of dust is vacuumed directly into the disposal sack. The collecting container is connected to the vacuum cleaner via a set-down mechanism that is easy to operate whilst standing. The machine has a comfortable working volume thanks to the integrated sound absorber. The robust construction and wear-free side channel blower guarantee a long service life, even through continuous industrial use.
Features and benefits
Highly efficient IE2 motor for higher suction power
With comparably rated input power, the IE2 motor delivers 5% more suction power than conventional motors.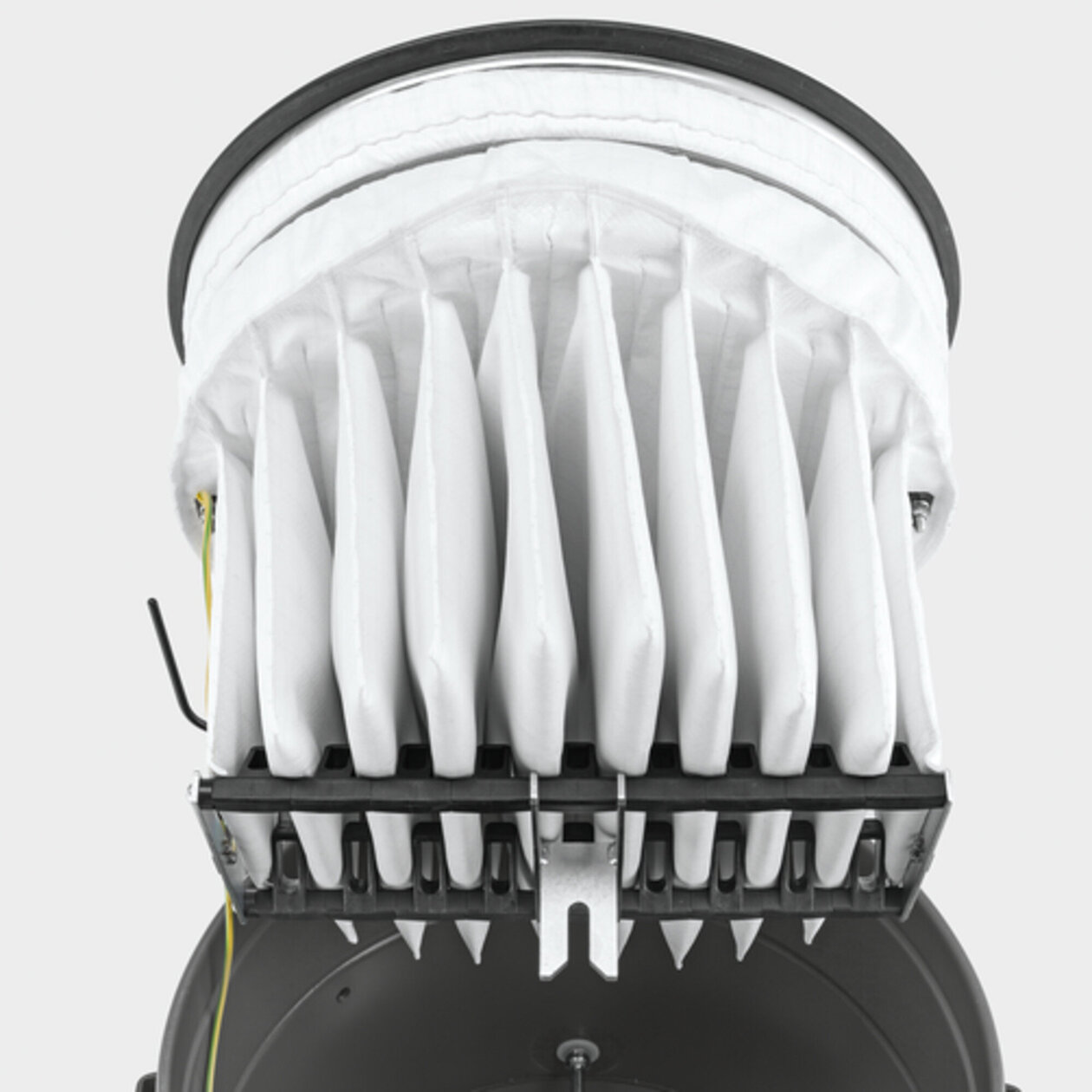 Durable, washable pocket filter for constantly high suction power
Longer service life, less maintenance effort and lower costs. Ideal for industrial use. Unrivalled effective manual filter cleaning thanks to reinforcement lattice in every filter bag.
Cyclone-like pre-separation system
Protects the filter and increases its working time. This saves on costs and increases versatility.
Easy operation
The intuitive control and cleaning concept allows the vacuum cleaner to be operated without prior knowledge.
Easy to operate set-down mechanism for ergonomic insertion and removal of the collecting container from the base.
Specifications
Technical data
| | |
| --- | --- |
| Current type (Ph/V/Hz) | 3 / 400 / 50 |
| Air flow rate (l/s/m³/h) | 138 / 495 |
| Vacuum (mbar/kPa) | 140 / 14 |
| Container capacity (l) | 100 |
| Rated input power / Amps (kW) | 4,7 |
| Filter area (m²) | 1,75 |
| Nominal diameter of connection | ID / 50 |
| Nominal diameter of accessory | ID / 50 / ID / 40 |
| Sound pressure level (dB(A)) | 71 |
| Weight without accessories (kg) | 184 |
| Weight incl. packaging (kg) | 200 |
| Dimensions (L × W × H) (mm) | 910 x 760 x 2270 |
Equipment
Accessories in scope of delivery, No