WATER FILTER VACUUM CLEANER DS 5.800
For everyone who wants maximum cleanliness and fresh room air, Kärcher offers extra freshness: The vacuum cleaner with water filter ensures clean floors, fresher, cleaner air, and therefore a more pleasant room climate.

---
---
Operation of the vacuum cleaner with water filter
Unlike standard filter bag vacuum cleaners, the DS 6 Water Filter works using the natural power of water. The water in the filter is swirled at great speed by the strong suction power. The drawn-in dirt is very effectively filtered from the air by this swirling water and immediately bound in the water bath. The result is extremely fresh exhaust air, which will also benefit allergy sufferers. For there are no longer any filter bags in which allergens can multiply, and the excretions of dust mites are drained with the water after use. Another benefit for allergy sufferers is that dust is no longer swirled up when the filter is emptied.
Effective main filtration in the transparent water filter. All coarse dirt particles are reliably retained. Nothing can any longer turn to dust and the suction power remains constant.
The intermediate filter is washable and therefore long-lasting. It filters the minute airborne particles out of the condensed moist air.
The special HEPA 12 filter retains 99.5 % of pollen, fungal spores, bacteria and the excretions of dust mites.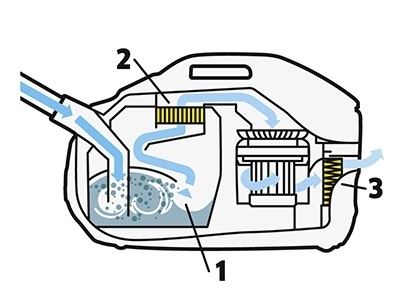 ---
---
Locate your nearest dealers:
Karcher Cleaning System Sdn Bhd
No 5, Jalan Perintis U1/52,
Kawasan Perindustrian Temsaya,
Glenmarie, 40150 Shah Alam,
Selangor.
Tel: 1-300-22-3188
Karcher CT Hardware Sdn Bhd
No.9-1 G, Jalan SS 23/11,
Taman Sea,
47400 Petaling Jaya, Selangor.
Tel: +603-78873833 / 78032200



CTS Engineering Hardware (M) Sdn Bhd
Lot 10, Jalan E1/1 (Jalan Usaha Ehsan),
Taman Ehsan Industrial Park,
52100 Kuala Lumpur.
Tel: +603-62776263
Karcher Cleaning System Sdn Bhd
70-1-3, D'Piazza Mall,
Jalan Mahsuri, Bayan Baru,
11900 Bayan Baru, Pulau Pinang.
Tel: +604-6301010/11
Ban Hin Bee
Vantage Tanjung Tokong,
B-G-3, 3A & 5,
Vantage Desiran Tanjung,
10470 Tanjung Tokong,
Penang.
Tel: +604-8993880
Hygiene World Sdn Bhd
135, Kawasan Perusahaan Tandop Baru,
05400 Alor Setar, Kedah.
Tel: +604-7722118
Spring Delights Sdn Bhd
17, Jalan Service,
10500 Georgetown, Penang.
Tel: +604-2271895
Karcher Cleaning System Sdn Bhd
103, Jalan Mutiara Emas 10/19,
Taman Mount Austin,
81100 Johor Bahru, Johor.

Tel: +607-3503677
Electronic Keck Seng Sdn Bhd
No: 37, 39 Jalan Persisiran,
Perling 1, Taman Perling,
81200 Skudai, Johor.

Tel: +607-2370058 / 2349528


EKS Mall
PTD 142589 Jalan Indah 16/12,
Taman Bukit Indah,
81200 Johor Bahru, Johor.
Tel: +607-2446148
Chemiland Enterprise
Unit 14 & 15, Block B,
Sgrusop Complex, SPG 82,
Jalan Muara, Kg Delima Satu,
Kuala Delima, Brunei.
Tel: +673-3330173
Win Hin Machinery (M) Sdn Bhd
Lot 1 & 2, Inanam Baru,
Phase III, Mile 5 1/2,
Jalan Tuaran, Inanam,
P.O. Box 14363,
88850 Kota Kinabalu, Sabah
Tel: +6089-422488