Cordless window vacs
A pure pleasure. Simply clean with no drips The latest generation of battery-powered Window Vac from Kärcher not only ensures streak-free clean windows, but also saves a lot of time and effort. The handy devices simply and reliably suck the water from the pane, after cleaning – with no dripping dirty water and no streaks.
The New Generation of Window Vacuums
As a result of its practical vacuuming function and simple handling, window cleaning with Kärcher's new battery-powered Window vacuum is one of the best cleaning equipment in Malaysia. It is noticeably easier and 3 times quicker than it ever has been using traditional methods. Dripping water and puddles are a thing of the past. The machines are also ideal for other smooth surfaces like mirrors and tiles. The result is always the same: gleaming cleanliness with no streaks or residue.

There's nothing like the original! As the inventor of the battery-powered Window Vac, Kärcher has revolutionised – and perfected – window cleaning. The machines make cleaning windows and other smooth surfaces easy and save a wealth of time and effort. Its electric suction makes the annoyance of drips a thing of the past. Its clever combination of spray bottle and wiper, together with the Window Vac's vacuum function, ensures highly effective cleaning and gleaming windows – without streaks or residue. In addition, the handy and ergonomic Kärcher battery-powered Window Vac makes window cleaning a pleasant and hygienic task, since it eliminates direct contact with the dirty water. Kärcher is the only cleaning equipment suppliers for Window Vacuum in Malaysia.
Kӓrcher is the world's leading provider of leading cleaning equipment suppliers and services for recreation, household, trade and industry. Discover the world of Kӓrcher's cleaning equipment Malaysia at your local electrical store, DIY store or a Kӓrcher near you.
The battery-powered window vac at a glance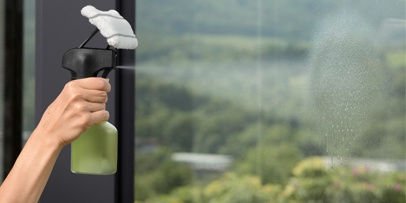 Spraying
First of all, moisten the window with detergent, ideally with the spray bottle from the WV 75 Plus battery-powered window vac kit.
---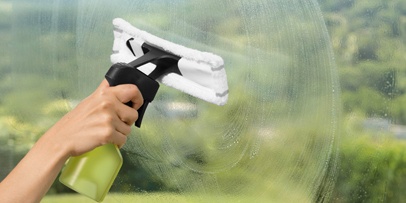 Cleaning
Then remove the dirt (on the window) with the microfibre wiper or a cloth.
---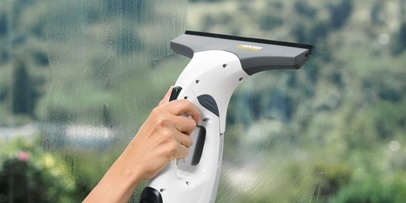 Vacuuming
Finish by vacuuming up the dirty water with the battery-powered window vac – done! And the surrounding area? Perfectly clean and not a single drop of water.
The new generation of battery-powered window vacs and their advantages
More compact, handier and lighter.
The new WV is 10% smaller than its predecessor, ensuring that lower window edges are more easily reached. You can therefore clean down to the lower edge of the window without changing the handle you are using.
Ergonomic and compact construction style allows you to attain an optimal cleaning result even more easily than before.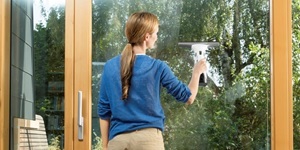 25% longer battery run time
In terms of area, the WV 2 is capable of cleaning around 15 m2 more than its predecessor on one battery charge.
---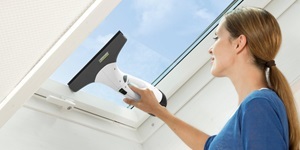 Even lighter
As the device is now 100 g lighter, it is even easier to clean windows.
---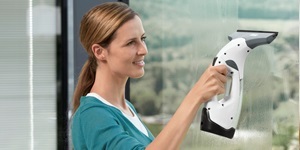 Nice and quiet
Now that the noise level has been reduced by 10%, cleaning is even more comfortable.
---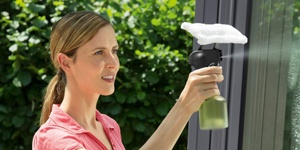 Better ergonomics
With its new larger handle area, the new spray bottle sits very comfortably in your hand.
The battery-powered window vac can do much more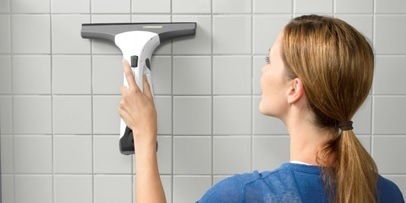 Clean in no time
Clean shower and bathroom tiles quickly with minimum effort.
---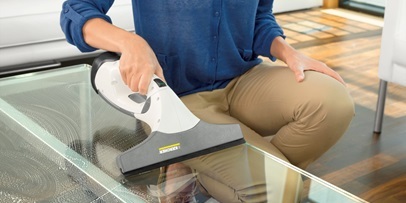 Anything made of glass
The device can accomplish a lot elsewhere around the home.
---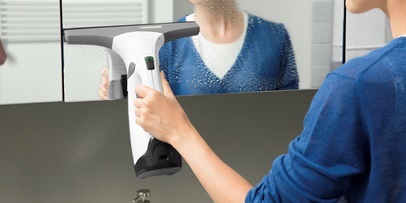 It's simple
Mirrors can be cleaned to a shine and dried effortlessly.