Scrubber drier
BD 50/40 RS Bp
Compact step-on scrubber drier with disc engineering, 51-cm working width, 40-l tank and approx. 120-cm turning circle.With Eco mode for energy-saving and environmentally friendly cleaning.
The very compact and efficient step-on scrubber drier BD 50/40 RS Bp combines the manoeuvrability of a walk-behind machine with the speed of a ride-on machine. The small turning circle of approx. 120 cm makes possible very high area coverage, even in narrow, winding areas.The elevated operating position provides an optimal overview. The sophisticated disc engineering with large disc brushes guarantees maximum cleaning efficiency.Thanks to the squeegee, which can be swivelled around the brush head, the dirty water can be fully absorbed when turning on the spot.The squeegee can be changed within seconds without the need for any tools. The integrated sweeping unit makes time-consuming pre-sweeping almost superfluous. The Eco mode of the machine can be activated at the touch of a button.Eco mode allows maintenance cleaning to be carried out in an energy-saving and environmentally friendly manner and saves time and costs – with perfect cleaning results at the same time.
Features and benefits
Easy operation
Easy to use.

eco!efficiency

mode saves time, energy, water and cleaning agent.
Automatic filling option
The machine is simply connected to the water supply. The water supply is automatically shut off when the machine is filled to capacity.
This saves time, as the operator can do other jobs in the meantime.
Eco mode
Saves time, energy, water and cleaning agent.
Easy to use controls
Only 1 button for all cleaning settings. For concise and simple operation and a reduced need for training.
Easy changeover
Suction lips and brushes can be replaced without using tools.
Vacuum bars can be replaced in no time at all.
Unique squeegee rotating principle
For absorbing every drop of water in every corner.
Highly manoeuvrable
For excellent manoeuvrability, large area coverage and less re-cleaning.
Compact dimensions
Full view from 30 cm in front of the vehicle. For predictive cleaning.
Compact design
Easy to transport and store.
Specifications
Technical data
| | |
| --- | --- |
| Working width of brushes (mm) | 510 |
| Working width, vacuuming (mm) | 691 |
| Tank of fresh/dirty water (l) | 40 / 40 |
| Max. area performance (m²/h) | 2805 |
| Practical area performance (m²/h) | 2000 |
| Brush rotational speed (rpm) | 180 |
| Brush contact pressure (g/cm²/kg) | 20 / 26 |
| Battery voltage (V) | 36 |
| Battery runtime (h) | max. 2.5 |
| Rated input power (W) | max. 1080 |
| Sound pressure level (dB(A)) | 66.9 |
| Traction motor (W) | 157 |
| Drive type | Battery |
| Weight incl. packaging (kg) | 113.2 |
| Dimensions (L x W x H) (mm) | 1118 x 691 x 1316 |
Equipment
Disc brush
Squeegee, curved
Powerful traction drive
Automatic water stop
2-tank system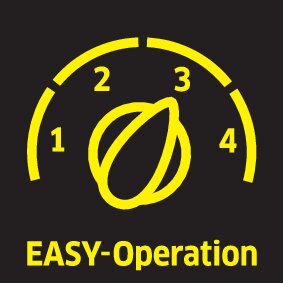 KÄRCHER RENTAL – RENTAL MACHINES
With rental machines, you're always using just the right machine that is optimal for the specific application. And only for just as long as it is actually needed. Renting directly from the manufacturer – the first choice for professionals.

It doesn't matter whether you rent or purchase your Kärcher machine. The deciding question is what you really need. And also what makes economic sense. If you'll be operating a machine at full capacity on a permanent basis, it certainly makes sense to purchase it. On the other hand, renting equipment enables you to harness potential in the short term without tying up capital. Furthermore, you can always draw on a professional fleet and concentrate completely on your core business.

You can receive advice on Kärcher rental machines via our contact form or by telephone on 1-300-22-3188. Our experts from the Kärcher rental fleet are happy to help from Monday to Friday from 8.30am to 5.30pm.