Cleaning with the experts
From the big spring clean to weekly household cleaning, the questions are often the same: where do I start and where do I stop? What should I use to clean what? And above all: what is the quickest and most effective way of doing it? Question after question: the cleaning experts from Kärcher and domestic economist Urte Paaßen provide the answers.
Cleaning according to Sinner's Circle
Cleaning professionals follow the principles of Sinner's Circle, which says that a cleaning result is dependent on the following factors:
Mechanical action
Temperature
Detergents
Time
If one of the factors is reduced, at least one other factor must be increased. For example, if you clean with hot water (temperature) and scrub (mechanical action) for longer (time), you will need less detergent. Therefore, it is not always necessary to use aggressive chemicals to get a good result. Quite the contrary: with the powerful combination of steam pressure – up to 3.5 bar with the SC 3 from Kärcher – and high temperatures, a steam cleaner can dissolve dirt in very little time and without any cleaning agents. In this case, Sinner's Circle is complete even without the use of detergents.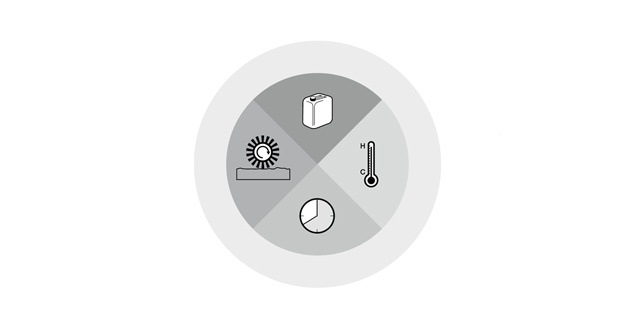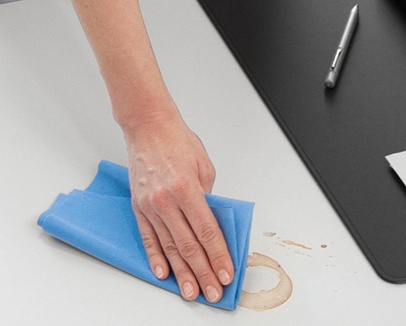 What cleaning equipment should I have in my cleaning cupboard?
There are many cupboards bursting with cleaning agents, and yet five is all you really need. Your basic equipment should include:
Multi-purpose cleaner
Dishwashing detergent
Cream cleaner
Glass cleaner
Acid-based cleaner - preferably citric acid-based
If you have a steam cleaner, then you can dispense with the multi-purpose cleaner and cream cleaner. Every cleaning cupboard should also contain micro fibre cloths and cotton cloths, for example old T-shirts. For better results when scrubbing, non-scratch sponges are the ideal solution.
A steel scourer is useful for removing stubborn dirt, for example on pots. And a colour code system taken from the professionals helps to ensure that cloths and sponges for different rooms do not get mixed up: red for the toilet, yellow for bathroom surfaces, green for the kitchen and blue for all other surfaces and furniture.
A step in the right direction
Where do I start and where do I stop?
Start by cleaning tables, shelves and windowsills. And always clean from top to bottom to prevent dirt from falling onto already cleaned surfaces. Also, always wipe in one direction to avoid distributing the dirt. Tip: once the kitchen table has been wiped clean, put the chairs onto the table and remove hairs and fluff from the bottoms of the chair legs so that they do not then fall onto the freshly mopped floor later.

Once the whole house has been dusted, the next step is to vacuum floors and upholstered furniture. Vinyl, tiled, parquet or other hard floors should be wiped clean after vacuuming. Do this using a steam cleaner and clean from outside to inside, and within the house from clean to dirty. This means that if you have a balcony (1), you should begin here, as dirt may be brought in after cleaning outside. Inside the house, it is best to begin in the cleanest room, the bedroom (2), and work your way from there through the office (3) and living room (4) and then to the more frequently used rooms like the hallway (5), kitchen (6) and bathroom (7). It is a good idea to change the wiper cloths now and then, depending on the level of dirt.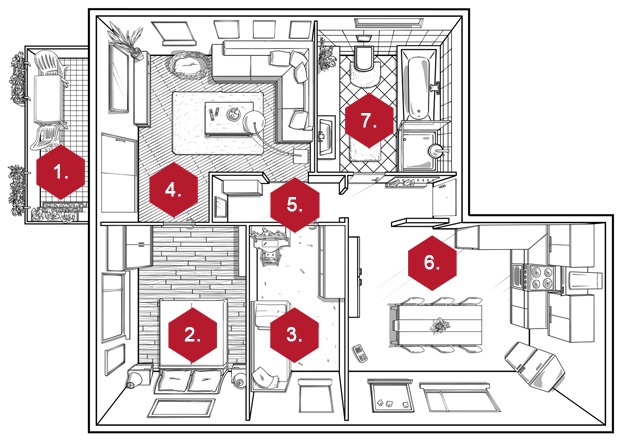 Can I use the steam cleaner to clean laminate and parquet floors?
Anyone with laminate or parquet floors knows the challenges they present: they cannot be cleaned with too much water, just wiped damp. That means that the floor should be dry again after a few seconds. But this begs the question whether it is really advisable to use a steam cleaner? With the following tip, you will not have any problems: simply clip in two floor cloths and wipe on the lowest steam setting. Expert Urte Paaßen dispels the myth that fabric softener is good for cleaning laminate, as the agent leaves a thin film on the floor and makes footprints visible.
How do I clean the bathroom and kitchen?
A steam cleaner uses a combination of pressure and hot water steam. This combination is enough to clean the bathroom and kitchen units without chemicals. Limescale and soap residues in the bathroom can be removed using the point jet nozzle and round brush – without time-consuming scrubbing by hand. If the limescale layer is particularly thick, apply some citric acid-based cleaner to the area and after half an hour's contact time rinse off with water. Urte Paaßen advises against using vinegar-based cleaners, as the acid they contain can damage chrome parts, seals and joints. In order to prevent these deposits from developing in the bathroom in the first place, rinse the walls of the shower cubicle after every shower and wipe dry with a micro fibre cloth. An even gentler way of removing the moisture is to suction it off with a window vac.
Grease and encrusted food residues in the kitchen can be dissolved using the steam cleaner. A soft velour nozzle cover is best for cleaning stainless steel surfaces on the exhaust hood. And if you want to bring out your delicate high-gloss unit fronts, use cotton cloths for cleaning and Vienna chalk for polishing – this way there will be no scratches.
Bad hair day?
What is the best way of removing pet hair?
Anyone who has a cat, dog or rabbit at home knows that pet hair gets everywhere. If you would rather not have to immediately reach for the vacuum cleaner every time, then the cordless electric broom is the ideal alternative. The device is ready to use and easy to clean. Thanks to the mesh sleeve enclosing the brush of the cordless electric broom, the tiny hairs do not have to be laboriously picked out of the bristles after sweeping. The mesh sleeve can simply be removed for cleaning. A lint roller is perfect for quick clean-ups on armchairs and sofas, as the pet hairs stick to it.
Swept under the rug
How do I clean my carpet?
When it comes to cleaning carpets, it is important to check the manufacturer information, as not all materials can be treated in the same way. If wet cleaning is permitted, then a spray extraction cleaner is the ideal solution. The device sprays detergent into the carpet fibres under pressure and vacuums it up again together with the dissolved dirt. But be careful with wool: you should treat the whole carpet as infrequently as possible, as the hot water dissolves the natural wool grease that protects the material from rapid recontamination. If you are unsure how the material will react to cleaning, do a test on a hidden spot.
Improving with age
How do I clean my antique furniture?
A designer chair next to an antique bureau: mixing old and modern items is bang on-trend. In order to prevent antique furniture from fading, it should never be exposed to currents of heated air or direct sunlight. For regular cleaning, simply use a dry duster. Clean adornments or hard-to-reach corners with a small brush. Try to avoid using water as much as possible, even on heavier dirt, and only use care agents that are suitable for wood or veneer.
Show dirt the door
How do I clean my heaters?
Cleaning heaters presents something of a challenge for many. And no wonder when it comes to getting the dirt out of all the edges. According to domestic economist Urte Paaßen, it is very easy using a narrow heater brush that can reach into gaps. A steam cleaner can also be used for column radiators. Simply place a towel behind and under the heater and blast the gaps clean with the steam jet. Tip: with this method, do not clean windows and windowsills first – instead start with the heater in case any dust is blown upwards.
Squeaky clean
How do I get my windows clean and streak-free?
When it comes to cleaning windows, it is important that no liquid is left on the glass, as this will create streaks. Fast, streak-free results can be achieved with a window vac. First of all, spray the detergent onto the surface and loosen the dirt using the micro fibre wiper on the spray bottle. Then suction off the liquid in even strips. The dirty water ends up in the tank rather than on the windowsill.
Spring-cleaned for summer
How do I get my balcony and garden furniture clean?
As soon as the sun comes out and the warmer weather returns, for many their balcony or terrace becomes a second lounge. The steam cleaner with floor nozzle can also be used here to freshen up the plastic furniture and tiled floor on the balcony. A dirt eraser also helps for small marks, stains or abrasions on the plastic furniture.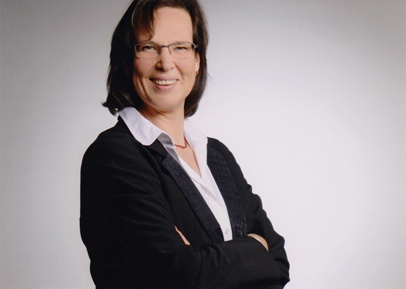 About Urte Paaßen
After studying biology, the 50-year-old decided to pursue a career in domestic economy. She stayed true to this profession and today works as a domestic economist. She is fascinated by the diversity and extensive knowledge required for the profession of domestic economist. Since obtaining her master's certificate, she now passes on her knowledge to apprentices with a great deal of enthusiasm. In 2010 she started the Internet platform "Wissen rund um die Hauswirtschaft". Here, domestic economy is presented graphically. A large section is devoted to the cleaning and care of rooms.