Kärcher
BDS 43/180 C Adv
12912260
https://www.kaercher.com/nz/professional/floor-scrubbers-scrubber-driers/single-disc-machines/bds-43-180-c-adv-12912260.html
Very convenient and powerful single disc machine with planet carrier for virtually all cleaning tasks in contract cleaning.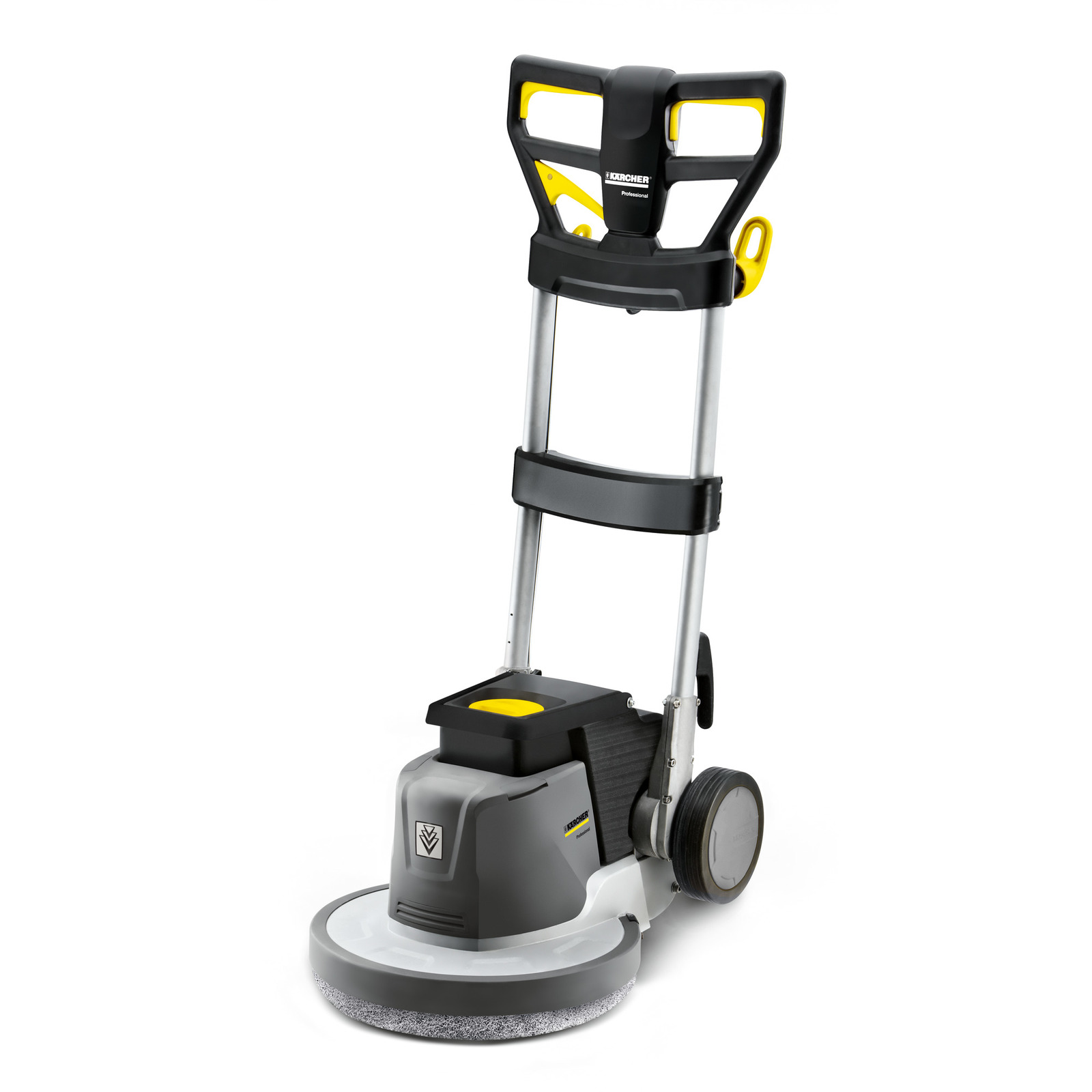 BDS 43/180 C Adv
Very convenient and powerful single disc machine with planet carrier for virtually all cleaning tasks in contract cleaning.
The BDS 43/180 C Adv single disc machine is perfectly balanced with two robust aluminium bars and is ideal for thorough cleaning of hard and resilient floors and textile coverings, as well as for sanding parquet floors. With a 430 mm working width, powerful 1400 W motor and maintenance-free, all-metal planet carrier, the machine is a real all-rounder. The wide handle enables easy handling, even for inexperienced users. The tank (available separately) can be easily removed for filling. It supports the contact pressure without having a negative impact on the weight of the machine. A cable stub and extension cable ensure easy cable replacement. (Cable included in the scope of delivery.)
Features and benefits
Storage possibilities for accessories
Brush, second brush or accessories can be kept on the hook.
Secure storage, even during transport.
Rotatable cord hook, for easy unwinding of the cord. Also serves as cord strain relief and protects the socket plug connections.
Wide, ergonomic handle
Low-fatigue operation.
Two robust oval aluminium bars for good balance
Large wheels
Easy to transport, even over longer distances.
Can also be carried over stairs.
Can also be transported in the parking position.
Handle can be completely folded down
Machine requires significantly less storage space.
Compact dimensions – ideal for transport, for example in a car.
Cable stub and 15 m extension cable
Extension cable available everywhere and very easy to replace.
No repair on device necessary (low service costs).
15 m cord included in the scope of delivery.
High-performance motor and all-metal planet carrier
Extremely robust and durable design.
High torque for efficient cleaning.
Maintenance free.
Tank (optional) on the motor casing
Central weight distribution, resulting in increased contact pressure while also being light to carry.
Very good accessibility, rapid removal with handle. Can be filled at a water basin.
With filling level display for continuous water level control.
Extensive range of accessories
Accessories tailored to the application case, e.g. tank size, brushes in different hardness degrees, pad drive boards, different pads, microfibre pad, diamond pads, etc.
With additional socket for suction unit attachment for dry vacuuming
Systematic cleaning: Ideal accessories for every application
Whisper quiet
Can also be used in noise-sensitive areas (e.g. hotel, hospital or office).
Very low deck
Reaches under furniture and radiators.
Specifications
Technical data
| | |
| --- | --- |
| Working width (mm) | 430 |
| Working height (mm) | 90 |
| Brush working width (mm) | 430 |
| Rated input power (W) | 850 |
| Brush contact pressure (g/cm²/kg) | 38 / 43 |
| Brush speed (rpm) | 180 |
| Max. area performance (m²/h) | 900 |
| Sound pressure level (dB(A)) | 65 |
| Current type (V/Hz) | 220 - 240 / 50 |
| Weight (with accessories) (kg) | 43 |
| Dimensions (L × W × H) (mm) | 660 x 430 x 1180 |
Equipment
Mains operation
Tank, optional, 10 l