Steam cleaner SC 1
EasyFix

Premium

SC 1 EasyFix Premium: The 2-in-1 steam mop with extension hose and EasyFix floor nozzle is the perfect size for spontaneous, quick and, above all, chemical-free cleaning tasks.
The compact SC 1 EasyFix Premium 2-in-1 steam mop cleans without using any chemicals. The device is excellent for cleaning common household hard surfaces such as fittings, tiles, hobs and exhaust hoods. With the extension hose, which is included in the Premium package, even hard-to-reach corners, gaps and niches can be cleaned perfectly. Thorough cleaning with the Kärcher steam cleaner removes 99.999% of coronaviruses* and 99.99% of all common household bacteria** from typical household hard surfaces. Even stubborn dirt and grease deposits are eliminated in no time. Thanks to the EasyFix floor nozzle in the accompanying floor kit, the handheld steam cleaner can be converted for floor cleaning in no time. The compact and handy device is ideal for straightforward intermediate cleaning and also allows for especially space-saving storage.
Features and benefits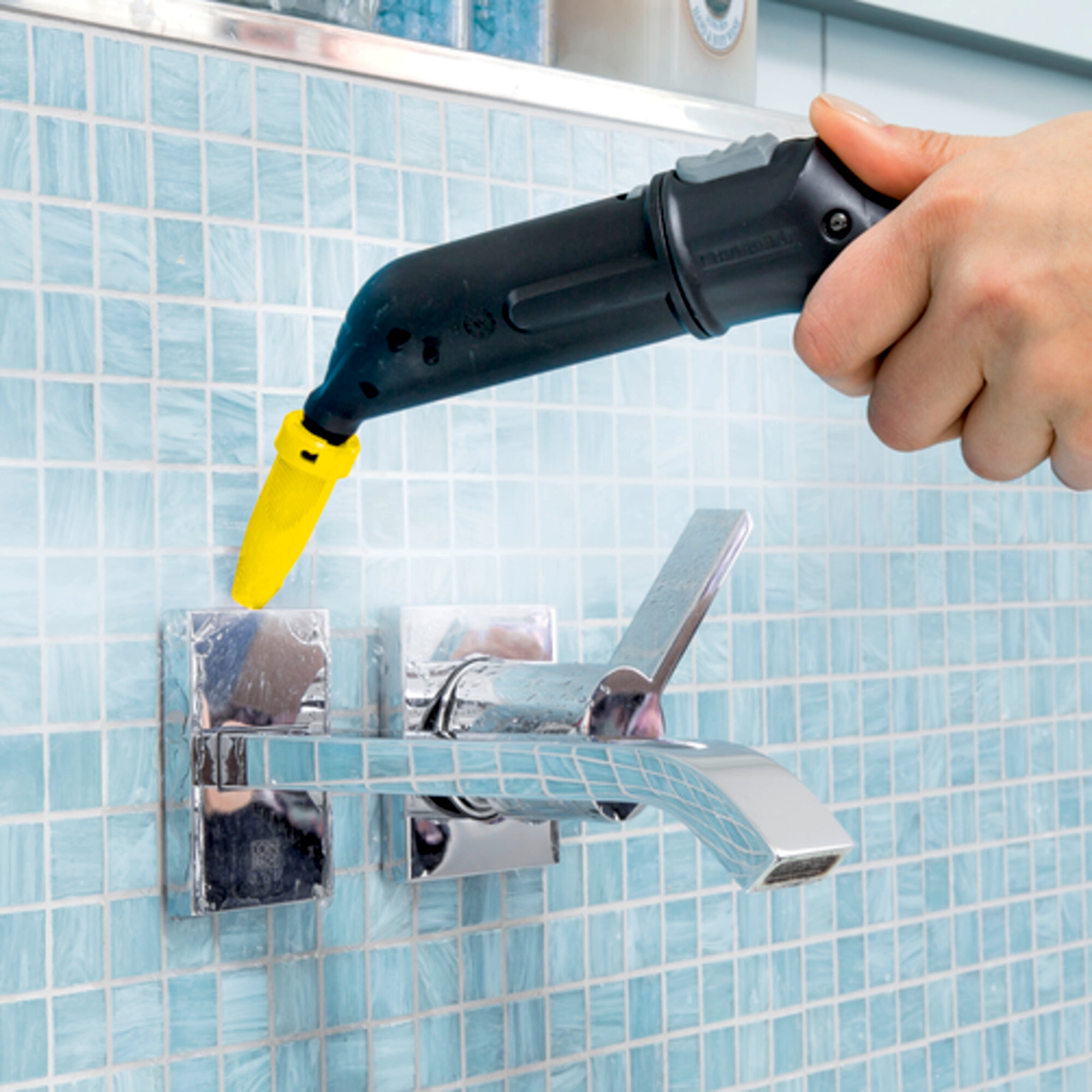 Powerful 3.0 bar steam pressure
Easily removes all types of dirt – even in hard-to-reach areas.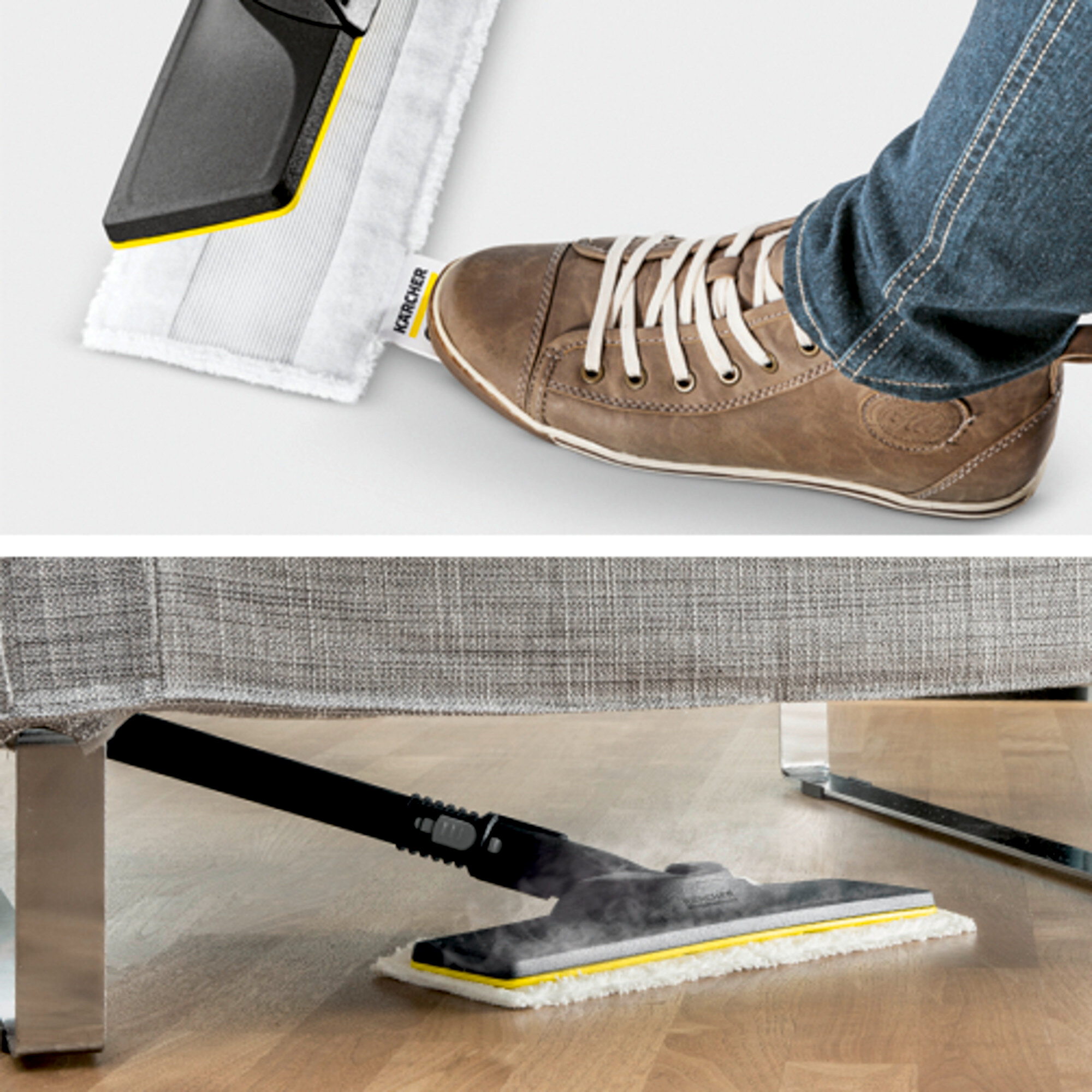 Floor cleaning set
EasyFix

with flexible joint on the floor nozzle and convenient hook-and-loop fixing for the floor cleaning cloth

Optimal cleaning results on all types of hard floors around the home thanks to efficient lamella technology. Contactless cloth changing without contact with dirt, and convenient attachment of the floor cleaning cloth thanks to the hook-and-loop system. Ergonomic, effective cleaning with full floor contact, regardless of the user's height, thanks to the flexible nozzle joint.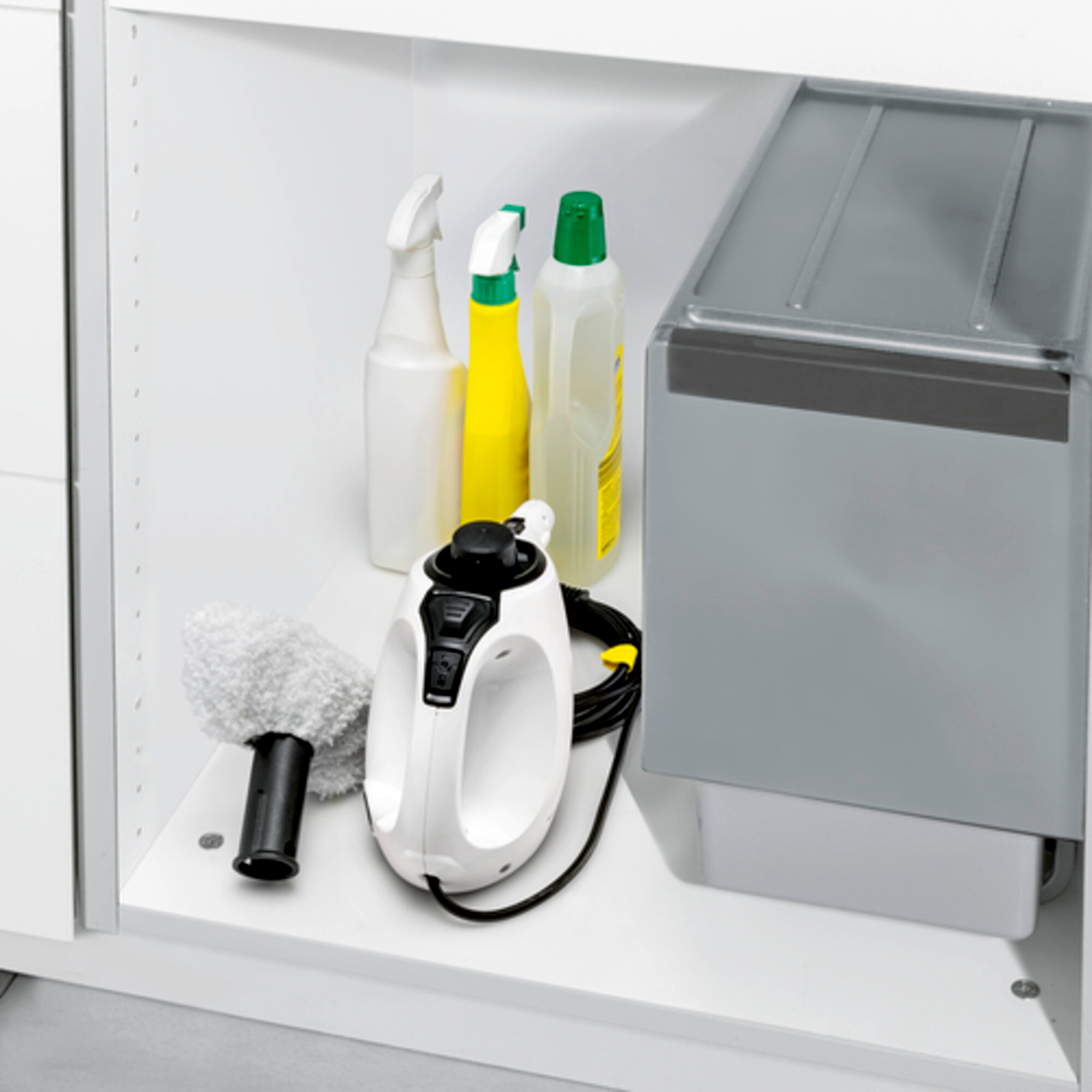 Small, handy and easy to store
The device can be stored at the location of use for easy access.
Child safety lock on device
A locking system provides reliable protection against improper use by playing children.
Multifunctional Premium accessories
Effective cleaning of different surfaces with the floor nozzle, hand nozzle, round brush and much more.
Makes hard-to-reach areas easily accessible thanks to the extension hose.
Floor cleaning cloth and cover for the hand nozzle made from high-quality microfibre
For excellent cleaning results and even better loosening and removal of dirt.
Specifications
Technical data
Test certificate*
Kills up to 99.999% of coronavirus* and 99.9% bacteria**
Area performance per tank filling (m²)
approx. 20
Heating output (W)
1200
Max. steam pressure (bar)
max. 3
Cable length (m)
4
Heat-up time (min)
3
Boiler/tank capacity (l)
0.2
Current type (Ph/V/

Hz

)
1 / 220 - 240 / 50 - 60
Weight without accessories (kg)
1.6
Weight incl. packaging (kg)
3.4
Dimensions (L × W × H) (mm)
321 x 127 x 186
--
* Tests have shown that with spot cleaning of 30 secs at max. steam level and direct contact to the cleaning surface with the Kärcher steam cleaner 99.999% of enveloped viruses such as coronavirus or influenza (excluding the Hepatitis-B virus) can be removed on common smooth household hard surfaces (test-germ: Modified-Vaccinia-Ankara-Virus). ** When thoroughly cleaning with the Kärcher steam cleaner 99,99% of all common household bacteria will be killed on common smooth household hard surfaces, provided the cleaning speed of 30 cm/s at max. steam level and direct contact to the cleaning surface (test-germ: Enterococcus hirae).
Equipment
Child safety lock
Safety valve
Integrated filling funnel
Floor cleaning set,

EasyFix

+ extension tube (2 × 0.5 m)
Accessories, hand nozzle, detail nozzle, power nozzle, round brush (small), measuring cup, extension hose
Microfibre floor cloth, 1 piece(s)
Microfibre cover for hand nozzle, 1 piece(s)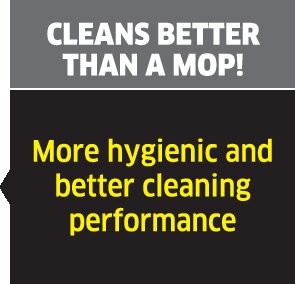 Application areas
Floor cleaning
Fittings
Sinks
Wall tiles
Windows, mirrors
Exhaust hood
Hobs