Vacuum Cleaners
Vacuum cleaners – efficient cleaning with less power. The new VC vacuum cleaners impress with their energy efficiency and comfort. With EasySlider obstacle guide, QuickClick system and automatic cord storage, keeping your home clean has never been so easy or convenient. The HEPA 12 filter (EN1822:1998) traps even the smallest allergy-triggering particles and keeps exhaust clear of harmful materials, meaning your home is cleaner in every way with a VC.
Highlights
Vacuuming is extraordinarily quick and easy with the energy-saving commercial and industrial devices from Kärcher. The vacuum cleaners, which belong to energy efficiency class A, combine extremely strong suction power with outstanding comfort features. Not only are you purchasing a cleaner with a more efficient motor, you're getting a number of quality of life upgrades make problems such as vacuum cleaners scuffing furniture or hard to remove nozzles a thing of the past.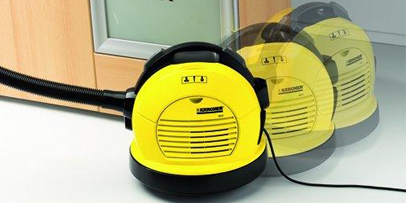 EasySlider rotating ring
A soft rotating ring that turns 360° guides the vacuum around obstacles, ensuring that you can focus on the task at hand instead of shepherding it around the room. Both furniture and cleaner stay scratch-free.
---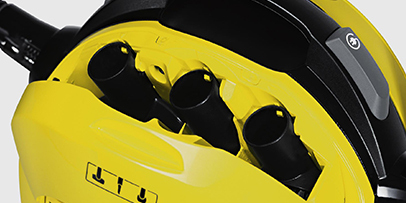 Unique QuickClick system
Rapid switching between the floor nozzle and accessories (crevice nozzle, upholstery nozzle, furniture brush) makes cleaning every surface type and area faster and simpler than ever before.
---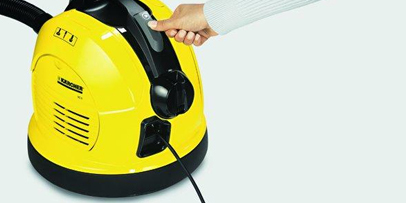 Automatic cord storage
The cable automatically winds itself in at the push of a button, securely storing itself inside the vacuum cleaner, making packing up easier and faster.
---