Blue Competence
Every business signing up to the Blue Competence initiative commits to comply with reliable sustainability criteria and standards. Blue Competence ensures greater transparency, offers guidance and provides assurance to everyone seeking sustainable solutions and products or sustainably-acting companies.
Working for a better world:
Blue Competence
The colour green stands for environmental protection. Blue is the colour of sustainability, which covers cost-efficiency, environment and society. The "Blue Competence" initiative of the Verband Deutscher Maschinen- und Anlagenbau e.V. (VDMA [German Engineering Federation]) is also devoted to these three aspects. Together with Kärcher, 225 companies and 37 organisations, as well as professional associations, are already involved in this initiative, all with a common aim: to secure the long-term quality of life on our planet.

Responsibility takes a front seat
Kärcher has been an active member of Blue Competence since the beginning of 2012. The stated aim is to bring mechanical and system engineering to the forefront of the sustainability movement and to firmly anchor these subjects in people's minds beyond the limits of the industry. For this purpose, the progress and possibilities in areas including material efficiency, resource-conserving production and longer-lasting products, are documented and communicated. Blue Competence shows what is important to industry when it comes to sustainability. Kärcher can make a valuable contribution here, as responsibility for people and the environment has always been an important part of its corporate culture.
"Engineering a better world"
The aim of the Blue Competence sustainability initiative is to become the leading centre of excellence for ecological product and production design, as well as innovative environmental technologies, and also to present the solutions for a sustainable future from the field of machine and system engineering to politicians and the public. This is because the answers to the challenges of the future for a growing global population must go hand in hand: reason and technology. The fields of activity and targets for sustainable business are clearly defined:
Energy efficiency: achieve more with less.
Energy sources and usage: make more efficient use of existing energy sources. Develop and implement new alternative energies.
Optimise resource usage: optimise raw material usage and develop new and alternative raw materials.
Emissions: reduce the level of emissions or avoid emissions completely.
Mobility: solutions for the era when the automobile in its current form is no more.
Recycling management: avoid, reduce and sensibly recycle waste.
Reduce life-cycle costs: from raw material and energy production, via production, operation and recycling through to the overall consequences of the actions of all participants.
The scale of the responsibility and the tasks is immense. A long path lies ahead of us all. Another step has been taken. Many others will follow. Sustainability is not a remote target for the future, but our daily duty and task. This is because, ultimately, it is all about nothing less than everyone's future.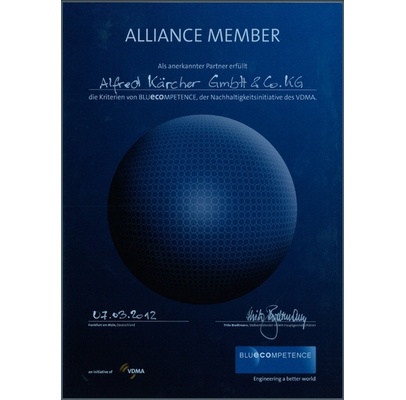 Kärcher professional products: energy saving features and tips
KIK system
Precise customisation of the machine parameters to different requirements/operators:
Turbine power.
Brush motor rating.
Travel speed.
Water distribution (B 80 W Bp).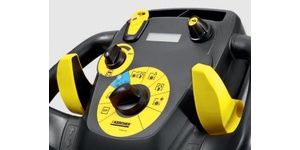 F.A.C.T. System
Individual adjustment of brush speed on roller brush machines (BR):
for different cleaning requirements.
Up to 15% reduction in energy consumption in WHISPER CLEAN mode.
Up to 30% reduction in energy consumption in FINE CLEAN mode.
Reduced noise level in WHISPER and FINE CLEAN mode benefits the operator and the environment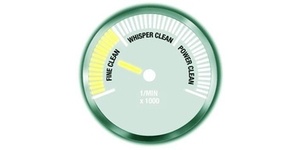 eco!efficiency
New!

eco!efficiency

mode on RS versions. Switching to

eco!efficiency

results in:
reduced water consumption.
reduced power consumption of the suction turbine.
reduced power consumption of the brush motors.
reduced speed during cleaning (lower power consumption).
high electricity and fresh water saving (up to 20%) compared to deep cleaning with standard scrubber driers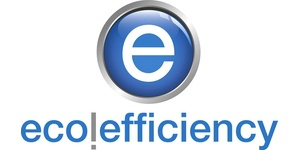 D.O.S.E. system
Very precise dosing system for cleaning agents (0-3%):
Prevent over-dosage: it is always a challenge for the operator to produce a mixture of water/cleaning agent that is both ecological and economical.
Reduction in waste water pollution and water treatment costs of up to 25%.
Protects the health of the operator as well as the environment by significantly reducing the cleaning agent concentration.
Improved protection against build-up of germs and bacteria in the dirty water tank.
Very precise technology thanks to the water flow meter and precise detergent pump.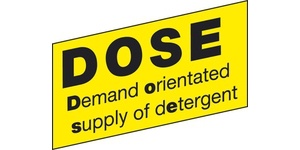 Microfibre Technology
Almost no cleaning agent required – high cleaning performance thanks to the fibres' outstanding water/dirt absorption and special shape:
No cleaning agent, or at least very little cleaning agent, is required to achieve good cleaning results.
No cleaning agent means no impact on the operator or the environment.
Unique: the microfibre technology for roller brush machines was developed and launched by Kärcher.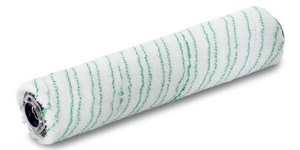 Power Save
The Power Save mode should always be activated.
The operating time of the WPD 100 can therefore be set individually.
On days when the machine is not in use, for example, over the weekend, or at night, it is run on only minimal energy (< 1 watt).
This helps save energy.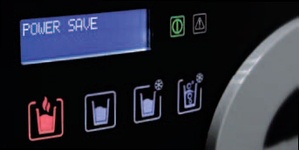 Cleaning the ventilation slits
The ventilation slits on the back of the water dispenser should be cleaned regularly. This ensures optimum functionality of all of the water dispenser's components and prevents unnecessary overheating of individual components.
The WPD is at its most energy-efficient when it has an optimal supply of air. This helps save energy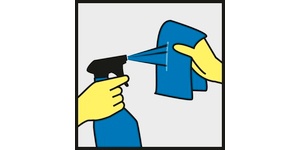 Reusable drinking cups
Help protect the environment by using reusable drinking cups instead of disposable ones.
Kärcher offers water bottles made exclusively from the plastic Tritan – without BPA (bisphenol A), which is harmful to health. This means that you can enjoy your water without harmful plasticisers.
A glass carafe is particularly suitable for the office. 
Glass carafes by Eva Solo are ideal for use in meetings.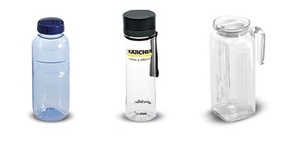 Use of CO2 bottles
For water dispensers that dispense carbonated water, the maximum size of CO2 bottle (10 kg) should always be used. This has the following advantages:
The CO2 bottle has to be replaced less frequently.
This avoids additional unnecessary transport
The WPD can run for longer without the interruption of replacing the CO2 bottle.
There is no unnecessary service work.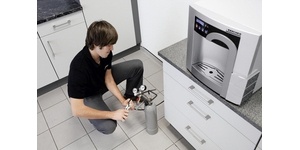 Product Carbon Footprint
Every time we use energy we leave behind traces of CO2, our so-called "product carbon footprint" (PCF).
By using the WPD 100 from Kärcher, you are making an important contribution to environmental protection. 
No energy is used to manufacture, transport and clean water bottles and refill bottles. 
There are therefore no CO2 emissions resulting from this.
To provide a further comparison, the WPD 100's product carbon footprint is just a sixth of the size of the PCF for water coolers and less than a tenth of the size of the PCF for vending machines.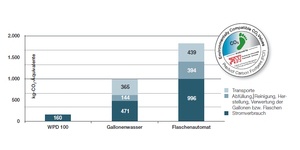 eco!efficiency
Consistent use of the eco!efficiency mode on all HDS machines ensures:
economical and
environmentally-friendly operation,
20% fuel saving and
20% lower CO2 emissions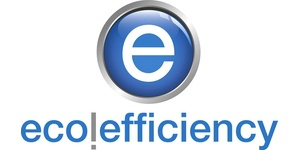 The right accessories
The right choice of accessories for specific applications. With the right accessories you can clean faster and therefore often save electricity and water.
Dirt blaster for stubborn dirt combines the advantages of a point jet and flat stream
Surface cleaner for large areas
Power nozzle generates a 40% higher collision force --> faster and more thorough cleaning guaranteed
Rotating wash brushes for gentle and effective vehicle cleaning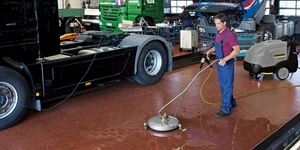 Automatic pressure and water volume adjustment directly on the spray gun
With Servo Control, the pressure and water volume can be adjusted directly on the spray gun:
optimum pressure and water volume adjustment according to the cleaning task
light dirt can be cleaned off with less water, thereby saving resources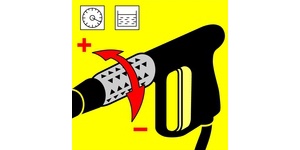 Stop the water supply early
When using a long water supply line, the water supply can, if necessary, be turned off early when there is sufficient water in the water hose and cistern to complete the cleaning task.
Transfer residual cleaning agents quickly and easily
With the Switch-Chem system, cleaning agent bottles cannot be completely emptied. By quickly and simply removing the cleaning agent bottles, the residual quantities can be transferred to the next bottle.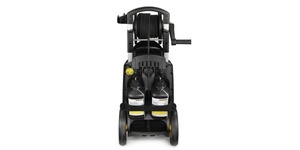 T 12/1
eco!efficiency
Using a T 12/1 eco!efficiency
Saves energy and reduces energy costs (by up to 40%)
Reduces costs
Outstanding cleaning performance despite energy saving
Extremely low noise level (56 db(A)) allows quiet cleaning 24/7
Extra strong permanent filter enables vacuuming without filter bags, thereby saving costs on filter bags.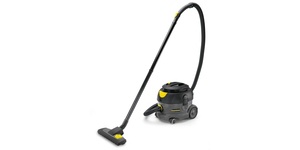 NT 35/1 Tact
The automatic Tact filter cleaning system not only ensures consistently high suction power, but a long filter life.
The flat pleated filter cleans itself with powerful blasts of air. Advantage: a much longer filter life than conventional filter systems.
As a result the filter only has to be replaced very rarely, saving both money and resources.
The flat pleated filter is also available made from rot-proof, washable polyester fleece and is therefore extremely durable, even for wet applications.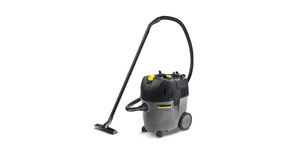 Puzzi

8/1, 100, 200

For light dirt, just one cleaning agent tablet
ensures a thorough clean.
Outstanding cleaning performance on light dirt with just one tablet.
The water-soluble packaging creates less waste.
Individual adjustment to the specific cleaning task with easy dosing.
Skin protection thanks to single packaging of the tablets.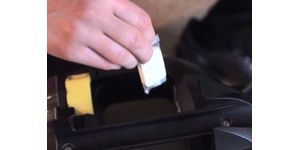 Puzzi

400 K

The spray volume can be adjusted from 5.5 l/min to 1 l/min depending on the cleaning task.
Spray volume can be adjusted to the cleaning task.
High water savings depending on the spray volume selected.
Reduced waste water pollution depending on the spray volume selected.
Textile surfaces dry more quickly when a lower spray volume is used.