Transport
For a clean working environment. Logistics is all about timing and precise coordination. The necessity of cleaning storage areas, vehicles and offices should not interfere with schedules. Solutions are needed that are not an additional burden, but help to do this work quickly and efficiently. This is where Kärcher can help – with high-performance cleaning systems, sound advice and excellent service – to keep your business on track in a clean working environment.
The best cleaning machines for warehouses.
The area of logistics is very busy – with a high cleaning demand. Packaging residues, waste paper and vehicle tyre marks can be removed quickly and effortlessly with Kärcher's powerful and robust scrubber driers, sweeper vacuums and wet and dry vacuum cleaners. These compact machines are designed for easy manoeuvrability. Numerous variants are available - from battery drive to canopies.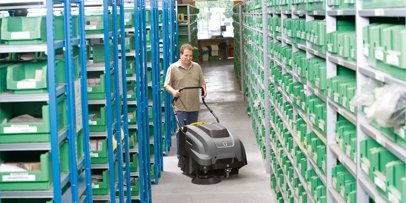 Safe in tight spaces
Safe cleaning in narrow aisles and between high-bay racking – not a problem for Kärcher. Compact machines ensure maximum manoeuvrability and canopies provide the necessary safety. A high area performance of up to 12,000 m²/h and large battery capacities allow extended work intervals.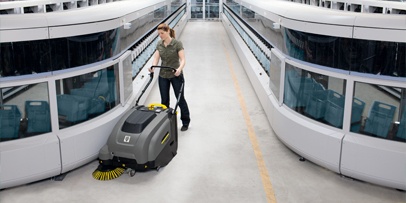 Conveyor systems
Conveyor systems are constantly in motion - and therefore also continually lead to contamination. Whether packaging materials, slips of paper or grit from containers. Kärcher cleaning appliances, like the compact wet and dry vacuum cleaners or walk-behind sweeper vacuums or scrubber driers, quickly remove all dirt without interrupting operation.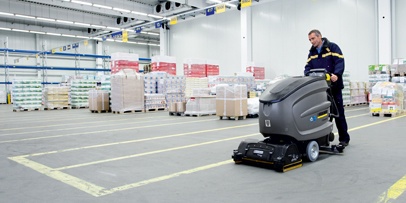 Cold storage
Sensitive hygienic areas require optimal consultation and a precise cleaning plan. Because bacteria, viruses and fungi are everywhere. With this in mind, Kärcher offers the appropriate cleaning agents and disinfectants. Your complete solution from one source.
Our products for cleaning storage areas
Outstanding performance on large areas.
Outdoor areas are not only subject to dirt produced in daily work operations, but also to environmental influences. Vehicle deposits, mud, dust, rain and snow are easily removed with powerful Kärcher machines. Ride-on sweepers with area performances of up to 23,520 m²/ h can clean almost any area effortlessly – and with high-pressure cleaners and water flow rates of up to 1,300 l/h, even the most stubborn dirt can be removed quickly.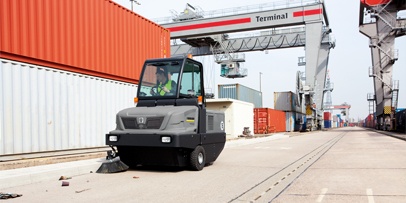 Outdoor areas
On large areas, cleanliness is essential for safety. Continuous material handling and environmental influences demand fast and effective cleaning solutions. With the high area performance of Kärcher ride-on machines, large outdoor areas and storage areas are effortlessly cleaned without interrupting or delaying routine logistics procedures. Where wood is chopped, splinters must fall. Even in timber yards and steel warehouses, the residues of daily work can be quickly removed with Kärcher sweeper vacuums. Ride-on machines are ideal for cleaning large areas or walk-behind machines for localised use. Dangerous dusts can be safely removed with a large capacity industrial vacuum.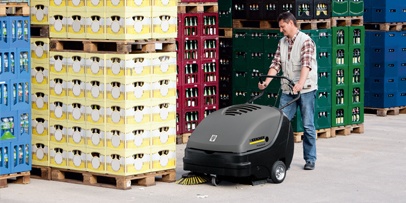 Pallet warehouses
When pallets have to be transported quickly and safely, cleanliness is vital. Because dirt is a stumbling block in routine operations. Kärcher sweepers are ideal for keeping outdoor storage areas constantly clean. Cleaning is quick, efficient and convenient.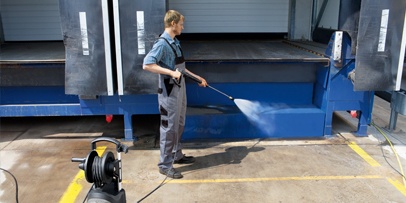 Loading ramp
Arrivals and departures, loading and unloading – the loading area is constantly in use. Dirt collects here on a daily basis. A Kärcher high-pressure cleaner is the right solution. It easily removes stubborn residues, gets into tight corners and cleans quickly.
Our products for cleaning outdoor areas
Powerful performance for all kinds of commercial vehicles.
A clean fleet – to keep on the move. Kärcher offers optimal systems for quick, easy and efficient cleaning of commercial vehicles, for example, the Kärcher TB: the gantry car wash for large vehicle throughput. Kärcher offers mobile single-brush washing bays, suitable cleaning agents and cost-saving water treatment systems. Kärcher meets all demands with ease.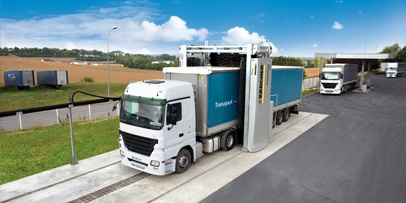 Economical and efficient for large vehicle fleets
The washing bays for regular maintenance of various commercial vehicles. Easy to operate, modular and reliable technology. The Kärcher TB – fast, thorough, efficient.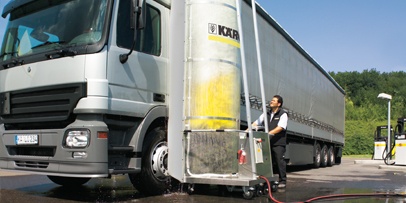 Profitability for small vehicle fleets
Simple, fast and economical: the RBS 6000 mobile single-brush washing bay. It is moved around the vehicle and the rotating brush effectively removes all dirt.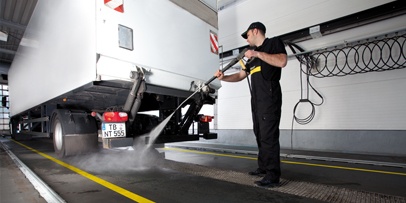 Cleaning couldn't be more thorough
Effortlessly clean hard-to-reach areas: Kärcher high-pressure cleaners are ideal for cleaning wheel arches, vehicle chassis and spaces between cabs and trailers.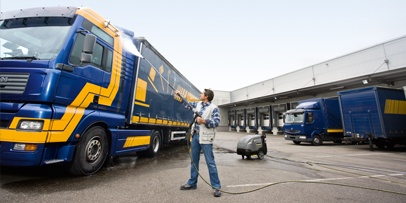 The right accessories for every application
Achieve more with Kärcher accessories, for example the rotating wash brush. Driven by the power of the water stream, it gently removes fine dust and grime from all surfaces.
Our products for commercial vehicle cleaning
Office cleaning according to plan
Kärcher offers the perfect office cleaning solution: from deep cleaning to polishing. If you are looking for a machine that is easy to use, whisper-quiet and safe, Kärcher can fulfil all of these requirements. A wide range of accessories extend the range of applications. ECO!Cleaning is the choice of professionals. A complete system designed to optimise operational processes in building cleaning.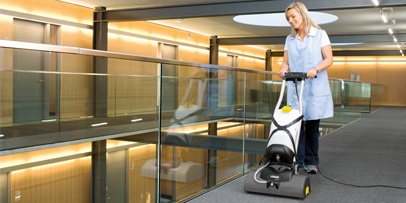 The innovative BRC range
From refreshing intermediate cleaning to intensive deep cleaning of textile coverings: Kärcher offers everything from a single source.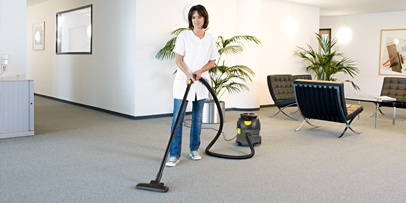 Dry vacuuming like a professional
Developed with contract cleaners, this professional range offers the benefits of high suction power and a five-stage filter system.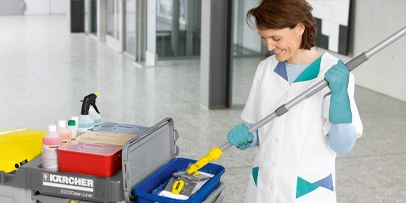 ECO!Cleaning

and suitable cleaning agents

Specially developed to facilitate building cleaning: increases productivity, reduces costs and protects the environment. Kärcher detergents are ideal for cleaning without damaging surfaces.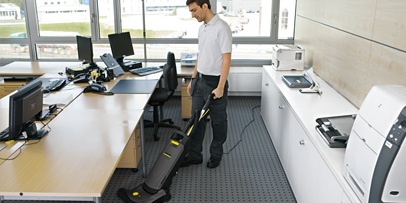 Removes dirt deep in the pile
Ideal for passageways and offices with carpet: deep cleaning with Kärcher upright brush-type vacuum cleaners.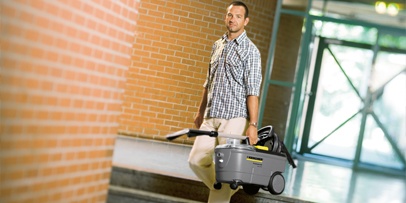 Mobile cleaners
Easy to use, robust and powerful carpet cleaners feature an extensive range of accessories for numerous tasks.
Our products for office cleaning