Vacuum sweeper
KM 120/250 R Bp Classic
The emission-free, battery powered KM 120/250 R Bp Classic industrial sweeper. Perfect for use in noise-sensitive inside and outside areas. For impressively good sweeping results.
The electric drive in our KM 120/250 R Bp Classic industrial sweeper not only allows emission-free use inside and outside, it is also responsible for the machine's very low operating noise. It is thereby particularly suited to applications in noise-sensitive areas. However, its robust design, the pocket filter with vibration motor for cleaning, the large waste container with convenient hydraulic high container emptying and the resistant solid rubber tyres also make the machine ideal for harsh applications in very dusty environments. Construction companies, the metalworking industry and foundries can benefit significantly from the machine's outstanding performance. The brushes, which adapt perfectly to the ground surface, effortlessly pick up coarse and fine waste. Lastly, the high level of user-, maintenance- and service-friendliness makes this successful concept a practical one.
Features and benefits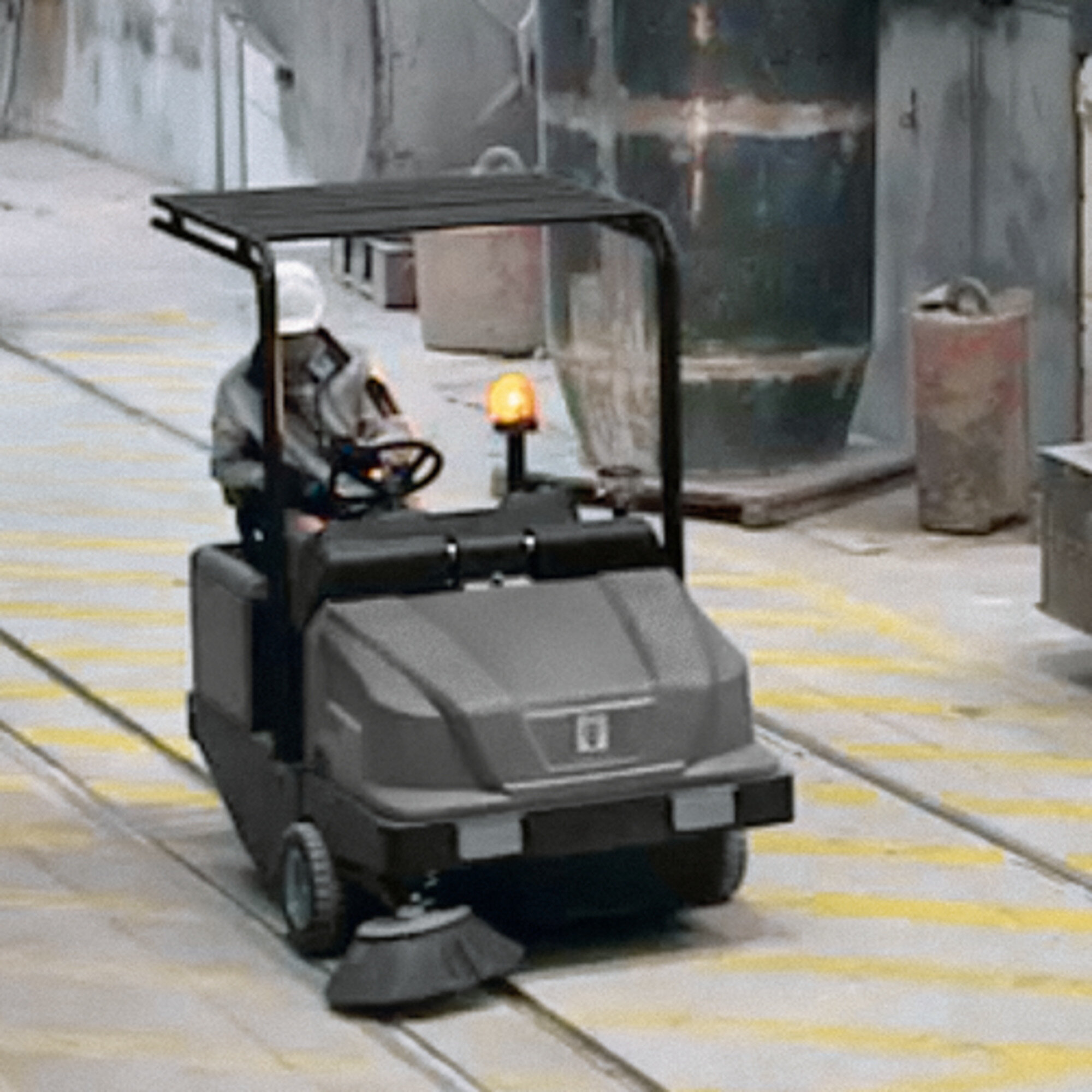 Robust design of the machine for safe work
Permits applications in extreme external conditions. Leads to longer service life of components and machine. Standard flashing beacon increases safety for user and environment.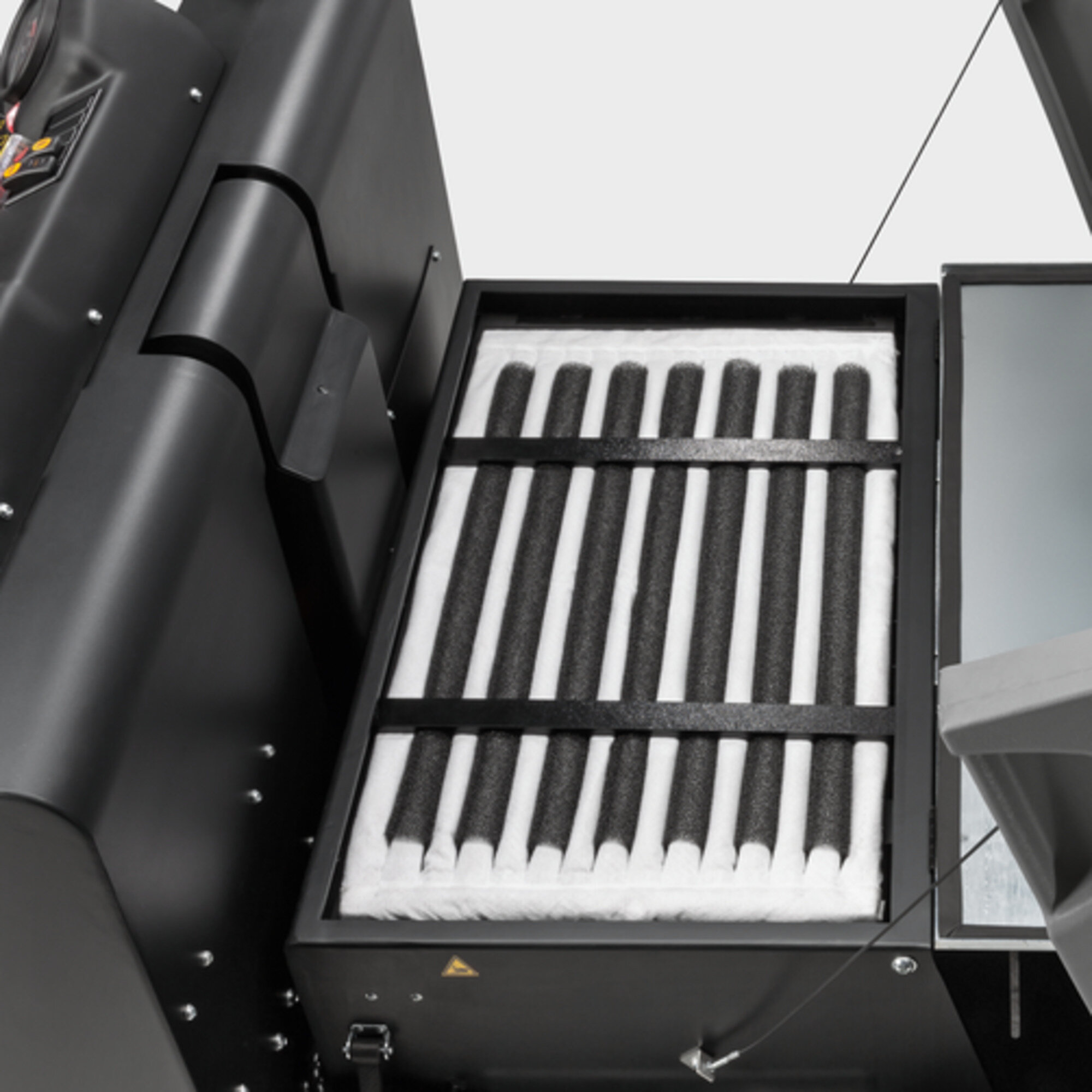 Large-area pocket filter with vibration motor
The large filter area guarantees dust-free work. Effective filter cleaning by means of vibrating motor. Suitable for particularly large quantities of dust.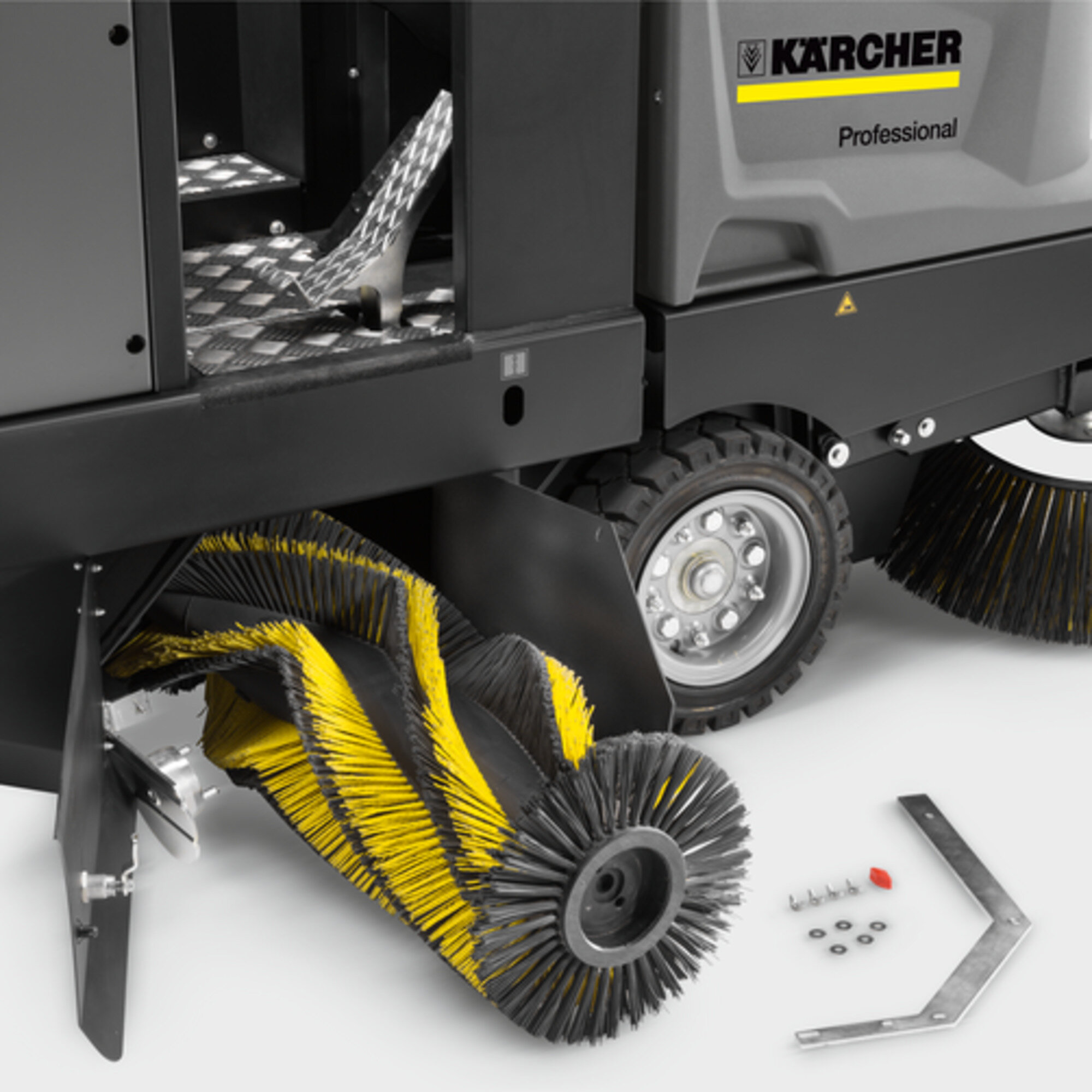 Simple operation, maintenance and servicing
Simple technology with tried-and-tested components. Easy access to engine compartment permits fast, simple servicing and maintenance. Main sweeper roller and pocket filter can be replaced without tools.
Dustpan principle
Guarantees good cleaning results also with fine waste.
Effortless pick-up of coarse waste.
Low dust production.
Flexible Footprint System
Excellent sweeping results.
Low brush wear.
Optimal adaptation of brushes to different ground/surfaces.
Hydraulic high container emptying
Simple and safe emptying of waste.
Convenient tipping up to 1.42 metres.
Hydraulic rear-wheel drive with solid rubber tyres
High agility and simple handling also in confined spaces.
Allows safe passage over pointed objects made from metal or glass.
Solid rubber tyres rule out tyres going flat.
Specifications
Technical data
| | |
| --- | --- |
| Drive type | Electric |
| Traction drive | DC motor |
| Drive– performance (V/kW) | 36 / 5 |
| Max. area performance (m²/h) | 7200 |
| Working width (mm) | 900 |
| Working width with 1 side brush (mm) | 1200 |
| Working width with two side brushes (mm) | 1500 |
| Battery runtime (h) | max. 3,5 |
| Waste container (l) | 250 |
| Climbing ability (%) | 14 |
| Working speed (km/h) | 6 |
| Filter areas (m²) | 6 |
| Weight (with accessories) (kg) | 750 |
| Weight, ready to uset (kg) | 1200 |
| Weight incl. packaging (kg) | 750 |
| Dimensions (L x W x H) (mm) | 2082 x 1250 x 1450 |
Equipment
Pocket filter
Filter cleaning manual
Main sweeper roller adjustable
Main sweeper roller, floating
Power steering
Suction volume regulation
Dustpan principle
Forwards traction drive
Backwards traction drive
Suction
Hydr. high dump
Outdoor use
Indoor use
Battery indicator
Elapsed time counter
Sweeping function, can be switched off
Wheels, solid rubber
Side brush, automatically swings out
Application areas
Ideal for companies in the construction sector, metalworking industry and foundries
Suitable for use in production halls, warehouses, logistics buildings and heavy industry facilities
Also for applications in open halls, external warehouses, loading bays and on construction sites