Car washes
The perfect basis for a brilliant result. In the car washing business, it all comes down to exibility, speed and efciency. And perfect washing results. The gantry car washes in Kärcher's CB line do not take long to set up, are low-maintenance, long-lasting and can be adjusted in accordance with any customer requests. CB line gantry car washes are therefore an innovative solution for lower costs and higher prots.
More than just a washing bay.
The gantry car washes in the CB line are of the highest quality and ensure maximum efficiency. Especially durable parts and hot-dip galvanised steel components ensure reliable operation with long maintenance intervals. Allowing you to concentrate on what really matters: profitable vehicle cleaning.
Identical basic construction
All models in the CB line are built on the same platform, ensuring state-of-the-art high-quality technology.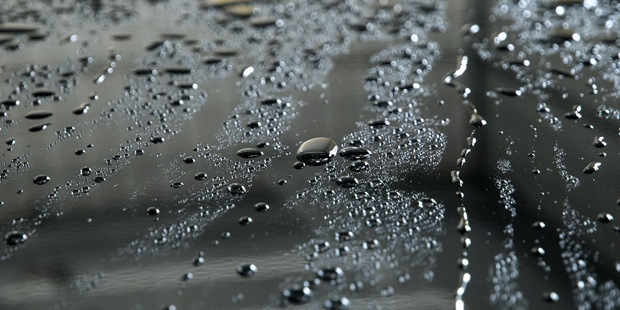 Gentle washing
Variable-speed drive and lift motors for the roof brush and roof drier ensure a gentle washing process.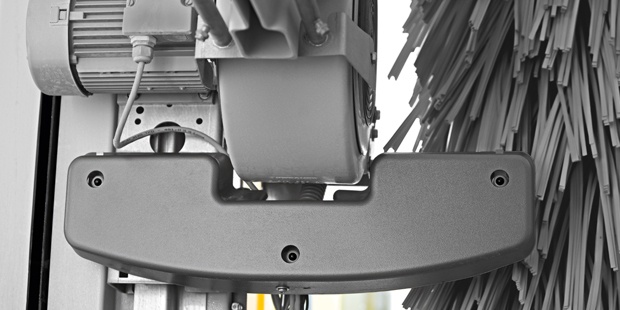 Maximum safety
To provide a safe area for people and vehicles, CB line gantry car washes are equipped with an inductive switch, light sensors and a number of mechanical functions.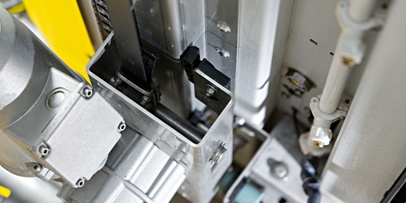 Practically maintenance-free
The CB line features low maintenance bearings, guides and direct drives, such as the side brush control and the at belt for the lifting movement.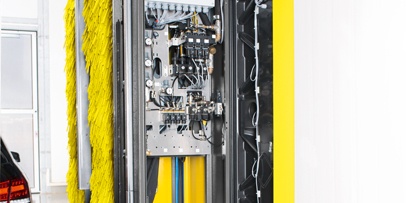 Good accessibility
All components can be quickly and easily accessed from the front.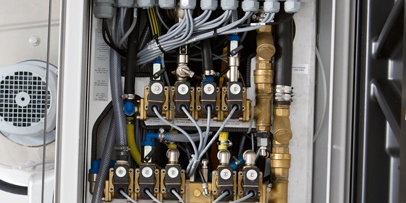 Optimum consumption
Intelligently conserves natural resources: The water distributor sprays water and cleaning agents only where they are needed.
Equipped for every requirement.
For sites with low washing requirements to sites with high washing requirements, from a basic wash bay to a premium station, always in line with the operators' and site requirements: The gantry car washes in the CB line can be ex tended by a diverse range of additional options and equipment components. This enables every station – whether it is a CB 3, CB 5 or CB Takt – to achieve the perfect cleaning results in next to no time. Every station in the CB line works in accordance with the principle: Gentle care for the car – tough against dirt.
Unstoppable success.
Each location has its own set of requirements. The CB line gantry car washes full all of these. There are five stations and washing heights available. There is therefore the perfect solution for all types of car wash and all types of vehicle models, right down to small pickups. Perfection guaranteed.
1) For stations with "Eco" trim package without front trim, the system height decreases by 65 mm. For the CB with a washing height of 2.00 m, the system height without the front cover is reduced by 120 mm.
CB 3: Simple, quick and economical.
A station really can be flexible, economical and fast. The CB 3 brings these three qualities together within one gantry car wash, leaving no requirement unfulfilled.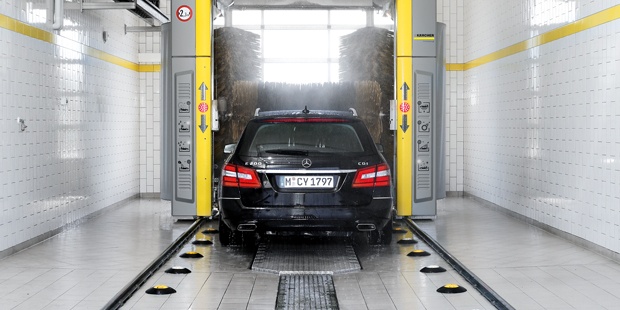 Attractive design
So that each operator can create their own look for their location, Kärcher offers a wide range of designs.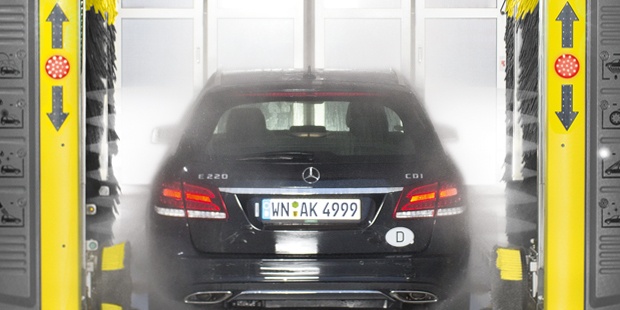 Perfect pre-cleaning
For removing insect residue and stubborn dirt.
Wheel wash
Optional wheel wash for impressive results.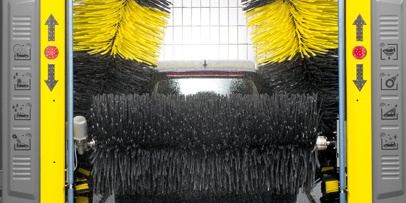 Optimum contour capturing
The side brushes are either vertical or positioned at a 15° angle, the perfect position to capture the sills and the upper part of the vehicle.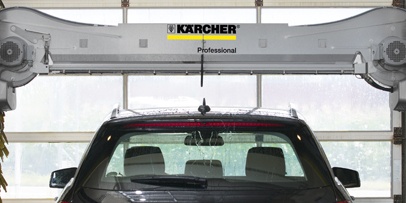 Perfect drying
Perfect all-round drying thanks to two separate side driers and a contourguided roof drier with pivoting vanes for optimal drying of the vehicle roof.
Maximum performance in the smallest of space: the Kärcher CB 5.
The Kärcher CB 5 is an economic choice for car washes with more than 1,200 washes per month. Operators profit from the express wash, which takes just two runs, and the increased vehicle throughput which decreases waiting times for customers.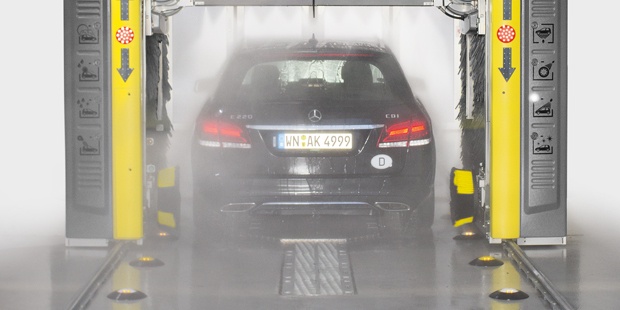 Perfect pre-cleaning
For removing insect residue and stubborn dirt.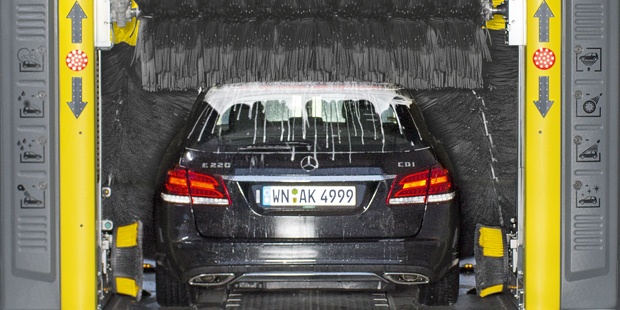 Perfect paint protection
Foam polish with RM 837 for visible long-term protection with repair effect.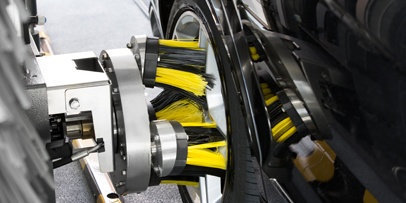 Perfect wheel wash
Optional wheel wash for impressive results.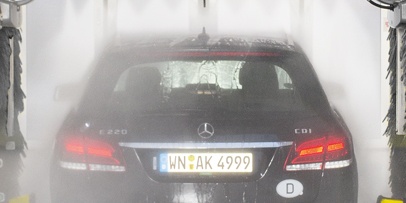 Perfect pre-wash
With active foam, side or all-round high pressure.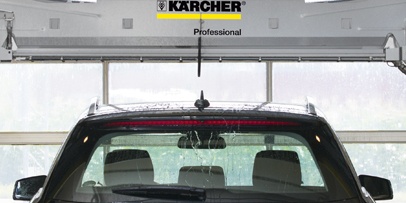 Perfect drying
Contour-guided roof drier with pivoting vane.
Equal to every task: Kärcher CB Takt.
For facilities with a high vehicle throughput who find that gantry car washes do not provide enough capacity and that car washes are not economical enough, the CB Takt is the perfect system solution. The two gantries in the series enable two vehicles to be washed and dried at the same time.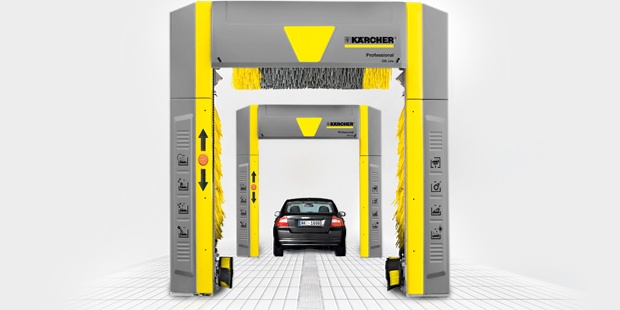 High vehicle throughput
Designed for 1,200 washes per month or more. Excellent washing and drying results even at maximum speed.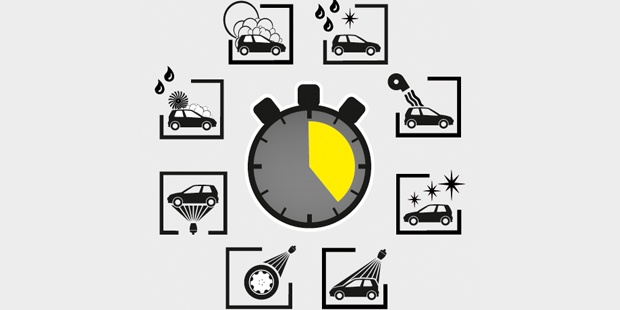 Always the right choice
The range of equipment available for the CB Takt enables a large number of programmes to be used with a high vehicle throughput.
Perfect wheel wash
Optional wheel wash for impressive results.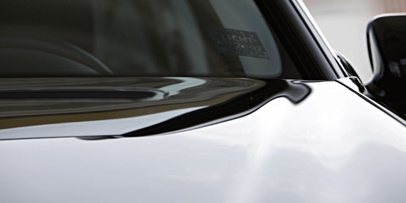 Perfect drying
The separate drying area with roof and side driers creates the perfect drying results.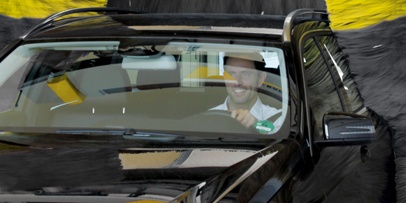 Maximum convenience
The customer remains seated in the vehicle during the entire washing and drying process.
Individual equipment, whatever you require.

[1] Effective wheel wash
The Teller-Rawa gives wheel rims a good and thorough clean. The innovative Rawa 2.0 works like an electric toothbrush, guaranteeing perfect rim cleaning.

[2] High pressure from all sides
There is no end to the range of high pressure washes: from high-pressure sill cleaning, to sill and side cleaning, to an all-round high-pressure wash.

[3] Powerful drying
From dry to bone dry: Two separate side driers, contour-guided roof driers with and without pivoting vanes and the Opti Drop Stop to prevent washing water dripping down onto the vehicle.


[4] Brush conŸguration options
A wide range of colours and materials: Polyethylene, foam, foam with polyethylene or fabric.
[5] Optimum contour capturing
The side brushes are either vertical or positioned at a 15° angle, the perfect position to capture the sills and the upper part of the vehicle.
[6] A safe entrance
Bollard protecting in the form of guide rails or speed stops makes ensures that every vehicle stays on the right track.
[7] Controlled remote monitoring
RDS remote monitoring helps to make sure that the station is working smoothly at all times. Without problems. With reliability.

[1] The perfect design for a unique look
The CB line's standard range of trim packages Eco, Deluxe and Open Art offers a number of attractive design options. However, stations can also be tailored to suit the customer's design requirements.
[2] Functional panel elements
Whether you select front panels, front and ticker panels or rear panels – each CB line car wash manages to merge exceptional functionality with attractive design.
[3] Reliable splash guard
Cleaning requires water. Panels on the side and roof of the station provide effective protection from spray water.
[4] Variable power supply
CB line gantry car washes are supplied with energy via a power pillar, a power chain or a cable.
[5] Overview of functions
Even the basic control panel provides a complete overview of all important functions. The comfort control panel covers every function you'll ever need.
[6] Powerful undercarriage wash
Regardless of whether it uses a rigid process or segment-based process, the CB line's undercarriage wash always achieves first-class results.
[7] Intelligent start-up and operating systems
When it comes to operating and making full use of the functions in the CR 213, CR 300, CR 110 and CR 114 systems, there is the perfect start-up and operating panel for each and every purpose.
Environmental care: Kärcher water reclamation systems.
Kärcher water reclamation systems save money while protecting the environment. With physical particle filtering using a hydrocyclone, all of the waste water is fed back into the washing process, reducing fresh water consumption by up to 85 %.

[A] Discharging wastewater via the reservoir system into the sewage system
[B] Discharging wastewater via the recycled water tank into the sewage system
The recycling cycle
The waste water flows through the sediment basin [1] to the pump storage basin [2]. From there, it is pumped through the hydrocyclone [3] into the recycling water tank [4] and made available for use in the washing process using a supply pump [5]. Excess water can be discharged via the overflow of the pump storage basin into the sewer either directly or via a separator, depending on legal [6] regulations. The waste water can also be discharged to the sewer directly from the recycled water tank [7]. In this case there is no connection between the pump storage basin and the sewer.