Self-service washing systems
Vehicle cleaning for brilliant results. Kärcher's customised self-service wash systems are highly versatile and can be adapted without great expense to suit your needs and the preferences of your customers. The systems are modular and can be expanded by up to eight wash bays. This means there is no obstacle left in the way of your company's growth.
Sophisticated system solutions for your success.
Power, reliability and efficiency are always at the forefront in a profitable self-service washing business. Kärcher's perfectly balanced system components are always cost-effective and profit-oriented in operation. In addition, the system solutions can be adapted to the customer's preferences – a benefit for you and your customers.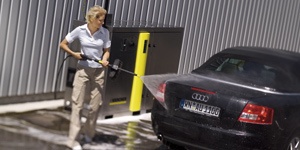 Self-service single-bay units
Thorough and cost-saving: Kärcher's self-service single-bay units are ideal as an additional business for service stations or for your company's vehicle fleet.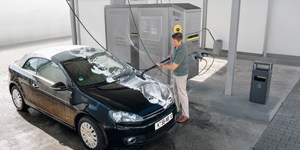 Self-service multi-bay systems
Compact and energy-efficient: the cabinet version contains everything needed for a profitable car wash with up to four wash bays. Modules are available for up to eight wash bays.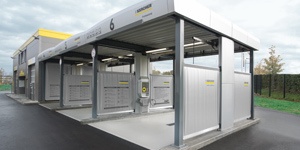 Kärcher steel framework for self-service wash bays
Elegant and functional: the steel structure Attica shapes are available with or without design elements. The sophisticated lighting concept serves for customer orientation.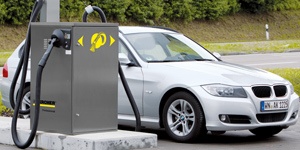 Self-service vacuums
Easy and ergonomic: Kärcher single or two-bay vacuums for cleaning vehicle interiors are easy to use and feature an ergonomically designed suction nozzle for use in difficult-to-reach areas.
High power in small packages: Kärcher self-service single-bay units.
Kärcher entry-level models impress with low investment costs and can be used in confined spaces. The ideal solution for newcomers to professional washing or for cleaning vehicle fleets.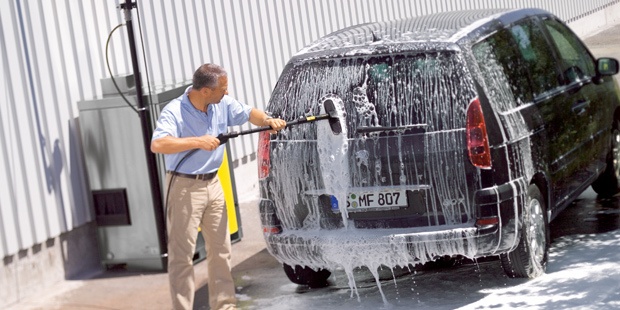 For complete cleaning: Kärcher SB Wash
The complete solution for pre-wash and foam wash in confined spaces.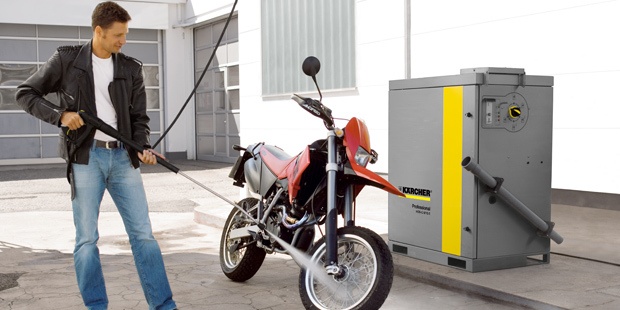 For brushless cleaning: Kärcher HDS-C
Basic model for complete pre-wash and interim quick wash.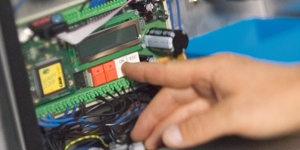 Full control
Display of all relevant operating data at the push of a button.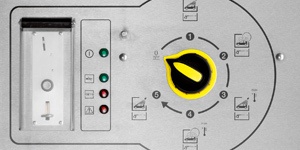 Self-explanatory programs
Easy and self-explanatory wash programme selection via a control with remaining washing time display.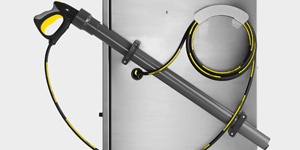 Versatile equipment
Individual system equipment with high-pressure lance holder, hose storage or swivelling boom.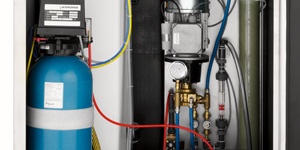 Durable technology
Water softening units prevent lime deposits and ensure the durability of the system.
Innovation in confined spaces: Kärcher SB MB.
Simply install, connect and get going: the Kärcher SB MB is ready for use in no time, as the equipment is compactly pre-installed in a cabinet at the factory. The precise detergent dosing unit and advanced technology ensure the durability and efficiency of the system.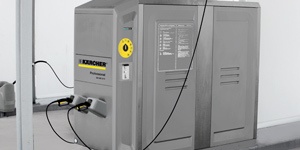 Space-saving design
The compact construction style means that all components fit in a single base cabinet.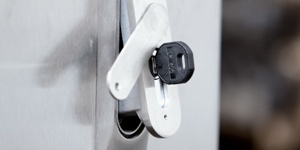 Secure protection
The two-key system allows the machine to be opened while the coin cassette remains closed.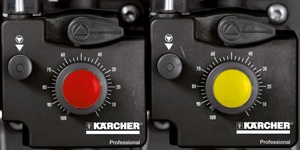 Reliable dosing
Dosing pumps guarantee process reliability and ensure smooth operation even during peak periods.
Low energy consumption
Water-cooled pumps reduce energy consumption and costs.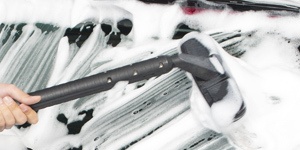 Reduced water consumption
The use of dry foam reduces water consumption and saves natural resources.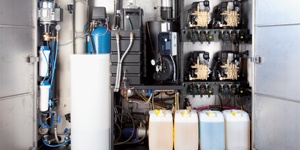 Simple maintenance
The large front doors with a removable middle bar ensure easy maintenance of the system.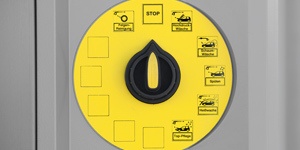 Flexible programming
Individual programming of up to 11 washing programmes caters for every need.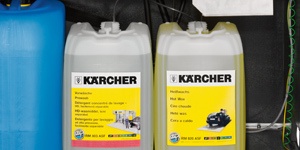 Economic cleanliness
Kärcher detergent concentrate reduces consumption and operating costs.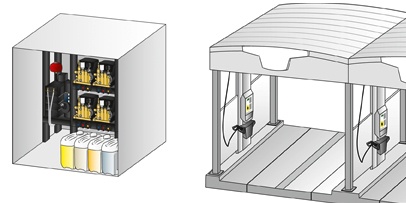 Skid version
Pre-assembled frame that can be installed in an on-site technical room.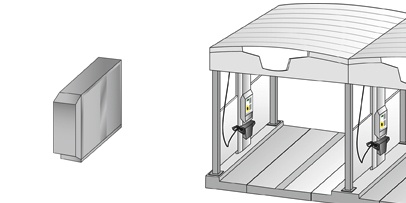 Cab version
Construction outside of the wash bays and simple programme selection using a remote control location.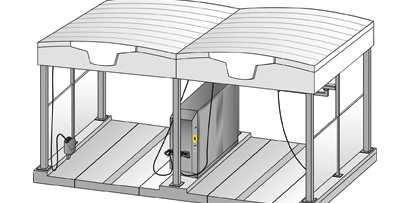 Cab 1 and cab 2 version
The cab 1 version with combination washing tool (brush and high pressure) or the cab 2 version with separate washing tools (separate brush and highpressure lance) are installed between the wash bays.
Modular and adaptable: Kärcher SB MU.
The modular design of the Kärcher SB MU allows adaptation of the system to local conditions and offers versatility for wash centres with four to eight wash bays.
Individual components such as hot water or fresh water generation and a complete range of wash bay equipment can be combined to suit specific requirements. Versatility that pays: if your company grows, your wash centre can be expanded by up to eight wash bays without great expense.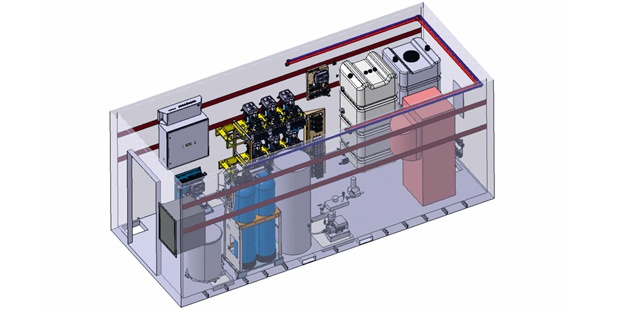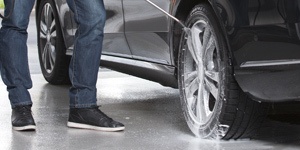 Easy rim cleaning
Rim cleaning takes place with the high-pressure lance. This obviates the need for a separate washing tool.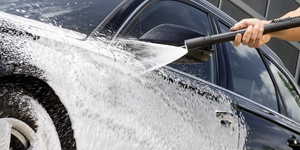 Contact-free cleanliness
The new system for contact-free washing, consisting of 3-in-1 lance and foam cleaner RM 838, gives operators the opportunity to cover different customer requirements.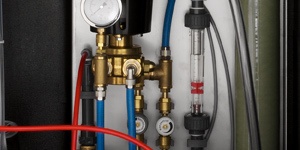 Streak-free shine
Spot-free vehicle drying thanks to the built-in osmosis system which dissolves minerals in the water.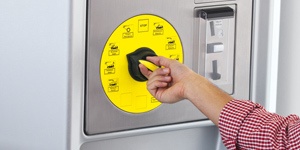 Intuitive control
Easy wash programme selection by means of a turn switch. The remain value display indicates the remaining wash time.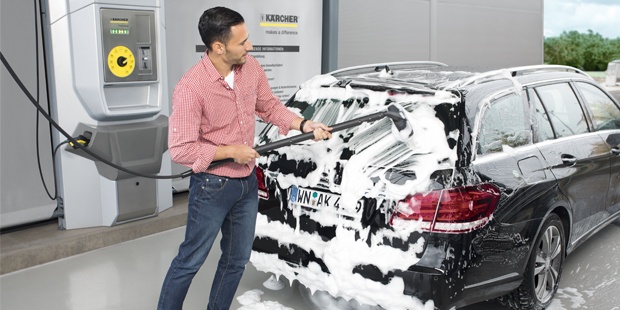 Container version
Ready to use! The equipment can be assembled in a container and just needs to be installed and connected.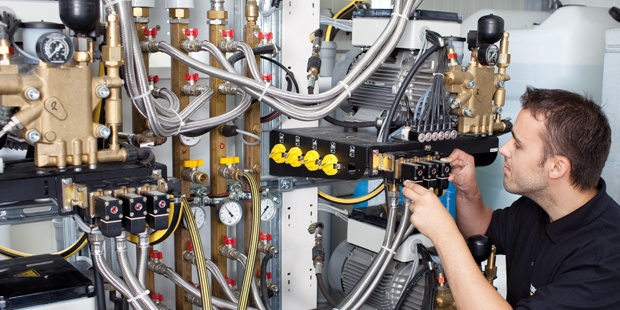 Component version
The components are delivered and installed in an on-site technical room.
Beautifully functional: Kärcher steel structure for self-service wash bays.
The attica shape of the roof combines beauty with functionality. The steel framework is available with or without design elements, which enables the application of your CI. In addition, the sophisticated lighting concept with integrated feel-good effect serves for customer orientation.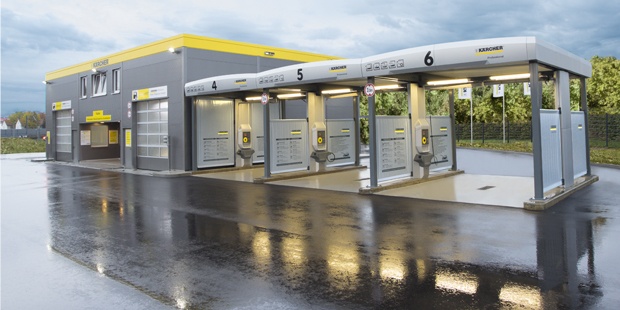 Full flexibility
The Kärcher steel framework is the perfect solution for systems with one to eight wash bays.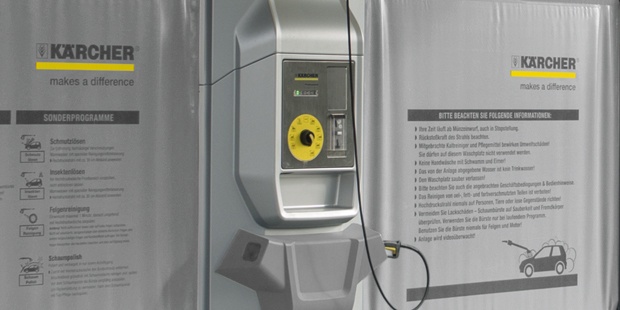 Multifunction unit
Integrated washing tool storage including remote control.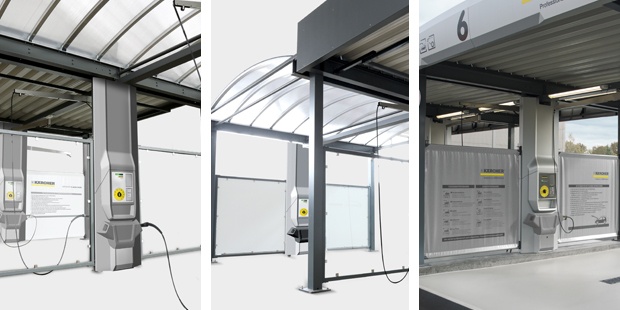 Various separating wall materials
The separating walls are available in glass, Trespa or tarpaulin and can be individually designed.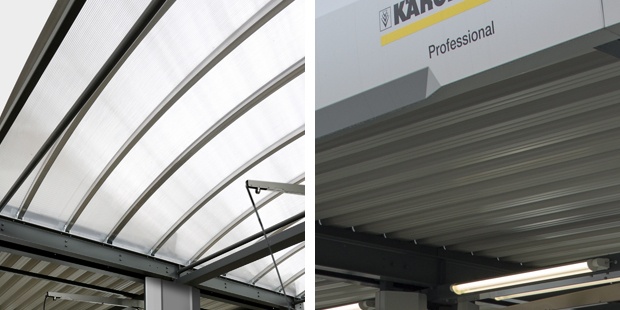 Diverse roof variants
The roof is available as curved, transparent polycarbonate or as trapezoidal sheet metal.