FC 5 Hard Floor Cleaner
The FC 5 hard floor cleaner is the easy way to vacuum up light debris and wash your floors clean simultaneously. Ideal for cleaning laminate, tile, stone and sealed wooden floors in no time.
Kärcher
FC 5
10555020
https://www.kaercher.com/uk/home-garden/hard-floor-cleaner/fc-5-10555020.html
The FC 5 hard floor cleaner is the easy way to vacuum up light debris and wash your floors simultaneously. Ideal for cleaning laminate, tile, stone and sealed wooden floors in no time.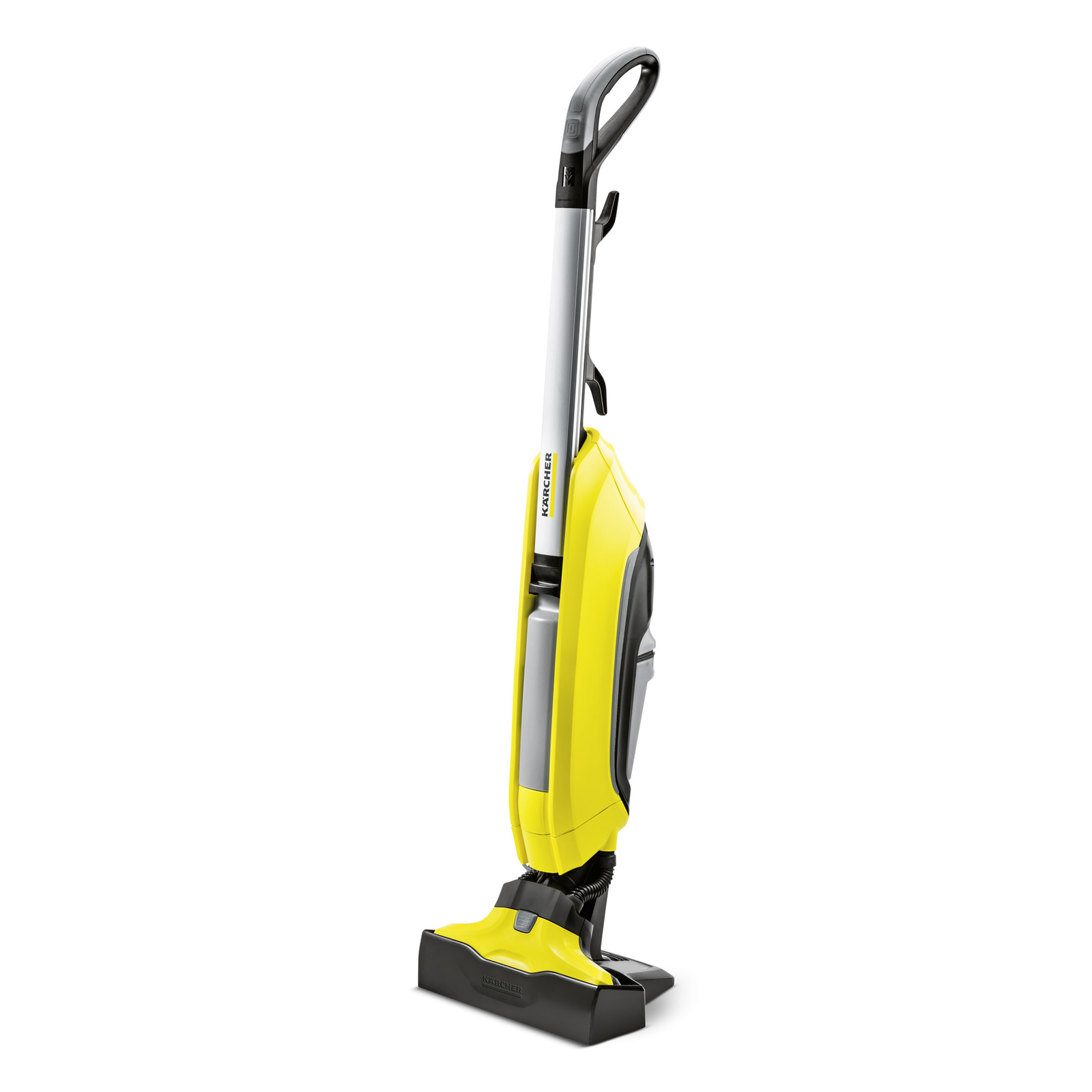 Cleaning hard floors usually means cleaning them twice - first you have to vacuum away all the grit, pet hair and dust, and then wash with a mop and bucket. The new Kärcher Hard Floor Cleaner does both jobs at the same time, giving you gleaming hard floors without the need for mops, buckets and scrubbing. Whether you are cleaning: hardwood, laminate, tiles or stone floors, the hard floor cleaner works brilliantly, leaving them clean and dry in just a few mintues. Our innovative SmartRoller technology vacuums up dust, small debris and pet hair, whilst controlling the flow of water to clean your hard floors gently yet effectively. You can also add detergent to lift deep down dirt, to leave your floors with a fresh lemon or bee's wax smell. The Hard Floor cleaner is light and manoeuvrable, so it is easy to push, carry and store. You can also remove the rollers for machine washing. The hard floor cleaner comes with a two year guarantee.
Features and benefits
2-in-1 function

Vacuums and washes in one, using SmartRoller technology.

Self-cleaning function

Continuously clean rollers for best cleaning results.
The Smartroller technology removes excess water, leaving floors clean and dry in just two minutes.

High-quality microfibre rollers

Placing the microfibre rollers on and off is quick and easy.
Machine washable at up to 60°C.

Innovative drive concept

With forward rotating rollers, the machine moves across the floor almost by itself – for effortless cleaning.

Cleaning head with a flexible hinge

Easy to clean under furniture.
Easy to move around objects.
Cleaning right up to the edge – for excellent results in corners and edges.

Easy-to-remove two-tank system

The fresh water tank can be easily filled under the tap.
Hygienic removal and emptying of the dirty water tank without having to come into contact with the dirt.

Cleaning and storage station

Perfect for easily cleaning dirty rollers.
Convenient storage of the machine.
Specifications
Technical data
| | |
| --- | --- |
| Roller speed (rpm) | 500 |
| Power (W) | max. 460 |
| Current type (Ph/V/Hz) | 1 / 220 / 240 / 50 / 60 |
| Tank capacity fresh water (ml) | 400 |
| Tank capacity dirt water (ml) | 200 |
| Cleaning station volume (ml) | 200 |
| Cleaning performance per tank filling (approx.) (m²) | 60 |
| Drying time of cleaned floor (min.) | 2 |
| Roller working width (mm) | 300 |
| Weight (kg) | 4.6 |
| Dimensions (L x W x H) (mm) | 320 x 270 x 1220 |
Equipment
2-tank system
Yellow cleaning rollers
Cleaning and storage station
Application areas
On most hard floors, such as sealed wood, laminate, tiles, stone, cork, parquet linoleum or PVC
For cleaning in all hard floored areas (e.g. toilet, kitchen, bathroom, etc.)
For quick and effortless cleaning of hard floors
Also suitable for sealed, oiled and waxed parquet
FC 5
is rated out of
5
by
174
.
Rated

5

out of

5
by
RoyB
from
Cleans floors well
Good machine, but would advise buying at least 3 more sets of rollers. The rollers can be cleaned in a washing machine, dried so as not to be left damp and smelly.
Date published: 2017-12-28
Rated

3

out of

5
by
Tone
from
Good cleaner, if only you could fix the on button
Nice machine, easy to use, easy to clean. But not so easy to turn it on & off.
Date published: 2017-12-26
Rated

4

out of

5
by
Footly
from
Hard floor blitz
Had it about a month now. After the initial few weeks it becomes easy to use. Leaves the floor to dry in minutes
Date published: 2017-12-24
Rated

5

out of

5
by
Gayle
from
Time saver
Love this it's saved me so much time I have a stone floor I used to get on my hands and knees, but don't have to now is so great for spillages too. So easy to use.
Date published: 2017-12-23
Rated

5

out of

5
by
SueUn
from
Effective and easy to use
I have had my FC5 for a month now and am delighted with it. I keep it always ready to use and, because the floors dry so quickly, I can quickly run it over the floor to remove those muddy paw prints as soon as they occur. My tiled floors now look lovely all the time.
Date published: 2017-12-18
Rated

5

out of

5
by
SteveK
from
Great Machine - The only way
Bought after 'road testing 'my daughters FC5. Works across all our ground floor rooms on laminate, vinyl, tiles and karndean. Suggest removing very sticky stains with a wet-wipe prior to using. Do adhere to priming and cleaning instructions to ensure max effectiveness. Leaves a great finish and dries quickly. So superior to mop and bucket avoiding excess water ingress to flooring. Add a touch of Zoflora and non foaming cleaner to dispenser. Finally do empty after each session as the waste water tank is not meant to exceed the line despite its size.
Date published: 2017-12-14
Rated

3

out of

5
by
Rose
from
Features
Although the machine works fairly well I find the switch difficult to use and think tthis should be a rocker switch. Also the suction is not sufficient to pick up the water. The rofllers also tend to work off .
Date published: 2017-12-14
Rated

5

out of

5
by
raktimdatta
from
Best Product
Karcher has made it again. I have hard flooring all over the house and I have used the product every weekend since I received the item. The floor cleaner is easy to use as it glides on the floor. The power of the machine is excellent and it wipes clean any dirty areas. I used to use a steam cleaner on my kitchen floor and it was good, but a lot of targeted cleaning. With FC5, I found that the roller movers smoothly and any stubborn dirts get cleaned without any force. One of the key features is how the roller cleans the corners. FC5 Hard Floor Cleaner is a cross between a vacuum cleaner and a mop. It vacuums up dirts while washing the floor at the same time and the floors dry a lot faster. It saves time, does two cleans at once, and does it much better! Once the product arrived, I had to do some very simple assembly; I had to insert the handle in the unit and attach the rollers. It features a 2-tank system, one for clean water and one for the dirty water and dirt collection), the clean water tank slots into the front and the dirty water tank into the back. It also comes with a storage base so that the cleaner can stand upright when not in use. The Kärcher FC 5's weight of only 4.6kg is lighter than 80% of all vacuum cleaners. Using the cleaner is very simple, I found some videos and watch "how to use" on YouTube. The cleaner is light with a rotating body. It's specifically designed for hardwood floors. It uses vacuum technology to spray and suck the water through the front rotating pads, making sure the floor stays as dry as possible during a wash. The front tank holds clean water, and when mixed with their detergents, gives off a pleasant smell, keeping the home smell fresh. Once the product is assembled, I added detergent (small bottle is supplied) to the fresh water tank and filled with water to the maximum line. I Switched on the cleaner for a few seconds, while still in the stand, to moisten the rollers and then it was ready to go. I found that the cleaner body swivels so it is extremely easy to maneuver and get under furniture and used the cleaner edge to edge rollers and cleaned the skirting boards. The rollers can be removed after use and cleaned in the washing machine and the dirty water tank is easily removed for emptying, without having to touch the water. Removing both water containers is an easy task, push down on the top. Filling the clean water container is easy. The dirty water container comes in two pieces – there's an inner structure which is designed to catch solid material like hair , and this comes out so that this stuff can be put in the bin. The dirty water can then be poured down the sink, you can see all the dirt that the FC5 has picked up. The FC5 comes with a black plastic stand "cleaning station" which can be used both when the cleaner is stand up right and when cleaning is underway. The benefit of the FC5 is the overall time saving of not having to vacuum before cleaning, only need to go over the surface once with the FC5 and its job done. The Karcher FC Hard Floor Cleaner is a powerful floor cleaner and the results are excellent. I initially thought the price tag of £229.99 was expensive, but after using it I can definitely say it is worth the money.
Date published: 2017-11-21