FC 5 Hard Floor Cleaner
The FC 5 Hard Floor Cleaner is the easy way to vacuum up light debris and wash your floors clean simultaneously. Ideal for cleaning laminate, tile, stone and sealed wooden floors in no time.
Kärcher
FC 5
10555020
https://www.kaercher.com/uk/home-garden/hard-floor-cleaner/fc-5-10555020.html
The FC 5 hard floor cleaner is the easy way to vacuum up light debris and wash your floors simultaneously. Ideal for cleaning laminate, tile, stone and sealed wooden floors in no time.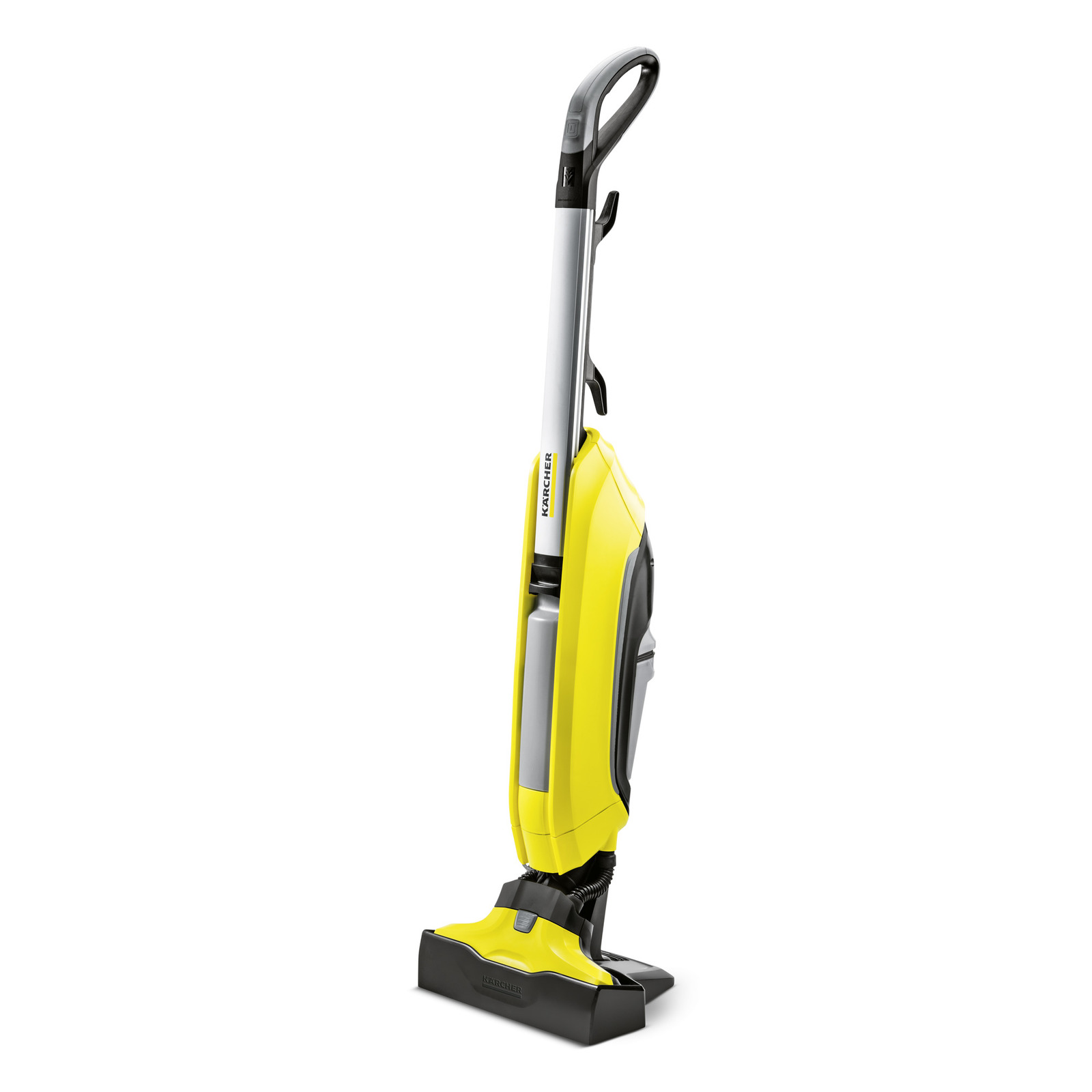 Cleaning hard floors usually means cleaning them twice - first you have to vacuum away all the grit, pet hair and dust, and then wash with a mop and bucket. The new Kärcher Hard Floor Cleaner does both jobs at the same time, giving you gleaming hard floors without the need for mops, buckets and scrubbing. Whether you are cleaning: hardwood, laminate, tiles or stone floors, the hard floor cleaner works brilliantly, leaving them clean and dry in just a few mintues. Our innovative SmartRoller technology vacuums up dust, small debris and pet hair, whilst controlling the flow of water to clean your hard floors gently yet effectively. You can also add detergent to lift deep down dirt, to leave your floors with a fresh lemon or bee's wax smell. The Hard Floor cleaner is light and manoeuvrable, so it is easy to push, carry and store. You can also remove the rollers for machine washing. The hard floor cleaner comes with a two year guarantee.
Features and benefits
2-in-1 function
Vacuums and washes in one, using SmartRoller technology.
Self-cleaning function
Continuously clean rollers for best cleaning results. The Smartroller technology removes excess water, leaving floors clean and dry in just two minutes.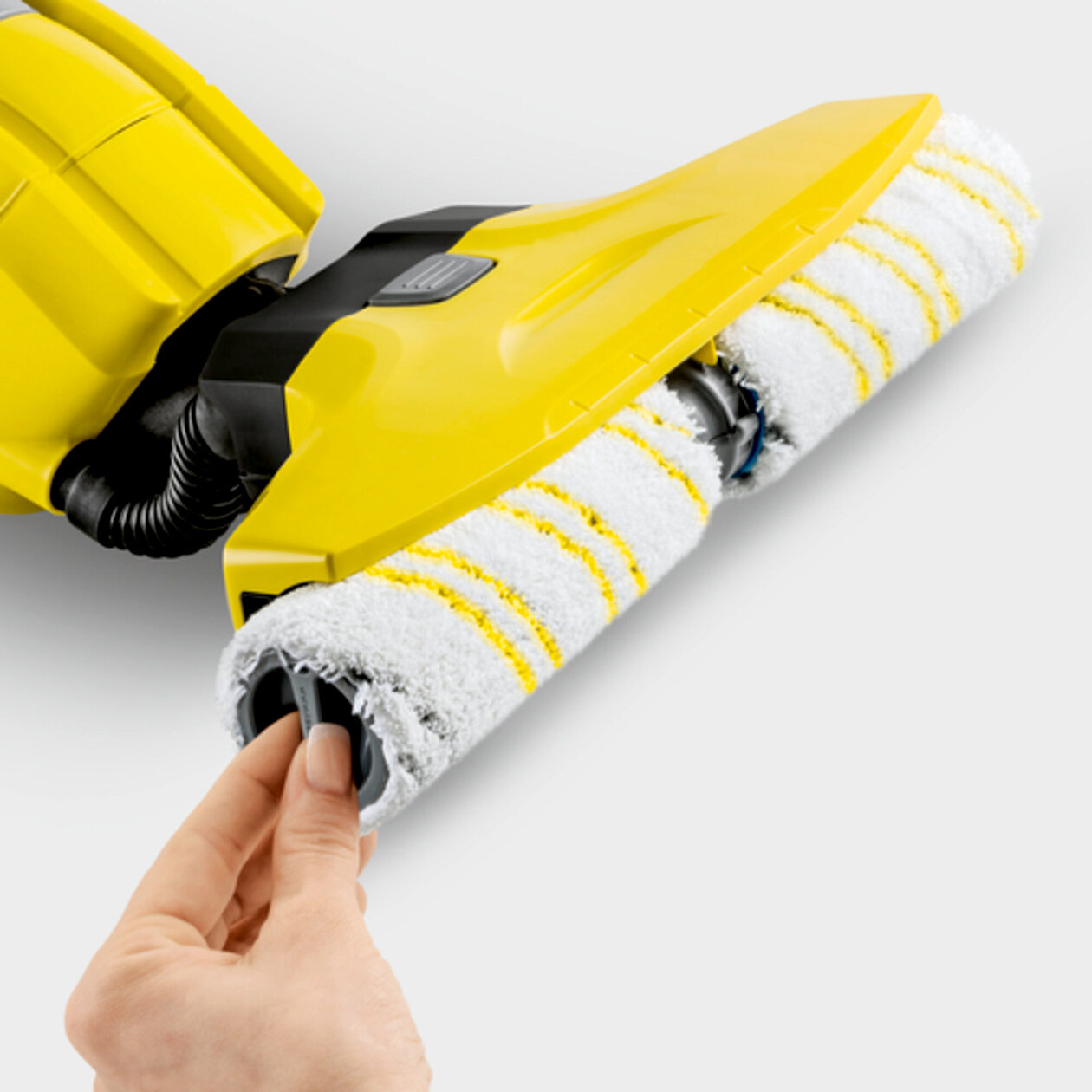 High-quality microfibre rollers
Placing the microfibre rollers on and off is quick and easy. Machine washable at up to 60°C.
Innovative drive concept

With forward rotating rollers, the machine moves across the floor almost by itself – for effortless cleaning.

Cleaning head with a flexible hinge

Easy to clean under furniture.
Easy to move around objects.
Cleaning right up to the edge – for excellent results in corners and edges.

Easy-to-remove two-tank system

The fresh water tank can be easily filled under the tap.
Hygienic removal and emptying of the dirty water tank without having to come into contact with the dirt.

Cleaning and storage station

Perfect for easily cleaning dirty rollers.
Convenient storage of the machine.
Specifications
Technical data
| | |
| --- | --- |
| Current type (Ph/V/Hz) | 1 / 220 / 240 / 50 / 60 |
| Power (W) | max. 460 |
| Cleaning performance per tank filling (approx.) (m²) | 60 |
| Tank capacity fresh water (ml) | 400 |
| Tank capacity dirt water (ml) | 200 |
| Roller speed (rpm) | 500 |
| Roller working width (mm) | 300 |
| Drying time of cleaned floor (min.) | 2 |
| Cleaning station volume (ml) | 200 |
| Cable length (m) | 7 |
| Weight (kg) | 4.6 |
| Dimensions (L x W x H) (mm) | 320 x 270 x 1220 |
Equipment
2-tank system
Yellow cleaning rollers
Cleaning and storage station
Application areas
On most hard floors, such as sealed wood, laminate, tiles, stone, cork, parquet linoleum or PVC
For cleaning in all hard floored areas (e.g. toilet, kitchen, bathroom, etc.)
For quick and effortless cleaning of hard floors
Also suitable for sealed, oiled and waxed parquet
FC 5
is rated out of
5
by
238
.
Rated

5

out of

5
by
Coddy
from
Easy to use
Very happy with product,would like to know when harder brush is available?
Date published: 2018-08-09
Rated

5

out of

5
by
KarenB
from
Easy to Use
Today was the first time I used my floor washer. I should have gotten one earlier in life! I am 80 and never had such an easy "Floor Day". I cleaned a kitchen (vinyl), front hall (slate), downstairs hall, bathroom and laundry room (ceramic tile) and still had enough pep left to make a double batch of zucchini bread. Every home should have one of these FC5 machines. Karen B.
Date published: 2018-08-08
Rated

5

out of

5
by
TomS
from
Excellent Hard Floor Cleaner
Bought this item 2 weeks ago and used it thru-out our home. We have ~ 1500 sq ft tile downstairs and this machine cleaned the tile in about 2.5 hours. Only got the yellow rollers with the machine - could not find the grey rollers in the US. Had to order them direct fro Europe. Too bad that USA customer service cannot help much in this regard. This is the best hard floor cleaner I've ever owned, but I'm worried about ongoing support (parts, repairs and detergent). It is way too expensive to get the parts from Europe. Maybe Karcher will increase USA support as the machine gains popularity. PS - it also cleans flush to a wall to less than the width of the grout line.
Date published: 2018-07-28
Rated

5

out of

5
by
sandy413
from
Great time saving device!
I cannot say enough about the Karcher - FC5 Hard Floor Cleaner. It is such a great product that works very well and is a great time saver. I had never seen or heard of a floor cleaner that picks up dirt and cleans at the same time. I often have little pebbles or small stones just inside my front door from foot traffic. The Karcher Hard Floor Cleaner easily picked up the pebbles/stones in just one swipe. In the past, I would always have to vacuum the floors first before I could wet mop. No more of doing that!! It also left my laminate flooring clean and put back a shine to the floors. It cleaned very well and did not leave a sticky residue. Best of all, there were no streaks, and it dried the floors in about 2 minutes. The cleaner has a swivel steering that easily maneuvers around furniture or other obstacles. The mop head is 12 inches wide, so there is less swiping on the floor, and it is wide enough to clean any big mess. The Karcher Floor Cleaner is safe to use on hard wood, laminate, tile and stone floors. This is a must for every household!!
Date published: 2018-07-23
Rated

5

out of

5
by
skittlesfox
from
Perfect for cleaning floors in a hurry
This product is amazing. I love how it mops the floors while picking up anything a normal broom or mop might just push around. It was very easy to use, and it was nice to have different cleaning solutins for each type of floor along with the multi-purpose one. It was even great for reaching those hard to reach places. It dries very fast as well which is a great feature.
Date published: 2018-07-21
Rated

4

out of

5
by
heypat1960
from
Great for tile floors
I love this product for washing the floor. I do suggest you wet the pads first because it takes awhile to get them wet if you are just spraying. I also would suggest you vacuum first because it didn't pick up the dirt very well. It is great for washing!!
Date published: 2018-07-19
Rated

5

out of

5
by
Inkmama
from
Awesome
I received the Kärcher - FC 5 to home test and review. I have a constant busy house with kids and pets. Mud happens a lot around here and the FC 5 works great to keep our busy hard surface floors clean. I really like it.
Date published: 2018-07-17
Rated

5

out of

5
by
Mrslykins
from
So easy to use! Super effective.
This floor cleaner is super lightweight, which is nice because we have a multi level house with hardwood and tile throughout. When the rollers spin, it's basically self propelled and does the work for you. It's so easy to use that my 6 year old loves to use it. My floors looked clean, but the water that came out of "dirty" tank was disgusting! It gets dirt out that we didn't know we had! Perfect for a dog and kid friendly home!
Date published: 2018-07-16