Hard floor cleaner FC 5 Premium
The FC 5 Premium is the easy way to vacuum and wash your floors simultaneously. The additional detergent and rollers mean you're always prepared for the next challenge.
Find your local Kärcher Center:
The FC 5 Hard Floor Cleaner is the quick and easy way to vacuuming up and washing your floors in one. Our innovative SmartRoller technology vacuums up dust, small debris and pet hair, whilst controlling the flow of water to clean your hard floors gently yet effectively. The unique roller design enables you to clean right up to the edges ensuring nothing is missed; and with the built in vacuum function the FC 5 removes all of the dirty moisture and debris picked up from the super absorbent microfibre rollers leaving them clean and dry in just two minutes. The twin-tank system guarantees that the dirty and fresh water are never mixed and only fresh water is fed onto the rollers. You can also add detergent to remove the more stubborn dirt as well as leaving a fresh bees wax or citrus scent. What's more is that the included cleaning station can then be used to store or refresh your rollers, your rollers can also be placed into the washing machine to give them a new lease of life. Additional detergent and rollers mean you're always prepared for the next challenge.
Features and benefits
2-in-1 function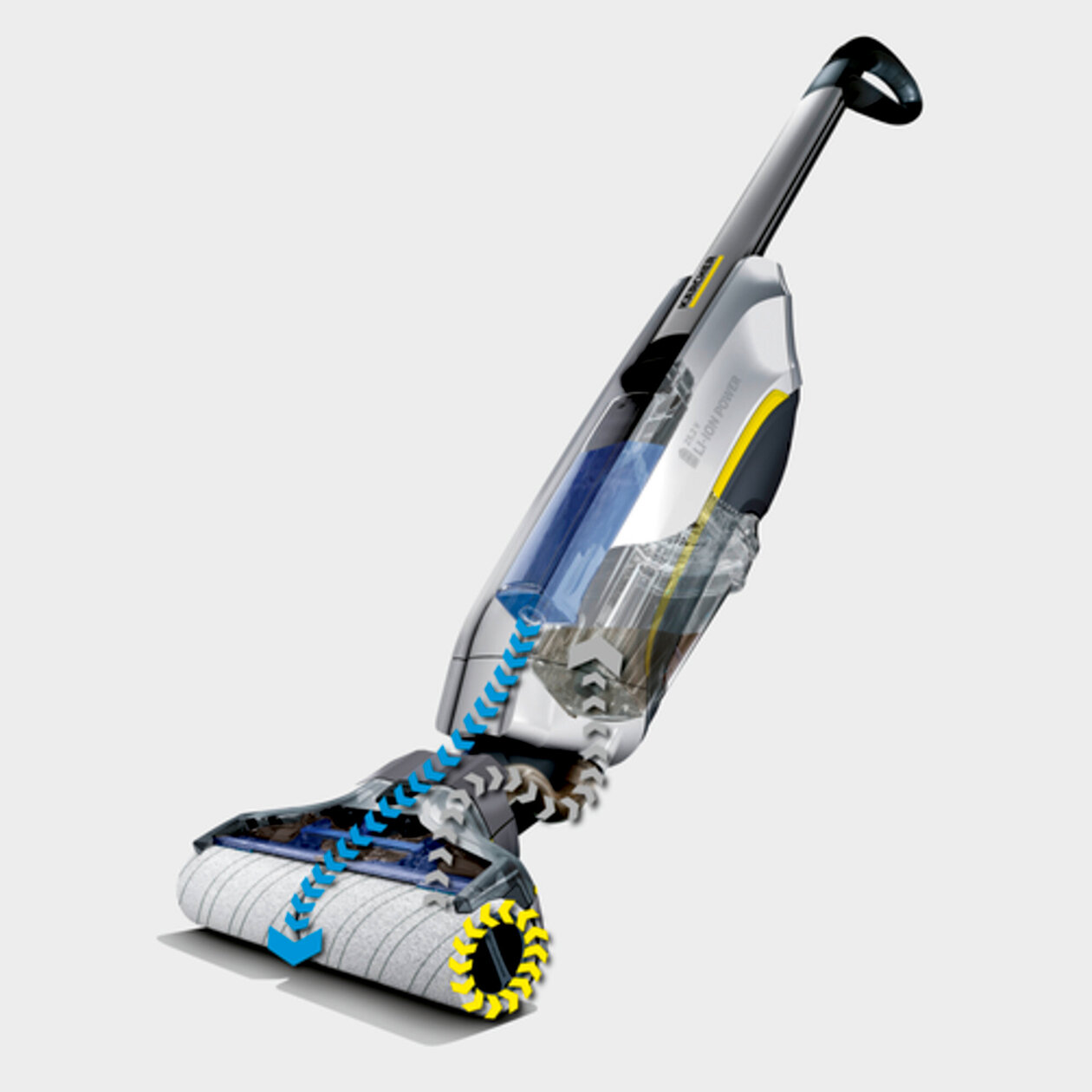 Automatic self-cleaning function removes all dirty moisture and debris from the rollers.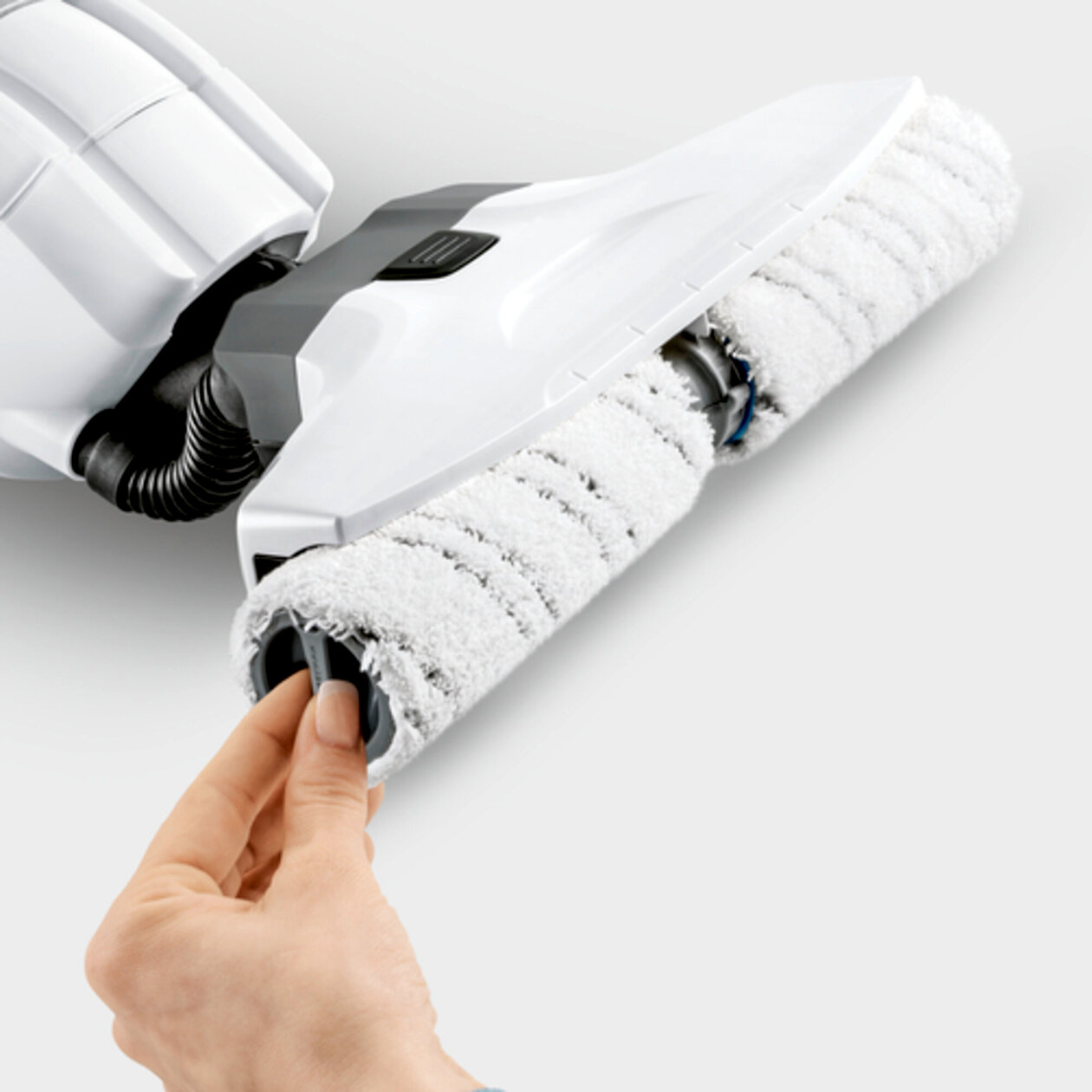 Super absorbent microfibre rollers
Innovative centralised drive system to allow perfect edge cleaning
Cleaning head with integrated swivel joint
Hygienic Twin-Tank System
Cleaning and storage station
Specifications
Technical data
| | |
| --- | --- |
| Current type (Ph/V/Hz) | 1 / 220 - 240 / 50 - 60 |
| Motor rating (W) | max. 460 |
| Power (W) | max. 460 |
| Cleaning performance per tank filling (approx.) (m²) | 60 |
| Tank capacity fresh water (ml) | 400 |
| Tank capacity dirt water (ml) | 200 |
| Roller working width (mm) | 300 |
| Drying time of cleaned floor (min.) | 2 |
| Cleaning station volume (ml) | 200 |
| Cable length (m) | 7 |
| Weight without accessories (kg) | 4.6 |
| Weight incl. packaging (kg) | 7.2 |
| Dimensions (L x W x H) (mm) | 320 x 270 x 1220 |
| -- | * The Kärcher floor cleaner achieves up to 20 per cent better cleaning performance compared to a conventional mop with wiping cloth cover in the "Wiping" test category. Refers to average test results in cleaning efficiency, dirt pick-up and edge cleaning. |
Equipment
2-tank system
Yellow cleaning rollers
Grey cleaning rollers
RM 534 sealed wood floor cleaner, 30 ml
Floor cleaning Universal RM 536 500 ml
Self-Rotating Rollers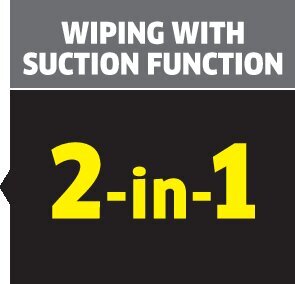 Application areas
Perfect for all sealed hard floors, such as parquet, wood, laminate, cork, stone, linoleum or PVC
For hygienic cleaning around your home (e.g. toilet, kitchen, bathroom, etc.)
For fast and effortless cleaning of sealed hard floors
Also suitable for sealed, oiled and waxed parquet
FC 5 Premium
is rated out of
5
by
462
.
Rated

2

out of

5
by
Yvonneboo
from
Broken already
I purchased this a while back & was disappointed. For the nearly £400 cost when I bought it only worked well for a few months. When I pull back the rollers make a weird noise. It's heavy & cord isn't very short. I really wish I had waited to get all the issues had been resolved & newer models were made. Heavy, doesn't stand easily & certainly doesn't make cleaning my floor easier. I hoover before I wash with Karcher as I purchased for task of washing floors. Very disappointed! Customer care poor also left with product to gather dust!
Date published: 2020-01-21
Rated

1

out of

5
by
Mo 17
from
Sent back twice for repair
I thought this product was great when I first used it on Lino, but after using it on porcelain tiles, its flaws became evident. It leaves streak marks where the gap between the rollers is which is impossible to remove except by wiping over the surface afterwards with a cloth, which makes the process more effort than it is worth. It has now stopped working twice, with the same problem, the water is not coming through onto the rollers. It's a real pain returning the product to Karcher for repair as you need to box it up for collection, then wait for it to be collected. Overall, the hassle isn't worth it and I would not recommend this product.
Date published: 2020-01-19
Rated

5

out of

5
by
HCC59
from
Labour saving
Love it has made such a difference in time saving cleaning
Date published: 2020-01-19
Rated

1

out of

5
by
PhilD
from
Total waste of money
Second time used rollers fail to rotate looking on line a common problem and no spares available
Date published: 2020-01-05
Rated

1

out of

5
by
DaveLecky
from
Does not dispense water to rollers
Right from the start the machine didn't dispense water to the rollers which would run dry quickly after the priming water was rubbed off. The machine has been returned and repaired after it started making a noise like a bag of spanner's......engineering term...... The clean tank water flows ok when manually pressed by the valve at the bottom so not blocked there, however it does not flow through tube to the brass nozzle and then to the rollers, all these parts are not user cleanable/serviceable so cannot be taken apart . I am an electrical engineer and have worked on many different types of karcher products over the years, this is the best idea to automate hard floor cleaning I've seen BUT THE WATER DISPENSING SYSTEM IS SIMPLY NOT SUITABLE FOR PURPOSE. The idea of using the waters own weight to operate a simple valve whilst the machine is moving like a vacuum cleaner looks great on a computer, BUT DOES NOT WORK IN PRACTICE......Unless all the parts can be easily cleaned/unblocked. YOU OBVIOUSLY KNOW ABOUT THIS DESIGN FAULT, WHY NOY FIX IT, GIVE YOUR CUSTOMERS THE PRODUCT THEY THOUGHT THEY HAD PURCHASED IN THE FIRST PLACE........ My present solution to this problem is to have a hand spray bottle and spray water ahead of the machine....or I could purchase a mop with integrated sprayer for £5, and put the karcher into landfill.
Date published: 2019-12-31
Rated

1

out of

5
by
Andy2158
from
Don't buy this machine use to a mop its better!
Having had numerous faults with a previous model and after four returns to Karcher for repair I stupidly agreed to upgrade to the latest model for a modest discount of the purchase price. It is no better and is a complete pain to use. Despite having a large capacity dirty water container it only takes less than an inch of dirty water before it reaches the full mark and stope the machine from working properly. I find you have to super dilute the special travertine stone detergent to avoid blocking the machine and even then I need to clean the filter to avoid it clogging. So in summary 5mins to set up add detergent and wet the rollers before use. Needs emptying frequently and then a good ten minutes to flush the machine wash out the waste water container, clean the rollers and store. And thats without mentioning the streaking on the floor during cleaning. £279 - thats a lot of mops and buckets and you'll be finished quicker. Karcher stick to what you;'re good at - jet washers, mine is great!
Date published: 2019-12-16
Rated

5

out of

5
by
Crops
from
A professional finish
So easy to use and an excellent finish. Worth every penny
Date published: 2019-12-12
Rated

3

out of

5
by
SarahJane
from
Over hyped floor cleaner
The unit is fare to easy to assemble,don't over fill,it leaks if you do,the floors don't come up as clean as if you got on your hands and knees to scrub them,so I am still scrubbing floors by hand.However the promise was I would not have to do this,how unsurprising!It does not clean right to the edge of the floor,another hand cleaning area,it is handy for the multiple floor cleaning that is necessary in a kitchen and a hallway .So for "keeping on top"cleaning its becoming invaluable.The rollers go in the wash easily. For now I am okay having spent the money,will it endure,is yet to be seen?
Date published: 2019-12-12