WHY BUY DIRECT FROM KÄRCHER?
FREE NEXT WORKING DAY DELIVERY ON ORDERS OVER £50 – Orders received before 3pm between Monday and Friday will be delivered to you the next working day, and any orders received over the weekend will be delivered on Tuesday
FREE 1 EXTRA YEAR GUARANTEE – All Kärcher products come with our standard product guarantee of two years or more, no matter where you shop. However, when you shop with us directly you will receive an extra year on top of the standard, just for ordering direct!
FREE EXPERT CUSTOMER SERVICE – When you buy directly with Kärcher you will have easy access to our friendly customer service team who are here to help whenever you need it.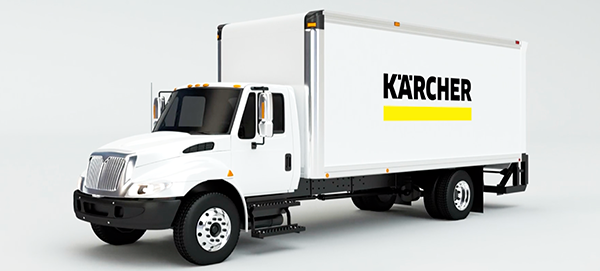 ---
FEATURED PRODUCTS - AS SEEN ON KÄRCHER TV
The lightweight and convenient Kärcher FC 3 Cordless Premium hard floor cleaner gives all your sealed hard floors a powerful clean and comes with extra detergent and rollers. Cleaning right up to the edges, it gives you 20 minutes of cleaning on one charge and leaves your floors dry in just two minutes.
The hard floors around your home will be cleaner than ever! So, why wait?
The FC 5 Cordless Premium thoroughly washes your hard floors whilst simultaneously vacuuming up light dirt and debris into a separate water tank – so it is only ever clean water and detergent that is being used to clean your floor, rather than some traditional methods which slosh more dirty water on the floor as you go!>
It leaves your floors clean and dry in just two minutes, and you'll have 20 minutes of cleaning time per charge.
The Kärcher SC 3 Upright EasyFix is Kärcher's best performing steam mop, and is ready to use in just 30 seconds killing 99.99%* of bacteria using nothing but tap water. The SC 3 Upright allows continuous cleaning with 3 predefined floor settings to choose from with the included carpet glider perfect for refreshing carpets and rugs.
So, if your home has lots of different types of flooring then the SC 3 Upright is for you. It comes with the Carpet Glider, Microfibre Floor Cloth, a built-in De-Scaling Cartridge and a two-year guarantee as standard, plus when you order direct with Kärcher you'll receive an extra years' guarantee, completely free!
*When thoroughly cleaning with a Kärcher steam cleaner 99.99% of all common household bacteria will be killed on common household hard floor surfaces.
The SC 3 EasyFix Steam Cleaner is versatile Kärcher cleaning at its best - this is your complete home hygiene cleaning kit. If you like effortless top to bottom cleaning, this steam cleaner is for you. You can clean your floors, your tiles, your taps, sinks, shower screens – your worktops, splash backs… all the while, killing 99.99%* of bacteria, using only super-heated steam.
*When thoroughly cleaning with a Kärcher steam cleaner 99.99% of all common household bacteria will be killed on common household hard floor surfaces.
The top-of-the-range Kärcher WV 6 Premium is our best ever Window Vac, offering outstanding cleaning results thanks to our innovative new lip technology that lets you achieve a sparkling finish right up to the edges. It cleans for up to 100 minutes on one charge, and comes with everything you need to achieve streak-free surfaces all around your home.
This really is the fast and effortless way to streak free windows.
The Kärcher WD 4 Wet & Dry Vacuum Cleaner is designed specifically for the car, garage, garden and other tasks too tough for your indoor vacuum. With a robust 20L plastic container, 1000w motor and intelligent floor tool and filter system the WD 4 is designed for the most demanding outdoor cleaning tasks.
The WD 4 Wet and Dry Vacuum Cleaner will tackle any outdoor and tough garage messes, wet or dry. Plus it can be stored easily as it's so compact.
If you love spending time in the great outdoors, trailing mud home is never a happy end to the day. What's more, leaving dried-on dirt on your outdoor equipment could make it deteriorate. That's where the OC 3 comes in - a simple solution for fast cleaning, on the go.
The OC 3 is battery operated and small enough to keep in the boot of your car – so you can clean whatever you need to, wherever you are.... clean your wellies, bikes, pram before you put them in the boot....hose down your wetsuit after a surf, even give your dog a quick rinse before he or she hops in, particularly helpful in the winter months!
The K 4 Premium Full Control Car & Home is one of the most powerful, efficient, and versatile pressure washers in the Kärcher range, and will take your outdoor household and vehicle cleaning to the next level. It includes the innovative Full Control system which offers the perfect pressure setting for every cleaning task, shown on the LED display with a simple twist.
The Kärcher K 2 Full Control pressure washer puts you in complete control of the power setting, so you can get the perfect pressure whatever the surface you're cleaning.
This is perfect for those of you who need a pressure washer for any garden cleaning jobs – it is one of Kärcher's most lightweight pressure washers and comes with an ergonomic extendible handle and wheels to make it easy to transport and store.