OC 3 Portable Cleaner
Leave the dirt where you found it, with the Kärcher OC 3 Portable Cleaner. The ideal solution for on-the-go cleaning of bikes, boots and outdoor equipment.
Kärcher
OC 3
16800050
https://www.kaercher.com/uk/home-garden/mobile-cleaning/mobile-outdoor-cleaner/oc-3-16800050.html
Leave the dirt where you found it, with the Kärcher OC 3 Portable Cleaner. The ideal solution for on-the-go cleaning of bikes, boots and outdoor equipment.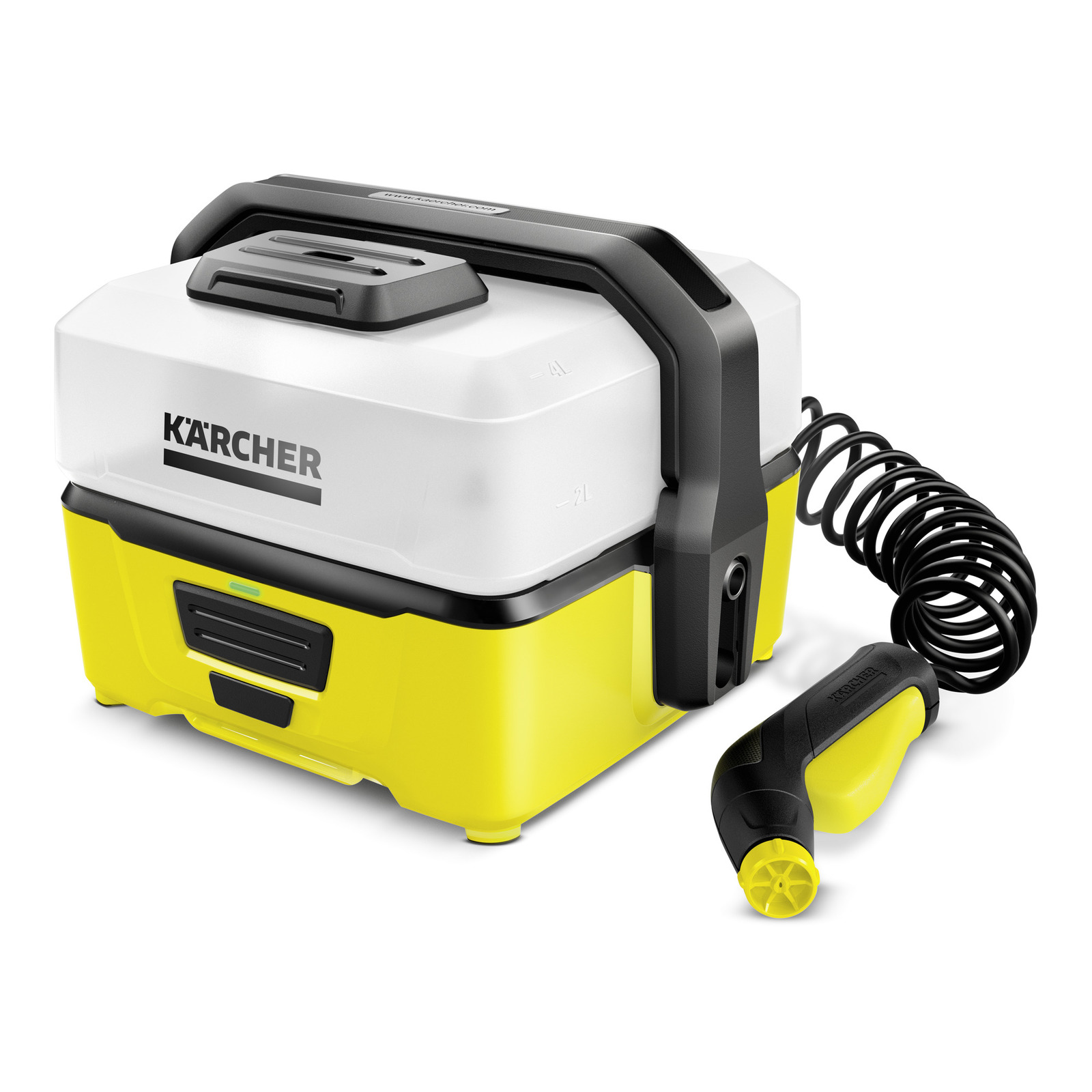 Find your local Kärcher Center:
Whether you're a mountain biker, a dog walker, a camper or simply love spending time in the great outdoors, trailing mud into your car, tent or caravan is never a happy end to the day. What's more, leaving dried-on dirt on your outdoor equipment doesn't do it any favours - it's much better to rinse it off as soon as possible. That's where the Kärcher Portable Cleaner comes in - a simple and lightweight solution for cleaning on the go. The Portable Cleaner is easy to store in your car boot or caravan, with a 4 litre water tank and a 5 bar pressure that's perfect for rinsing off your bike, wellies, dog or pushchair at the end of a muddy day. When you're finished, the spray gun and hose stores away tidily, with extra accessory kits available for efficient ad thorough cleaning of bikes, pets and outdoor equipment. This machine comes with a 2 year warranty.
Features and benefits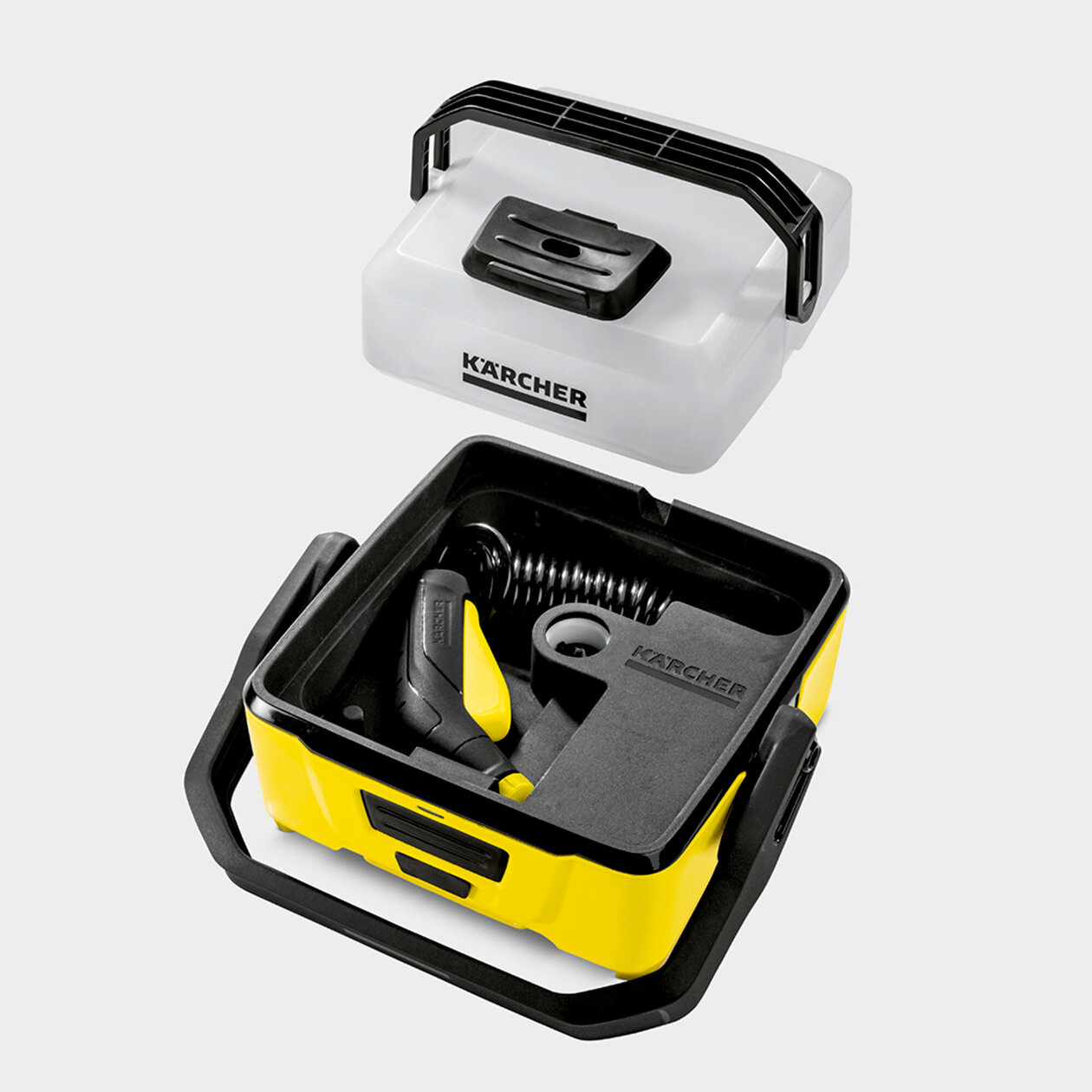 Compact design
Convenient storage of the spiral hose and trigger gun under the removable water tank. Easy to transport, with space-saving storage.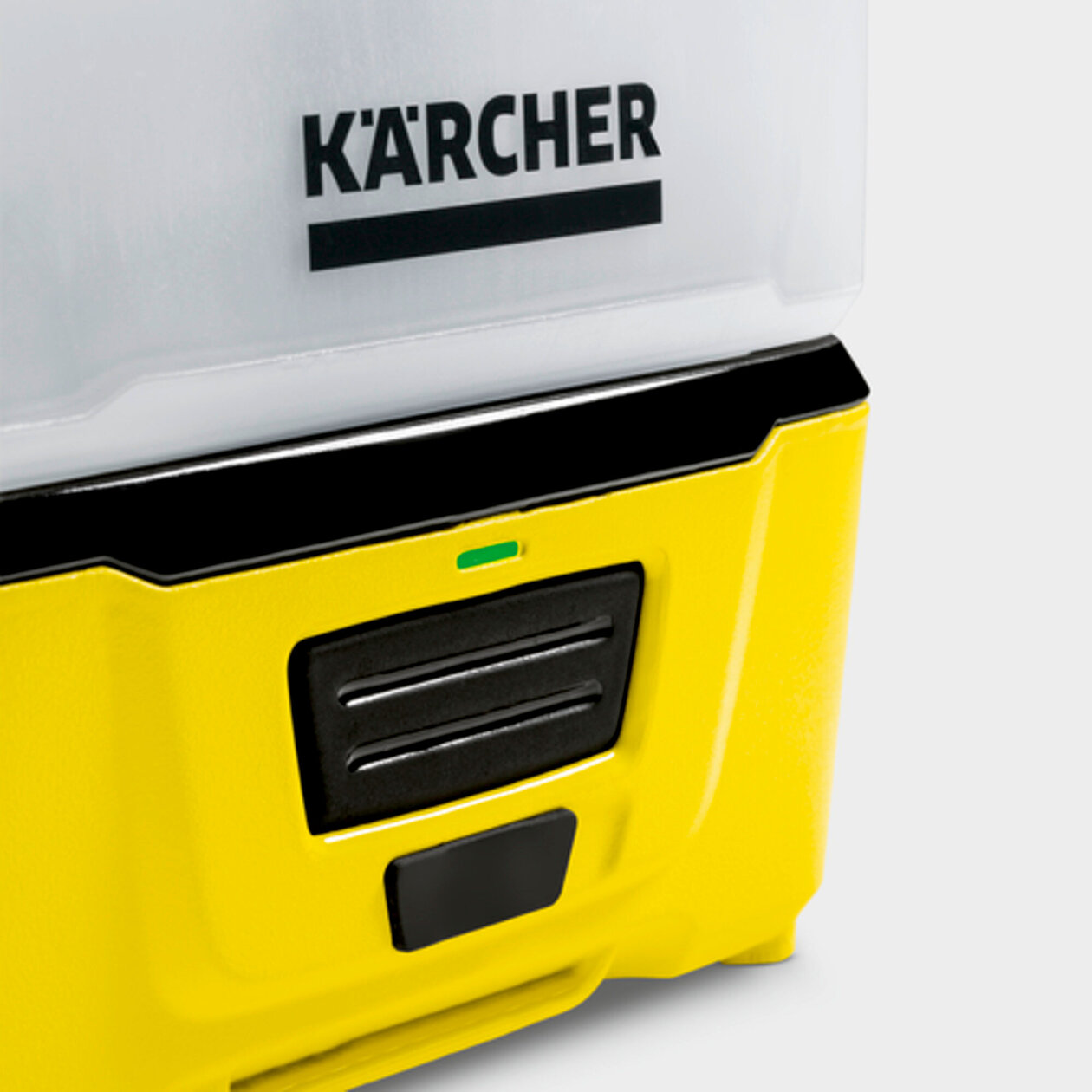 Integrated lithium-ion battery
Cleaning independent of a power source. Long battery runtime, meaning it can be used several times before it must be recharged. The LED warns you when the battery is low.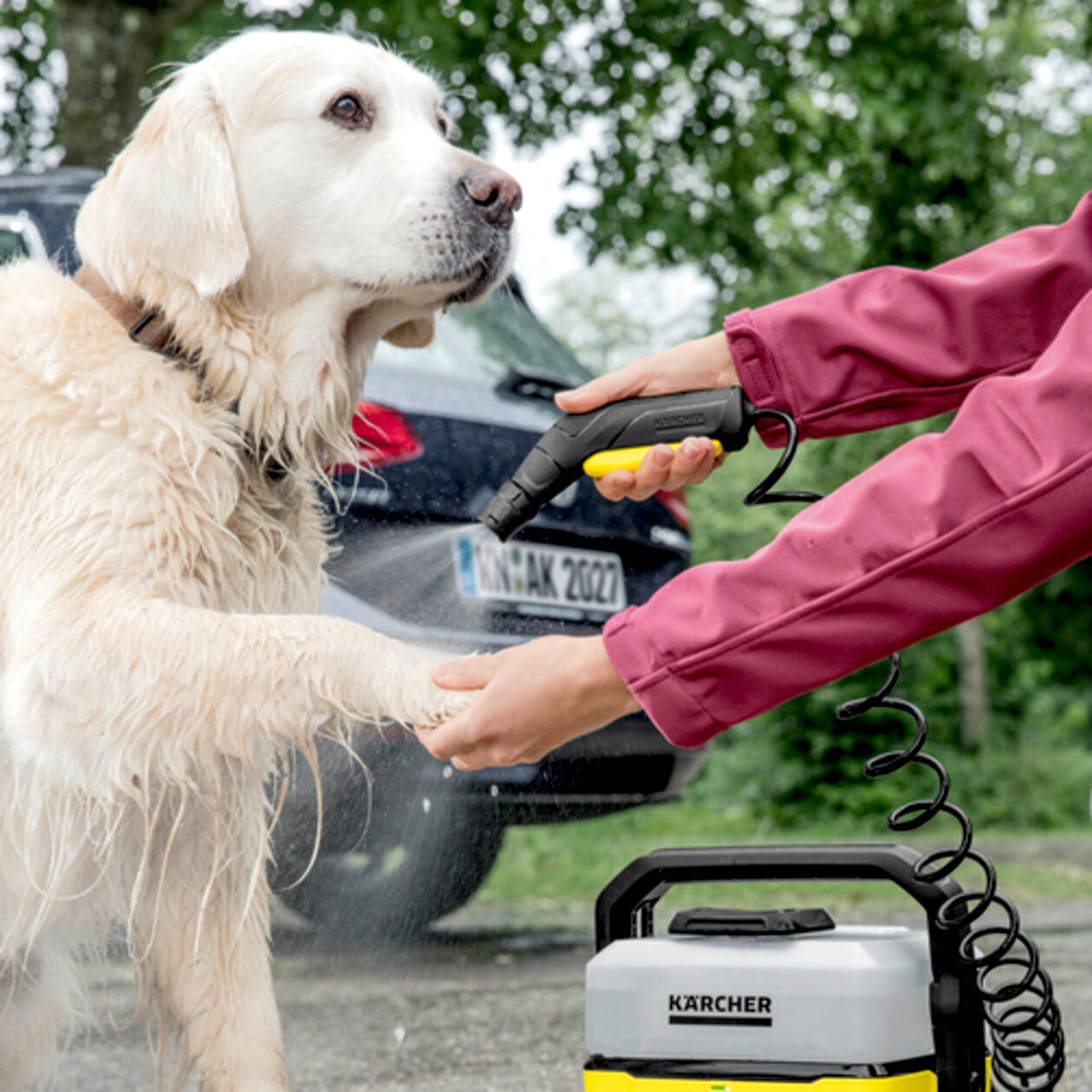 Efficient, but gentle low pressure
Low pressure offers the advantage of cleaning that is both efficient and extremely gentle at the same time. The standard nozzle with a flat spray enables you to watch the dirt wash away. The cone-spray nozzle is ideal for more sensitive cleaning like dog paws.
Wide range of accessories
Various applications can be expanded and perfected with additional accessories.
An Adventure Box, Bike Box and Pet Box, as well as a practical storage box, are available and can be mounted on the device. All accessories are also available separately.
Detachable water tank
Can be easily filled up in the house.
Specifications
Technical data
| | |
| --- | --- |
| Pressure range | Low pressure |
| Flow rate (l/min) | max. 2 |
| Battery charging time (min.) | 180 |
| Weight without accessories (kg) | 2.2 |
| Weight incl. packaging (kg) | 3 |
| Dimensions (L x W x H) (mm) | 277 x 234 x 201 |
Equipment
Water tank volume, 4 l
Lithium ion battery
Spiral hose, 2.8 m
Flat jet nozzle
Device filter
Battery charging cable
Integrated water filter
Application areas
Bicycles
Garden equipment (shovel, etc.)
Pets/dogs
Strollers/buggies
Tent/camping equipment
Shoes/hiking boots
Children's toys/Bobbycar®/running wheels
OC 3
is rated out of
5
by
34
.
Rated

2

out of

5
by
steve66r
from
Handy but disappointed that it leaks
This is a good piece of equipment but I'm really disappointed that it leaks. I've sent it back to Karcher twice now and they tell me that they can't find a fault but you cannot leave the tank filled with water overnight as it leaks which isn't great for a mobile washer
Date published: 2019-09-09
Rated

5

out of

5
by
AdamGIB
from
Great for a quick clean
I use this to clean my Vauxhall Adam it is perfect for ringing the car after the wash. It is ideal for my circumstance as the car is parked in a secure car park away from a water source. It would not be any good at cleaning dirt of a car on its own but is perfect for ringing a car after it has been washed. To be fair Karcher do not sell it as a car cleaner and this is what I expected.
Date published: 2019-03-09
Rated

5

out of

5
by
Matsby
from
Kärcher OC3 Portable washer
Why did I wait so long to get one? I got this with the 'bike clean' accessories and I really wish i had got one sooner, the beginning of the winter biking season would have been clever! I can now wash the bike after every dirty use BEFORE putting it in the van, then not only do I wash the mud off at the event rather than all over my drive, i also don't have to clean the van out of mud when I get home! The brush attachment is simple and easy to attach, just click and turn and then water comes through the brush as you wipe, perfect for getting the worst of the mud off, especially good on tyres. If you clean the mud off straight away, you really don't need cleaner (although you get cleaner and a spray head in the pack too). of course you need to fill it up with water before you leave home, and the tank is not that big so use sparingly or take some extra bottles to top up with. I used 2 tanks worth to do the whole bike. I even have started using it at home as its so easy to transport around rather than dragging the hose from the other side of the house. The clever bike accessories box holds all the bits and it just clicks on to the cleaner making a neat box and the hose sits inside nicely when you are not using it. Simple and small enough to leave in the car or van for any muddy days out, cleaning wellies etc. its still winter...Get one!.
Date published: 2019-02-05
Rated

4

out of

5
by
Foxynjr
from
Not quite perfect
Bought this for muddy mountain bikes and for this it is great. The pressure is perfect for getting off wet mud and cleans the bike well, without causing damage to bearings etc. It charges quick at home and the battary last long enough to thoroughly clean one bike or give a good clean to two possibly three. I have two issues however, the first is minor but you have to be carefull puting the water lid on as it is flimsy and easy to get not quite on with water spilling out as a result. The second issue is that the water tank is two small. It should be a minimum of 6 litres which would clean one bike thoroughly. You will definitely need to carry more water which is a bit of a pain. Overall though im pleased as it does the job, is easy to use and is reasonable value for money.
Date published: 2018-12-24
Rated

5

out of

5
by
Thespringerlady
from
Just the job
After a wet muddy winter last year I just had to find a solution to cleaning up my springer spaniels when returning home. This is great after two muddy mornings so far. I put warm water in the container and only used a small amount to clean the mud off and the dogs did not shy off. They were getting distressed with the hose last winter as they are getting older now. I can take this machine onto the paving and also looking forward to taking away in the caravan this Autumn. Is it possible to have a 12 volt adapter with "cigarette lighter" plug for caravanning when not on hook up?
Date published: 2018-08-27
Rated

1

out of

5
by
HalaMadrid
from
Poor quality
Lid is flimsy and leaked out into back of my car boot! took straight back for refund!
Date published: 2018-06-08
Rated

5

out of

5
by
Pippa
from
Great for washing dogs after a muddy walk
I bought this a month ago and have not looked back. I am a peofessional dog walker and I would not be without my Karcher now. A quick hose down is all that is needed to return the dogs home clean. Fantastic thanks Karcher!
Date published: 2018-04-28
Rated

1

out of

5
by
reallydisappointed
from
very disappointed waste of time and money
This is rubbish. it has no pressure whatsoever so there is no way that it is fgoing to clean my bike, clean my outdoor furniture or clean my dog after a walk in the fields
Date published: 2018-04-27