S 650 PUSH SWEEPER
Clear your garden paths, patios and driveways up to five times faster with the Kärcher S 650 sweeper. With two side-brushes, this outdoor push sweeper is ideal for fast and thorough cleaning.
Kärcher
S 650
17663000
https://www.kaercher.com/uk/home-garden/push-sweepers/s-650-17663000.html
Clear your garden paths, patios and driveways up to five times faster with the Kärcher S 650 sweeper. With two side-brushes, this outdoor push sweeper is ideal for fast and thorough cleaning.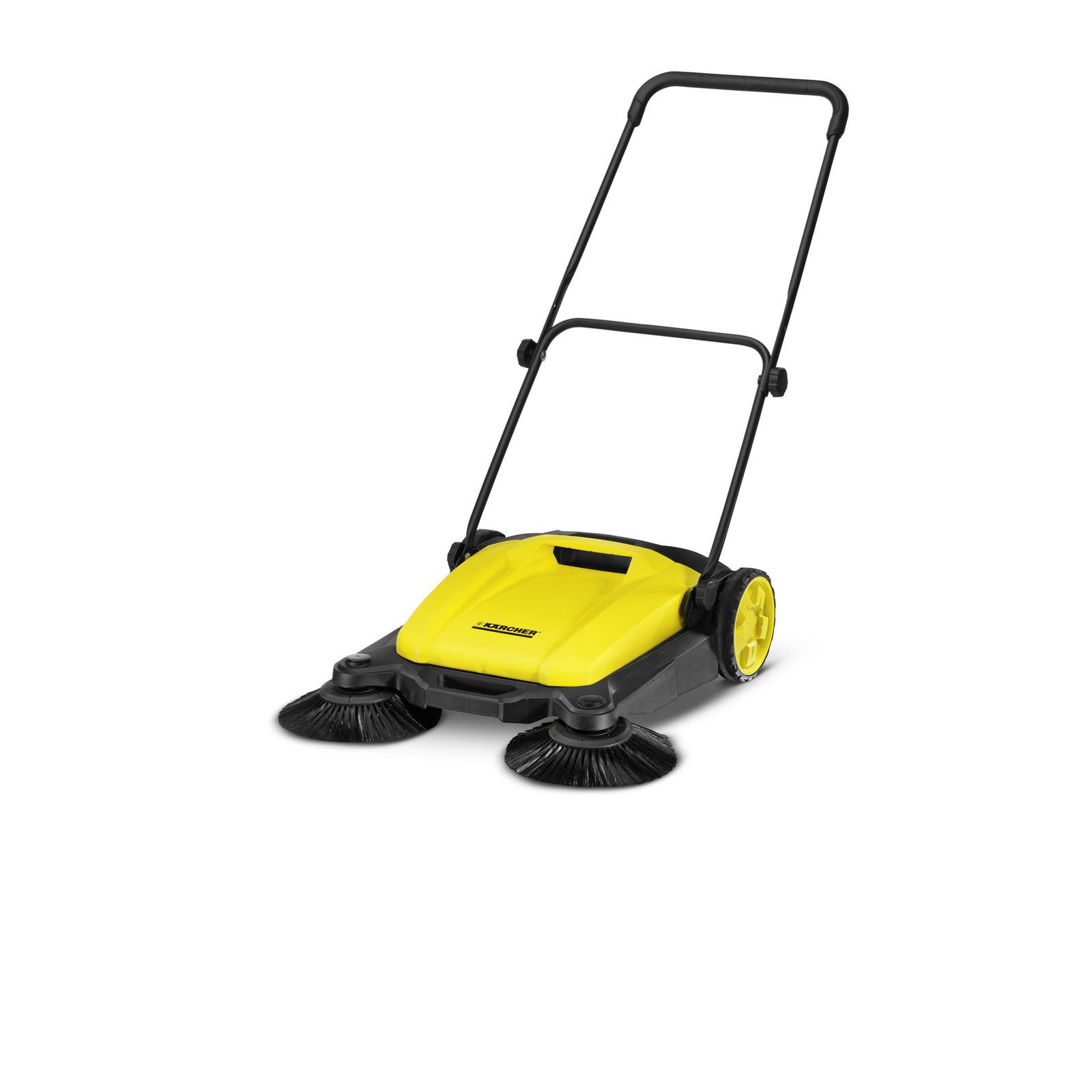 Clean up to 1,800 square meters in an hour, and up to five times faster than with a conventional broom with the S 650 push sweeper. Cleaning pavement, roads and courtyards right up to the edges has never been easier. The Kärcher S 650 makes sweeping easy and without the strain – with the two-stage height adjustment feature, you can adapt the sweeper to suit you. The Kärcher S 650 is also kind to your back – weighing just 11kg, this machine is comfortable to use with little physical effort, and the fold down push handle makes it simple to store in your home or garage. The Kärcher S 650 has a 16-litre on-board waste container, making for easy and efficient cleaning even in windy weather. The S 650's waste container also makes it simple to empty, saving you from the dirt as well. The Kärcher S 650 side broom spins in conjunction with the push mechanism of the sweeper, making it easy to clear debris up against walls or curbs. Features and Benefits of the Kärcher S 650 Sweeper Two side brushes Stand-up waste container Comfortable carry handle
Features and benefits
Two side brushes
Greater flexibility with two side brushes. The long bristles ensure thorough cleaning even on edges.
No contact with dirt.
Convenient waste container: waste is drawn directly into the container, which can be easily removed and emptied.
Space-saving storage
With its fold-down push handle, the sweeper can be stored upright, therefore taking up very little space.
| | |
| --- | --- |
| Adjustable push handle with comfortable handle | Thermally-clad and height-adjustable (extendable with two angle adjustments). Making sweeping easier on the back. |
| Stand-up wast container | The waste container is easy to remove and designed so that it can be safely put down. |
| Comfortable carry handle | The push sweeper is easy to transport. |
Specifications
Technical data
| | |
| --- | --- |
| Working width with side brush (mm) | 650 |
| Max. area performance (m²/h) | 1800 |
| Weight, ready to operate (kg) | 9.7 |
| Waste container (l) | 16 |
| Recommended for areas over (m²) | 40 |
Equipment
Ergonomic push handle
Push handle height adjustable in two stages
Stowage position
Stand-up wast container
Number of side brushes, 2 piece(s)
Application areas
For cleaning paths, streets, driveways to courtyards and garages, and areas around the home.
Recommended for areas of 40 m² or larger.
S 650
is rated out of
5
by
28
.
Rated

1

out of

5
by
Mark 17
from
Poor quality
Left hand brush wheel fell off within 5 minutes use!! Had to put back together PROPERLY but not impressed. Had numerous Kaercher products but never this quality
Date published: 2018-06-26
Rated

1

out of

5
by
AHBS
from
Waste of space
Have now had this two months and despite keeping going back to it in the hope that it will be better next time, I find it totally useless. Yes it pushes dirt around in front of it, but it does not pick most of it up and when it eventually does, the hopper self empties when only about 1/5th full. Anything bigger than dust and you are wasting your time. Bought a Stihl battery powered on for much more money but that does work.
Date published: 2018-06-14
Rated

2

out of

5
by
MASkarcher
from
Disappointing
Not as good as picking up litter as I thought it wouldbe
Date published: 2018-05-07
Rated

5

out of

5
by
annieday9909
from
I am saving so much time now!
I have a lot of yards and gardens that have chestnut trees on them, as well i have a lot of pavement and walkways. Every spring, summer and especially fall time the trees and surrounding foliage make for a ton of cleanup. During these seasons i am outside cleaning up for several each day, it is a lot of raking and sweeping involved. I truly adore and really rely on my Karcher S 650, it makes for quick work for me, i am literally just 'pushing' this along. I love that this sweeps up the chestnuts wonderfully and in a snap. I love keeping my paths, walkways and patios beautifully manicured and with this i am literally just sweeping and takes little effort and i am done in no time! My karcher has been essential to me and my home!
Date published: 2017-12-04
Rated

3

out of

5
by
kimichangas
from
Good Product for Low Maintenance Jobs
I was very excited to get this product, however the excitement was superseded by the amount of time this took to put together. It may not be hard for those who are familiar with assembling products, but it took hours for my partner and I to figure out since the directions are bare bones. We had to revert to You-Tube to finally figure it out. Once it was put together it was pretty neat. I love that it's human powered, rather than gas or electric, making it an environmentally friendly and useful product. Literally, you can use this anywhere. It's lightweight and the compartment holds quite a bit of debris. I have large oak trees, and while it picks up the smaller leaves, the larger ones generally got thrown out the sides by the sweepers. If you have small jobs, this is a fantastic product! With larger jobs, this may end up being a little more work than something with purchased power (electrical, gas, etc.). I likely would have rated this 4 stars if it weren't for all the stress of putting it together.
Date published: 2017-11-14
Rated

3

out of

5
by
bethjs
from
quick clean up
this tool is very good at sweeping up decks, garages, sidewalks etc, very quickly. it works like a push sweeper you see at a restaurant - however much larger. the canister is easy to empty. the machine was easy to install. takes up a bit more space than i would prefer but does fold up easily. fairly lightweight. would consider this more of a luxury item than a needed one. that being said its a quick easy way to clean up after doing yard work. i used it in the garage as well, its fall and lots of leaves blow in.
Date published: 2017-11-05
Rated

3

out of

5
by
Jayson
from
Nice product
I like that Its lightweight so even my kids can pick it up and use it. With it being light it makes it easy to push around. It did pick up grass and small leaves easily but sometimes had trouble with larger pieces. Overall it works well for what i use it for.
Date published: 2017-11-02
Rated

5

out of

5
by
LAND30
from
I'm a believer!
I was a skeptic at first with regards to the "power" of this product. It came unassembled, however, the directions were clear and it only took approximately 10 minutes to assemble. Since I assembled it in our house and we have tile floors, I decided to test it out on our tile floor first. I had only made 2 or 3 passes on the floor before checking the canister for any dirt/debris it collected (not anticipating much). I could not believe the dog hair (we have a small rat terrier mix) and fine particles it picked up. I then moved the S650 outside to utilize it what it was actually meant for and into the garage and on the leaf-blown sidewalks. Again, the S650 was amazing picking up sand particles and other debris and much quicker and easier than any push broom out there. While unassuming due to is size, the S650 was easy to push and would be great particularly for elderly. The S650 is very light weight, which is great for hanging up off the floor and on to a wall hook in a garage or shed. Amazing non-gas powered product.
Date published: 2017-10-29