Window cleaner
A pure pleasure. Simply clean with no drips. The latest generation of battery-powered Window Vac from Kärcher not only ensures streak-free clean windows, but also saves a lot of time and effort. The handy devices simply and reliably suck the water from the pane, after cleaning – with no dripping dirty water and no streaks.
Products
:
2

offers of

₤59.99

to

₤79.99
.
The new WV 5 Premium is easy to use and ensures clean, streak-free windows in no time – without drips. Allows continuous cleaning thanks to extended run time and battery replacement option.
Save time cleaning your windows with Kärcher's original battery-powered Window Vac. Easy handling and drip-free results will give your windows a clean, streak-free finish each time.
Easy handling and drip-free results with Kärcher's original battery-powered Window Vac. Save time cleaning your windows and give them a streak-free gleam.
The battery-powered window vac at a glance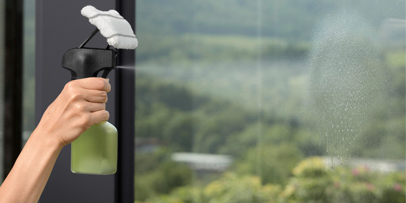 Spraying
Spray the window with detergent using the Kärcher spray bottle.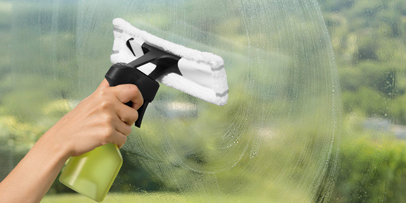 Cleaning
Then clean the surface using the microfibre wiper or a cloth.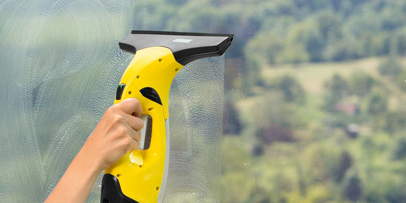 Vacuuming
Finish by vacuuming up the dirty water with the window vac, leaving the surface perfectly clean and dry.
More compact and lighter.
The new range of WV's are 10% smaller than thier predecessor, ensuring that lower window edges are more easily reached.
Ergonomic and compact construction style allows you to get an optimal cleaning result even easier than before.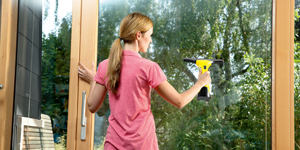 Longer battery time
The WV2 & WV5 both have longer running times compared to their predecessor, with the WV5 having a changeable battery allowing for continuous cleaning.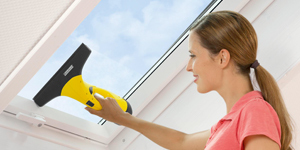 Even lighter
The Kärcher window vac is now 100g lighter, making it even easier to use.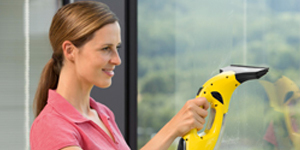 Nice and quiet
The Window Vac is now 10% quieter, making cleaning even more comfortable.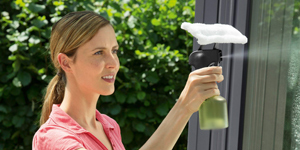 Better ergonomics
The Window Vac and its accessories are designed to fit prefectly in your hand, making them both comfortable and easy to use.
Equipment and accessories
The new Plus and Premium Window Vac sets provide you with everything you need for the entire cleaning process. Including the battery-powered window vac, spray bottle plus microfibre cloth and powerful window cleaner concentrate.
If you choose the Premium set you can also clean Georgian windows and narrow areas with the narrow vacuum nozzle.
Extension kit for high windows
The extension kit makes cleaning high windows a breeze. Fits both all Kärcher Window Vacs.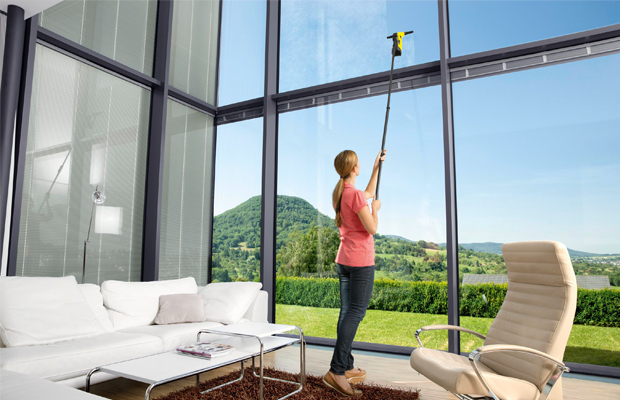 The battery-powered window vac can do much more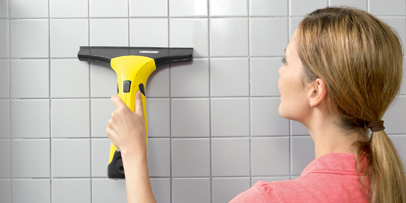 Quick and Easy
Clean shower and bathroom tiles quickly with minimum effort.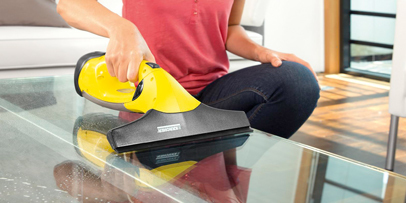 All around the home
The window vac can be used to clean any flat surface around the home e.g. shower screens, work tops, mirrors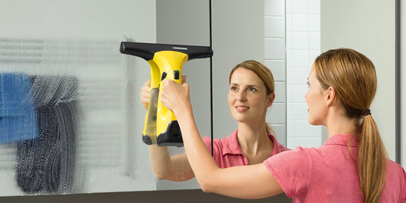 It's simple
Mirrors can be cleaned to a shine and dried effortlessly.