Scrubber dryer B 90 R Adv

Dose
Compact, high productivity ride-on scrubber dryer with advanced features
Find your local Kärcher Center:
The B 90 R range provides simple, highly productive scrubbing and drying in a compact ride-on package. The B 90 R features Kärcher's interchangeable brush head system, making it possible to purchase one machine and choose between roller or disc brushes in different working widths, with the option of retro-fitting a different brush head to better suit another application. The B 90 R is available with a brush disc or roller head in 65cm width, or optional 75cm width. As well as four head options, the machine is available in three formats - the Classic model offering fixed settings for ease of use, the Advanced model featuring variable suction, brush speed and contact pressure, and the Advanced Dose model featuring Kärcher's Dose detergent metering system
Features and benefits
Extremely easy to manoeuvre
The extra short and sleek design makes this machine extremely agile and easy to manoeuvre – despite the large water capacity. 90° steering allows on-the-spot turning. A low centre of gravity guarantees good wheel grip.
Simple operation
The basic functions are controlled with the EASY switch. Operating hours are displayed. Roller brushes save water and detergent.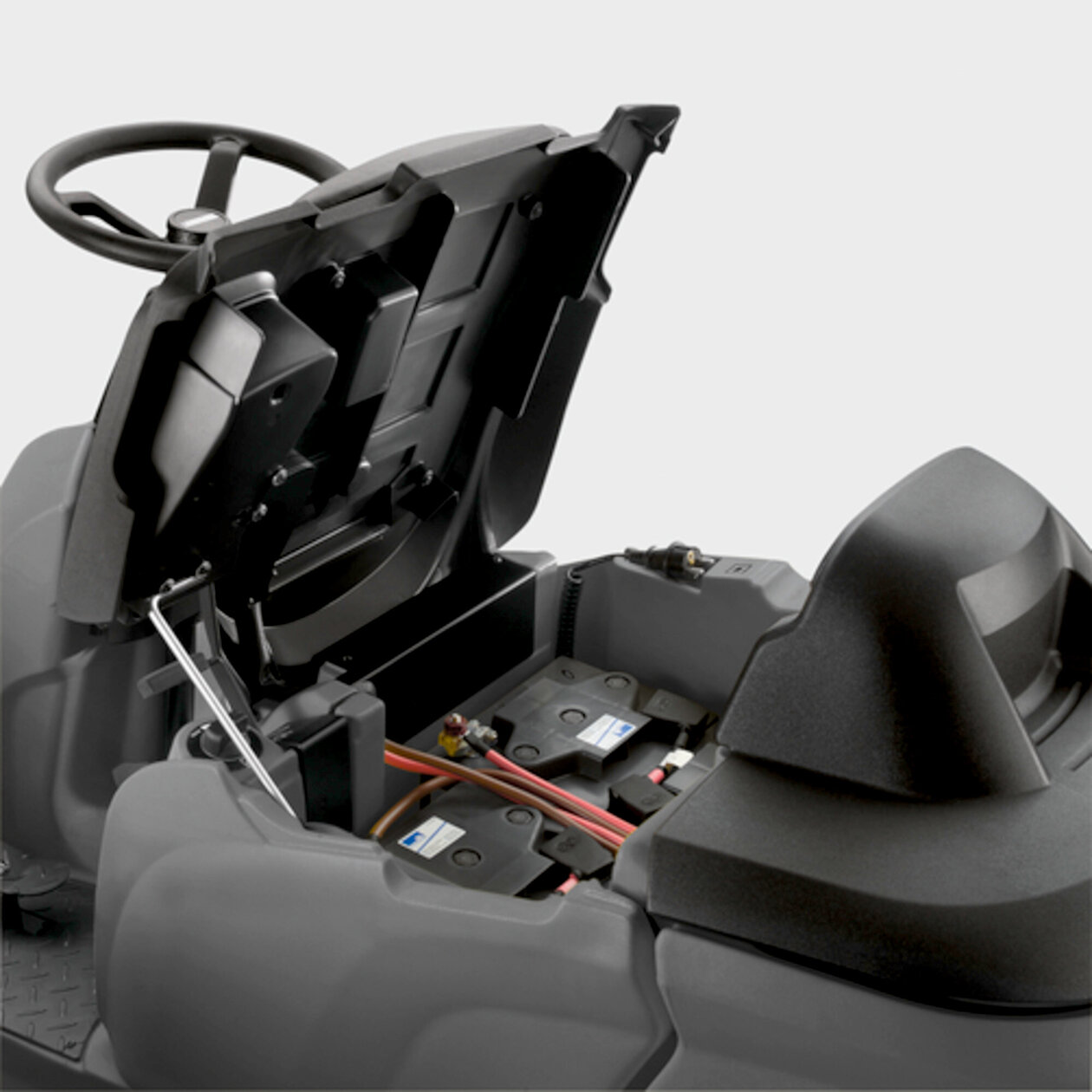 Long operating time
Large compartment for large battery capacity. Pack models include maintenance-free gel batteries. Two turbine power settings - save energy in the WHISPER setting.
Quick replacement
The brush head is easy to replace without tools.
R-head rollers can be changed in seconds.
With D-heads , the brush or pad driver plate can be ejected per foot pedal.
EASY switch
Easy to use. The basic functions are controlled with the EASY switch. All important information is shown and adjustments programmed via the display.
Built-in battery charger
Battery charger always on-board - versatile use - for a longer battery life
FACT
For adjustment of the brush speed.
Traction drive up to 6 km/h
Good climbing ability (with solenoid brake).
Fresh water level indicator
For constant fresh water level control during operation.
Straight or curved squeegee
For optimal suction on every floor. (please order separately).
Specifications
Technical data
| | |
| --- | --- |
| Working width, brush (mm) | 550 |
| Working width, vacuum (mm) | 850 |
| Fresh / waste water tank (l) | 90 / 90 |
| Theoretical area performance (m²/h) | 4500 |
| Practical area performance (m²/h) | 3375 |
| Brush contact pressure (g/cm²/kg) | 20 / 315 / 28 / 35 |
| BatteryBattery (V/Ah) | 24 / 170 |
| Battery voltage (V) | 24 |
| Battery capacity (Ah) | 170 |
| Traction motor (W) | 600 |
| Waste container (l) | 5 / 7 |
| Sound level (dB(A)) | 69 |
| Weight (with accessories) (kg) | 275 |
| Dimensions (L x W x H) (mm) | 1450 x 720 x 1180 |
Equipment
Traction drive
Battery and charger included
Battery type, maintenance-free
Battery and charger included
Charger
Automatic water stop

Dose

2-tank system