Scrubber Dryer B 120 W

Dose
Our largest, most powerful walk-behind scrubber dryer, offering exceptional productivity and ease of use.
The B 120 W scrubber dryer offers new levels of convenience and productivity to the large walk-behind scrubber drier sector. With a large number of options available, the B 120 W can be tailored to perfectly suit different working environments. All models feature traction drive and automatic cleaning head and suction bar raising and lowering. Despite its high capacity, the B 120 is very compact, easy to operate and gives great visibility. The B 120 W features Kärcher's unique KIK key system, which enables supervisors to set operating parameters for users, and interchangeable heads with crash protection to perfectly tailor the machine to different applications. A fantastic range of accessories includes on-board cleaning tool storage and an automatic tank cleaning system, all designed to increase productivity.
Features and benefits
4 batteries to choose from
Battery types: maintenance-free 170Ah / 180Ah / 240Ah battery, as well as low-maintenance 180Ah battery. The charging curve of the built-in charger is perfectly adjusted to the various battery types. Extended battery life.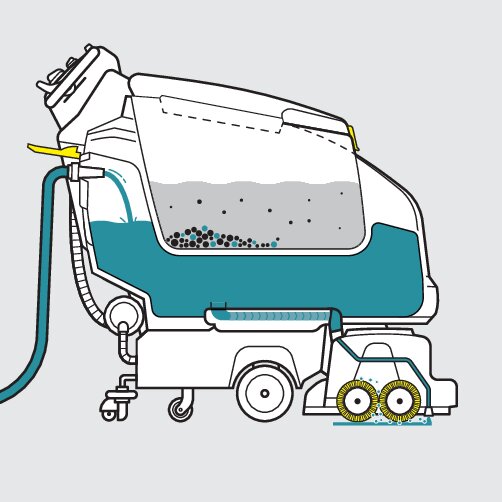 Automatic filling option
Time-saving filling of the fresh water tank. Filling of the fresh water tank stops automatically when the tank is full.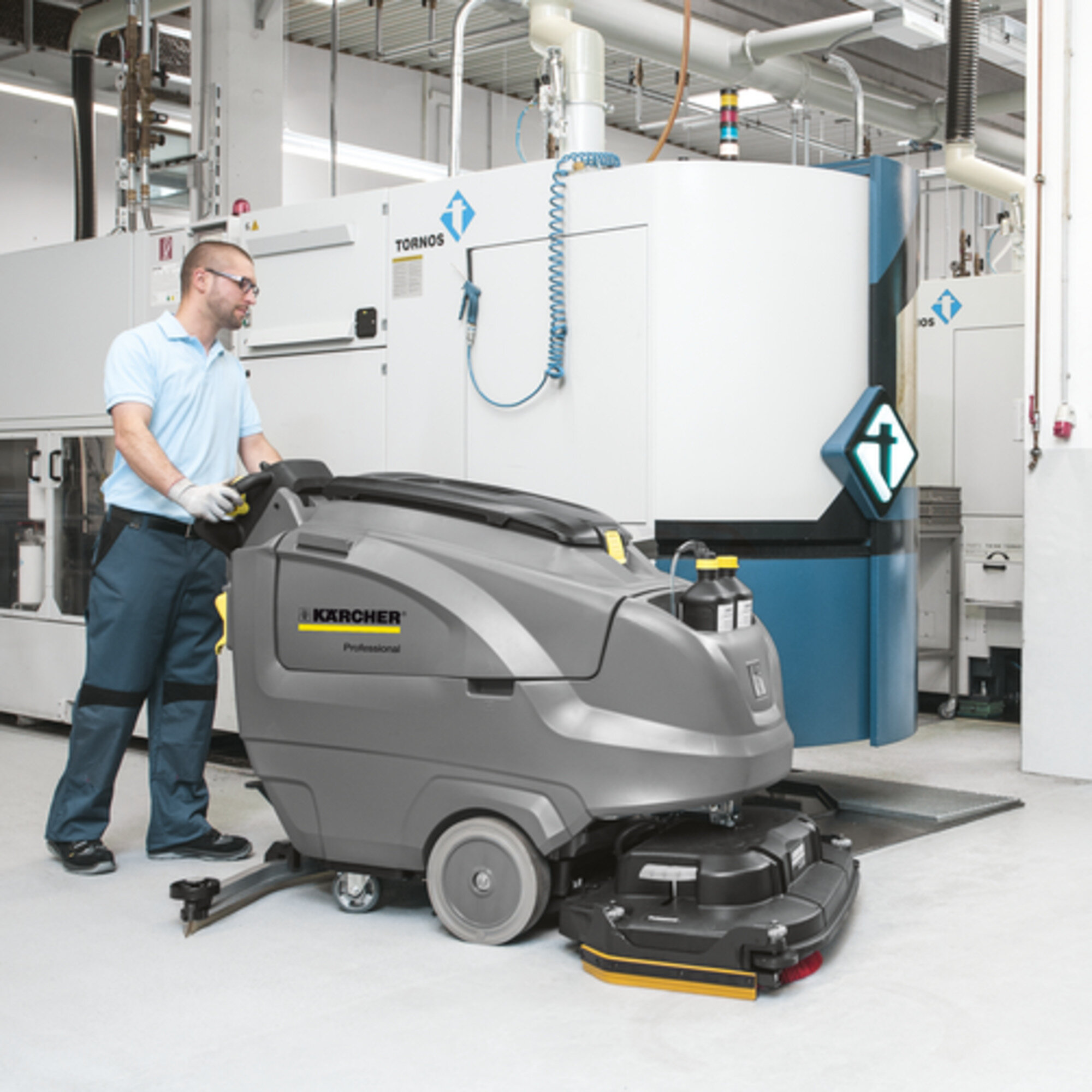 The brush head and squeegee are automatically adjusted
Brush head and squeegee are lowered automatically depending on the selected cleaning programme. The squeegee is automatically raised when reversing.
Brush head with rollers
With integrated sweep bin for coarse particles (for protection against blockages on squeegees).
Either with 75 cm or 90 cm working width.
Water savings thanks to contra-rotating roller brushes.
Energy-saving
eco!efficiency

mode
Quiet function and therefore optimal for noise sensitive areas (e.g. hospitals or hotels).
Significantly reduced energy use and substantially longer battery runtime.
Easy handling
Simple handling thanks to clear control elements with colour-coding.
Simplified use and shortened teach-in time.
Adjustable contact pressure of the brush
Electrically adjustable contact pressure.
Easy adjustment of the contact pressure.
Powerful traction drive
Infinitely variable forward and reverse operation.
Maximum speed can be preset.
Straight, curved or off-set squeegees
Perfect suction on any floor.
Types of squeegees: natural rubber or oil-resistant polyurethane, slotted (for sensitive floors), closed (rough floors).
Specifications
Technical data
Current type (V/

Hz

)
100 - 240 / 50 - 60
Working width, vacuuming (mm)
1160
Max. Area Performance (m²/h)
5400
Practical area performance (m²/h)
3240
Fresh/dirty water tank (l)
120 / 120
Brush contact pressure (g/cm²)
140 - 425
Brush speed (rpm)
600 - 1300
Rated input power (W)
2200
Voltage, charger (V/

Hz

)
100 - 240 / 50 - 60
Battery (V/Ah)
36 / 240
Sound pressure level (dB(A))
69
Drive type
Battery
Dimensions (L × W × H) (mm)
1653 x 910 x 1153
Equipment
Roller brush
Fact
Powerful traction drive
Battery charger
2-tank system
Motor, Battery