PARK & CITY SOLUTIONS
Kärcher's range of battery-operated grounds care tools provides a powerful, cordless solution to help you competently tackle your outdoor space with ease. Expertly designed for ergonomic comfort, high performance and endurance, Kärcher's leaf blower, chainsaw, strimmer and hedge trimmer have interchangeable Li-Ion batteries making it quick and easy to switch between your tools – so you can get real results fast.
Leaf blowers
The battery-powered leaf blower is ideal for clearing leaves, litter and dirt from hard-to-reach places. Adjustable speed for the relevant task, zero emissions and quiet operation.
Application
Three power settings – low, high and boost
Use for those difficult areas such as corners and under park benches
Perfect for working within noise-sensitive areas such as schools, hospitals and residential areas due to operating noise of 82 dB(A)
148 km/h air speed
Interchangeable, long-lasting 50V

Li-Ion

batteries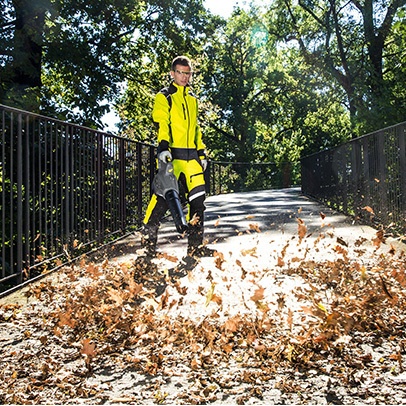 Chainsaws
Robust and user-friendly, the battery-operated chainsaw is a powerful ally when tackling branches and small trees. Easy to maintain with high performance, this device is perfectly suited for use in urban areas including parks and residential streets.
Application
Maximum safety thanks to an electric chain brake which immediately stops the chainsaw if it comes into contact with the front hand guardNeatening trees and hedges
Zero emissions of harmful substances or CO₂
Quiet operation at only 86 dB(A)
Weighing 3.76kg
Interchangeable, long-lasting 50V

Li-Ion

batteries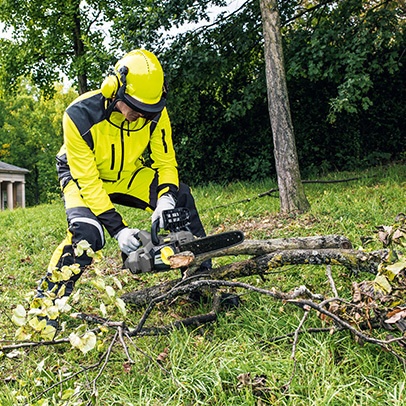 ---
One investment. A thousand possibilities.
The lithium-ion batteries with the new 50 V technology offer many impressive advantages: they are compatible with all battery-powered tools, quick and simple to change, extremely powerful and charge up to 50 % faster than standard lithium-ion batteries. The benefits are outstanding power, with low overall costs and a high level of efficiency.
Battery vs petrol Advantages at a glance:
No environmental impact, no fuel consumption or exhaust gases.
Ideal for use in noise-sensitive areas like schools, parks and residential areas, and at night.
Up to 80 % lower vibration value
The low vibration level prevents operators from becoming tired and ensures that they can work safely and efficiently.
Low-maintenance machines, no petrol and the long-lasting battery ensure a high level of efficiency.
Ready to start within seconds
No need to start the combustion engine by hand or to refill fuel.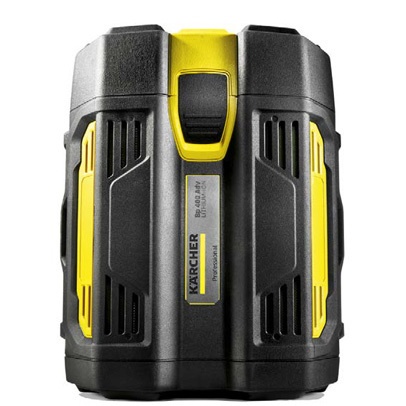 Outstanding power with every use.
Thanks to the innovative 50 V battery system, the new tools from Kärcher allow flexible and unlimited use. The batteries in different performance classes are specially designed to meet the needs of the operator.
In addition to their outstanding power and endurance, the machines are also characterised by their eco-friendliness and low noise level. This makes them ideal for professional use, even in noise-sensitive areas.
---
Find your local Kärcher specialist to try the Park and City range out for yourself.
Kärcher Centers are the best place to discover the full range of home and garden and professional products as well as information on servicing and expert advice.