PDIR+ Cleaning Process
A better way to clean. An effective cleaning program begins with an understanding of how soils are brought into the facility and their effect on the surfaces and inhabitants. A regular cleaning schedule with suitable equipment and detergents is what's required to get the job done efficiently. The PDIR+ cleaning process is the best way to start.
What is the PDIR+ cleaning process?
PDIR+ is a process we developed to help you rethink your cleaning program as a guideline to save money and be more environmentally friendly at the same time. PDIR+ is an acronym that represents the four different cleaning functions: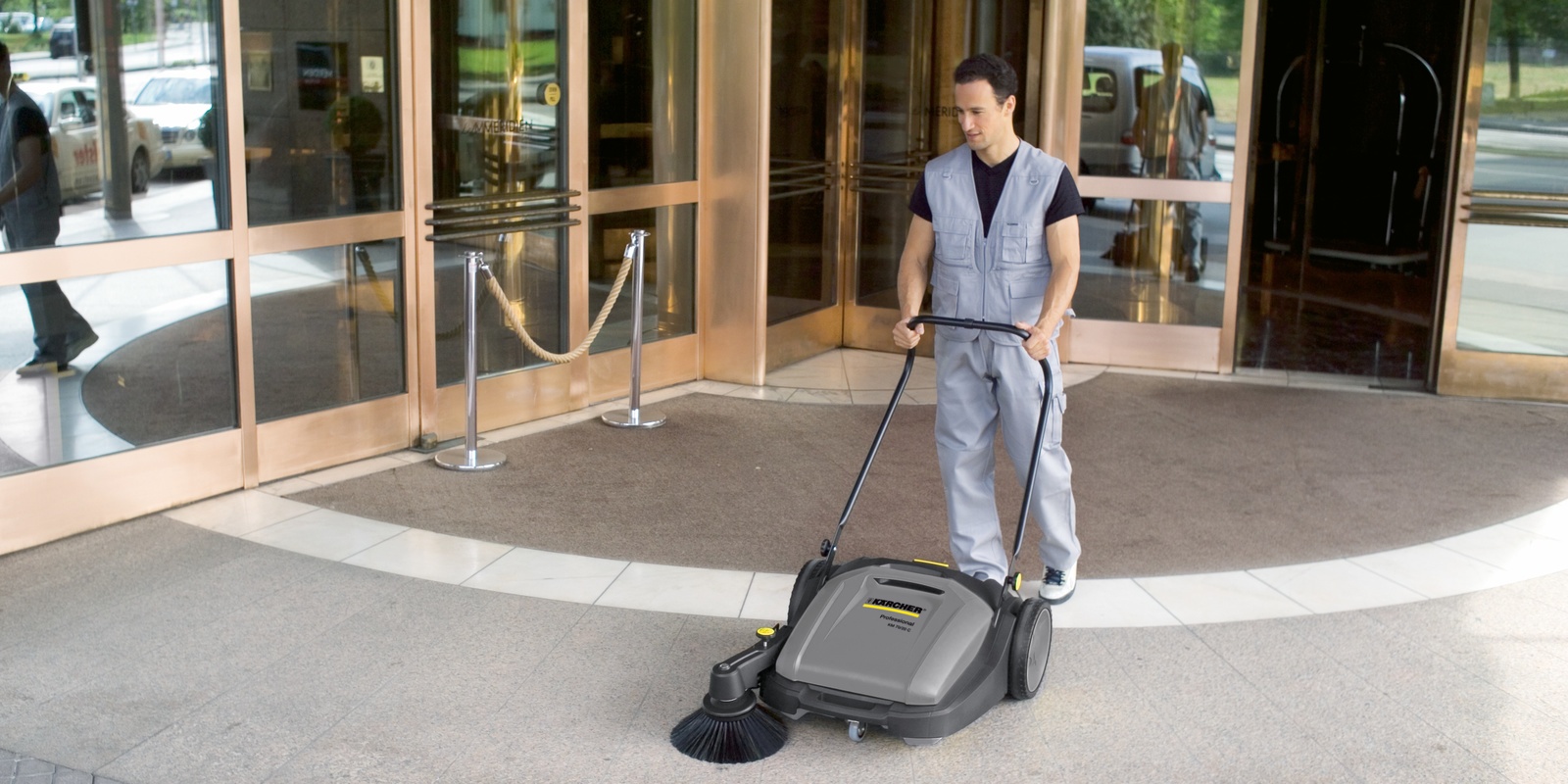 Preventative
Preventative cleaning: Removing dirt in the outside area before it's brought inside the building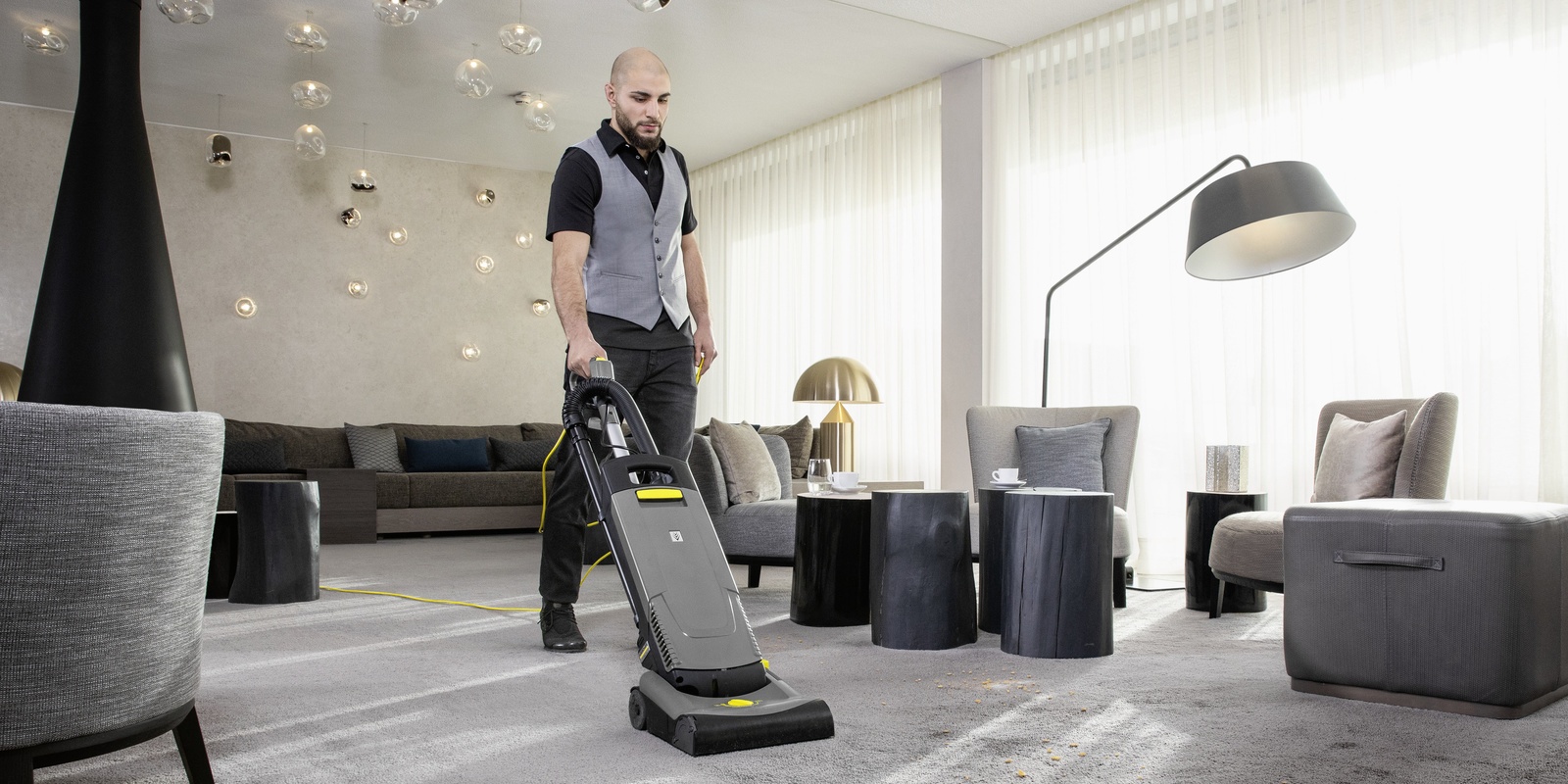 Daily
Daily maintenance cleaning: Routine cleaning to maintain the level of cleanliness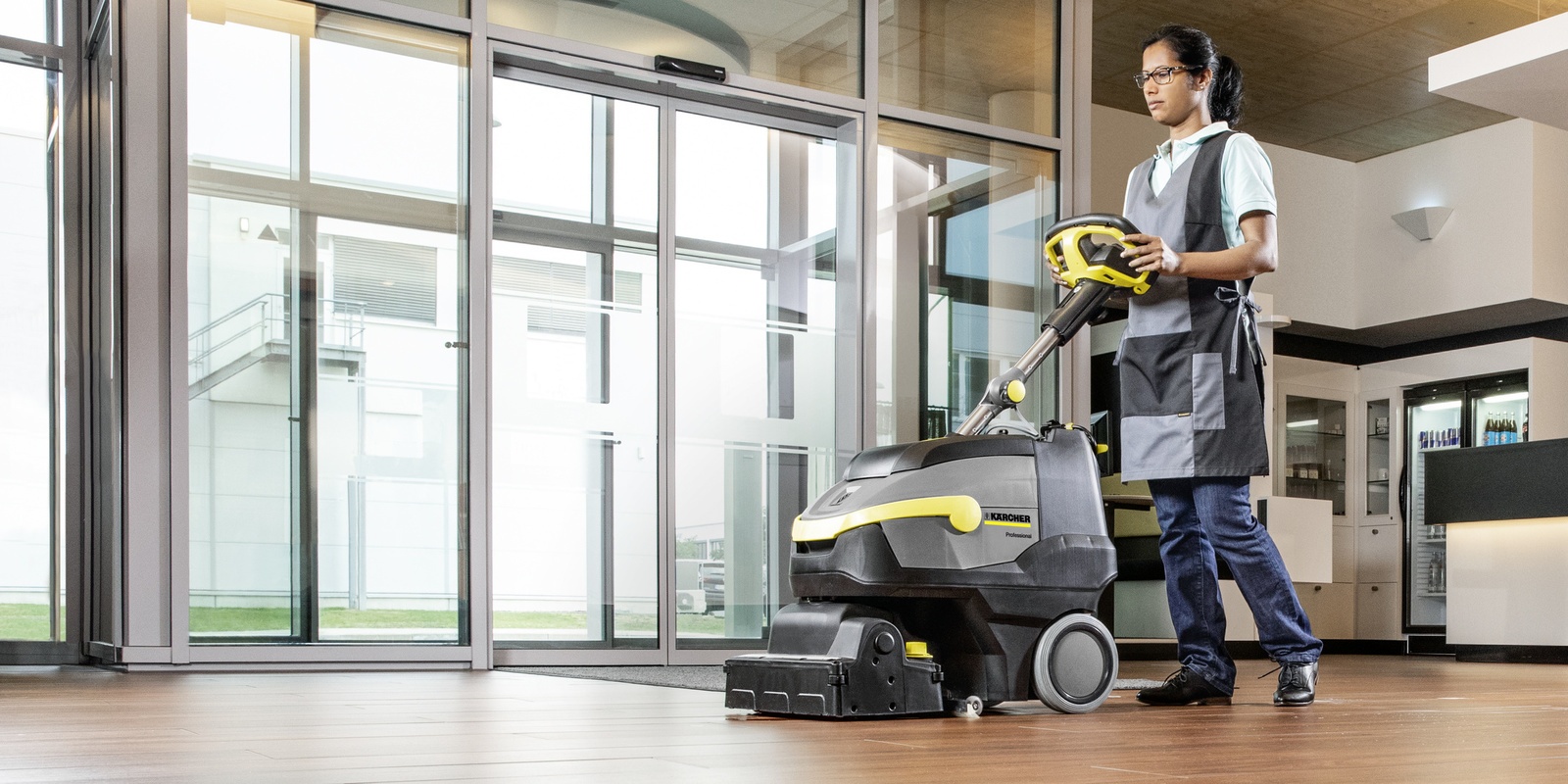 Interim
Intermediate cleaning: Cleaning that helps keep time-consuming deep cleaning to a minimum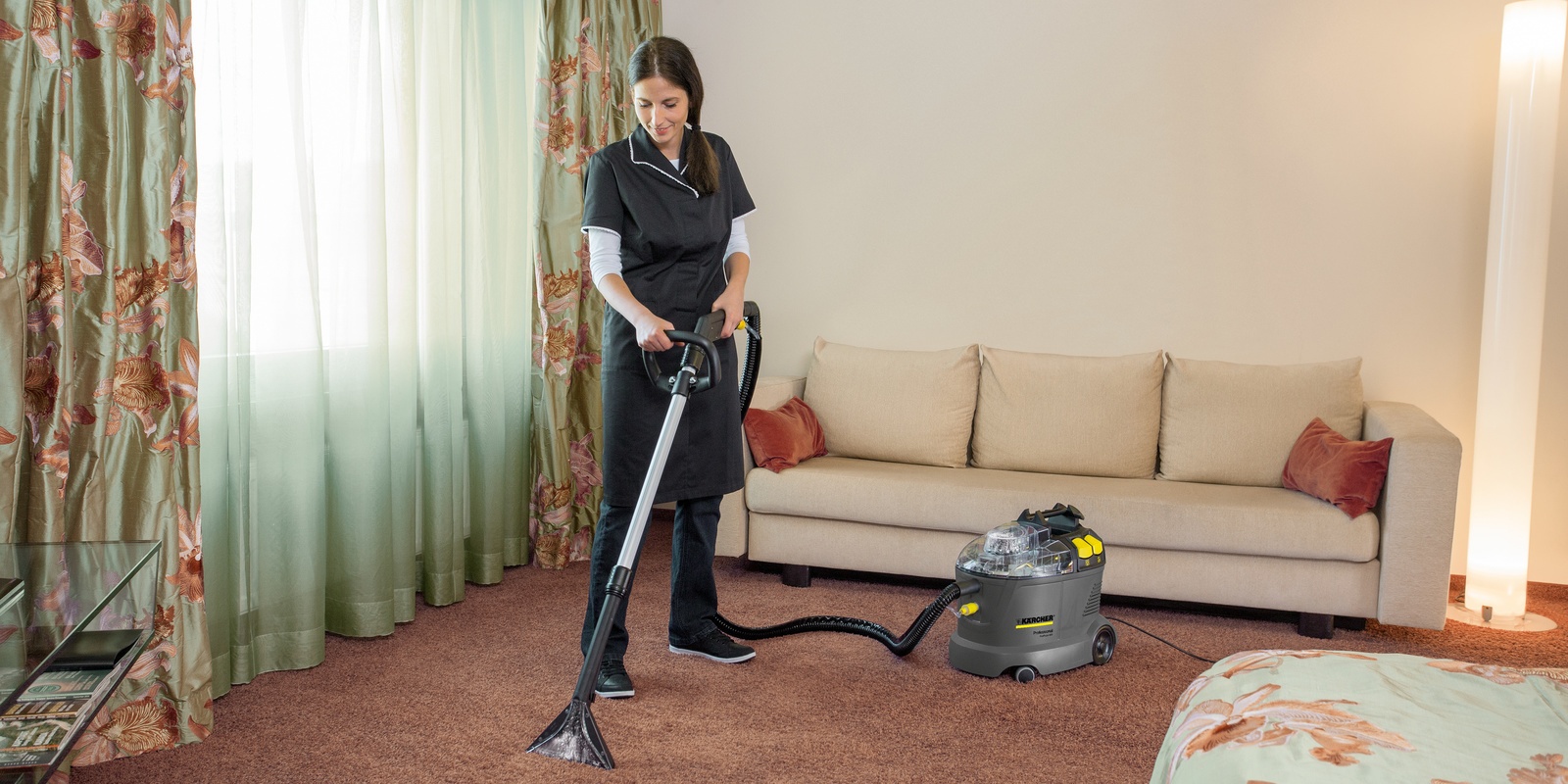 Restorative
Deep cleaning: Thorough, time-consuming cleaning of floor coverings
Preventative Cleaning: Keeping outside areas spotless
The concept of preventative cleaning tackles dirt head-on in outside areas. Giving the outdoor area a thorough clean can help reduce the amount of dirt brought into a building by as much as 66%. Preventative maintenance is very green and requires little to no cleaning detergent.
Outside area: Sweeping and pressure washing
The size of the outside area to be cleaned will determine the type of sweeper to be used. For small to medium-sized areas, the best option is a manual walk-behind floor sweeper. For bigger areas, ride-on floor sweepers with a larger container volume are recommended.
Stubborn stains and soils like moss, lichen, chewing gum and bird droppings can be removed using a pressure washer.
Entrance area: Entrance mats and spot cleaning
An effective system for catching dirt also falls within the scope of preventative cleaning. Large mats should be placed on the inside and outside of entrance areas spanning the length of at least four strides. This serves to remove dirt from shoes and bind it together so that it cannot be spread around. The surface structure of the mat bristles should be more abrasive on the outside, while inside mats can have a softer texture.
If any dirt does make its way into the building despite these measures, it can be removed in no time through a spot cleaning process. An electric-powered compact sweeper is perfect for this.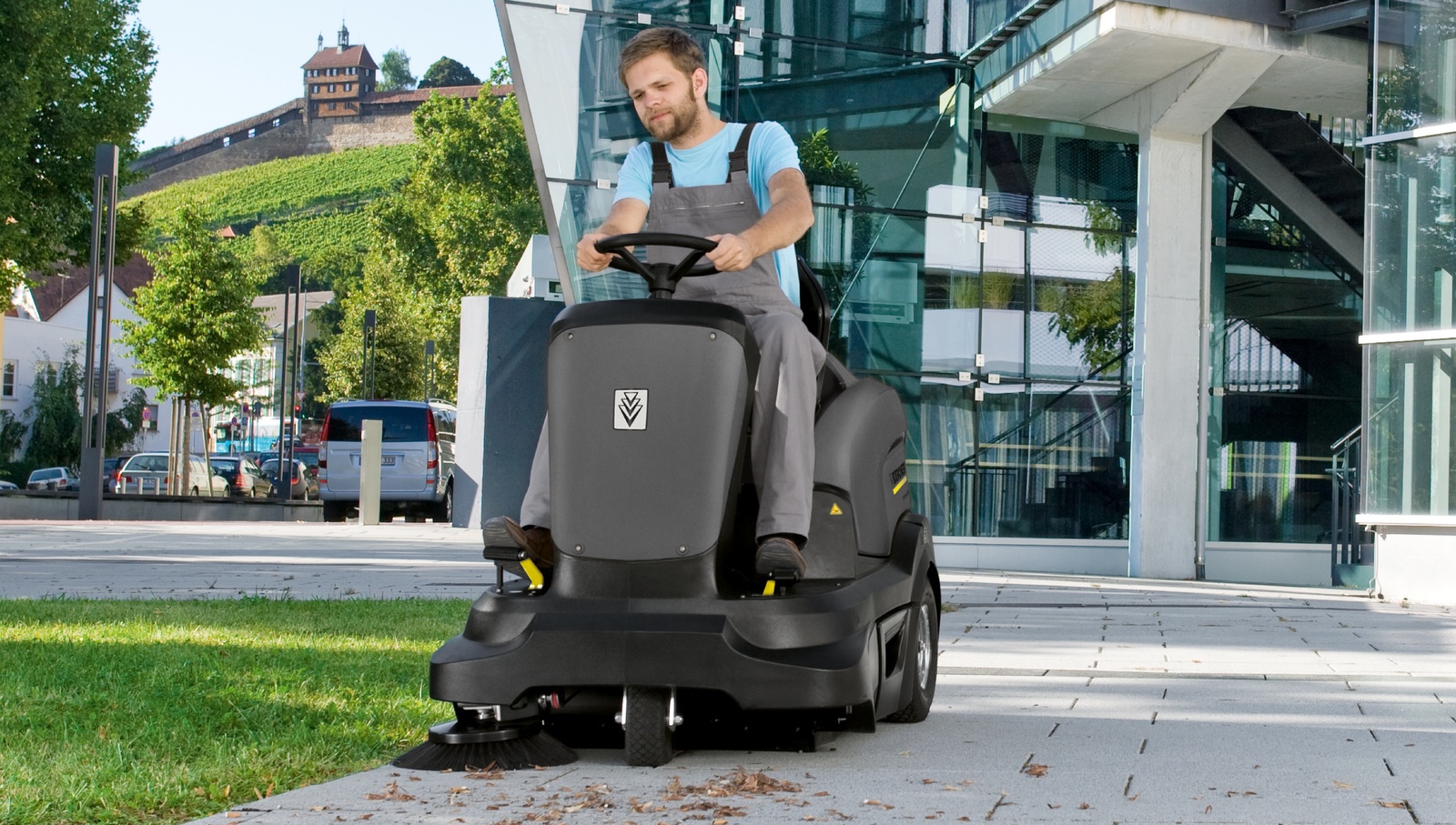 Daily Maintenance Cleaning: For hygiene and a squeaky clean image
Daily maintenance cleaning is part of any business's routine, helping to achieve the desired level of cleanliness and thereby ensuring visitors, guests and employees feel happy and at ease. It is also a necessity that avoids permanent damage being caused by dirt being left to stick onto surfaces, meaning it lengthens their service life quite considerably.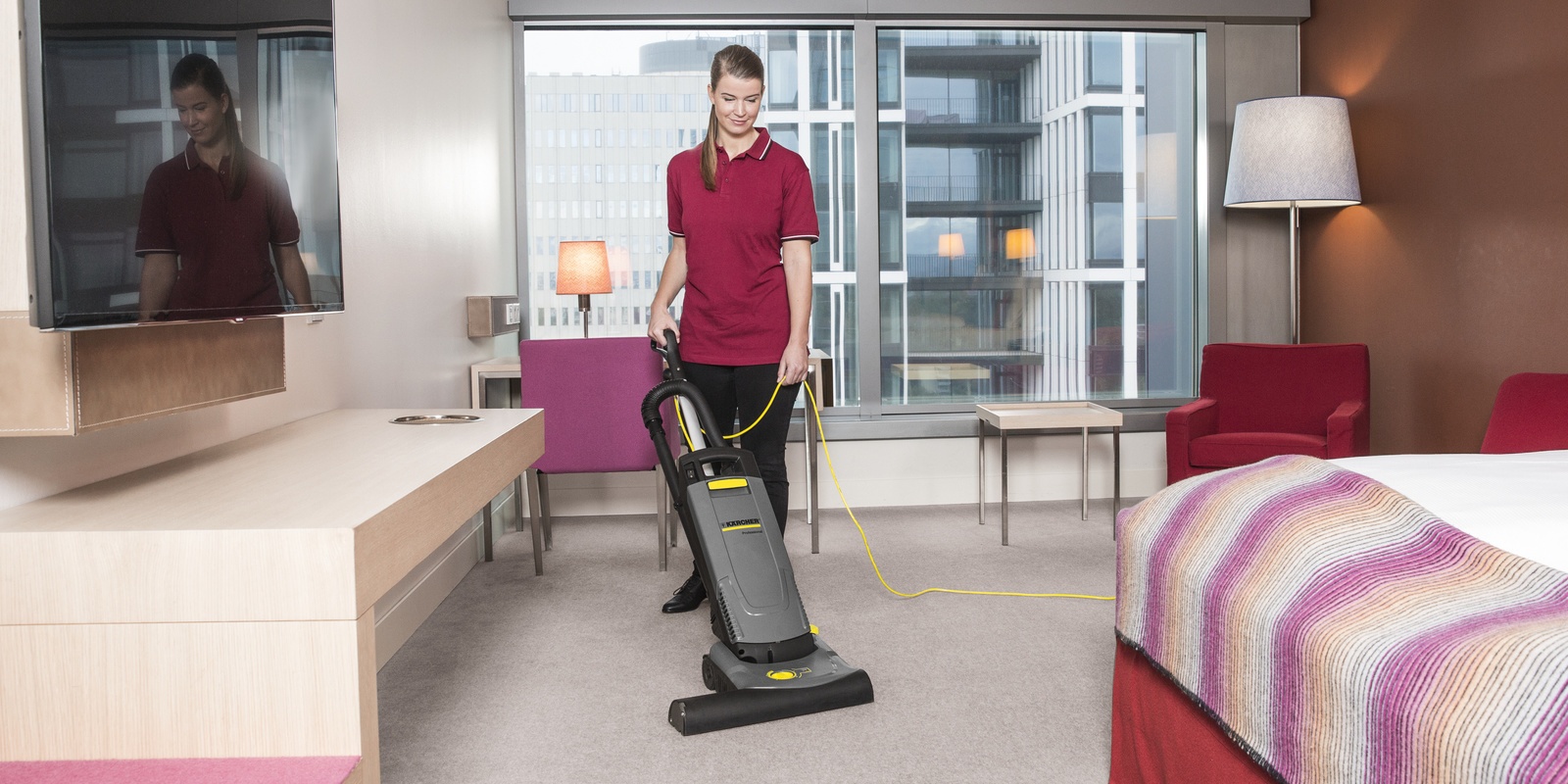 Maintenance cleaning of soft floor coverings
Upright vacuum cleaners have proven to be especially effective at cleaning carpets on a daily basis. The carpet brush in the suction head is powered by a separate motor. It reaches right down into the base of the pile, driving the loosened dirt toward the suction channel and straightening the pile out at the same time. This avoids any damage being caused to the floor covering. Use CRI-approved detergents for carpet spotting.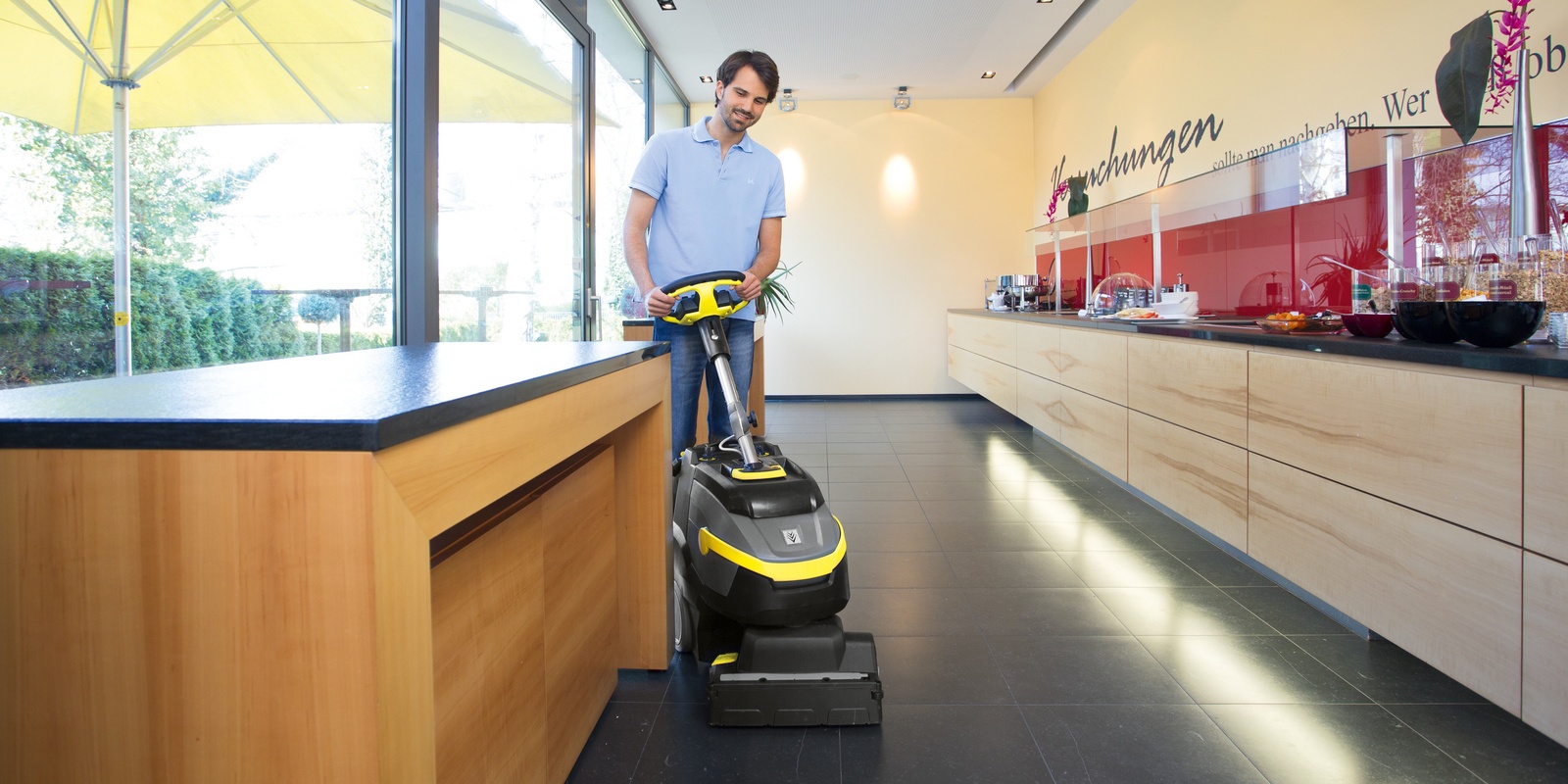 Maintenance cleaning of hard and resilient floor coverings
When it comes to cleaning hard floor coverings such as linoleum or tile, walk-behind compact floor scrubbers are a popular choice. One benefit is that using a machine guarantees a deeper clean than doing everything by hand. In addition, a scrubber immediately sucks up loosened dirt, making the process a great deal more hygienic. Use Green Seal approved neutral floor cleaners for scrubbing.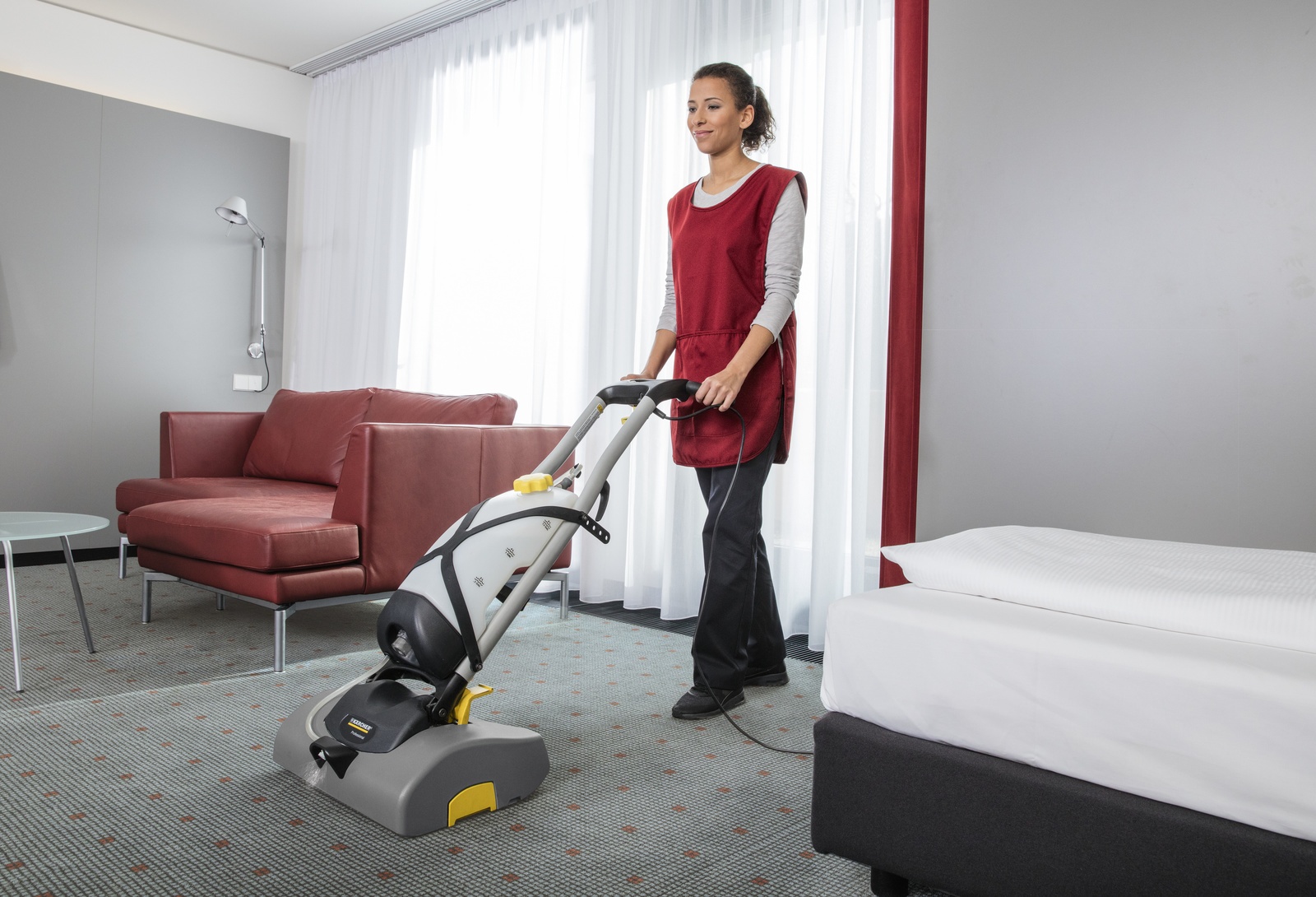 Intermediate Cleaning: Using the right methods to do away with downtimes
Intermediate cleaning is required every now and then - even when maintenance cleaning takes place on a daily basis. It helps to cut back on the amount of deep cleaning required, which is both time-consuming and costly, and also to maintain a high standard of cleanliness.
A cleaning method needs to be selected that does not involve the floor covering getting excessively soaked, ensuring that people can walk on it again soon after cleaning. If intermediate cleaning is taken care of every so often, the amount of time and effort spent cleaning on a daily basis will drop massively.
Restorative Cleaning: Deep cleaning to the original condition
Despite all other cleaning and maintenance efforts, it is not possible to avoid deep cleaning floor coverings. The aim is to restore the flooring to its original condition and degree of slip resistance (as much as possible). Of all four cleaning methods, deep cleaning takes up the most time, materials and staff resources. It can, however, be delayed for quite some time if the daily cleaning routine is carried out regularly and properly.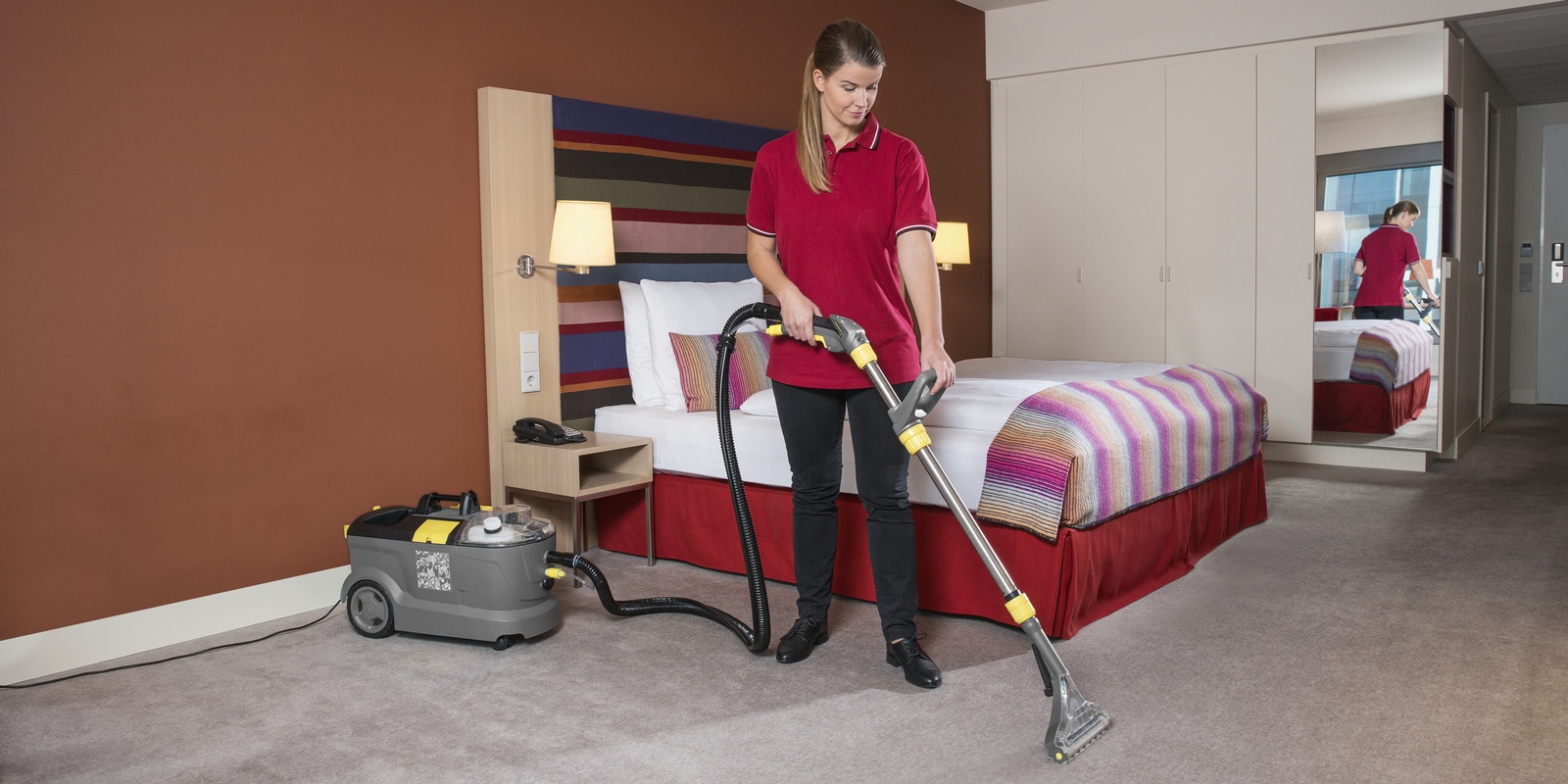 Carpet and upholstery: Spray extraction
A spray extraction machine is used for fiber-deep cleaning of textile floor coverings. In order to restore the design and color to their original condition, the selected detergent is worked into the floor covering using a floor nozzle and applying spray pressure. The loosened dirt is sucked back up again as part of the same process. The next step is to rinse the floor covering with clean water and then use an upright brush-type vacuum cleaner for a thorough clean once it has fully dried (at least eight hours). It is important that nobody walks on the floor while it dries. If a hand nozzle is used, the spray extraction method is suitable for cleaning upholstery and mattresses too. As a general rule, it makes sense to apply a fiber-protecting agent to textile floor coverings and surfaces.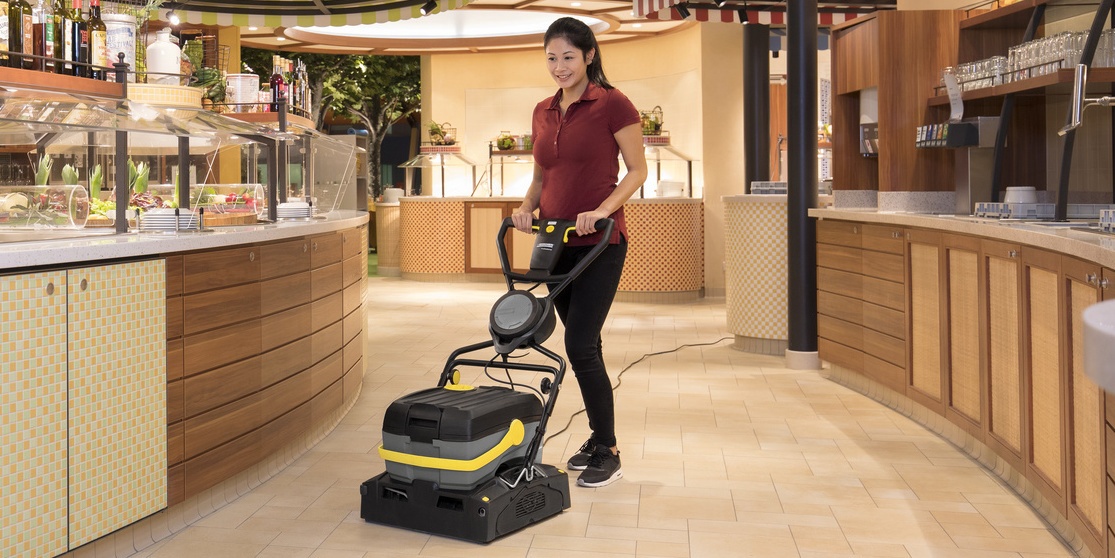 Hard and resilient floor coverings: Floor scrubbing
Floor scrubbers need to be used for deep cleaning when hard floor coverings have become dull due to the build-up of dirt and detergent residues. This process differs from intermediate cleaning in that a two-step method is used: First of all, the detergents are applied using the machine (generally deep cleaner in a higher dose) and scrubbed evenly from side to side, in the necessary contact time. Once the dirt has come loose, it is sucked up by the fleet. The floor covering is then rinsed using a one-step method. Hard floor coverings, including those made of linoleum and PVC, are protected with another coating once they have dried off sufficiently. Natural stone floor coverings and tiles do not generally need a protective coating.
The PLUS side of PDIR+
When looking for solutions to cleaning challenges, be sure to look for a "total solution". Consider the "+" in these three aspects.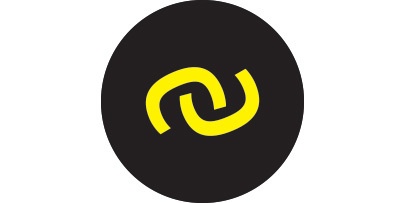 Connected Cleaning
Provides real-time analysis to the cleaning process in order for you to increase efficiency.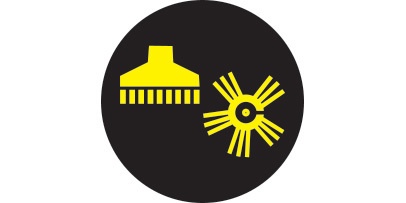 Accessories
Having the right accessory for the job will help you get the job done faster.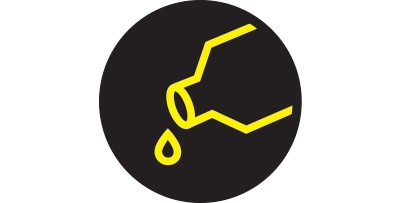 Detergents
Using effective detergents to remove the soil is critical in the cleaning process.
You may also be interested in: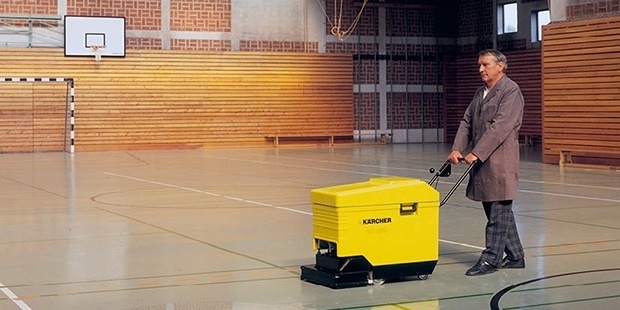 The success story of the floor scrubber
The start of floor-cleaning by machines dates back more than 100 years. The first floor polisher was developed at the start of the 20th Century to take the monotony out of tedious work.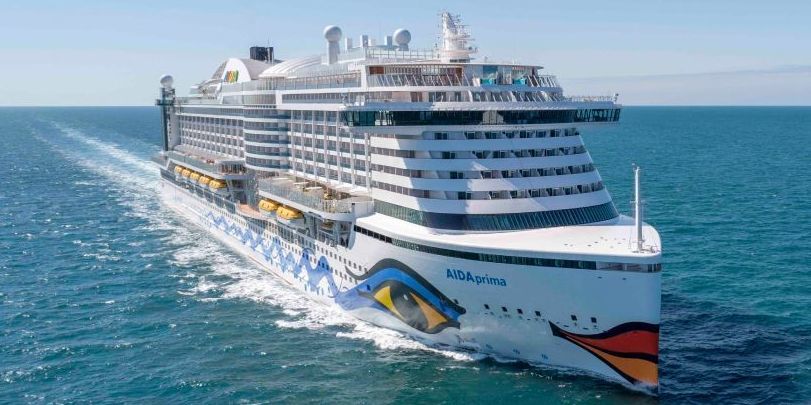 No fear of big beasts
AIDA Cruises is Germany's leading provider of sea cruises. As part of a long-term partnership with Kärcher, a detailed and well-thought-out cleaning concept has been developed to take care of everything.