RESPONSIBILITY FOR EMPLOYEES
Even company founder Alfred Kärcher took up the cause of sustainable, people-oriented corporate management. His attitude is still the guiding principle and basis of a corporate policy in which the reconciliation of career and family, the health of employees and their professional development and training play a central role. We treat our employees in an appreciative and caring way. Thanks to its strong commitment, Kärcher has been able to become the global market and technological leader in cleaning technology.

---
---
An Excellent Employer
Kärcher is a sought-after employer, and the company continues to grow. Therefore, we were able to create 1,660 new jobs between 2012 and 2015. At the end of 2015, the company had 11,333 employees working at its locations around the world. Since its foundation in 1935, Kärcher has always been a family business that cares about providing the best possible working environment. Kärcher has received awards for this commitment several times.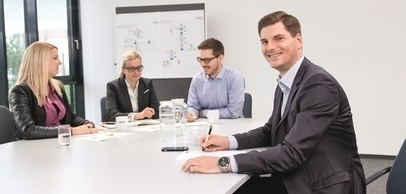 ---