healthcare | senior living
Innovative and efficient cleaning solutions for senior living. Senior Living Communities provide personal enrichment, encourage exploration and renew a passion for life. Kärcher provides solutions to maintain your flooring, keep your facility free from Healthcare Acquired Infections, keep air cleaner, and make clean up quicker and more efficient.

Common Areas & Entry
Quick and efficient cleaning in common areas and entrances allows successful facilities to provide a welcoming environment to residents and incorporates the best practices of health and safety.
Kärcher offers a huge range of cleaning equipment, allowing you to easily clean up spills and stains with the Priza spotter, vacuum up dirt in your entry way, hallways and corridors with the Chariot ATV iVac 24, encapsulate carpets, and consistently maintain carpet appearance with the iCapsol Mini Deluxe.
We offer efficient and productive cleaning options, so you can provide the best first impression to visitors and residents alike. You and your residents will be confident in the clean achieved with our vacuums, scrubbers, extractors, or spotters. Kärcher puts hygiene first, keeping your main traffic routes clean and safe.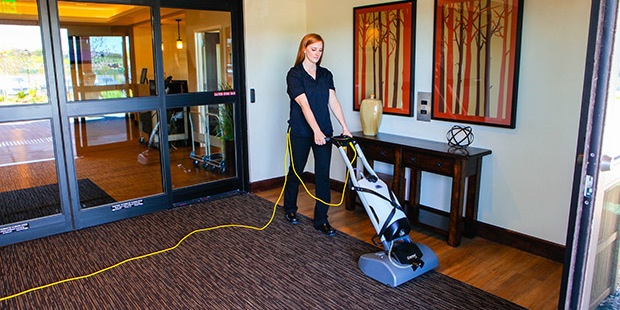 Fitness Center & Pool
The health and wellness of your residents is your priority. Our goal is to provide you with safe and effective cleaning tools. Reducing germs, steam cleaning and quick scrubbing gets your residents back in action faster.
Let the fitness center be a fun space for your residents - not a place they have to worry about germs. The Kärcher PS 4/7 Bp Mister with VitalOxide™ reduces the risks of HAIs by quickly killing viruses, bacteria and mold. The SG 4/4 Steam Cleaner hygienically cleans without the use of chemicals - allowing you to clean, sanitize and deodorize any surface in your fitness center.
The B 40 scrubber is quiet and can be configured to meet your cleaning needs. The suction bar allows you to pick up water quickly around the pool to prevent slips and falls. An airblower can quickly dry pool splashes and can accelerate dry times after carpet extraction.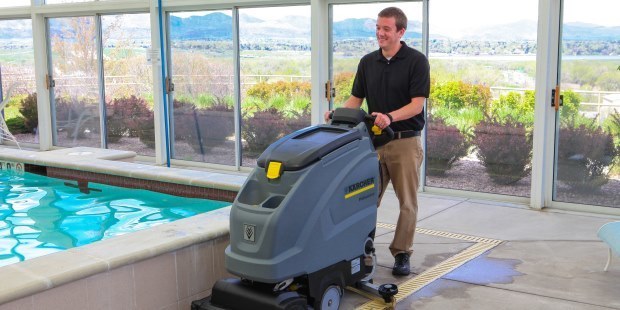 Dining & Activity Rooms
Your activity and dining rooms are where the fun happens. Simple, powerful, and compact equipment will leave you with extra time to enjoy activities with your residents and their families in a sanitary space.
Having a space that is home to lots of different activities requires cleaning equipment that will allow you to quickly switch gears - from scheduled activities, an elegant dinner, family meetings, church services, and movie night. We know that different activities require different
cleaning equipment.

Kärcher offers the BD 50/50 Scrubber to clean tile, wood or laminate, an Armada for restorative extraction, the Axcess vacuum for daytime cleaning in noise-sensitive environments, and the cordless, battery operated, and ergonomic Radius Mini for quick clean up.


"The Armada allows my staff to use iCapsol technology and helps us clean small areas quickly and efficiently with it's fantastic turning radius. The maintenance staff absolutely loves it."
— Peter Shumaker, Country Meadows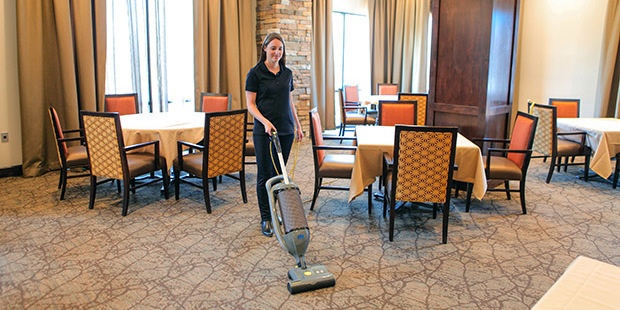 Kitchens
We know that you need to clean more than a few dirty dishes in your kitchen. Kärcher's pantry is filled with scrubbers, pressure washers, and specialty cleaners to keep your kitchen sanitary and floors safe for employees.

We know that in the world of Senior Living, kitchen cleaning needs vary from a single apartment kitchen to a full scale culinary dream. Kärcher's recipe for a sanitary kitchen of any size include the Saber Blade 16 scrubber, perfect for greasy, sticky floors. The Taz all-surface floor cleaning machine can conquer carpet, tile & grout, wood, vinyl, concrete, and epoxy with it's unique orbital agitation - saving you time, water, and money.
The HD Special Class cold water pressure washer was designed for the food industry - created for strict hygiene requirements and sensitive surfaces. Use the Zephyr steam cleaner to sanitize all surfaces.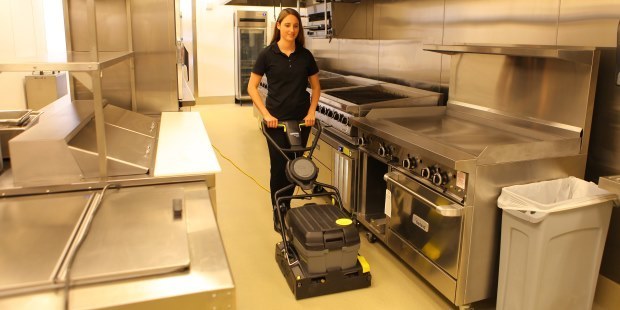 Resident Rooms
Residents are the center of your business, and keeping their living space comfortable and clean is at the top of your list. Kärcher's efficient solutions can help cut down cleaning time and will let you clean when you need to - day or night.
With a combination of Kärcher's extractors, vacuums, spotters, and the PS 4/7 Bp Mister, you'll have resident rooms cleaned quickly, quietly, and left as sanitary as possible. The PS 4/7 BP Mister with VitalOxide™ reduces HAIs by safely killing viruses, bacteria and mold.
The Sensor S2 HEPA includes HEPA final stage filtration for optimal indoor air quality and was designed for daytime cleaning in noise-sensitive environments, while the Admiral 8 makes cleaning easy with an adjustable handle and comfortable fingertip controls.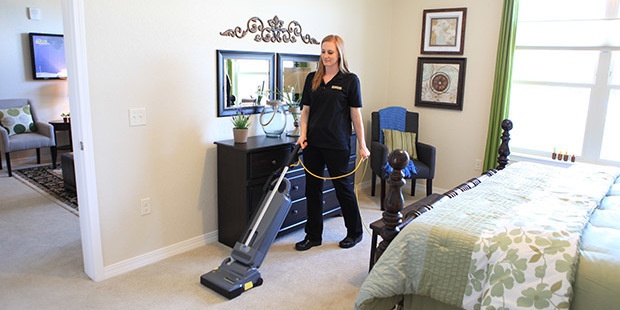 Exterior Cleaning
Some dirt can be difficult to tackle: sidewalks, parking lots, entrances, and loading docks, for example. Our machines make it easy to make a great first impression.
With our cold water and hot water high-­pressure cleaners, you can remove stubborn dirt from everything on the sidewalks, building exterior, and parking lots quickly and effortlessly. You can clean façades effortlessly without damaging the structure.
Fast and effective sweeping can prevent dirt from entering your community with the Radius 280 Deluxe and the Radius 360T, while the HDS Special Class Hot Water Pressure Washer can clean windows, siding, and sidewalks with ease. This top of the line pressure washer is emission-free, perfect where exhaust gases are undesirable.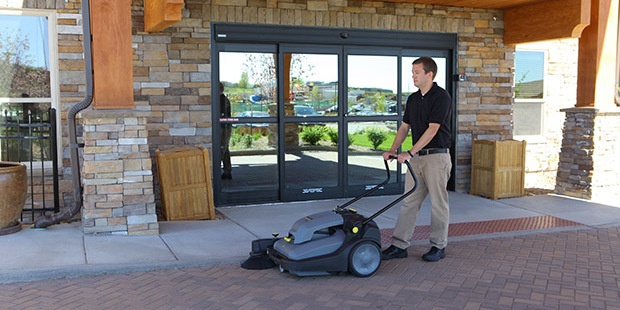 Vehicles
Keeping your fleet of vehicles looking their best is a requirement. Whether your facility has buses, vans, or cars, we have what it takes to keep your vehicles spotless. Your vehicles are your advertising space and give your residents a chance to explore the area, travel to appointments, or go shopping, so you want to make sure they're presentable. Kärcher is proud to offer the HD Compact Class, designed to move - it can be stored, transported and operated in both vertical and horizontal positions and uses cold water right out of the tap.
The SG 4/4 steam cleaner and the Priza Spotter will take care of your detailing needs, while the PS 4/7 Bp Mister with VitalOxide can be sprayed inside vehicles to reduce the spread of viruses inside and outside your facility.