Transportation | Trucking
The trucking industry is diverse with endless cleaning applications and unique cleaning needs. We have the right solutions to help you care for your assets. Kärcher provides solutions to maintain the interior and exterior of your truck and trailer, tidy up fuel stations, keep parking lots free of debris, manage cleaning at a service and repair center, and make clean up quicker and more efficient. We aim to take the guesswork out of cleaning, so your equipment will last for years to come.
Trailers
Due to the recent FSMA regulations, sweeping or washing out your trailer between loads is now mandatory. Kärcher has the tools you need to comply with this FDA act to keep you and your load safe.
Use the KM 70/30 sweeper to quickly clean up dirt and debris from an enclosed trailer. It includes a flat pleated filter for dustless sweeping and can hold up to 11 gallons of debris. VitalOxide detergent is a no rinse sanitizer for food contact surfaces. It kills harmful bacteria, mold and mildew, eliminates allergens, and deoderizes upon contact.
Kärcher's HDS Special Class hot water pressure washer should be used anytime you need to disinfect or remove grime from a special application or agricultural trailer. The HD Super Class cold water pressure washer can easily blast away dirt, grease, and grime from any trailer. The trigger gun is ergonomic, efficient, and easy to use.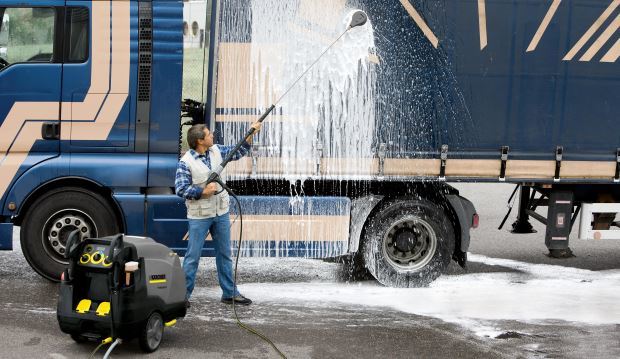 Cab Interior
Whether you're traveling over the road or you make local deliveries, your cab is your home away from home. Remove stains from carpets, seats, and mats, clean up wet or dry spills, and remove grime and fingerprints from your dash & windows with ease.
Kärcher makes it easier than ever to extract set in stains in carpets and upholstery in your truck cab with the Puzzi 8/1 C. Our CarpetExpert RM 760 tablet detergent can be added to any extractor to leave your seats, headliners, and upholstery smelling fresh while repelling future stains and spills.
Vacuum up dirt, mud, and debris easily with the NT 48/1 wet/dry vacuum. Use the SG 4/4 steam cleaner to clean dust from vents and your dash, fingerprints and smudges from windows, and remove odors from set in spills or stains.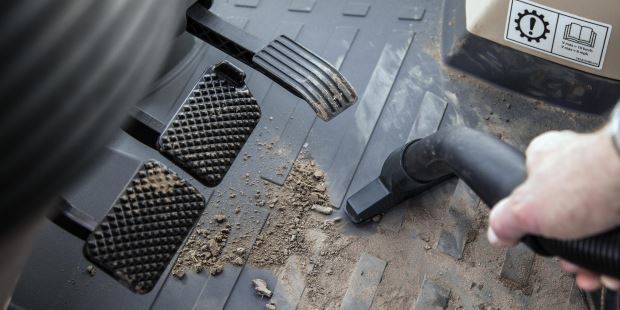 Service Shops
We know that a service center is not easy to keep clean. Simple, powerful, and compact equipment allows for a faster and more efficient turn-around time between trucks.
Gear oil, engine oil, fuel, and hydraulic fluid are frequently spilled or splashed on your service center floor. Use the HDS Stationary hot water pressure washer to remove spills and debris between services. The KM 75/40 sweeper can efficiently and quickly remove everything from fine dust to large debris and is simple to operate.
For repairs, consider a Cuda 2412 Top Load parts washer, which easily washes engine parts and components. It's safe, fast, and uses no solvents. Kärcher's Shop Floor Cleaner detergent removes set-in stains from your shop floors.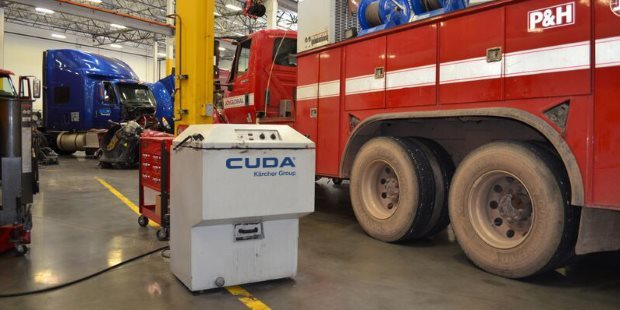 Fuel Stations and Parking Lots
Routine cleaning of fuel bays, parking areas, and protective awnings at truck stops require extra effort because of their size. Our fleet of cleaning equipment can handle every task you come across.
Fuel spills should be cleaned up quickly, to prevent slip and falls or fire. The TRK-2500 trailer pressure washer can be quickly moved into place to spray away debris, spills, and clean off pumps and handles. Kärcher's Concrete Cleaner detergent removes stains and helps keep the concrete in good condition.
Use the lightweight SG1 C Bp gum remover to blast away gum stains. This easy-to-use backpack model makes clean-up quick and efficient. Kärcher's KM 105/110 R Bp sweeper includes front-wheel steering, making this powerful machine incredibly maneuverable. The waste container can hold up to 29 gallons, so you can clean until the job is done.