Service Training for Kärcher Distributors and Kärcher Service Centers Employees
The Kärcher Academy Service School helps technicians gain in-depth knowledge of the equipment they regularly maintain and repair.
Who should attend Kärcher Academy service training?
Service Technicians of Kärcher, Windsor Kärcher Group, Landa Kärcher Group, Cuda Kärcher Group, and Water Maze distributors
Why attend Kärcher Academy training?
Kärcher Academy's service school teaches service technicians in-depth techniques on floor care, parts washers, pressure washers, and water treatment equipment. The format of the school is a mixture of classroom instruction and hands-on learning with demonstrations and service labs. Experts from Kärcher's Technical Support Division teach these popular courses.
The service aspect of business is a critical part of both customer satisfaction and revenue. Customers report spending at least $2 on service for every $1 spent on equipment. A planned maintenance program can extend the useful life of customer equipment by as much as 20% while providing a distributor with an ongoing source of revenue.
Kärcher Academy Service School offers multiple classes:
Equipment Care Training
Factory Service Training
Service Management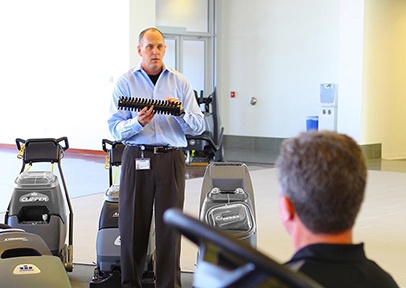 ---
---
Important Information
Classes
Registration is limited. Course dates and curriculum are subject to change. See individual course descriptions for any prerequisites.
Online Registration
Register each attendee via our online form for Kärcher Academy classes. A confirmation email will be sent verifying registration was received and further instructions for attending class.
Registration Fee
Registration fee is $200 per session.
Travel Expenses
Attendees are responsible for airfare to attend training. Kärcher North America will cover hotel and most meals during training classes held at our corporate training centers. For classes conducted at our corporate training centers, we will make hotel reservations for attendees and send a confirmation via email.
Registration
The registration deadline is 4 weeks (28 days) prior to the training class. You will receive a confirmation of your participation 4 weeks prior to training. Please do not book airfare until you receive this confirmation. We reserve the right to cancel any training up to 4 weeks prior to training.
Cancellation Policy
Within 14 days of the training the cancellation fee is 50% of the registration fee.
Participants
Kärcher employees and distributor partners can participate in product training classes.
Training Hours
8am to 5pm each full training day. Some trainings include half training days (see course descriptions for details).
Questions
For more information on any of our training events, please email us at schools@karcherna.com.
Registration Details
Registration is limited. Course dates and curriculum are subject to change.
Category
Floor Care
Course
B300 Service Class
T601 Basic & T602 Advanced KM C/W/R Sweeper Service
T511 Basic & T512 Advanced BR/BD Ride-On Scrubber Service
T501 Basic & T502 Advanced BR/BD Walk-Behind Scrubber Service
B300 Service Class
Industrial Sweeper Service Class
T511 Basic & T512 Advanced BR/BD Ride-On Scrubber Service
Location
Denver, CO
Denver, CO
Denver, CO
Denver, CO
Denver, CO
Denver, CO
Denver, CO
Dates
June 18-21 (FULL)
June 25-28
July 30 - Aug 2
Aug 6-9 (FULL)
Aug 20-23
Oct 8-11
Nov 5-8
---
Category
Pressure Washers
Course
Landa Kärcher Group Pressure Washer Service Class
Hotsy Pressure Washer Service Class
T321 Basic & T322 Advanced Crankshaft Pressure Washer Service Class
Location
Camas, WA
Camas, WA
Camas, WA
Dates
July 9-12
July 16-19 (FULL)
Oct 29-Nov 1
---