Service Training
The Kärcher Academy Service School helps technicians gain in-depth knowledge of the equipment they regularly maintain and repair.
Who should attend Kärcher Academy service training?
Service Technicians of Kärcher, Windsor Kärcher Group, Landa Kärcher Group, Cuda Kärcher Group, and Water Maze distributors
Why attend Kärcher Academy training?
Kärcher Academy's service school teaches service technicians in-depth techniques on floor care, parts washers, pressure washers, and water treatment equipment. The format of the school is a mixture of classroom instruction and hands-on learning with demonstrations and service labs. Experts from Kärcher's Technical Support Division teach these popular courses.
The service aspect of business is a critical part of both customer satisfaction and revenue. Customers report spending at least $2 on service for every $1 spent on equipment. A planned maintenance program can extend the useful life of customer equipment by as much as 20% while providing a distributor with an ongoing source of revenue.
Kärcher Academy Service School offers multiple classes:
Equipment Care Training
Factory Service Training
Service Management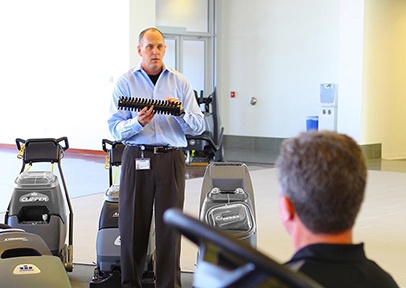 ---
---
Registration Details
Registration is limited. Course dates and curriculum are subject to change. For more information on any of the training events hosted in Denver, you may contact us at (800) 444-7654, ext 6024 or send us an email at schools@karcherna.com. For all other event inquiries, please email us at tom.burgwin@karcherna.com.
Category
Floor Care
Brand
Windsor
Windsor
Kärcher
Kärcher
Kärcher
Kärcher / Windsor
Course
Windsor Kärcher Group Service Training
Windsor Kärcher Group End User Class
Kärcher Service Training, Part 1
Kärcher Service Training, Part 2
Kärcher Industrial Service Training
Floor Care Field Training Classes
Location
Denver
Denver
Denver
Denver
Denver
Phoenix, Arizona
Blackwood, New Jersey
Florida
Blackwood, New Jersey
Blackwood, New Jersey
New Jersey (Pennsylvania / Maryland / Delaware)
Blackwood, New Jersey
East Canada
North Carolina / South Carolina / Virginia
Nebraska / Kansas City
West & Central Canada
Minnesota
Illinois
Upper NE Area
Texas
N. California
Fayetteville, Arkansas
Dates
March 19-23
June 11-15
Aug 6-10
Nov 5-9
May 1-3
Sept 25-27
April 9-13
July 9-13
Sept 17-21
May 14-18
July 30 - Aug 3
Oct 22-26
June 25-29
Dec 3-7
Feb 19
March 5
March 12
March 26
April 16
April 23
May 7
June 4
June 18
July 16
July 23
Aug 27
Sept 10
Oct 1
Nov 4
Nov 26
Dec 10
---
Category
Pressure Washers
Brand
Hotsy
Kärcher / Landa / Other
Kärcher German Machines
Kärcher / Landa / Other
Kärcher American Machines
Hotsy
Kärcher German Machines
Kärcher German Machines
Hotsy
Kärcher / Landa / Other
Hotsy
Kärcher German Machines
Kärcher / Landa / Other
Kärcher German Machines
Landa Kärcher Group
Hotsy
Kärcher
Course
Technical Training - Basic Level
Technical Training - Advanced Level
Technical Exam - Master Level
Location
Camas
Camas
Camas
Fayetteville
Toronto
Milwaukee
Toronto
Quebec City
Austin
Camas
Camas
Toronto
Blackwood
Tucson
Camas
Camas
Camas
Dates
March 13-15
March 27-29
May 8-10
June 6-7
June 20-21
July 11-12
July 25-26
March 7-8
April 25-26
Aug 15-16
Aug 29-30
Sept 12-13
Sept 26-27
Oct 10-11
Oct 24-25
Nov 7-8
Dec 5-6
---
Category
Water Treatment
Brand
Water Maze
Course
Water Maze Technical Training
Location
Camas
Dates
April 10-12
---
Category
Parts Washers
Brand
Cuda
Course
Cuda Kärcher Group Technical Training
Location
Camas
Blackwood
Dates
April 25-26
June 13-14
---
Category
Pumps
Brand
Spraymart
Course
Spraymart Pump Technical Training
Location
Fayetteville
Dates
June 5
---
Category
Service
Brand
All
Course
Kärcher Service Management Class
Location
Denver
Dates
July 17-18
---
Category
Service & Parts
Brand
All
Hotsy
Course
Service & Parts Management
Service & Parts Management
Location
Orlando
Orlando
Dates
March 20-21
March 22-23
---