Automotive
Outstanding solutions for car dealerships, workshops and service stations. Kärcher offers cleaning concepts that are tailored to the specific requirements of car dealerships, workshops and service stations. Discover Kärcher's extensive range of cleaning machines and customer-oriented services.
Complete solutions for car dealerships and workshops.
There is one brand for all cleaning challenges in your car dealership and repair center: Kärcher. The world's largest manufacturer of cleaning equipment helps you choose the right solution for each cleaning task. Cleaning is not the core business of car dealerships, but it is one of the key pillars to your success. For this reason, you need to partner with Kärcher. Our proven competence and expert advice will provide you with the best cleaning solution.
Many customers come to your car dealership to fulfil the dream of a new car – and find spotless, gleaming vehicles, shiny paint and that all important "new car smell" everywhere. Vehicles are more easily sold in a clean environment, so do not let your showroom floors let you down and ruin that precious first impression! Rely on Kärcher: From convenient cleaning of large surfaces to simple occasional mopping, the entire array of showroom cleaning is available to you.
Suggested Products for showroom cleaning:
Cleanliness equals safety: Workshop cleaning.
The workshop is not only the work place of your mechanics, but also another area where your customers experience your company. It is therefore important to leave an impression of absolute cleanliness in this area as well. Since the dirt that accumulates in the workshop is particularly stubborn and greasy, Kärcher offers extremely powerful cleaning solutions, which provide easy handling and residue-free cleanliness. All cleaning machines and cleaning agents are designed to always guarantee work and process safety in your workshop.
Suggested products for workshop cleaning: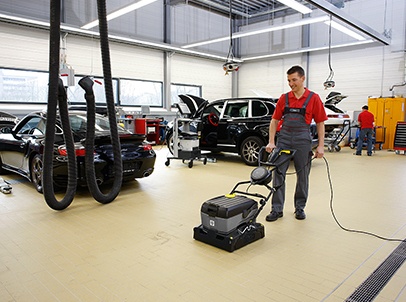 ---
Vehicles need care that shines through its quality as much as the other services of your car dealership. Kärcher offers a large selection of effective equipment for the high requirements of vehicle washing: From gentle interior cleaning to the intense exterior cleaning of cars and utility vehicles. The complete programme for the cleaning of vehicles shows a cost-benefit ratio that sets standards. Acquisi-tion costs and total operating costs of the equipment are always kept as low as possible – an outstanding argument for vehicle washing with Kärcher.
Suggested products for washbay carwash cleaning:
In order to create a pleasant atmosphere for receiving your customers, cleanliness is an absolute must. This also applies to the parkingbay. This is why Kärcher offers you cleaning concepts that are adapted to the specific requirements of car dealerships. View our extensive range of cleaning equipment and customer-friendly service solutions for your cleaning needs.
Suggested product for parkinglot cleaning:
Kärcher for car dealerships
The complete product range for any cleaning requirements: From cleanliness for car dealerships and repair centers to comprehensive services.